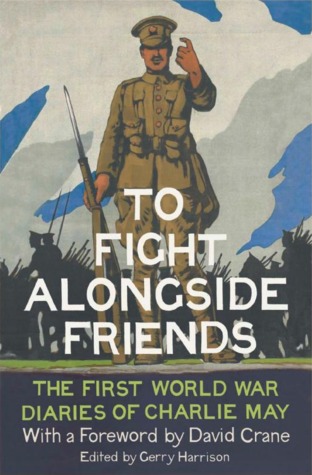 Each month, Sally Vince reviews a book about Clare or a book by a Clare-based author. This month Sally reviews "To Fight Alongside Friends – The First World War Diaries of Charlie May" edited by Gerry Harrison.
"A born storyteller, Charlie May's vivid eye for detail and warm good humour brings his experience in the trenches (and the experience of millions of ordinary men like him) to life for a 21st-century readership.
"Captain Charlie May was killed, aged 27, in the early morning of 1st July 1916, leading the men of 'B Company', 22nd Manchester Service Battalion (the Manchester Pals) into action on the first day of the Somme.
… 'I do not want to die', he wrote – 'Not that I mind for myself. If it be that I am to go, I am ready. But the thought that I may never see you or our darling baby again turns my bowels to water.' …
"Fresh, eloquent and warm, these diaries were kept secret from the censor and were delivered to his wife after his death by a fellow soldier in Charlie's company."
Charlie May was born in New Zealand but a couple of years before the outbreak of World War I he was living in Manchester, UK. His diaries were started on 7 November 2015, just before his regiment was sent to the front line in France, and ended on 1 July 1916, the day he died. They were sent to his widow, Maude, and got passed to different members of the family in a suitcase that spent most of its time in attics. Eventually, his great-nephew – Co Clare resident Gerry Harrison – inherited them, whereupon he donated them to the Manchester Regimental Archives.
A few years ago, recognising that they would be of significant interest to historians, he started the task of editing them.
They are a fascinating insight of one man's life in the army before the Battle of the Somme. They are addressed to his wife Maude, and their baby daughter Pauline. They are a love letter; they are an insight into the life of one captain in the army and the men with whom he lived and worked; they are a very personal bit of history that brings alive the horror of the trenches and the day-to-day activities of army personnel during the First World War.
Although written nearly one hundred years ago, this book flows well for the modern-day reader. Charlie May was a true writer and story teller, and his diary entries evoke a clear image of his surroundings and the men with whom he shared the life. It is in no way a turgid text book; instead it evokes such a sense of history that I finished it with a far greater appreciation of just how life was for the men that fought in the Great War. The book is a combination of memoir, political history, social history and love story. It has flashes of humour and it has insight into the way the rank and file were an expendable commodity. It sent a chill down my spine that there were millions of good men (on both sides) like Charlie May who willingly gave their lives for their country. Reading it made me angry and sad.
I jotted down page numbers that I wanted to quote from. But there are far too many sentences that I could pick out – amusing ones, poignant ones, and ones that show what a decent man Charlie May was.
A particularly insightful passage is:
"Cotton came in to breakfast with us. He brought the little bible which Burchill had taken from the body of the dead German on the night of his patrol exploit. I had a look at it. It was a kind of children's testament, filled with gaudy prints and the story told more in the nature of a series of short tales. On the fly-leaf was the name Hermann Stampa, I think, and over this in a child's hand-writing the word 'Dada'. War is very sad. Poor devil, I suppose he had a wife and kiddie somewhere filled with pride for the daddy who was a soldier and now stricken down with grief for the daddy who is 'missing'.
"It brings things home to one to come upon a little human touch like that. It makes one feel that it would be well if Kaisers and ambitious, place-seeking politicians and other such who make wars could be stricken down and peaceful, home-loving, ordinary men be left to live their lives in peace and in the sunshine of the love of wife and children. Perhaps the man may have been quite a blackguard or just a hateful, bullying, swaggering Prussian and, as such, something to loathe and detest. I do not know. All I am conscious of is that somewhere in his Fatherland there is a little child who called him 'Dada'. I have a little baby too."
And yet Charlie May was still proud to be fighting for his country, well aware that he might die doing so.
Gerry Harrison has done a wonderful job of editing the diaries. He has carried out an enormous amount of research and there are numerous, unobtrusive, notes to add substance to Charlie May's own words. Some of these notes are extracts from letters written by the men who fought alongside Charlie, and all together they give a fascinating micro history of World War I just before the Battle of the Somme.
Gerry will be talking about and reading extracts from the book on Sunday 31 May 2015, at 2 p.m. at the Salmon Book Shop and Literary Centre as part of the Ennistymon Book Fair.
Available from:
The Salmon Bookshop, Ennistymon
O'Mahonys online shop
Find the author:
Website  (with details of Gerry's books and articles)
Interview with Clare Champion