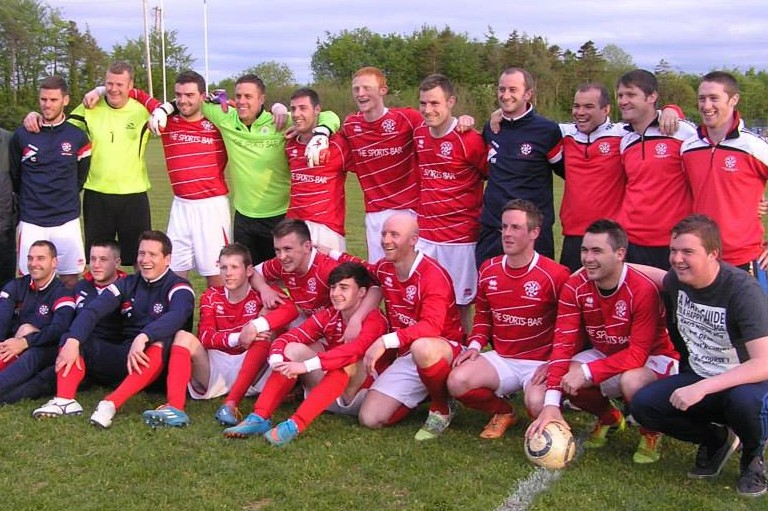 Newmarket Celtic Clare Premier League Champions 2014/15.
Newmarket Celtic were crowned Husqvarna Maloney Garden Machinery Premier Division champions after securing the title with a 4-0 victory over Hermitage.
Another solid performance from the kingpins of Clare soccer, saw the Premier Division League title head back to Newmarket-on-Fergus. With only a point needed in last night's fixture, Celtic refused to take the easy option and went out for the win and got it in comprehensive fashion.
Alan Brigdale picked up a hat-trick with two goals on the edge of half-time. His first strike was from six yards out and his second came courtesy of good work from Paudie Hayes and David McCarthy with Brigdale getting on the end of a delivery from the left wing.
With fifty minutes on the clock, Colin Smyth fired to the back of the Hermitage net with smashing goal from twenty five yards out which ended in the top left corner. Another close range finish from Brigdale on the sixty fifth minute put the icing on the cake for his team who are now the crème de la crème of Clare soccer.
Next up for Newmarket Celtic is a difficult Clare Cup final clash with Bridge Utd on May 30th. It promises to be an exciting contest with the local rivalry adding some extra spice to the mix.
Teams:
Newmarket Celtic: Niall Quinn, David O'Grady, Eoin O'Brien, Alan Kelly, Paudie Hayes, Michael Crosby, Colin Smyth, Seamus Considine, Ronan McCormack, David McCarthy, Alan Brigdale. Subs: Eoin Hayes, Ian Collins, Cathal Hayes, Paddy Purcell, Trevor O'Donnell.
Hermitage: Caliston Pontes, Alan White, Jamie Kenneally, Michael Culligan, Patrick Sherlock, Gerard Dullaghan, Kevin Ruane, Paul Dullaghan, Eoghan Moore, Clinton Keane, Shane Moroney. Subs: Massimo Coote, Victor Flynn, David Moloney.
Referee: Terry Kennedy.