The scenic coast of County Clare could soon feature in a new maritime tourism route between Cork and the Arctic Circle areas of Norway.
Cork Institute of Technology (CIT) has been awarded a significant project to develop the new route which would benefit areas along the west and south coast of Ireland to Northern Ireland, Western and Northern Scotland, The Faroe Islands, Western Norway, Iceland and Greenland.
The project entitled "Cruising Oceans on Latitudes above 51 º North " -The " COOL Route", was recently approved by the NPA Interreg Programme and will research all of the logistical, business and marketing planning for the route, which will support other complimentary maritime and shore based tourism initiatives in all of the intervening regions along the route.
Dr. Breda Kenny who is Head of the Hincks Center for Entrepreneurial Excellence in the Cork Institute of Technology and who will manage the overall project, stated that while the project was about yacht cruising, its key objective was to provide a wide range of new business opportunities for new entrepreneurs and existing SMEs throughout the route.
Some of these opportunities would be in areas directly connected with the COOL Route, such as existing and potentially new marinas, pontoons and moorings. Other opportunities would be in yacht storage and development of ancillary facilities such as cafes, laundry and washroom facilities.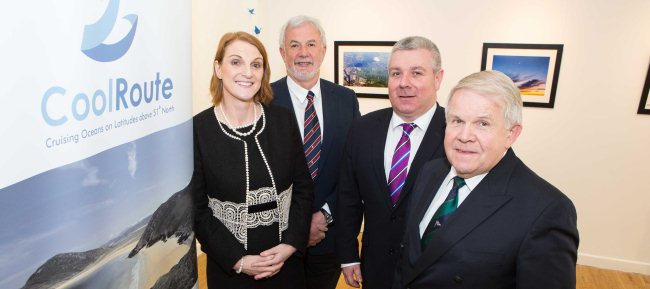 Dr. Kenny also stated that in view of the distances involved and the highly attractive nature of the entire coastlines, that she also envisaged opportunities for potential new yacht charter operations.
Gerard O'Donovan, CIT's Head of Faculty Business and Humanities, noted that the COOL Route could open up many new business opportunities in peripheral coastal areas of all countries concerned and could also positively impact business at nearby airports, catering for crew changes
The Cool Route Project which has its inaugural Steering Committee in Cork Institute of Technology on 14th April, plans to develop wide ranging dialogue and close engagements with all service providers, tourism interests and other interested stakeholders.