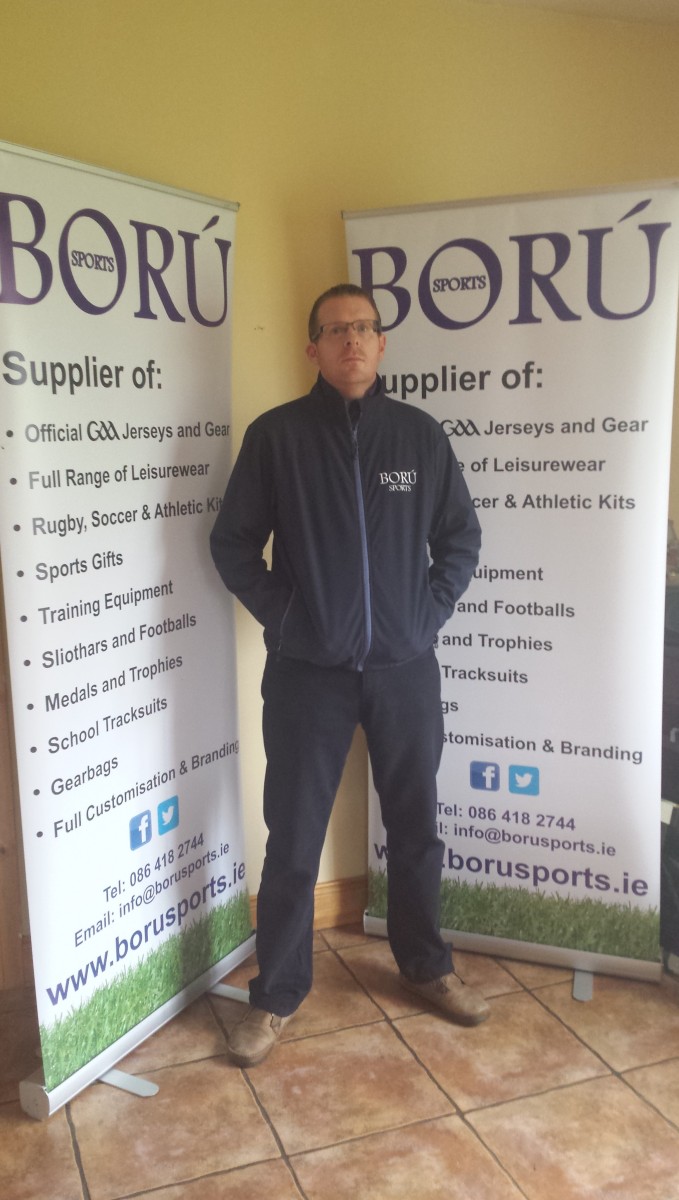 The business world is a very competitive and difficult market to break into, Co Clare is no different in that regard but nonetheless the County's newest sports company is making great strides since its foundation.
Ború Sports launched in November 2014 when it wowed to masses of 25,000 at the Doonbeg Christmas Market. Six months later, the brand is going from strength to strength. Founder and manager of Ború Sports, Shane Collins caught up with The Clare Herald's Páraic McMahon to discuss his plans for the business and how he has found the experience so far.
Shane defines the ethos of Ború Sports and emphasises the importance of buying local. "Ború Sports aim to offer clubs and schools very affordable teamwear kits without any compromise in quality. I also hope to supply as much Irishmade products as possible. All the Official GAA kits I sell are produced in the Republic of Ireland and I am currently getting a number of my sports accessories made locally".
Official GAA gear, sliotars, footballs, training equipment, team kits for rugby, soccer, athletic and basketball clubs are available plus leisurewear for golf societies. Hoodies, beanies, jackets and polo shirts are in stock and all can be embroidered with club crests or logos. Ború Sports are the agents for KC Sports in Munster while also providing Kukri and Intosport products.
Despite being a sports brand, Ború Sports supplies branded clothing for bars, restaurants, dancing clubs, youth groups and running events. Similarly special hoodies with signatures on the back are obtainable for 6th and Leaving Cert classes.
Planning the business began for Shane in February 2014 and over a year later he is beginning to see some of the hard work pay off. "I have been working on setting up Ború Sports since February 2014 and to finally get it off the ground has been very exciting and satisfying but I am fully aware of the many challenges and hard work that lie ahead. I have gained very valuable experience and advice over the past number of months and am learning something new about the industry every day".
As it stands, Shane is flying solo with Ború Sports and he will continue to run the businesses solely by himself until the workload becomes unmanageable. However he does envisage employing a number of staff in the next six to twelve months in roles such as sales, delivery drivers and administration.
There is no physical store for the sportswear company and orders can be processed online at www.borusports.ie. This tactic is in place to make life as easy for the customer as possible while providing customised sportswear to a high standard.
At present the aim for the Newmarket-on-Fergus man with his business is to generate awareness and ensure Ború Sports becomes a recognised brand within the province. "The plan for the moment is to generate awareness for Ború Sports throughout Munster and earn a name for supplying high quality sportwear and accessories at very competitive prices. Future plans would include moving more into the corporate clothing market and I anticipate the Fleadh Cheoil in Ennis in 2016 as being a big opportunity for branded merchandise".
With over ten years experience in sales, Shane Collins outlines his inspiration behind the foundation of Ború Sports. "Although the sportswear business is as competitive as any other industry I felt there was a market for a local supplier to develop and build a strong relationship with sporting organisations and offer a consistent high quality value for money service. I feel that it can be mutually beneficial for both myself and all local sporting organisations to be able to meet frequently to discuss their requirements and keep them up-to-date with all new sportswear designs and products".
All clubs and organisations that have ordered gear or equipment via Ború Sports have left great reports on the style, design and price of goods purchased and Collins is determined that such positive reviews will continue to come in their direction.
When it comes to business, key characteristics such as determination, resilience, experience, friendliness, organisational skills and understanding are required. Shane Collins ticks all these boxes with flying colours and one would be confident if his high standards are maintained, Ború Sports will be around in the Banner County for a long time to come.
For more information, contact Shane on 086 418 2744 or by email at info@borusports.ie. Ború Sports are also on both Facebook and Twitter and their own website is www.borusports.ie