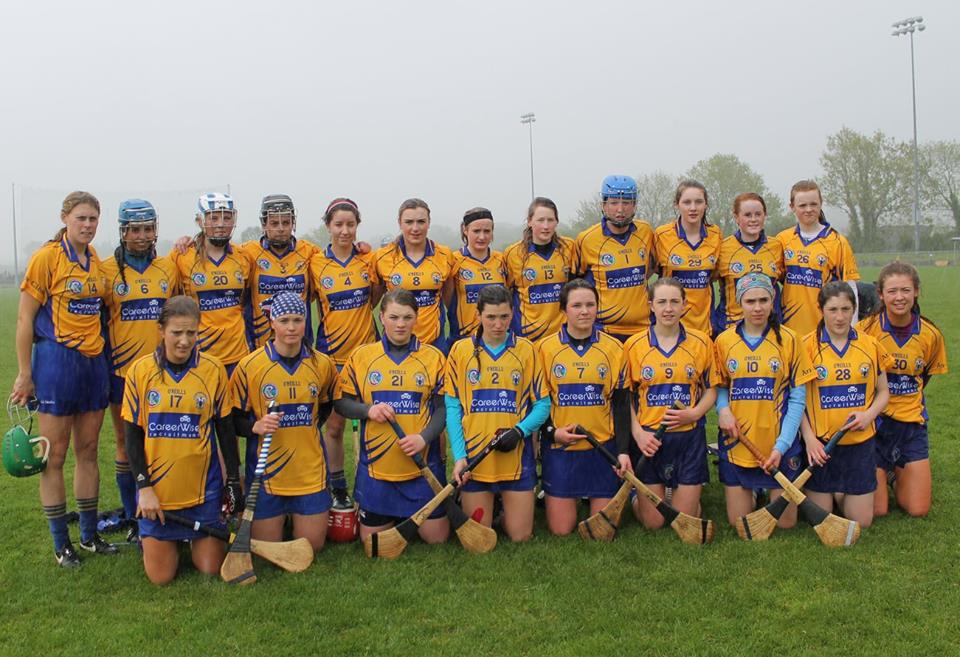 It's been a lively period for Clare Camogie with the senior inter-county side wetting their toes in Munster Championship, the first inaugural Francie Mahon tournament has taken place while the action is heating up in the U14 Championship.
Cork 1-15
Clare 0-06
Venue: O'Garney Park, Sixmilebridge.
Cork secured their place in the Munster Senior camogie final after they brushed Clare aside in the final quarter hitting 1-08 without reply.
Prior to the obliteration in the final fifteen minutes, Clare put it up to their opponents but Cork had the greater fire-power to secure the win and led at stages in the contest.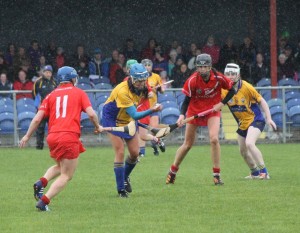 One could easily point out the vast array of players missing in the Banner camp, but a panel exists for a reason in sport and if players being left on the sideline are not deemed to good enough to step up to the plate or if they lack the desire to prove management wrong for leaving them on the line, then inter-county is a level too high.
Clare now have seven weeks to prepare for the All-Ireland series as Cork face Tipperary in the Munster Final on Saturday. Colm Honan's side bowed out of the All-Ireland quarter-final against Galway last year as they lacked real threats up front and failed to make obvious changes on the line, the question remains if Clare have learned from their mistakes and answers will be provided once the 2015 season draws to a close.
Teams:
Cork: Aoife Murray (Cloughduv), Leanne O'Sullivan (Glen Rovers), Laura Treacy (Killeagh), Pamela Mackey (Douglas), Eimear O'Sullivan (Ballinhassig), Gemma O'Connor (St Finbarr's), Meabh Cahalane (St Finnbarr's), Rena Buckley (Inniscarra), Aisling Thompson (Milford), Briege Corkery (Cloughduv) (0-02), Hannah Looney (Killeagh) (0-01), Orla Cotter (St Catherines) (0-03 3f), Amy O'Connor (St Vincents), Joanne Casey (Inniscarra) (0-04), Katriona Mackey (Douglas) (1-05). Subs: Caroline Surgue (Ballinascarthy) for A O'Connor (28), (Inj), Katelyn Hickey (Blackrock) for Surgue (56), Leah Weste (Ballincollig) for O'Sullivan (57), Niamh O'Keeffe (Killeagh) for P Mackey (57), Sarah Buckley (Ballincollig) for Buckley (58).
Clare: Denise Lynch (Kilmaley), Aoife Griffin (Newmarket-on-Fergus), Laura McMahon (Newmarket-on-Fergus), Carol O'Leary (Newmarket-on-Fergus), Eimear Kelly (Truagh/Clonlara), Roisin McMahon (Newmarket-on-Fergus), Orlaith Duggan (Clooney/Quin), Kate Lynch (Kilkishen), Clare Hehir (Inagh/Kilnamona), Michelle Caulfield (Truagh/Clonlara), Chloe Morey (Sixmilebridge) (0-05 5f), Ellen Horgan (Truagh/Clonlara), Ailish Considine (Kilmaley), Kate O'Gorman (Kilkishen) (0-01), Vera Loughnane (Feakle). Subs: Teresa O'Keeffe (Inagh/Kilnamona) for Kelly (14) (Inj), Andrea O'Keeffe (Inagh/Kilnamona) for Loughnane (19), Amy Keating (Inagh/Kilnamona) for for T O'Keeffe (24) (Inj), Emma O'Driscoll (Kilmaley) for Keating (44).
Referee: Ger Browne (Tipperary).
HM Travel U14 Championship
U14A
Kilmaley 5-07
Truagh/Clonlara 2-03
Venue: Kilmaley
Kilmaley bounced back from their Féile defeat with a good win over Truagh/Clonlara in a must-win final round game for both teams.
The first goal of the game came from Kilmaley's Chloe Neylon and this was followed by a green flag from Ailbhe McNamara.
Truagh/Clonlara began to settle into the game and the added a goal and a point just before the end of the first half. It really was a game for the Kilmaley forward line and Ciadh Reynolds,
Everything was to play for in the second half and Truagh/Clonlara gave it everything as it is in their character when they set out their stall with Becky Foley and Leah Hawes working tirelessly for their team. Foley picked up Truagh's second goal but Kilmaley keeper Alanagh Meaney could not be faulted for her attempted save as Foley's shot was unstoppable. Foley went on to add two additional points from play.
Chloe Neylon added two additional goals to her tally along with two additional points. Ailbhe McNamara got her team's final goal of the game and secured Kilmaley a semi-final spot vs Feakle/Killanena.
Kilmaley:  Alanagh Meaney; Aoife Killeen, Eilis Cahill, Sophie Curran; Megan White, Grainne Glynn, Leona Grace, Sarah Ni Ceallaigh, Emily Cahill; Jennifer Griffin, Chloe Neylon, Aine Donegan, Jodi Cahill, Ailbhe McNamara, Ciadh Neylon;
Subs: Grace Carmody for Ciadh Neylon, Ruth Neylon for Jennifer Griffin, Isobel Killeen for Aoife Killeen, Ciara Hurley for Leona Grace, Caoimhe White for Jodi Cahill.
Referee: AnnMaire McGann
Truagh Clonlara 1-03
Inagh Kilnamona 1-02
Venue: Clonlara
Home advantage proved crucial for Truagh/Clonlara as they edged out Inagh/Kilnamona in an exciting U14 clash.
Truagh Clonlara were first to score with a point after five minutes, but Inagh Kilnamona responded quickly with a point from Aoibhinn Ryan three minutes later. Inagh/Kilnamona had the lead at half time courtesy of a Leanne Woods goal.
The second half started with the same intensity as the first, with both sides giving it their all throughout the field, but despite their chances Inagh Kilnamona could only add one point from Aoibhinn Ryan for the remainder of the half, with Truagh Clonlara ensuring their win with a goal and two points.
Despite this loss, Inagh Kilnamona have progressed to the semi-final stages of the U14A championship and will meet Scarriff Ogonolloe later this week.
Inagh/Kilnamona: Patricia Coote; Leah Wynne, Michelle Mescall, Amy Shannon; Kate Hehir, Cathy Cullinan, Eimear Cotter; Aoibhinn Ryan, Hannah Shannon; Sarah Coote, Caitlin McInerney, Hazel O Connor; Leanne Woods. Ava Cullinan, Orla Vaughan.
Subs: Niamh Hegarty for Shannon (H/T), Muireann Daffy for Vaughan (45 mins), Caoimhe Longe for Woods (58 mins), Lauren Fitzgerald for Cullinan (58 mins), Ella Leyden for Woods (58 mins).
U14C
Broadford 10-07
Ballyea 5-06
Venue: Broadford
Broadford ran out winners against Ballyea in a very high-scoring match in the under 14C championship in Broadford on Monday evening.
Laura Carmody was in great scoring form for Ballyea with a tally of 4-06.  Laura Hogan added another goal to this for Ballyea.
Broadford notched up a very high score to win a very enjoyable under 14C match.
Broadford: Laura Ryan; Nicole O'Keeffe, Claire Heffernan; Hannah Ryan, Naoise O'Sullivan, Meave Moroney; Emma Spaight, Susan O'Shea; Elsa Vaughan, Alexandra Troy, Clodagh O'Farrell; Molly Marsh, Kathy O'Farrell.
Subs: Ava Vaughan for Kathy O'Farrell, Beatrice Vaughan for Elsa Vaughan, Emma O'Brien for Claire Heffernan
Ballyea: Luisne Corey;  Fionnuala Fallon, Aishling Phelan, Sorocha Donnellan; Ciara O'Brien, Cliodhna Dennehy; Laura Hogan 1-0, Moya Sheehan; Shauna McCarthy, Laura Carmody 4-6, Rachel Costelloe; Zoe Minogue, Rebecca Carmody
Ballyea 7-05
Parteen 4-02
Venue: Ballyea
Parteen started the match very well with a quick goal by Sarah Connelly.  A free taken by Aishling Phelan sent the ball to Ballyea's Zoe Minogue who put it in the back of the Parteen net.  In a great passage of play the ball was cleared from the  Ballyea goal by Kate Murphy to Rachel O'Dea, sent on to Rachel Costelloe who hand-passed it Cliodhna Dennehy who found Laura Carmody who scored a great goal for Ballyea.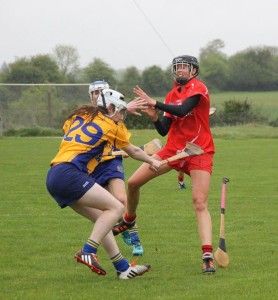 Carmody followed that with a point soon after and then Ballyea's Ciara O'Brien added another goal to their tally.  Parteen responded well with a Sarah Hall goal.  A free taken by Aishling Phelan found Laura Carmody who scored a goal for Ballyea. Sarah Hall put another goal on the scoreboard for Parteen.
Moya Sheehan won the puckout and hand-passed to Rachel O'Dea who sent it up to Zoe Minogue and she scored another goal for Ballyea.  A great cross by Ciara O'Brien to Zoe Minogue enabled Minogue to score another goal for Ballyea leaving the half-time score at Ballyea 6-01 Parteen 3-00.
Parteen dominated a passage of play after half-time.  A free taken by Allanah Browne was caught by Sarah Hall who put it over the bar.  This was quickly followed by another point for Parteen and then Hall found the back of the Ballyea net.
Maebh Nolan battled well at centerfield but Laura Hogan won the ball and struck the ball over the bar.  Ballyea brought on Stella Quinlivan for an injured Zoe Minogue and Quinlivan quickly added another goal to Ballyea's total.
Substitute Shauna McCarthy sent the ball to Ciara O'Brien who put it over the bar for Ballyea.  A free by Laura Hogan was well blocked by Meabh Nolan and a shot at goal was well saved by the Parteen goalie and sent up the field by Allanah Browne to Leah Mulloy. But Ballyea finished strongly with two points scored by Laura Hogan to give them the win.
Ballyea: Luisne Corey; Fionnuala Fallon, Kate Murphy, Aishling Phelan; Cliodhna Dennehy, Rachel O'Dea, Rachel Costelloe; Laura Hogan(0-1), Moya Sheehan; Laura Carmody, Ciara O'Brien; Zoe Minogue, Stella Quinlivan, Hazel Collins
Substitues: Laura Hogan, Shauna McCarthy, Stella Quinlivan
U17 7-a-side
Kilkishen 4-10
Inagh/Kilnamona 5-05
Kilkishen were first off the mark in this second round tie with two unanswered points from Alannagh Ryan.
Inamona replied shortly after with 1-01 and Ryan pointed again for her side from the 35.  Inagh/Kilnamona were the first to find the net with a goal in the sixth minute. The half continued in a similar fashion with nothing separating the teams and they went in level at the break.
Kilkishen's greater points tally got them over the line in a enjoyable contest that saw their North Clare opponents raise five green flags.
Kilkishen: Megan Boland:  Joanne O'Gorman, Shona Bentley: Moll Nolan, Alannah Ryan (0-6 2f), Eilish Whitney, Niamh O'Gorman (4-2)
Sub Angharad Loughnane (0-2) for Moll Nolan.
Referee: Damian Fox.
Corofin 4-06 Broadford 1-05
Sixmilebridge 16-06
Ruan 4-08
Venue: Ruan
Ruan: Louise McDonnell, Roisin O'Loughlin, Clara Morgan, Eimear O'Brien , Claudia O'Donoghue , Chloe White, Shannon O'Donovan, Emma O'Brien, Sarah O'Donoghue, Sinead  Mullins , Ruth Crowe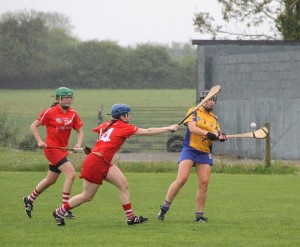 Féile na nGael
Inagh Kilnamona 5-03
Kilkishen 1-00
Venue: Clooney
Inagh Kilnamona will represent Clare in the National Féile in Derry after their win over Kilkishen.
After their tough semi-final encounter, Inagh Kilnamona were determined to get the scores on the board, and they were rewarded for their efforts three minutes in, when full forward Caitlin McInerney scored their opening goal.
Leanne Woods extended their lead four minutes later with a ground stroke into the back of the Kilkishen net, and just before half time their lead was further extended with a point from Aoibhinn Ryan.
Kilkishen resumed the second half of this tie with a goal a minute in to the half from Caoimhe Kelly following some good work from her team mates, but this was to be their only score of the game with the Inagh/Kilnamona back-line and midfield closing any other attempt at a comeback.
Inamona upped their game to add three further goals, from Sarah Coote, Tierna Hegarty and Aoibhinn Ryan who also added to her tally that evening, with two more points in the second half.
Inagh Kilnamona: Patricia Coote; Leah Wynne, Michelle Mescall, Roisin Mahony; Kate Hehir, Ciara Hehir, Eimear Cotter; Cathy Cullinan, Hannah Shannon; Sarah Coote, Aoibhinn Ryan, Hazel O Connor; Leanne Woods, Caitlin McInerney, Orla Vaughan.
Subs: Ava Cullinan for Woods, Tierna Hegarty for Vaughan both 10 mins; Amy Shannon for Mahon, Muireann Daffy for O'Connor both 20 mins.
Kilkishen: Katelyn Baker; Kayleigh Bentley, Michaela McNamara, Roisin O'Neill; Niamh Melody, Cara Close, Chloe Philpott; Siobhan Lenihan, Ellen Lenihan; Roisin McNamara, Caoimhe Kelly, Aoife Ryan; Eimear Murphy, Jazmine Tuohy, Eimear Whitney
Subs: Annabelle Campher, Chloe Canny, Shauna Keane, Leanne O'Halloran, Megan Hayes
Francie Mahon Tournament
Eire Og Camogie Club hosted the inaugural Francie Mahon Tournament on Sunday 10th May at Eire Og GAA. The Tournament commenced at 4pm and Clooney Quin defeated Ballyea in the Cup Final. Cratloe were the Shield winners over Banner and will now go on to represent Clare at Feile na nGael in Derry, with Eire Og taking honours over Parteen in the Plate Final.
Anne McMahon, her daughter Michelle and son Sean made the presentations to the winning captains after the tournament in the Clubhouse. The tournament is named after one of the legendary figures in Clare Camogie, Francie was involved in numerous Clare teams down through the years and all of his former players have only fond memories of the hugely popular man.
Sun 17th May
PK Travel Div 1 League Semi Finals
Inagh Kilnamona v Sixmilebridge, 11.00am
Newmarket on Fergus v Kilmaley, 6.00pm
Div 2 League Semi Finals
Scariff Ogonnelloe v St Josephs
Whitegate v Feakle/Broadford
Relegation: Eire Og v Killanena/Tulla
Div 3 Semi Finals
Winner( Ruan v Wolfe Tones) v Corofin
Broadford v Bodyke
Div 4 Semi Finals
Kilkishen v Kilmaley
St Josephs v winner(Clooney Quin v Clarecastle/Ballyea)
Results to be texted to both Fixtures 087 2417355 & PRO 086 3978996 immediately after game.
Tues 19th May
U17 7-a-side
Group A
Inagh Kilnamona v Clooney Quin
Corofin v Kilkishen
Broadford Bye
Group B
Feakle/Killanena v Ruan
Eire Og v Sixmilebridge
Tulla/Bodyke Bye
Results to be texted to both Orla 087 2417355 & PRO 086 3978996 immediately after game.
Additional reporting by Brid MacNamara and Anne McMahon.