The annual celebration of Irish traditional arts that is Fleadh Nua returns to Ennis, County Clare from today (Sunday) and continues through to Monday 25th May.
This year's Concert Programme features Seán Ó Sé, the Turloughmore Ceili Band, Conor Keane, The Tulla Céilí Band, Chris Droney and Peadar Ú Riada amongst others, as well as the usual set dancing workshops and céilí dancing.
The Clare Herald profiles this year's events.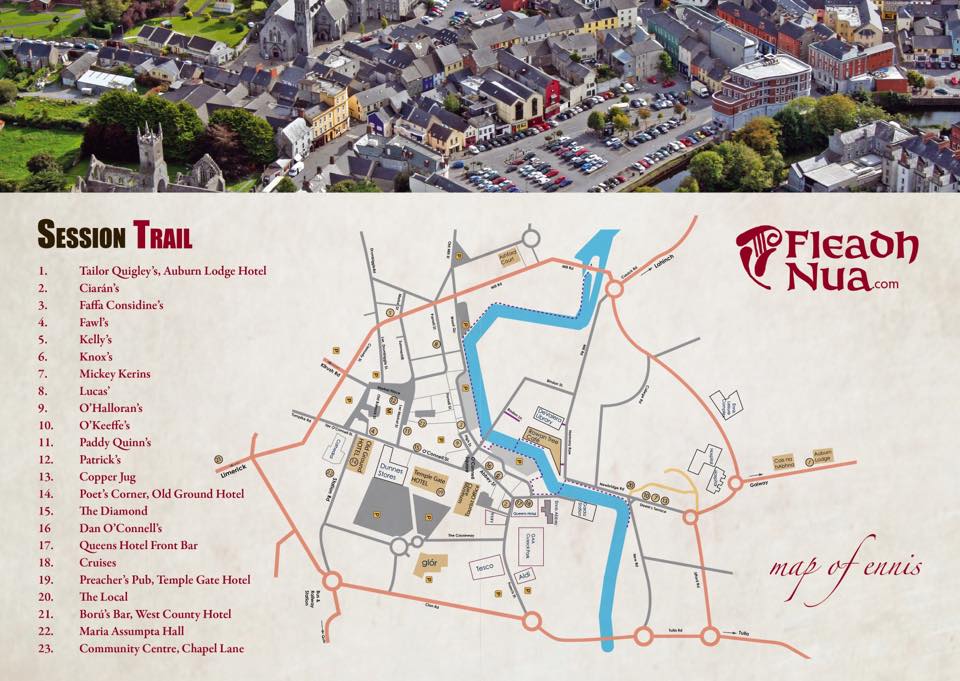 LOISE AN TRAIDISIÚIN – SEÁN Ó SÉ
A tenor and raconteur of the first rank, the singing talents and storytelling ability of Séan Ó Sé have been in great demand throughout Ireland and abroad for over 50 years and he has toured and recorded extensively in that time. Seán's singular contribution to Traditional Singing and in particular to the singing of songs as Gaeilge cannot be overstated. Songs such as "Do Bhí Bean Uasal" and "An Poc ar Buille" as well as his peerless rendition of "De Banks" are all essential parts of the soundtrack of our lives.
Seán Ó Sé is a most worthy recipient of the inaugural LOISE AN TRAIDISIÚIN award for a life of exemplary service dedicated to Traditional Singing agus an Ghaeilge not to mention the sheer enjoyment he has given to so many of us over the years. The presentation will take place as part of the Celebrity Concert which is being held in Glór on Saturday, 23rd May. With performances by the Turloughmore Céilí Band, Peadar Ó Riada, Michael Tubridy, Nora Butler, Eileen O'brien, Martin Donohoe And Chris Droney this year's Celebrity Concert promises to be one to remember.
"MAESTRO – THE MUSIC OF BOBBY CASEY"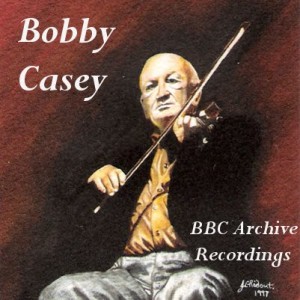 "Maestro" is defined by the Oxford English Dictionary as "A title or form of address designating someone (originally esp. an Italian) who is a master of or who has achieved eminence in a skill or profession, esp. a musician." It is also the highly appropriate sobriquet which was applied to the Clare Fiddler, BOBBY CASEY. Having been born in to a musical household in Annagh near Miltown Malbay in 1926, he moved to London in the 1950's where he quickly immersed himself in the vibrant traditional music scene which prevailed at that time.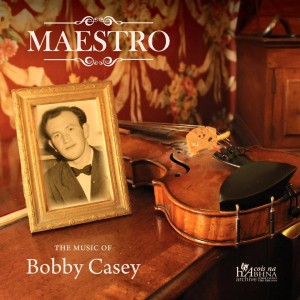 At a time when Britain was replete with some of traditional music's greatest exponents, it is generally accepted that Bobby Casey was one of its brightest stars and his influence on younger generations of musicians was profound. Bobby passed away in Northampton in 2000. Noted for the inventiveness and complexity of his ornamentation as well as his general musicality, the late Muiris Ó Rocháin paid Bobby the ultimate accolade when he described him as "a musician's musician."
"Maestro" is also the name of the eagerly awaited CD of Bobby Casey's music which has been produced by Cois na hAbhna Regional Archive drawing on recordings made in London back in 1969 and 1970 by Séamus Mac Mathúna for Comhaltas Ceoltóirí Éireann and which will be launched in glór on Sunday, 24th May. A stellar line-up of musicians, singers and dancers from near and far has been assembled for this commemoration of truly iconic figure of our traditional music and Includes John Carty, Brendan Mulkere, Mick O'connor (London), Mick Moloney, Athena Tergis And Michelle Mulcahy, John Kelly, Antóin Macgabhann, Mick O'connor (Dublin), Seamus Mac Mathúna, Jackie Daly, Eamonn Mcgivney, Tim Dennehy, Michael Falsey, Paddy Ryan, Danny Meehan (Donegal), Vincent Griffin, Seamus Ó Rócháin, John Joe Tuttle, Mccarty Family, Breda And Claire Keville, Angela Crotty, Joan Hanrahan, Denis Liddy And Pupils, Mary Liddy And Thierry Masure, Adrienne Lee (Sligo),Neansai Ni Choisdealbha, John Lyons, John Hehir, Eamonn And Geraldine Cotter, Peadar O'loughlin And Maeve Donnelly, Eoin O'neill, Máire O'keeffe, Francie Daly Set, Larry Gavin,Mary Mcnamara, And Róisín White Pipers Union In Concert With Caitlín Nic Gabhann And Ciarán Ó Maonaigh And Blackie O'connell, Siobhán Peoples And Cyril O'donoghue.
Performing together as Pipers Union David Power, Ciarán Somers And Dónal Clancy form a tight-knit trio, incorporating traditional and contemporary styles to deliver rousing ballads, soft love songs, lively dance tunes and haunting airs. Caitlín Nicgabhann and Ciarán Ó Maonaigh are quickly becoming one of the foremost duets in Ireland today. Together on fiddle, concertina and dance, they breathe fire into traditional tunes, combining the two arts with enough chemistry and energy to fire a small steam engine. Blackie O'connell, Siobhan Peoples And Cyril O'donoghue are not only stalwarts of the local Traditional Music scene their musicianship is acclaimed and enjoyed the whole world over. Pipers Union, Caitlín and Ciarán, Blackie, Siobhán and Cyril will take to the stage at glór on Friday, 22nd May.
MARTY MARRINAN TRIBUTE NIGHT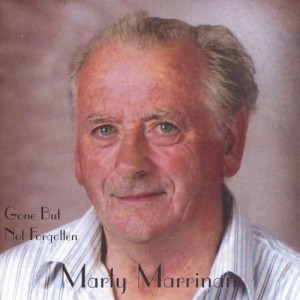 On Tuesday, 19th May Cois na hAbhna plays host to a Tribute Night for the late Marty Marrinan. Marty's contribution to the Traditional Arts in his native county as a singer, dancer and musician was immense and his untimely passing in March, 2011 caused much sadness in County Clare and beyond. Fellow Cooraclare man, Séamus Mac Mathúna, will make a posthumous presentation of the Comhaltas Ceoltóirí Éireann GRADAM SEIRBHÍSE award to the Marrinan family on the night in recognition of Marty's sterling service in the preservation and promotion of our traditional music, songs and dances. Join us with Fear a' Tí, Joe O'Connor for an evening of reminiscences and memories as we honour a true giant of Traditional Music, the late Marty Marrinan.
JACK TALTY AND CORMAC BEGLEY RECITAL
JACK TALTY and CORMAC BEGLEY carry a wealth of musical heritage from west Clare and west Kerry respectively.
The masterful weaving of regional styles inherent in their duet playing, ranging over five octaves, has defined their inimitable and unmistakable duet sound, a considerable achievement for two musicians still in their mid-20s.
The combination of baritone and concert pitch concertinas allows a creative and playful freedom to explore a variety of tones and colours. Jack and Cormac's late night recital at Fleadh Nua takes place in the Rowan Tree Café Bar at 10.30 p.m. on Thursday, 21st May.
A BAR OF A SONG / SPÉICE FOINN
Year in and year out a prodigious list of contacts in the Singing Community allied to considerable powers of persuasion enables Joe O'Connor to assemble vocalists of the highest quality for the Singers' Clubs at Fleadh Nua. Featuring at this year's festival will be Liverpool's Bruce Scott and Comhaltas powerhouse, Séamus Brogan will each receive Gradam Ceoil Na Fleidhe 2015 on Friday, 22nd and Saturday, 23rd May respectively. Joe has also prevailed upon Christina Pierse and Annmarie O'riordan to perform as Guest Singers on Sunday, 24th May. All sessions take place in the Temple Gate Hotel.
Many people claim that they have forgotten whatever Irish they learned at school. Be that as it may, the number that cannot recall a verse or two of the songs learned at school or at Irish College such as "Trasna na dTonnta", "Beidh Aonach Amárach", or "Báidín Fheilimí" is few indeed. "CAS AMHRÁN" is the name of the sing-song that takes place upstairs in "The Cloister Restaurant" on Wednesday, 20th May starting at 8.00 p.m. Join us for this light-hearted nostalgic trip back to the days of our youth. All event proceeds go to the Parents' Council, Gaelscoil Mhíchíl Cíosóg.
THE LONDON LASSES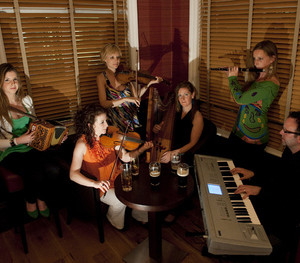 Crossing the Irish Sea to join us at this year's Fleadh are The London Lasses. Still basking in the adulation of music critics and fans alike following the recent launch of their CD "The One I Loved the Best" Karen Ryan, Elaine Conwell, Elma McElligott, Brogan McAuliffe, Chris O'Malley And Brona Mcvittie will be performing on Sunday, 24th May at The Sanctuary Queen's Hotel at this year's festival.
The Lasses will be preceded by the award winners from The Meitheal Summer School Of Music.
THE RICHES OF CLARE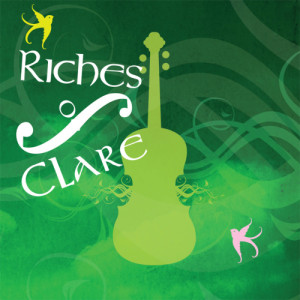 "THE RICHES OF CLARE" series of free lunchtime concerts traditionally gets underway in the County Museum in Ennis at Fleadh Nua before embarking on its peregrinations throughout the county over the summer.
Once again the Clare County Arts Office with Finola and Liam Ryan has succeeded in whetting our appetites with a star-studded line-up of performers as follows.
MONDAY, 18TH MAY
Anne Marie Mccormack, Niamh O'Dea. Martin Darmody and James Duddy
TUESDAY, 19TH MAY
James Devitt, Christy Barry, Conor Mccarthy and John Faulkner
WEDNESDAY, 20TH MAY
Finola Ryan, Liam Ryan, Neil O'loghlen and Eoin O'neill
THURSDAY, 21ST MAY
David Sanders, Elaine Hogan, Martin Glynn and Alan Wallace
FRIDAY, 22ND MAY
Dave Harper, Conor Keane, Johnny Ringo Mcdonagh and Kevin Finnucane
SCOIL FLEADH NUA
SCOIL FLEADH NUA caters for those interested in learning more about the constituent elements of our Traditional Arts and Culture. The programme includes the Foinn Seisiún / Music Session Workshops under the guidance of Frank Custy and Friends, A Guided Walking Tour Of Ennis With Jane O'Brien, Storytelling Session with Ireland's foremost Seanchaí, Eddie Lenihan, Irish Language Conversation Coffee Mornings/ Ciorcail Chomhrá, and an irish language workshop. Screenings of "LAST NIGHT AS I LAY DREAMING" – the captivating and evocative documentary on the life and songs of the late Robbie McMahon which has delighted audiences from America to Australia as well in Ireland – are not to be missed.
STRICTLY COME SET/CÉILÍ/SEAN NÓS DANCING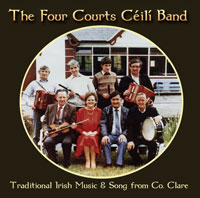 Top class CÉILITHE to top class Bands are a cornerstone of the programme at any Fleadh Nua. Just take a look at this year's line-up which features The Tulla, Johnny Reidy, Five Counties, The Abbey And The Four Courts Céilí Bands on stage at Cois na hAbhna. Cois na hAbhna also plays host to Comórtas Náisiúnta Rince / The National Dance Championships and the Sean Nós Dancing Competitions which take place on Saturday, 23rd and Sunday, 24th May respectively. Entry Forms for both competitions are available to download at www.fleadhnua.com For further information, please contact Attracta O'Dea at 065 – 6822627 and 086 – 0834797. On Friday, 23rd Saturday, 24th May set dancing workshops in the Community Centre and the Holy Family Hall respectively, conducted by Dance Master Dick O'connell will help put a spring in your step as you take to the floor at Fleadh Nua – the Dancer's Paradise.
AND THE TRIMMINGS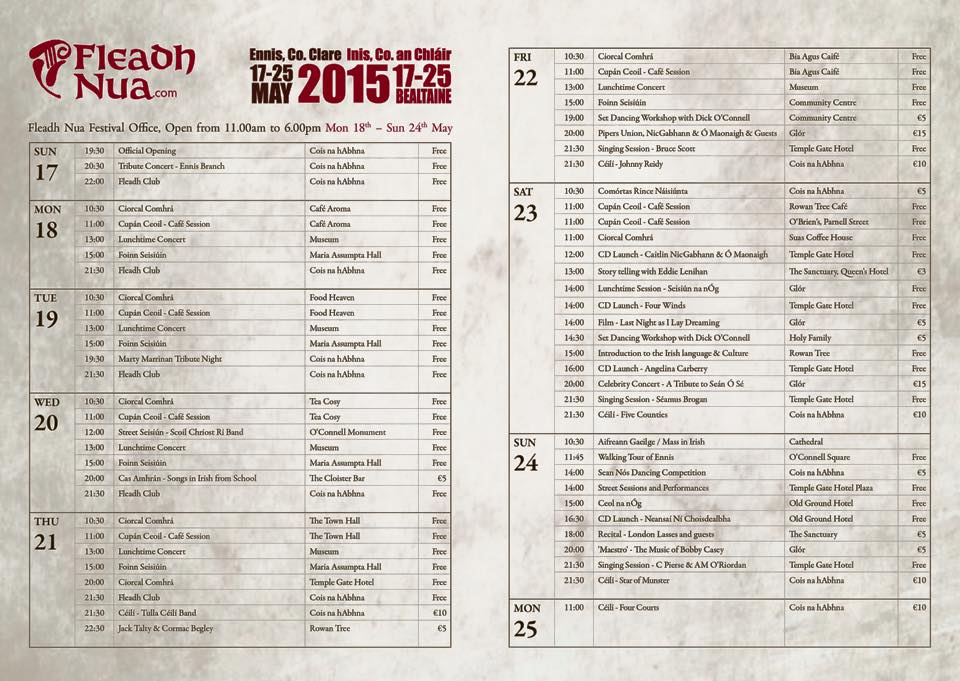 Other events to look out for are the Pub Music Trail – comprising 65 individual sessions involving 120 different musicians, Cd Launches, Fleadh Club, Teen Trad Talent Recital, Seisiún Na Nóg, Street Entertainment Featuring Musicians From Scoil Chriost Rí And The Colm Nestor Group, Cupán Ceoil / Café Music Sessions, Ennis Comhaltas Branch Tribute Night, And Open Air Art Exhibition.
With a marked emphasis on enjoyment and entertainment, the comprehensive programme of events really does contain something for everyone at this "most participatory of the Irish Music Festivals". It is also a pocket-friendly festival with admission to most events either free of charge or moderately priced – a definite boon in these dread days of austerity.
For further details please see website: www.fleadhnua.com.