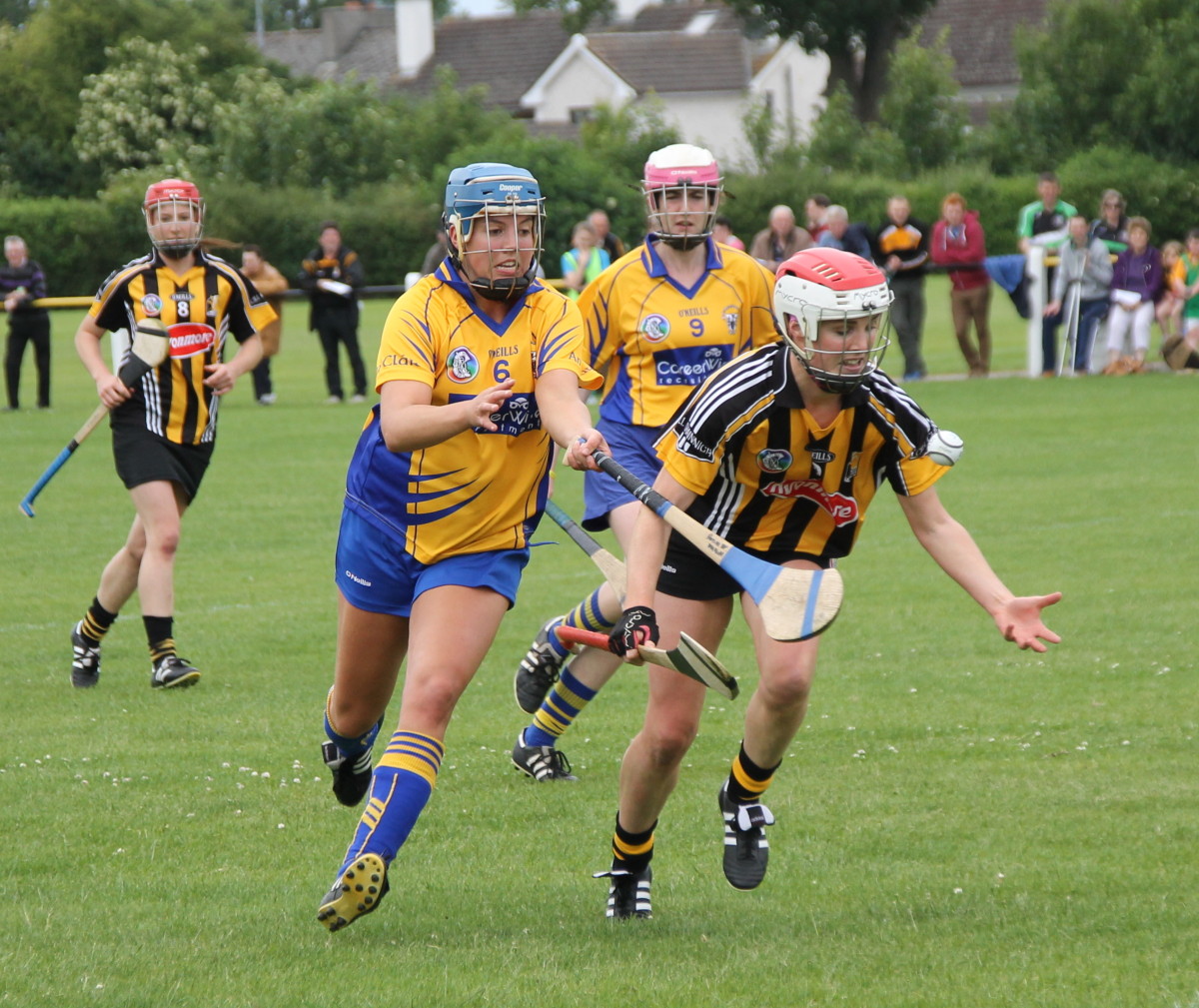 Kilkenny romped to a twenty two point victory over Clare in the All-Ireland Senior Camogie Championship in a very one sided affair.
Kilkenny 2-22
Clare 0-06
Venue: St Lachtains, Freshford.
It was a difficult hour for Clare Camogie as their Senior side suffered a painful defeat against a strong Kilkenny outfit who laid their All-Ireland intentions on the line. Although it was a heavy defeat to take, Clare did show glimpses of potential but these moments were too scarce.
Fintan Deegan's Kilkenny took control from the onset tapping over eight points inside the opening nine minutes. Ann Dalton, Katie Power, Denise Gaule, Aisling Dunphy and Miriam Walsh were among the early scorers for the hosts.
Truagh/Clonlara's Michelle Caulfield got Clare off the mark on the tenth minute after receiving a handpass from Aoife Keane before splitting the posts. Playing with the aid of a strong breeze, the Cats replied with five unanswered points via Dalton, Power, Walsh and centre-forward Anna Farrell.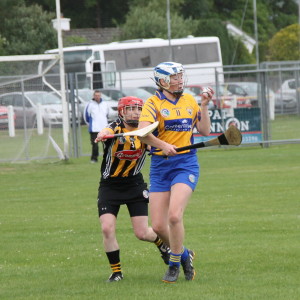 A pointed free on the twenty one yard line from Chloe Morey left eleven points between the sides, however Kilkenny cancelled out Morey's free with Edel Maher and Denise Gaule both picking off scores to leave the scoreline reading 0-15 to 0-02 at the break.
Midfielder Aisling Dunphy raised a white flag one minute into the second half and this was followed by a similar effort from Mullinavat's Michelle Quilty. Morey was on target from another placed ball on the sixth minute after substitute Emma O'Driscoll who made a positive impact was fouled.
Clare would go on to hit two scores in succession with Inagh/Kilnamona's Aoife Keane and Chloe Morey bridging the distance to twelve points. Freetakers Gaule and Morey swapped scores on the forty eight minute. Piltown's Katie Power pushed Kilkenny further ahead with a point from a difficult angle. The Banner had a glorious opportunity to get the game's first goal but Feakle's Vera Loughnane missed a crucial goal chance.
All of Clare's spirit fell asunder in a two minute blitz that saw them concede 2-01. Denise Lynch pulled off a number of vital saves over the hour but she will be disappointed with Kilkenny's first goal as she batted a dangerous high ball out of the dangerzone and into the path of Denise Gaule who blasted the sliotar to the net. The Windgap attacker picked up another goal straight off the puckout as Clare failed to clear their lines and Katie Power passed to Gaule who raised another green flag.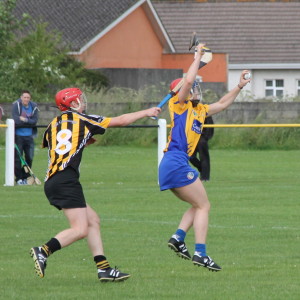 From there Kilkenny pushed on while Clare accepted their fate. Michelle Quilty, Davina Tobin and Aine Gannon struck the sliotar straight between the posts to ensure two wins from two for the Noresiders.
Throughout the contest, Kilkenny played with confidence and a certain swagger. Their movement of the ball was crisp and direct while their first touch and decision making was spot on. Over the hour they had ten different scorers as opposed to Clare's three. Manager Fintan Deeegan may need to look at the discipline of his side as he they conceded eighteen frees over the hour and four of Clare's six scores were from placed balls.
Nonetheless Kilkenny showed why they're All-Ireland contenders. They still have to play Derry and Tipperary but their place in the knockout stages is as good as secured. They had the luxury of a strong panel something which Clare cannot boast. Colette Dormer, Ann Dalton, Miriam Walsh, Claire Phelan and Edwina Keane were key to Kilkenny's victory.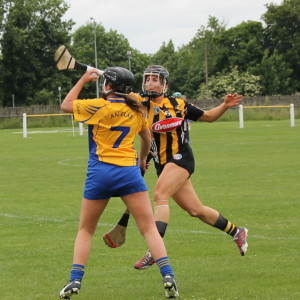 Those up to date with Clare Camogie knew it was going to be a difficult task coming up against the beaten All-Ireland finalists of 2014, that it was but the Banner did relatively well for a side overwhelmed with absentees. Four players made their Championship debuts and this game will definitely serve as a learning experience.
During the tie, Kilkenny tried to bully Clare but Colm Honan's side stood up for themselves but apart from Chloe Morey and Aoife Keane there was no real scoring threat. At times the defence was caught off guard and too loose but they were under so much pressure over the hour there was bound to be mistakes made on their behalf. Clare now know the standard they must get to if they want to compete with the big guns. Orlaith Duggan, Chloe Morey, Aoife Keane and Emma O'Driscoll did well for Clare.
Teams:
Kilkenny: Siobhan Murphy (Tullogher), Jacqui Frisby (Ballyhale Shamrocks), Edwina Keane (St Martin's), Catherine Foley (Windgap); Claire Phelan (Lisdowney), Colette Dormer (Paulstown), Davina Tobin (Emeralds) (0-01); Aisling Dunphy (St Brigid's) (0-02), Edel Maher (St Anne's) (0-01); Denise Gaule (Windgap) (2-03 2f), Anna Farrell  (Thomastown) (0-01), Ann Dalton (St Lachtains) (0-05); Michelle Quilty (Mullinavat) (0-02), Miriam Walsh (Tullaroan) (0-03), Katie Power (Piltown) (0-03). Subs: Aine Gannon (Rower Inistioge) (0-01) for Dalton (41), Aine Connery (St Lachtains) for Maher (48), Mary O'Connell (Clara) for Dunphy (52).
Clare: Denise Lynch (Kilmaley), Aoife Griffin (Newmarket-on-Fergus), Maire McGrath (Sixmilebridge), Carol O'Leary (Newmarket-on-Fergus); Kathleen Horgan (Truagh/Clonlara), Roisin McMahon (Newmarket-on-Fergus), Orlaith Duggan (Clooney/Quin); Clare Hehir (Inagh/Kilnamona), Kate Lynch (Kilkishen); Michelle Caulfield (Truagh/Clonlara) (0-01), Eimear Kelly (Truagh/Clonlara), Vera Loughnane (Feakle); Aoife Keane (Inagh/Kilnamona) (0-01), Chloe Morey (Sixmilebridge) (0-04 4f), Ailish Considine (Kilmaley). Subs: Emma O'Driscoll (Kilmaley) for Horgan (HT), Amy Keating (Inagh/Kilnamona) for Kelly (44).
Referee: Karl O'Brien (Dublin).