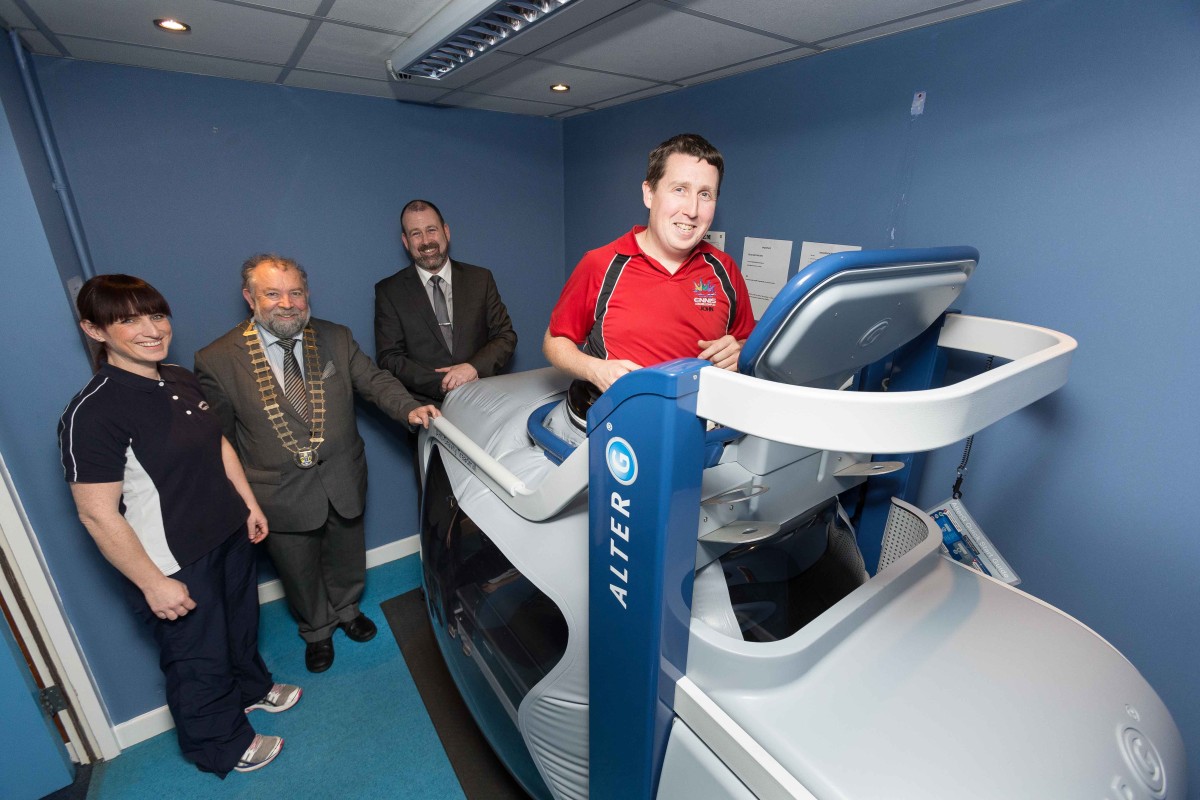 Space age technology originally developed by NASA is now being used at Active Ennis Leisure Complex in County Clare to help improve recovery times, increase mobility and lessen the chance of future injury for athletes and patients.
The developers of the anti-gravity AlterG treadmill will host a demonstration for the HSE, doctors, consultants, physiotherapists and local sports clubs and organisations on Thursday, 18th June.
Active Ennis Leisure Complex is the only facility in the Mid West Region to provide public access to an anti-gravity AlterG treadmill which has previously been used by internationally renowned sports stars such as former Irish rugby international Brian O'Driscoll, Barcelona footballer Luis Suarez, multiple tennis Grand Slam champion Rafa Nadal and Irish Olympian Derval O'Rourke.
It's more widely used across the United States where it is a regular feature of the recovery process for injured professional basketballers and American Footballers.
The antigravity treadmill relies on advanced air pressure technology, which, after calibrating the user's weight, reduces the load and impact on legs and joints at anywhere between 20 and 80 percent of the user's body weight to allow them to walk or run.
Physiotherapists throughout the world have hailed the treadmill for its role in expediting rehabilitation for athletes overcoming lower leg injuries, or for patients with a variety of medical conditions such as Strokes, Parkinson's Disease and total knee and hip joint replacements.
"Built in Silicon Valley using the NASA technology, this unique device has proven to be extremely successful in the areas of sports and medical rehabilitation and obesity. It has been utilised by top Olympic athletes, Premiership soccer teams and Irish Rugby players," Tim Forde, Active Ennis General Manager.
"We would invite anyone interested in seeing the AlterG in operation or finding out more about the technology behind the treadmill to call into Active Ennis Leisure Complex," added Mr. Forde.
Active Ennis operates Active Ennis Sports and Amenity Park (Lees Road), Active Ennis Leisure Complex, Active Ennis Tim Smythe Park, Active Ennis Pitch (Coote Park), Active Ennis Pitch (Glenina), and Active Ennis All Weather Pitch (Cloughleigh).
For more visit www.activeennis.ie.