Clare 3-26 Offaly 0-15: All Ireland Qualifiers Round 1
Venue: Cusack Park, Ennis
The level of favouritism that was accredited to Clare ahead of this match was justified after the 70 minutes in Cusack Park was completed.
A comprehensive 20-point victory for the home side was their first championship victory in 21 months and a very welcome one judging by the home crowd's reaction at John Keenan's final whistle.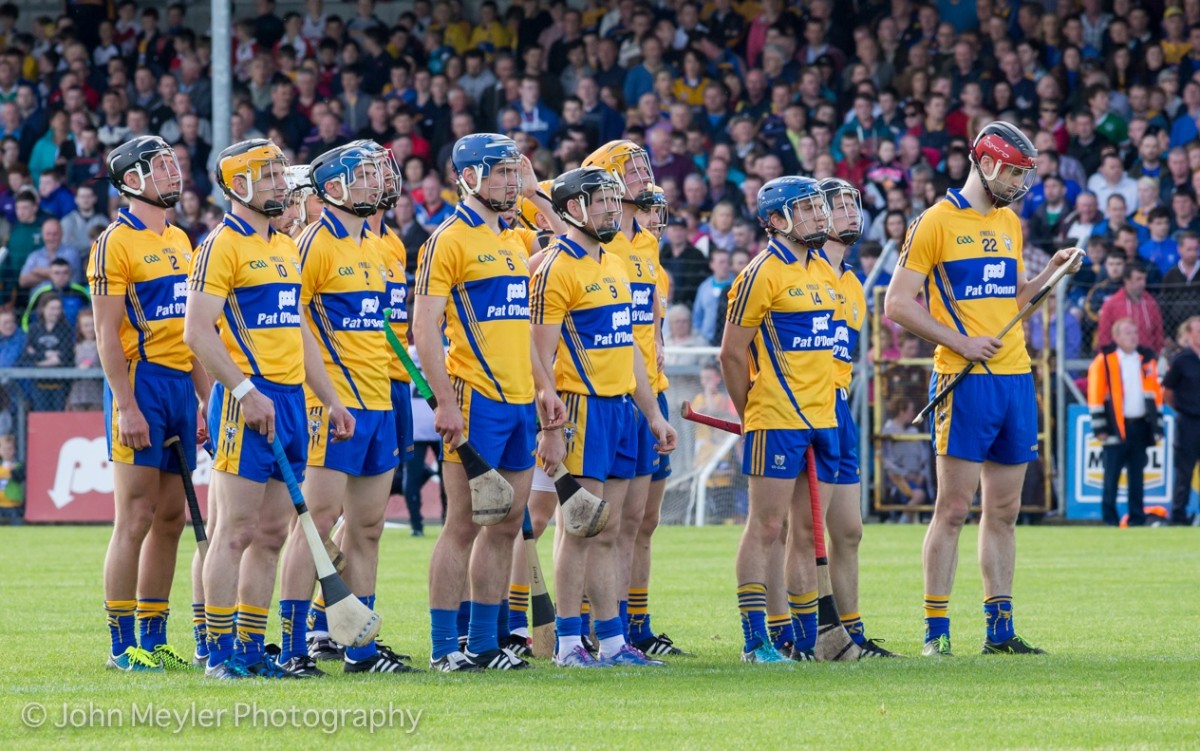 The writing was on the wall for Offaly within ten minutes. The return of Conor McGrath and Brendan Bugler severely boosted Clare in terms of ball winning at both ends of the field and they made it show on the score board.
Inside that opening ten minutes, Clare outscored Offaly by 1-5 to 0-1. Darach Honan had found his range within 15 seconds and Tony Kelly had added his first of eight before the first minute was complete.
Colin Ryan added a placed ball before smartly finding Honan with a quick free who then set up McGrath to smash the ball low and hard across James Dempsey in the Offaly goal.
The following ten minute period was Offaly's best spell as they reduced Clare's early lead to just four thanks to Dooley (2f) and the impressive Shane Kinsella, who was a late addition in place of Sean Ryan.
Golden broke the Offaly momentum with his first score before Tony Kelly's long delivery was cleared straight back into his hand for him to put it over the black spot.
McGrath, operating deeper than usual, was picking up loose ball all over the middle third and added two more to his tally before Conor Ryan picked out Colin Ryan with a short free and the Newmarket man sent the ball between the posts.
Joe Bergin and Kinsella added further scores for Offaly but they were allowing far too much for Clare who, in addition to scoring 1-13 in the first half, hit 7 wides, Colin Ryan forced a good save from Dempsey and Shane O'Donnell walloped the crossbar from close range.
John Conlon as always was a major presence in the forwards for Clare and won a lot of possession early in the game, going as far back as his own half back line on occasion.
After the change of sides, Offaly's half time substitute Sean Cleary scored after only ten seconds of play but they would concede 2-3 before registering another score.
First, Conlon latched on to the break from a long puck out and carried on towards the Offaly goal before finding the net. A brace from Conor Ryan and another effort from Kelly pushed Clare further in front.
The third and final goal came from Shane O'Donnell. After a wonderful solo through the Offaly defence, sidestepping left and right, Tony Kelly put it on a plate for the Ennis man to find the net.
Kinsella added another for Offaly before some good footwork and a couple of smart handpasses got Clare from their own corner out as far as John Conlon, who made no mistake with the shot.
Kelly added to his impressive personal tally with another score before Conor Ryan got his third. Honan also put over his third when it looked as if he had a goal in mind.
By now, Offaly were dependent on placed balls and Clare had taken the foot of the gas. In the remaining 20 minutes of the half, they only scored six points.
Golden, Kelly (2f) and McGrath all raised the white flag before the biggest cheer of the day was heard for the introduction of Colm Galvin.
David McInerney was on hand to scoop the ball off his own goal line before Brendan Bugler caught and cleared the rebound to a great reception.
Kelly completed the rout for Clare with two more from play as he showed his worth closer to the goal while Dooley and Kinsella responded to each of them.
A very impressive team performance from Clare but tougher challenges will undoubtedly lie ahead.
A lot of food for thought for Davy Fitzgerald with Kelly impressing in the full forward line towards the finish and a good cameo appearance from Cunningham. On a day when almost everything went right for Clare in front of goal, credit has to go to their defence who stood up to any threat posed to them.
Very little broke through the Clare half back line in the first half and when Offaly finally got through in the second half, they were met with another wall in the shape of the Clare full back line.
From the Offaly point of view, work needs to be done with manager Brian Whelehan hinting at the lack of an underage structure in place in the county.
Clare: Patrick Kelly (Inagh/Kilnamona); David McInerney (Tulla), Cian Dillon (Crusheen), Seadna Morey (Sixmilebridge); Brendan Bugler (Whitegate), Patrick O'Connor (Tubber) (0-1), Jack Browne (Ballyea); Conor Ryan (Cratloe) (0-3), Colin Ryan (Newmarket-on-Fergus) (0-3, 2f); John Conlon (Clonlara) (1-2), Tony Kelly (Ballyea) (0-8, 2f), Shane Golden (Sixmilebridge) (0-2); Darach Honan (Clonlara) (0-3), Shane O'Donnell (Eire Og Inis) (1-0), Conor McGrath (Cratloe) (1-4).
Subs: Aaron Cunningham (Wolfe Tones na Sionna) for O'Donnell, David Reidy (Eire Og Inis) for Conlon (Both 52), Paul Flanagan (Ballyea) for Dillon, Domhnall O'Donovan (Clonlara) for Browne (Both 59), Colm Galvin (Clonlara) for Honan (63)
Offaly: James Dempsey (Kinnitty); Niall Wynne (St. Rynagh's), Dermot Shortt (St. Rynagh's), David King (Coolderry); Eanna Murphy (Seir Kieran), Colin Egan (Belmont), Gary Conneely (St. Rynagh's); Emmet Nolan (Birr), Shane Kinsella (Kinnitty) (0-4); James Mulrooney (Seir Kieran) (0-1), Dan Currams (Kilcormac/Killoughey), Paddy Murphy (Ballinamere) (0-2); Shane Dooley (Tullamore) (0-6f), Joe Bergin (Seir Kieran) (0-1), Brian Carroll (Coolderry).
Subs: Sean Cleary (Shinrone) for Nolan (HT), Sean Ryan (Birr) for Conneely (41), Pat Camon (St. Rynagh's) for Shortt (51), Stephen Wynne (St. Rynagh's) for Currams (58), Dermot Mooney (Seir Kieran) for Murphy (62), Cillian Kiely (Kilcormac/Killoughey) for Egan (B/S, 68).
Referee: John Keenan (Wicklow)
[soundcloud url="https://api.soundcloud.com/tracks/213285325″ params="auto_play=false&hide_related=false&show_comments=true&show_user=true&show_reposts=false&visual=true" width="100%" height="450″ iframe="true" /]
Brian Whelehan Reaction
Offaly Manager, Brian Whelehan wasn't too disheartened about Offaly's defeat to Clare in the All Ireland Qualifiers as he reckons that Offaly will come good a few years down the line.
Whelehan's side fell to a 20-point loss to Clare in Ennis but the Birr native still remains positive as this is only the first year Offaly have matched the bigger teams in a training capacity.
"Offaly have been marked, I suppose this is our first year in a scheme with Croke Park and it's our first year, I suppose training in an environment where it's very similar to what the big teams are training in."
Whelehan also said that, as an Offaly hurling man, he would love to be involved in the overseeing of that progress but it's a decision that is outside of his control.
"Ah listen, I'm an offaly man and at the end of the day, I care about Offaly hurling."
But for now, the four time all-star knows that Offaly aren't the force to be reckoned with that they were in his own playing days in the 1990s.
"You don't just flick a switch and it happens in one, you know, you definitely don't flick a switch when things haven't been coming through from underage. Regardless of the two games that we've played in championship, the guys tried very, very hard all year and we had a very big year and it is a very disappointing way to go."
"It's a process, you know but at the moment you deal with the players you have and now they train as hard as all the top teams but at the end of the day, we're just that bit short at the moment and that's it, that's life and we'll have to deal with it as best we can."
Whelehan was in no doubt that Offaly were up against going to Ennis to face an under fire Clare team who had many critics to answer but there are still some areas that he felt they had to be at their most vigilant.
"It's like this when you're playing against Clare at home, big crowd, it's always going to be tough, you know. I was still happy enough at half time to be honest. I felt, the first 15 minutes of the second half was always gonna be the crucial period. As I said, we came out and got the first two scores and then gave away a goal straight from a puck out you know. That's very, very disappointing. That shouldn't really happen because the ball actually hit the ground first."
"Clare are a good side. I spoke coming into it, there was a few things we had to do. Try and block up the back and unfortunately, the goals that Clare got exposed the gaps that were there, you know, and that was disappointing."
It's back to square one for Offaly who will hope to push on in the coming years under their new structure within the county, be that with or without Whelehan in the top job.