Clare 1-12 Longford 2-12: All Ireland Qualifiers Round 2A
Venue: Cusack Park, Ennis
It was a disappointing start to the Qualifier double header in Cusack Park as the Clare footballers slumped to a defeat to 14-man Longford.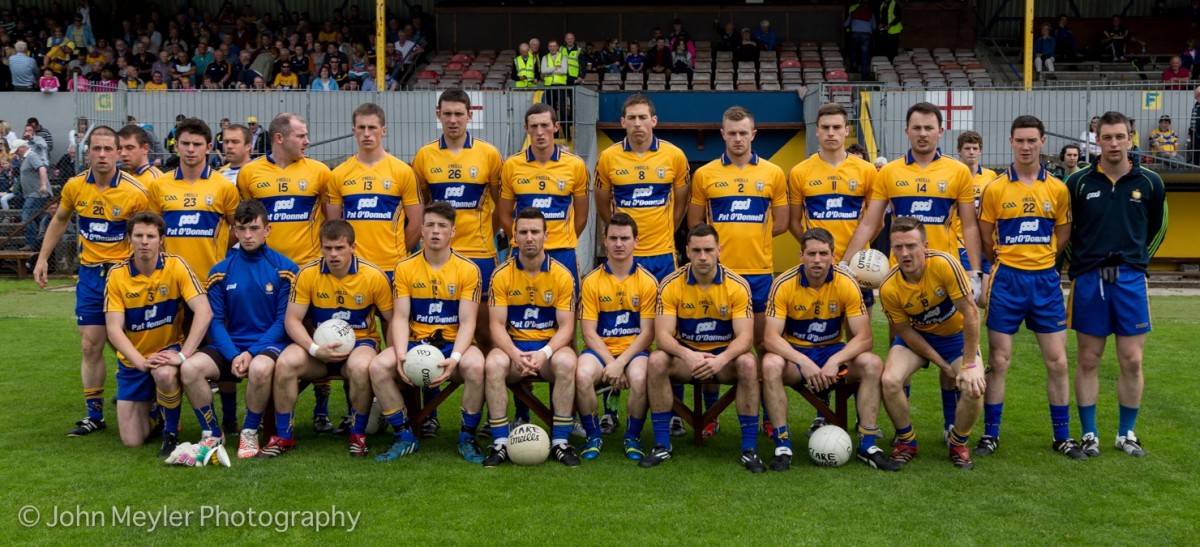 Clare will look back with disappointment after a wides total of 9 for the first half alone compared to Longford's 1 for the same period which could have seen them go in at the break with a much more comfortable lead than the one point cushion that they did have.
The dismissal of Diarmuid Masterson for two yellow card offences in the space of three minutes should have given Clare the freedom they needed to push on but it was the disadvantaged team who stuck their neck out towards the finish line.
In between Masterson's two yellow cards he had kicked an excellent crowd lifting point for the travelling side to put Longford ahead by the minimum.
From the early exchanges, it was clear that this game was going to be neck and neck right up to the final whistle.
Gary Brennan was the first to score, his attempt from a free sailed straight between the posts.
Brian Kavanagh responded with a placed ball of his own before David Tubridy edged Clare ahead again with his first score in what was an impressive individual performance.
With a lot of the football being played by Clare, they should have made it count on the scoreboard but instead kicked a few bad wides and were punished after 6 minutes.
A long delivery from Michael Quinn was excellently fielded by Liam Connerton who was then fouled by Ciaran Russell to grant Longford a penalty.
Kavanagh made absolutely no mistake from the spot despite the best efforts of Joe Hayes in the Clare goal.
Further scores from Connerton and Quinn extended the gap between the sides as Clare struggled to find their range.
After an Eoin Cleary free, Brennan added a second consecutive score Clare and the crowd sensed a momentum shift in Cusack Park.
Kavanagh restored Longford's goal lead with a free before Sean Collins set up David Tubridy for an excellent score drifting in from the left full forward position.
Clare's tails were up and the confidence was apparent in the next attack as a flowing move involving Pat Burke, Cleary and Jamie Malone set up Dean Ryan to fire home past Paddy Collum.
Connerton and Dessie Reynolds pulled Longford level after Tubridy had stretched the lead to two but Sean Collins was to have the last word in the first half. Tubridy was again influential in the score, as was Gary Brennan to set up the Cratloe man to give Clare a 1-7 1-6 half time lead.
Clare's late score to lead at the break only covered over the poor wide count and it was essential that they started strong in the second period and added to their lead.
However, it was Longford that made the brighter start and they had scored 1-1 by the 40th minute while shutting out their opponents.
Russell gifted a point to Rory Connor before Dessie Reynolds caught out the advancing Joe Hayes with a delicate lob to raise the green flag.
From there, Clare never got back on the front foot but did draw level twice including ten minutes from time, immediately after Masterson had received his marching orders.
Tubridy's accuracy from placed balls kept Clare in touch while some of the forwards seemed edgy in front of the goal and reluctant to have a go.
Masterson's first yellow card came as he gifted Tubridy a free from the 21 to pull Clare level.
The wingback then made himself known in the Clare half with a monster effort to get the Leinster side back in front before committing a high tackle on Gordon Kelly which gave Anthony Nolan no choice but to give him another card.
Dean Ryan had another sniff at goal not long after but opted to fist over and put Clare back on level terms yet again but that was to be the last score for the Banner men.
Kavanagh proved to be the winner in the closing ten minutes as he kicked a gigantic free from outside the 45 for Longford before adding another placed ball on the 65 minute mark.
With Clare chasing a goal for victory in the closing stages, the sudden shower that poured down made underfoot conditions a bit tougher to work with and handling errors and slips became more common.
After Kavanagh scored his first from play in injury time to ensure that Clare had no time to win the game, all appeared lost.
Tubridy had one last chance to force Extra Time, however with so many on the line, he was forced to lob the ball up and hope for the best in the air. It came to no avail and Clare were left bitterly disappointed.
Back to the drawing board for Clare and Colm Collins for next season's league campaign. They missed the energy of Podge Collins in the final third, along with the impact that Cathal McInerney could have brought off the bench.
It would be premature to suggest that they've gone back on all of last year's work but will need to make further strides in the year ahead. David Tubridy's return was very welcome for Clare but they will look back on the first half thinking 'What If?'.
For Longford, it's another qualifier victory and they can look forward to the draw for the next round.
Kavanagh was influential for them while Liam Connerton and Rory Connor were good in the opening period. Michael Quinn appeared in the right place at the right time more than once when Longford were shutting up shop and cleared a lot of ball.
Clare: Joe Hayes (Lissycasey); Ciaran Russell (Eire Og Inis), Kevin Hartnett (Meelick), Martin McMahon (Kilmurry Ibrickane); Shane Hickey (Kilmurry Ibrickane), Gordon Kelly (St. Joseph's Miltown Malbay), Dean Ryan (Eire Og Inis) (1-1); Gary Brennan (Clondegad) (0-2, 1f), Cathal O'Connor (Coolmeen); Sean Collins (Cratloe) (0-1), Jamie Malone (Corofin), Keelan Sexton (Kilmurry Ibrickane); Eoin Cleary (St. Joseph's Miltown Malbay) (0-2, 1f), David Tubridy (Doonbeg) (0-5, 3f), Pat Burke (Kilmacud Crokes) (0-1).
Subs: Shane McGrath (Thomas Davitts) for O'Connor (18), Enda Coughlan (Kilmurry Ibrickane) for Cleary (54), Stephen Collins (St. Joseph's) for Kelly (60).
Longford: Paddy Collum; Cian Farrelly, Barry O'Farrell, Fergal Battrim; Colm P. Smyth, Barry Gilleran, Diarmuid Masterson (0-1); Kevin Diffley, Michael Quinn (0-1); Ronan McEntire, Dessie Reynolds (1-1), Pauric Gill; Liam Connerton (0-2), Brian Kavanagh (1-5, 1-0pen, 4f), Rory Connor (0-2).
Subs: Shane Doyle for Gill (58), Ross McInerney for McEntire (61), Peter Foy for Connor (66).
Referee: Anthony Nolan (Wicklow)
Ephie Fitzgerald Reaction

Clare's loss to Longford in the All Ireland Senior Football will be a bitter pill to swallow for the team, management and supporters.
Having played so much of the ball in the first half and only gone in with a point separating the sides, they will look back at that opening period and wonder what could have been.
Selector on the Clare management, Ephie Fitzgerald echoed the same sentiments in the aftermath of the match but couldn't quite put his finger on what went wrong.
The Nemo Rangers man highlighted the wasted opportunities in the first half but also suggested that Clare might have been slightly nervous.
"Obviously, we kicked a few wides and we had a few goal chances we didn't take but overall, I don't think we could have too many complaints."
"Our guys seemed to be maybe a little bit nervous", Fitzgerald noted.
Fitzgerald was still gracious in defeat and was quick to compliment the work-rate and class shown by the Longford side, especially after going down to 14.
"They attacked everything. You know their tackling is very crisp and we didn't seem to match that."
"They came down here with a mission and they looked to be very, very focused."
"They've quality forwards inside and they were able to put us under pressure and they took some very good scores. Brian Kavanagh got some great scores there towards the finish."
The Clare selector did, however, feel that the all-important goal for Longford just after the restart was a stroke of luck for Dessie Reynolds, suggesting that the inside forward was possibly going for a point rather than attempting the lob on Joe Hayes.
"That's the way it goes. Longford put in the same effort. We would have been expecting to win today but I suppose the most disappointing thing is that we didn't perform. We certainly, I would say, are better than that but on the day it didn't work for us so we're out and that's that."
Jack Sheedy Reaction
Jack Sheedy appeared a relieved man under the stand in Cusack Park after watching his team overcome Clare by a goal in nail-biting circumstances.
The former Dublin Inter-County footballer was full of praise for his side, who overcame Clare even with a numerical disadvantage for the last ten minutes, during which Clare were level.
"You couldn't ask for any more, you know. I thought we were going to get hurt by some of the ball we were giving away but we worked very hard to get it back and you know, I think we deserved our win. I think we were good value for it even though the pacemaker's not working so good at the moment."
Sheedy highlighted the opening passage of the second half, in which Longford got a vital 1-1, similar to the start they had to the first half when they stormed into a five point lead.
"Yeah, we needed the good start because we knew what Clare would bring to the game. You know, they're very passionate men about their football and they work very, very hard and we knew we'd have to, at the very least, match that to get anything out of the game."
Sheedy was also quick to acknowledge the characters who came to the fore when it really mattered on the day. The Longford manager was delighted with the efforts of Brian Kavanagh at full forward, in particular.
"Yeah, super. Super Leader. Led from the front but there's a lot of leaders out there today. Brian was excellent and he has been excellent all through the season. Michael Quinn, Barry Gilleran, Dessie (Reynolds), who else, Rory Connor, Liam Connerton, Diarmuid Masterson, you know, you're looking for guys to stand up and be counted and that's what they did today."
He hasn't set his sights on any targets just yet but is encouraging his side to keep moving forward as long as they can.
"Every time you win a match, it's bonus territory to be perfectly honest with you. As long as we keep doing that or keep working like that, you know, we won't set too many targets, we'll just keep working hard and trying to achieve as much as we can from every game."
With that said, Sheedy has already highlighted areas of Longford's play against Clare that they will need to look at tweaking before they move on to the next round.
"We probably should have got a few more scores to make ourselves a little bit more comfortable. You know, we had some really good opportunities which we didn't take, we didn't convert. We got inside their 45, we got inside their 21 and we didn't convert chances. I mean, we've got to do that."
Most of all though, Sheedy is happy for the players and what it means to them to win games. He was impressed by how they gave themselves every opportunity to win the game unlike last year when they travelled to play Tipperary in Thurles.
"I'm delighted for the lads today because they really worked very hard and they got their rewards."