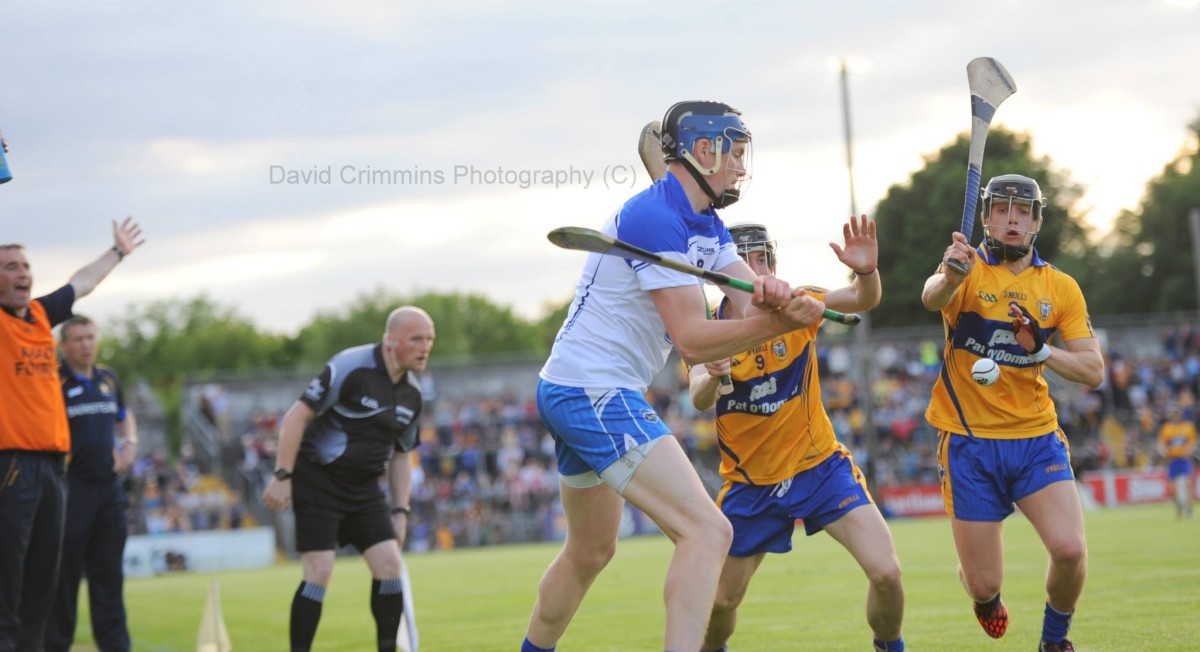 Clare U21 hurling manager, Donal Moloney was awash with praise for his resplendent bunch of young men who gave an exhibition in effective workrate when overcoming Waterford.
Speaking exclusively to The Clare Herald in the aftermath of Clare's two point win, Moloney affirmed that the workrate always existed in these hurlers. "They have it they just have it (the workrate). The tackle right tonight is the highest of the year and they pushed beyond any previous levels comfortably, they were just fantastic from that perspective and they got what they deserved, we incurred a big setback in the second half but we eventually got the victory I think we deserved on the night."
The Scariff man stated that Clare's preparation had to be right due to the quality of opposition. "It was an incredible win and because Waterford were so good we had to have the right preparation and the way the guys played, everything made for one of these most exhilarating of evenings. We were fortunate enough to come out we got a lot of the rub of the green and the ball ran for us but they emptied themselves and played fantastically."
Prior to the game the Déise were raging hot favourites but Moloney refused to focus on that aspect in the dressing room opting to invest time bettering his side. "No, that's being negative, we would never focus on something like that. We were focusing on how good we could be and how well we could possibly play and the boys played without any inhibitions, it took us a while to get going it took us a while to start but once we got the foothold we never let go".
Clare's trio of Ian Galvin, Ben O'Gorman and David Fitzgerald all played inter-county minor in 2014, Donal admired how well they adapted to the step-up but reserved special praise for Inagh/Kilnamona's Kevin Hehir. "Ben, Ian Galvin they were all really outstanding, people like Kevin Hehir as well going out making your inter-county debut and your marking Austin Gleeson or Colin Dunford or Tom Devine, big days for those guys but they were outstanding"
In his first game as sole manager of the Clare U21's, the beaming Donal Moloney was thrilled with the win but more so with the fact that the players did themselves justice. "They were brilliant, we've so many young guys that turned up and put in sterling performances tonight and that's tremendous for them I'm really delighted for them".
This year has seen a lot of changes to the Clare U21 setup and while Moloney misses his old companions he admits to being "blessed" with their replacements. "They've been brilliant. I miss Gerry, Paul and Jimmy but Peter, Kevin, Sean, Kieran, Barry, Francie and Maura they've been absolutely brilliant and I'm blessed to have them".
When Gerry O'Connor, Jimmy Browne and Paul Kinnerk all bowed out in October 2014 due to work and travel commitments after giving great service to the County, the easy option for Donal Moloney would have been to walk away. Instead the 1993 All-Ireland Junior medallist stuck with the cause and his fearless nature was certainly adapted by his current crop on Wednesday evening.