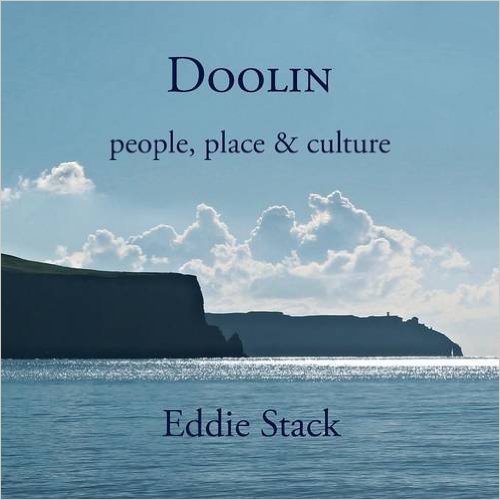 Each month, Sally Vince reviews a book about Clare or a book by a Clare-based author. This month Sally reviews "Doolin: People, Place & Culture" by Eddie Stack.
"World renowned as a shrine of Irish traditional music, Doolin in County Clare lies between two natural wonders, the dark Cliffs of Moher and silver hills of the Burren. Once known only to her immediate neighbours, the cognoscenti and artists, Doolin is now mentioned in every guidebook to Ireland as a place to experience authentic Irish culture. Doolin is a unique book about the place, its people and culture. Beautifully written, this collection of essays and conversations features local tradition-bearers who were renowned for their music, songs, dance and storytelling. Folk art and traditions run through the book."
This is a fabulous book about Doolin – a small village on the coast of County Clare. But it is not just about a tourist village: it is about a community and a vanished way of life.
Eddie Stack, well known locally, lives in the USA, but he is a regular visitor back home to his native Ennistymon. Eddie is a university teacher, a musician, and a writer of several short story collections and a novel. In Doolin: People, Place & Culture he has brought together his personal knowledge of the village and his friends who live or lived there, his research skills, his love of music and his gift of story-telling to present a gorgeous book that will appeal to historians, traditional musicians, locals, and anybody who has an interest in or love of Ireland.
The book has five sections:
People, Place & Culture – a fascinating history of Doolin from pre-history, through Botious MacClancy and the MacNamaras to the present day.
The Way We Were – reminiscences of the last Doolin native Irish speaker, Paddy Pharaic Mhichil Shannon, who was born, brought up and died in Doolin.
The Music Makers – entertaining biographies and remembered conversations with Micho, Pakie and Gussie Russell, and John and Paddy Killoughery, with honourable mentions of neighbouring musicians Willie Clancy, Martin Talty and others; alongside the music was, of course, the dancing that the people of Doolin loved until it was considered that they were having far too good a time and it was stopped.
The Storytellers – stories and memoirs of Stiofáin Uí Ealaoire, Seán Ó'Carún and others, and how we have Séamus Delargy and Seán MacMathúna to thank for recording on tape and paper some of those stories before they were lost forever.
The Gentry – a short history of the colourful MacNamara family from nearby Ennistymon, who had a house and friends in Doolin.
Doolin life is still hugely influenced by music, with regular sessions in the pubs and the Russell Memorial Weekend held annually.
There is also an annual folk festival, held by the Doolin Hotel, and I reckon the musicians of old would have loved playing for the visitors to the Doolin Hotel's annual Harley Fest. Storytelling in its traditional form has sadly died out, but the Doolin Hotel runs the annual Doolin Writers' Weekend and a poetry and short story contest, and modern storytellers live here (see, for example, our review of Donal Minihane's novel Cliona's Wave), and many others are inspired by the surroundings.
The book has many photos, illustrations and extracts from other texts. If you are encouraged to find out more, as I certainly was, there is a bibliography in each section, and there are links on Eddie Stack's website to recordings and videos that are well worth watching and listening to.
However well (or not) you know Doolin, this is a fascinating and eminently readable book on how one tiny village grew, created traditions and continues to thrive.
Available from local and national book shops, including those in Ennis and Salmon Poetry in Ennistymon, and some tourist shops. Find the author: Website (this link will take you to the Doolin book page, with video and sound recordings)