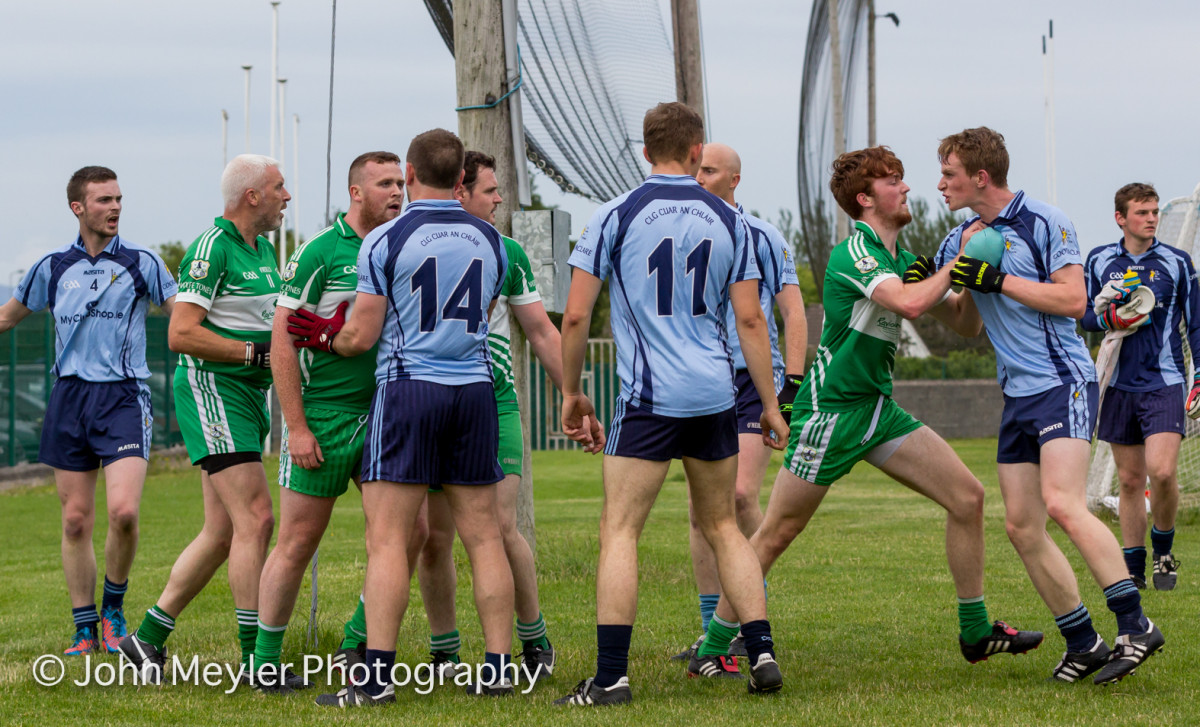 It was a tough welcome back to Senior Championship Football for Wolfe Tones na Sionna in Clarecastle on Saturday evening as they fell to a minimum defeat to Cooraclare in Clarecastle.
Cooraclare 1-11
Wolfe Tones 1-10
Venue: Clarecastle
On a day when a lot of the drama took place between the first and second half, it was a late charge from the defensively set Cooraclare and substitute Jack Morrissey that pushed the Milesian's over the line.
A good start to the second half had Wolfe Tones in the driving seat but from there they failed to push on out of their own half and struggled under the kick out with Johnny Bridges being well marshalled by Michael Kelly.
It was Kelly who had got the ball rolling for the winners in the 12th minute having already seen the sides swap scores.
When Ciaran Argue's kick out beat his own man and found its way back into Kelly's hands, he rifled the ball home off the crossbar with an emphatic strike.
Brian O'Connor and Caoimhin Donnellan were both instrumental in the first half for their teams with O'Connor's pace causing a lot of trouble.
After the Wolfe Tones man got his first score of the day, Donnellan replied with two for Cooraclare to put a goal between the sides.
Cooraclare were quick to move into defence again once they'd gotten the advantage but it proved to be costly towards the end of the half. As Wolfe Tones kept pushing forward and being afforded little space, tempers began to flare.
Referee Fergal Gray found himself in the wars in the midst of a melee in which Patsy Keyes and Andrew O'Neill were eventually booked.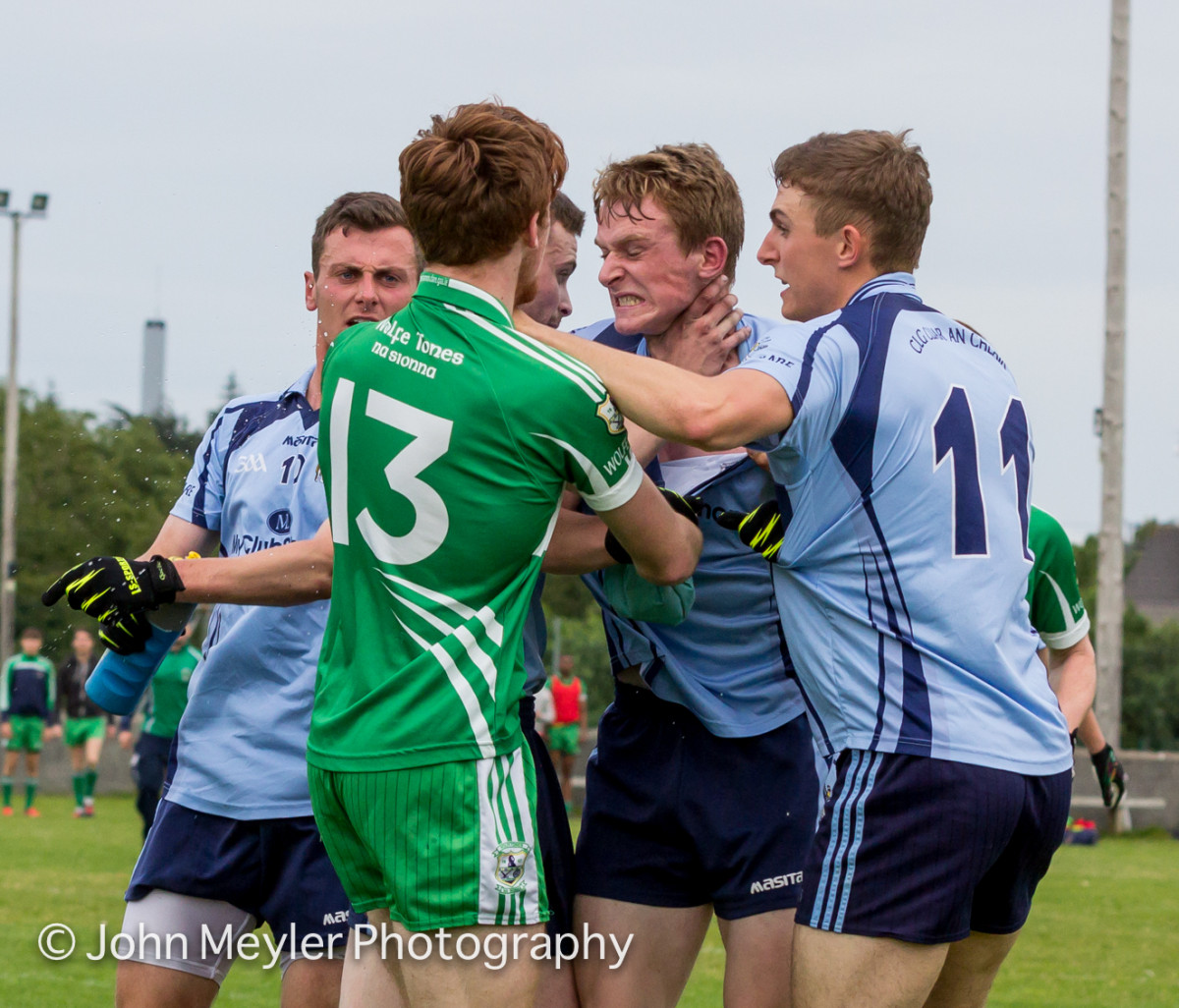 The 2014 Intermediate champions finished the half stronger. The Leahy brothers struck for three points while Pearse Lillis answered with a free for Cooraclare to leave the minimum between the sides at the break.
With stories filtering down from Miltown about the half time dramatics, Wolfe Tones and Cooraclare were not to be undone and many players needed to be ushered in as quickly as possible.
When the match got back underway, Wolfe Tones were straight out of the traps and struck for 1-1 inside the first five minutes.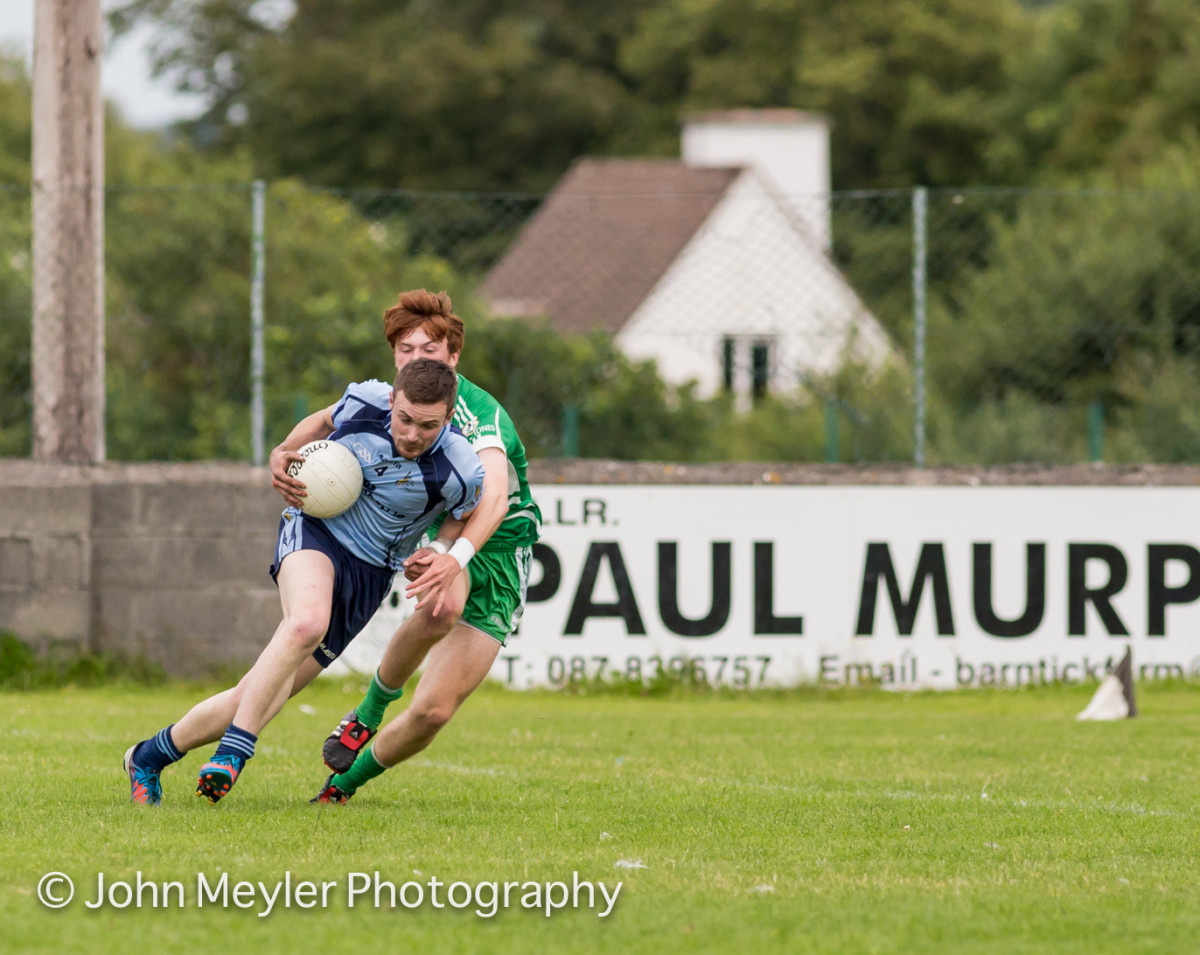 Gary Leahy collected a high ball from Ross O'Connor, worked some space and fired over off his right before Daragh Leahy managed to dispossess Killian Roche on the goal line and the ball went straight to the net.
Micheal Kelly and Pearse Lillis responded to slice the deficit to one again before Gary Leahy popped over the best score of the game.
From a tight angle, the Wolfe Tones target man hit a low flying shot straight between the posts to the amazement of those around him.
Another Lillis free was matched by a well worked score from Bridges before Cooraclare stepped into the driving seat. The young substitutions were stretching their legs around the middle and dragging the Wolfe Tones defence out wide.
Damien Burke levelled the match with five minutes remaining before Morrissey had a golden opportunity to go for goal but sent it wide of the posts.
The re-introduction of Rory Donnelly had an immediate impact as he won a high delivery inside the Wolfe Tones 21 before kicking on the turn and splitting the posts.
Morrissey had a second chance for glory immediately after that and this time made no mistake as he put the ball over the black spot.
Wolfe Tones had time to get the two when Gray indicated three minutes of added time and managed one through a Leahy free but once the kick out was retained by Cooraclare and a free won, it was lights out for the Tones.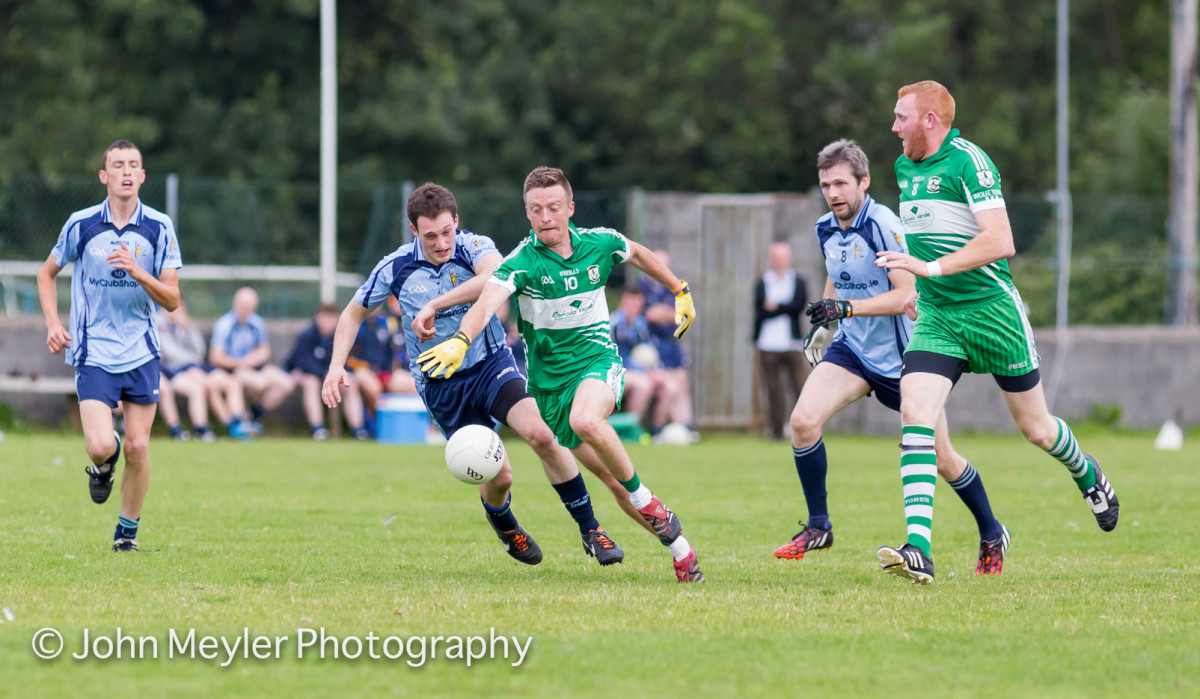 Wolfe Tones could have asked for an easier return with Cooraclare reaching the last four of the Jack Daly cup in 2014, but their main focus has to be retaining their Senior status and building for a stronger challenge next year. With a young panel, the experience of this year could be hugely beneficial.
Cooraclare head to the winner's side of the draw and will need better performance's against better opposition who will be wiser against the blanket defence.
Cooraclare: Killian Roche; Killian Burke, Conor Marrinan, Sean Garry; Colm Carroll, Fergal Lillis, Thomas Donnellan; Michael Kelly (1-1), Joe Downes; Thomas Downes, Tadhg Lillis, Pearse Lillis (0-4f); Rory Donnelly (0-2), Andrew O'Neill, Caoimhin Donnellan (0-2). Subs: Jack Morrissey (0-1) for Tadhg Lillis (37), Damien Burke (0-1) for Donnelly (48), Donnelly for Donnellan (57).
Wolfe Tones: Ciaran Argue; Steven Carroll, Stephen Tuohy, David Dunne; Ross O'Connor, Stephen McInerney, Aaron Brennan; Johnny Bridges (0-1), Jamie Roughan; Chris Dunning (0-1), Patsy Keyes, Barry Murphy; Daragh Leahy (1-1), Gary Leahy (0-6, 3f), Brian O'Connor (0-1). Subs: Kevin Cahill for Keyes (HT), Colm McCaul for Dunne (37), Jack Kelly for McInerney (43), Sean Brennan for Murphy (55), Dan Gallery for Brian O'Connor (60+2).
Referee: Fergal Gray (Feakle)
All pics by John Meyler