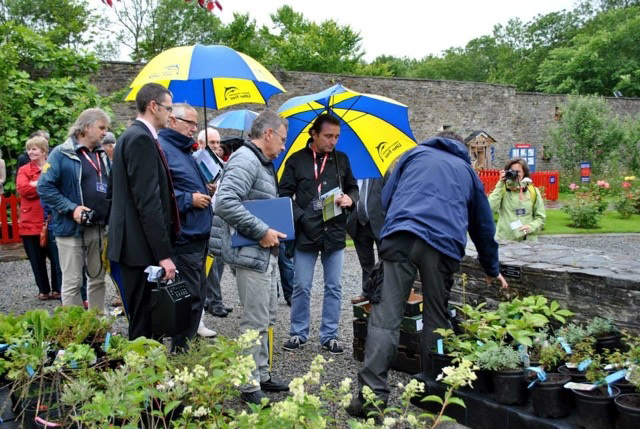 The Entente Florale Steering Group in Kilrush has paid tribute to the local community for helping to make the town look its best during the adjudication stage of the 2015 International Entente Florale competition.
Judges for the prestigious European-wide horticultural and environmental competition were in Kilrush on Thursday (July 16th).
Kilrush is representing Ireland in the 'Village' category of the competition for population centres of less than 5,000 people.
Anne Haugh, Chairperson of the Entente Florale Steering Group commented: "Kilrush looked magnificent on the day which is testament to the great work and enthusiasm of the Kilrush community and members of the Steering Group ."
"Kilrush's participation in the competition has provided everybody in the area with an opportunity to showcase the town on an international stage. It would be great if this effort could be rewarded with success in the Entente Florale competition and indeed, the National Tidy Towns competition and the annual Pride of Place Awards. The most important thing however, is that we build from the effort that has been shown in preparing for this event and the continued development and improvement of Kilrush," added Ms. Haugh.
The aim of the Entente Florale competition is to promote the greening of towns and villages; flowers, shrubs, green spaces and parks; development which is environmentally and ecologically sensitive; and education and communication initiatives which promote environmental awareness.
Clare's last success in the International Entente Florale competition, which officially recognises the improvement of the quality of life for local urban and village communities, came in 2002 when Ennis was named a Gold Medal Winner in the 'City' category. The County Capital also won a Silver Medal in 1997.
John Corry, who is Co-ordinator of the Entente Florale Steering Group, said Kilrush has benefited greatly from its participation in the competition.
"There is a broad range of groups and organisations now involved in promoting and enhancing the appearance of the town. They include the local TidyTowns Committee, Kilrush Amenity Trust, Clare County Council, the local business sector, and the people of the town and surrounding areas. This collaborative partnership bodes well for the future development of this town and surrounding areas and those who live there, and I would like to sincerely thank everyone who assisted in any way in preparing for the Entente Florale in Kilrush," stated Mr. Corry.
The 2015 Entente Floral Prize giving ceremony will be held in September 2015. For more visit www.entente-florale.eu.