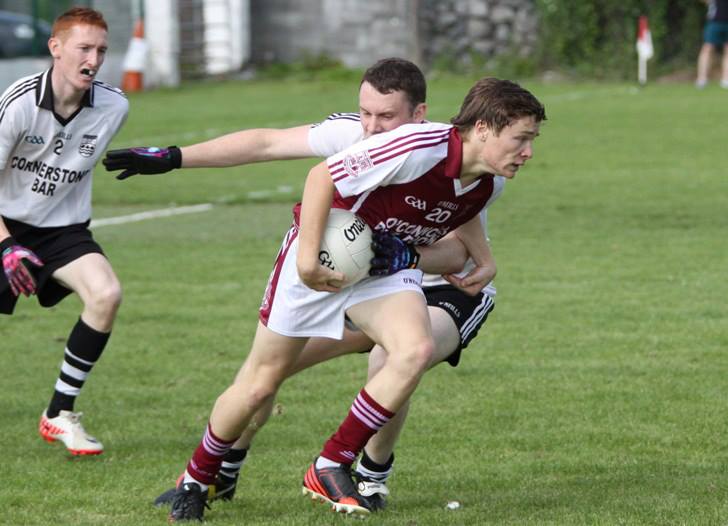 St Breckans starved off the challenge of a youthful Lissycasey after extra time to pick up a win that meant so much to the club as was evident by the jubilation at the final whistle.
St Breckans 1-14
Lissycasey 0-16
Venue: Hennessy Memorial Park, Miltown Malbay
Extra time always seemed to be on the cards in this hard-fought contest with two points the biggest lead in normal time with both sides edging in front at various stages throughout.
Although they led at half-time in normal and extra time, Lissycasey never pushed on to secure the win and they paid the price against a team who showed true grit over the hour to pick up their first opening round win since 2011.
Centre-forward Sean Hayes pointed off his left boot to put Lissycasey in front straight from the throw in. The impressive St Breckans' duo of Maccon Byrne and Aidan Davidson responded with a point each the latter score coming after a nice one two between Davidson and Pat Nagle.
Sean Cormican extended the North Clare club's lead on the seventh minute after good running off the ball. Freetakers David Talty and Pat Nagle swapped scores at the midway stage to leave two points between the sides.
Lissycasey hit three scores on the trot to hold a one point lead. The points coming courtesy of Talty, Enda Finucane and Oisin Hanrahan who was assisted by a Seamus Collins pass. Maccon Byrne picked up Breckans' first score in ten minutes with twenty six minutes played only for the Aidan Daly managed side to respond with white flags from Brian Cahill and Barry Lynch which gave them a two point advantage at the break.
Maccon Byrne and Pat Nagle were on target early on in the second half to level matters and they regained the lead as Dale Masterson finished off a well worked attack with a fine point on the forty third minute.
Substitute Conor Finucane made his presence known pointing from his second contribution of the game. Pat Nagle and Brian Cahill traded scores to leave the sides level pegging with fifty four minutes on the clock. Finucane put Lissycasey ahead with less than a minute of stoppage time but a foul on John McDonagh saw the resulting free converted by Maccon Byrne to send the tie to extra time.
The men from Lisdoonvarna and Doolin started the first half of extra time the better getting the first three scores via Dale Masterson and Maccon Byrne on the double. However they went the final six minutes of the half without a score as points from Niall Kelly and three from Conor Finucane gave Lissycasey a slender one point lead at half-time.
Finucane increased the lead to two points after brushing past the Breckans defence. The all-important goal came courtesy of the evergreen Dennis O'Driscoll who made the link-up play between Aidan Davidson and Stephen Nagle count as he struck a bullet past Joe Hayes in the Lissycasey goal. Byrne and Finucane were both on target with frees but the Neil Hawes trained outfit kept hold of possession in the final few moments to secure a precious win.
Over the course of eighty minutes Lissycasey hit a total of fifteen wides which was the equivalent of scores got by their opponents. Their inaccuracy played a big part in the result as did their decision making on the ball. Similarly their indiscipline will need to be looked at as they conceded twenty seven frees which is criminal in Championship football.
It is now three defeats in their last four Championship games for the 2007 Champions who must now put their heads down and focus on coming out on top in their round two outing. This is a youthful Lissycasey side with bags of potential and they will learn from this defeat but a win is essential the next day out for the development of the side. Former Clare minor captain, Brian Cahill along with Ryan Griffin and Conor Finucane were prominent for Aidan Daly's charges.
This win meant a lot to St Breckans not just because it ensures their Senior status for 2016 but because they weren't fancied for this and the shouts from the crowd of "come on the underdog" showed they were eager to set the record straight. Although they gave their opponents some periods of dominance they never panicked which was key to their victory.
As the game entered extra time, the expectation still remained that Breckans would wilt but they didn't instead they dug deep and grinded out the win, a fitting example being goal hero Dennis O'Driscoll playing on through the pain barrier. It will be a bigger challenge the next day out for them but they already possess the grit it is now about staying on top for longer and not allowing the opposition to get as many shots in. Maccon Byrne, Aidan Davidson, Dennis O'Driscoll, Dale Masterson, Paraic Lacey and Pat Nagle played crucial roles in St Breckans' victory.
Teams:
St Breckans: Craig Flanagan; Conor Burke, Conor Howley, Paraic Lacey; Raphael Considine, Daniel Carey, Dale Masterson (0-02); Liam Tierney, Dennis O'Driscoll (1-00), Shane O'Connor; Maccon Byrne (0-07 5f), Aidan Davidson (0-01), Sean Cormican (0-01); Pat Nagle (0-03 2f), Alan Sweeney. Subs: Stephen Nagle for Carey (38) (Inj), John McDonagh for Cormican (48), Daniel Carey for Sweeney (54), Mikey Keating for O'Connor (76), Conor Shannon for Masterson (80) (BC).
Lissycasey: Joe Hayes; Martin Moran, Ryan Griffin, Gerry Moran; Seamus Collins, Niall Kelly, Brian Cahill (0-02); Enda Finucane (0-01), Cathal Doohan; Matt O'Shea, Sean Hayes (0-01), Oisin Hanrahan (0-01); David Talty (0-02 2f), Daniel Clohessy, Barry Lynch (0-01). Subs: Conor Finucane (0-07 1f) for Lynch (41), Oisin Talty for Hanrahan (52), Niall McCarthy for Hayes (55), Matt Kilroy for Clohessy (56), Oisin Hanrahan for E Finucane (69), Sean Hayes for D Talty (75).
Referee: Barry Kelly (St Josephs Miltown)
Meanwhile Clondegad were the first side to taste success in the 2015 Championship with a 2-11 to 1-07 win over Shannon Gaels. They led by eight points at the interval with Cillian Brennan and Brian Carrigg raising green flags.
Shannon Gaels picked up a goal at the beginning of the second half with Padraig Neylon punching to the net. Clondegad held out for a victory with Clare captain Gary Brennan watching from the sideline due to injury.