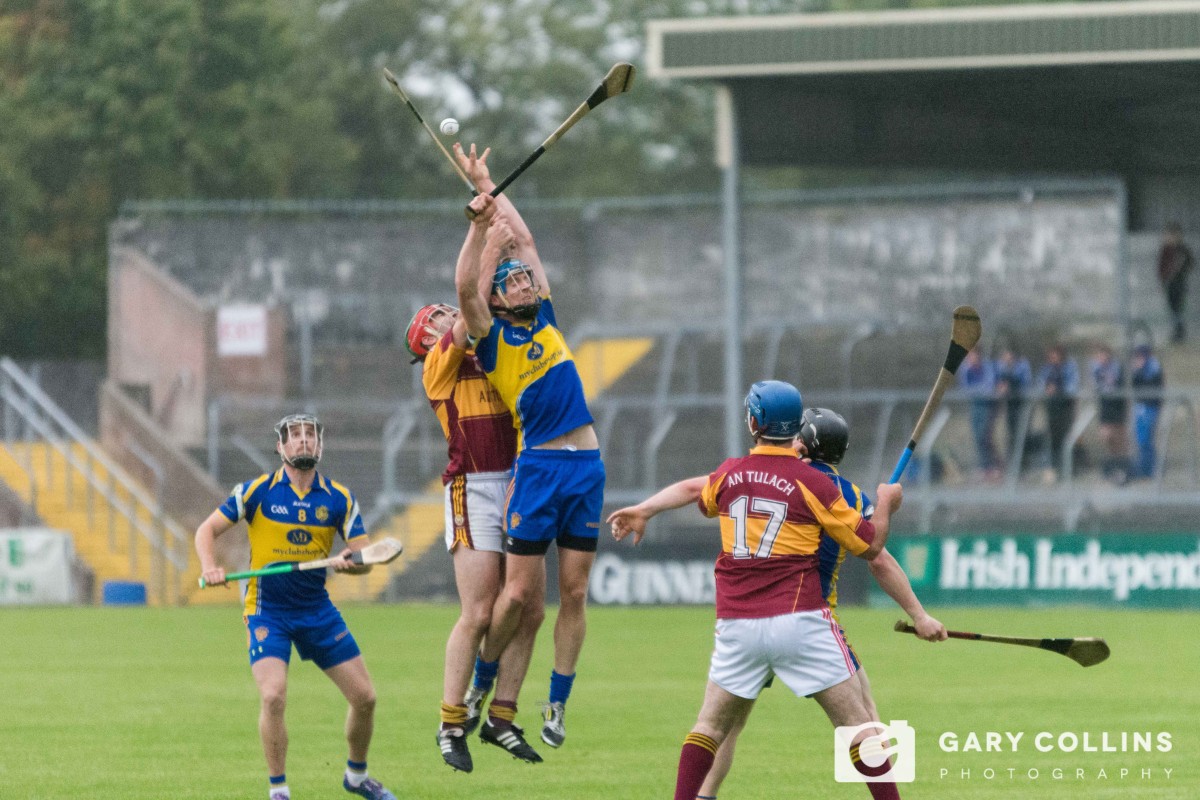 It took a while for Newmarket-on-Fergus to get going in this encounter but a scuffle involving a number of players from both sides seemed to act as the catalyst for the Blues as they finished stronger than a tough Tulla outfit.
Newmarket-on-Fergus 1-17
Tulla 0-13
Venue:  Cusack Park
Newmarket were bound to find their feet eventually this year having stumbled to this phase of the championship with a narrow victory over Feakle and a defeat to Clooney/Quin. The return to the starting line-up of a few key figures such as Shane O'Brien and David Barrett was of major significance to the Blues victory over a battling Tulla.
It wasn't all as rosy for the Blues as a seven point victory might suggest. This one was still back and forth right up until the final five minutes when Newmarket were fired to victory by scorer in chief Colin Ryan.
Tulla were first out of the traps and it was one of their better players on the night, Daragh Corry, who put them in front early on.  They had the better of the early exchanges and Newmarket can feel fortunate that Ronan Goode's 16th minute goal came when it did.
With that amount of time gone, only a Colin Ryan free had been registered on the scoreboard by the 23 times winners whereas Aidan Lynch had added a brace to Corry's opener.  Goode reacted quickest to Stephen Kelly's effort coming down off the upright and he shrugged off his man before firing past Daniel Vaughan.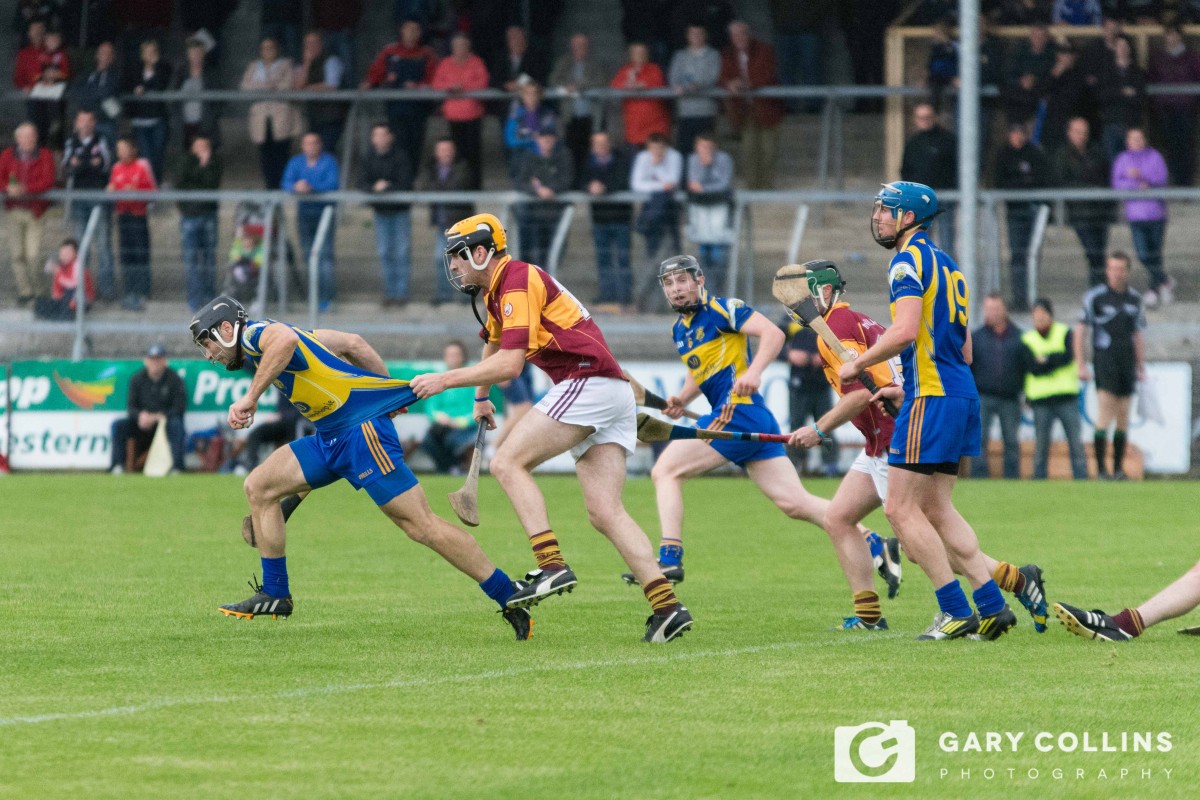 Newmarket needed that foothold and added another free straight after when Eoin Hayes, who caused problems all evening for Tulla, was hauled down by Eugene Cooney.  Mark Lynch and Trevor Vaughan (f) restored parity once more before Newmarket pulled away by two again.
Kelly struck for the Blues and Newmarket looked as though they were in control in the final third but couldn't force enough ball inside. Ryan added a free to that score before two placed balls from Vaughan pulled it back to a level playing field.
Ryan and Dinan swapped scored in injury time to leave the sides level for fourth and final time in the first half.  Scores from play were few and far between towards the end of the first half and the second period opened in the same vein. Ryan and Vaughan split three placed balls in Newmarket's favour before David Barrett got his first on his return after a lengthy spell on the sidelines.
County star Ryan then added one from play himself to bring the advantage to three points for the Blues.  Vaughan's frees were all that the men from the Windswept Hill could muster for the second half and it wasn't going to be enough.
A long dropping free from Colin Ryan was doubled on by Stephen Kelly and nestled in the bottom of the net much to the joy of the Newmarket following until Jim Hickey and his umpires ruled that it had been a square ball.
Not long later, Kelly was heading for the dressing rooms with Sean Torpey after both were dismissed for their part in what was an ugly brawl involving both sides and a number of substitutes and management.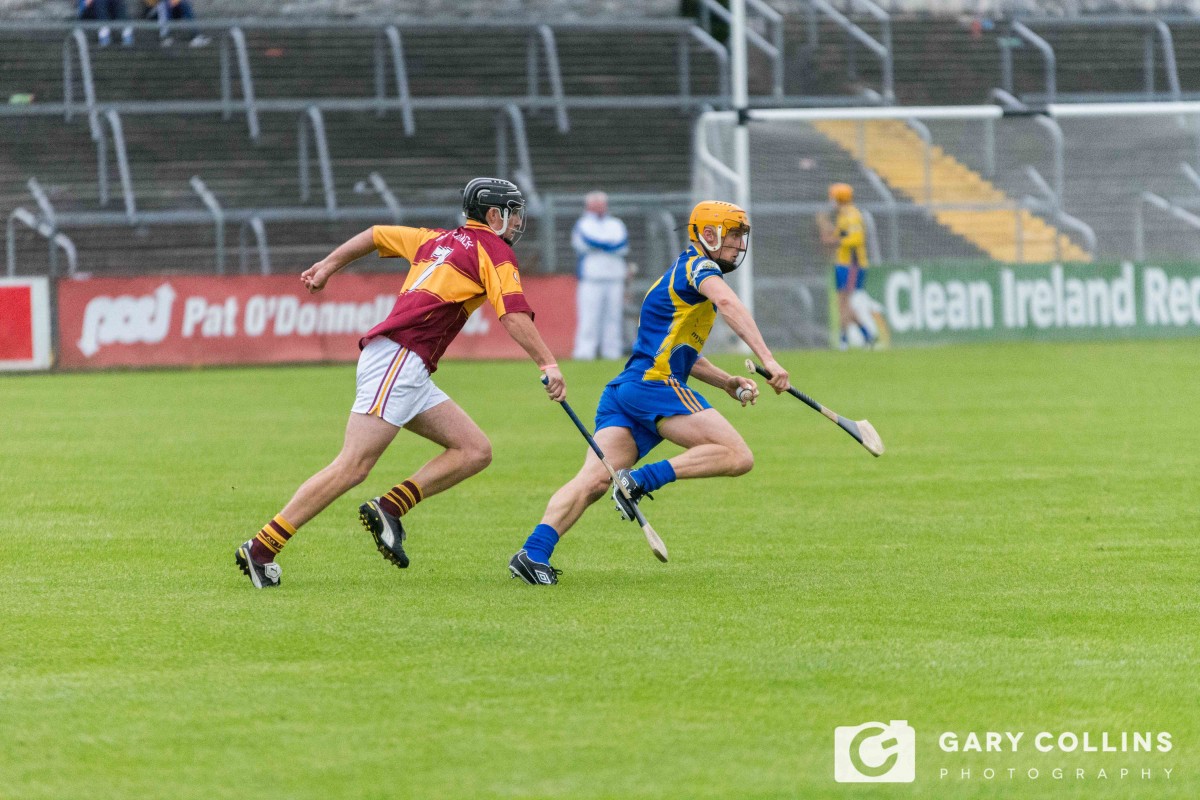 Colin Corbett scored Tulla's only point from play in the second half after the row which levelled it up and pleased the now fired-up spectators from East Clare.  Colin Ryan hit two for Newmarket in response and he, in particular, seemed to take an extra bit of momentum out of the brawl which had ensued.
Along with Ronan Goode and Evan Keogh on the left hand side of Newmarket's line up, Ryan drove his side over the line with 0-7 in the final ten minutes.  Trevor Vaughan closed the gap to one with a free on the stroke of the 55th minute but that was the last of the scoring for Tulla.
Ryan added two from placed balls before putting over a huge score from his own half for Newmarket from play. That brought the lead to four which was the biggest the gap had been at during the game.  The Blues weren't finished and it could have been much better for them. Hayes was making use of the space in the inside forward line after Kelly's dismissal and set up Niall O'Connor for a goal opportunity that was well smothered by Daniel Vaughan.
Barrett added a second to his tally inside the four minutes of injury time and could have had a major but for another good block from Vaughan.  Ryan pointed the resultant '65 and the lead was at seven which is where it would stay for the remaining minute until the full time whistle.
That result will be a major boost for Newmarket's confidence which will have taken a hit in the last round. Barrett's return will be the biggest plus as he has been their main forward over the last decade. Still a lot to be desired about their early performance but when it really mattered at the finish, the Blues stood up and were counted. Colin Ryan, Evan Keogh, Eoin Hayes and Ronan Goode in particular were key when push came to shove.
Tulla will rue not being able to do more damage while Newmarket were struggling very early on in the game. The victors scored once in 16 minutes and Daragh Corry could have done more damage had the ball been pumped into his corner on a more regular basis than it was.
Teams:
Newmarket-on-Fergus: Darren Duggan; Eoin O'Brien, James McInerney, Shane Kelleher; Evan Keogh, Shane O'Brien Snr, Alan Barrett; Sean O'Connor, Marty O'Hanlon; Niall O'Connor, Ronan Goode (1-0), David Barrett (0-2); Stephen Kelly (0-1), Colin Ryan (0-14, 10f, 1'65), Eoin Hayes. Subs: Noel Frawley for O'Hanlon (40), Shane O'Brien Jnr for N O'Connor (60+3).
Tulla: Daniel Vaughan; Eugene Cooney, Paul Lynch, Sean Torpey; Niall Bolton, David McInerney, Mark Lynch (0-1); Connor O'Halloran, John Fahy; Kieran Brennan, Aidan Lynch (0-2), Trevor Vaughan (0-7, 6f, 1'65); Daragh Corry (0-1), Michael Murphy, Danny O'Halloran. Subs: Cathal Dinan (0-1) for Fahy (5), Colin Corbett (0-1) for Murphy (36), Brian Fahy for D O'Halloran (38), Philip Brennan for Dinan (53).
Referee: Jim Hickey (Cratloe)
All pictures by Gary Collins