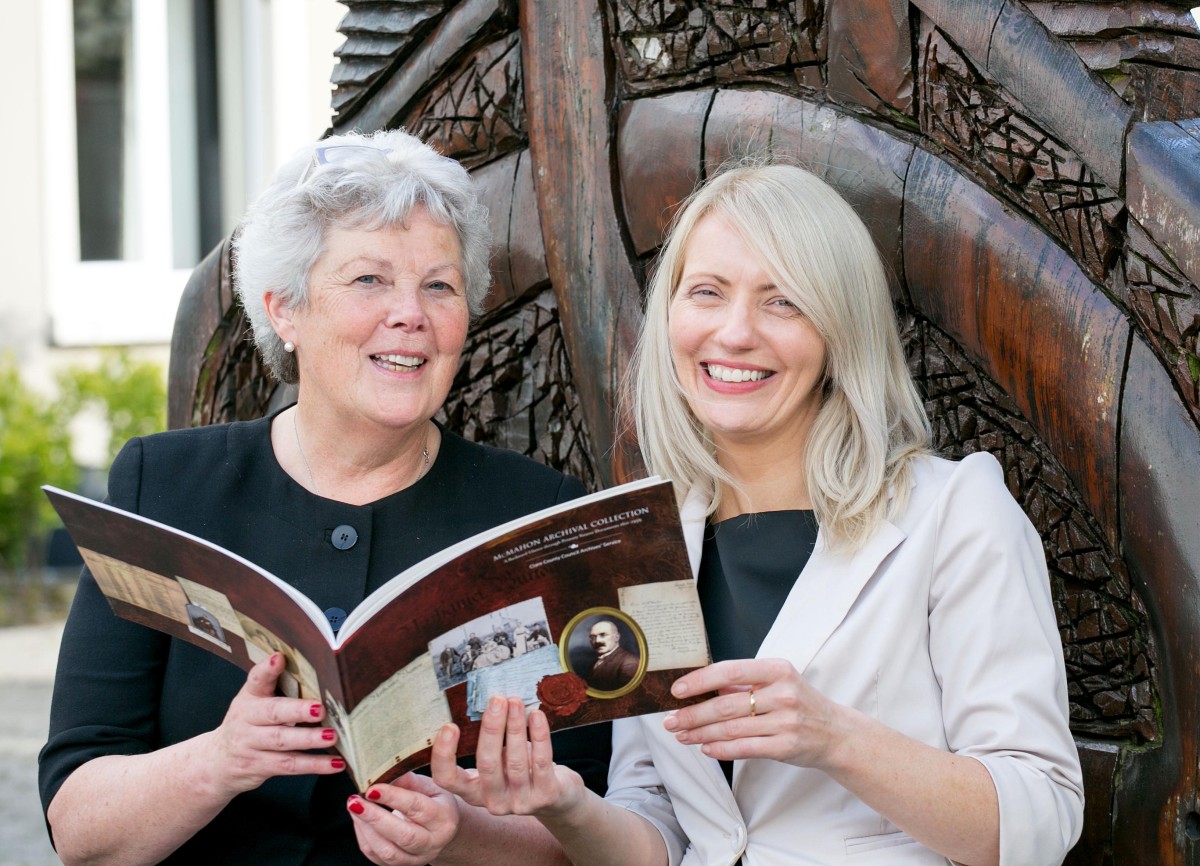 A collection of previously unseen archival material relating to more than 60 families and landed estates in County Clare dating from the early 1600s to the mid-1900s has gone on public display in Ennis.
The McMahon Archival Collection is one of the largest collections of primary source documents in Clare County Council's Archives' repository, containing over 1,100 files spanning over three centuries. While the earliest document dates back to 1611, most of the material relates to 18th and 19th century administration and activities of the landed estates in County Clare.
The dominant landed families within the McMahon Archival Collection include the Burtons of Carrigaholt, Rovigo and Stamer families of Ennis & Carnelly, the Barclays of Ballyartney, near Labasheeda and the Burtons of Corofin. Sixty other Clare family names, mainly the 19th and 20th century, have records within the McMahon Archival Collection. The estate records include; correspondence, deeds, leases, rental accounts listing; names of tenants, denominations of their holdings and amount of rents they paid; leases, grants, marriage settlements and wills.
Among the other items of interest going on public display at Clare Museum, which continues until the end of September, are documents relating to the East Clare Election of 1917 which saw Eamon de Valera elected as an MP for East Clare following the death of Major Willie Redmond on the front in World War One.
The McMahon Archival Collection was donated to the National Archives in the 1970s through the Business Records Survey by Dermot McMahon of Sherry Fitzgerald McMahon, O'Connell Square in Ennis. The collection was subsequently reaccessioned by Clare County Council's Archives' Service in 2010.
The Collection had been, before its acquisition by the National Archives, stored in the basement of offices in a three storey building in the centre of Ennis, where Michael McMahon (Dermot McMahon's grandfather) operated an auctioneering and estate agency business from the late 1800s.
The McMahon Archival Exhibition will be available for public viewing until the 25th September in Clare Museum, Ennis (Mon-Sat: 9.30am-1pm, 2pm,-5.30pm)  The collection's descriptive list will be accessible through Clare County Council's Archives website from the 1st September, if members of the public wish to access material they should contact the Archivist, Rene Franklin at archivesrecords@clarecoco.ie or 0656846414