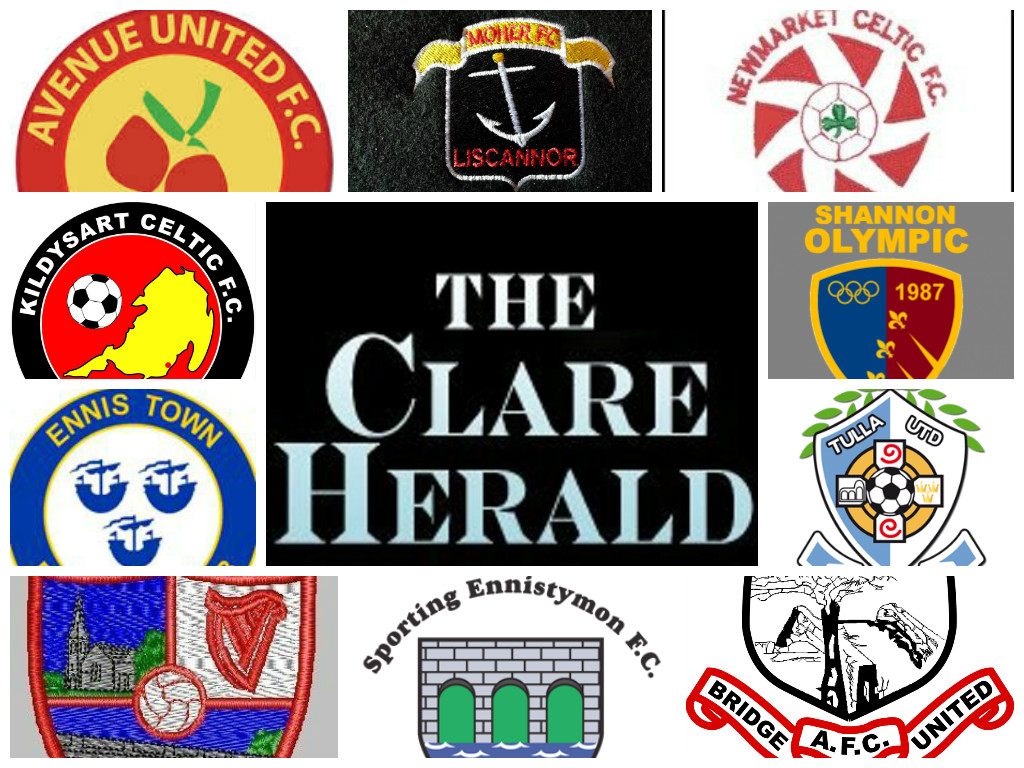 Ten teams all start on a level footing as the Premier Division of the Clare District Soccer League commences this weekend, The Clare Herald's Ryan Corry previews the opening weekend's action.
The 2015/16 season of the Maloney Garden Machinery Premier Division kicks off this Saturday evening when Avenue United A make the trip to face Kildysart Celtic.
Kildysart, who are now in the Premier by default after finishing fourth in the First Division last season behind two 'B' teams face an Avenue side who have once again been hit by a significant loss.
After losing David McCarthy and Colin Smyth to Newmarket Celtic last summer, they've now lost Paddy O'Malley to Pike Rovers.
With that said, Keith McInerney's side still have an array of talent and anything less than a victory for Avenue would be an upset.
All other Premier sides get their campaigns under way in the traditional Sunday morning slot with some interesting tests for the other newly promoted teams.
Moher Celtic, who gained promotion in the same method as Kildysart after finishing fifth in the First Division, travel to the holders Newmarket Celtic.
Newmarket, now under the guidance of Paudie Cullinan and Mike O'Malley, will hope to get off to as good a start this year as they had last season.
They've re-signed almost all of last year's side; however, they have lost Ian Collins to Galway United while Eoin Hayes will be working abroad.
Depending on various managements, Newmarket may be forced to play without some key figures this weekend due to a round of Senior Hurling Championship fixtures taking place.
Even If that were the case, it would still be a brave man betting against the reigning champions securing a victory.
Sporting Ennistymon A, who finished second to Avenue United B in the First Division, have a home tie with Bridge United to look forward to.
Sporting Ennistymon may also be hampered by the GAA this weekend while Bridge United have added extra quality to their side this year.
Brian McGorrian has been brought in from Shannon Olympic while Brian O'Connor has returned to the club from Mervue United in Galway. Rob Wall and Jon Okoro have also been added to their squad.
Bridge United finished second in the league and were cup runners up. They were unlucky to be coming up against an almost unstoppable Newmarket Celtic and it is expected that they will be one of the closest challengers yet again.
They've done well to fend off the annual interest in goalkeeper John Mulready and should start their season with a win in Lahinch.
Champions from 2013/14, Ennis Town A kick off their season with a trip to The Cragg in Tulla.
Tulla's big name signing for this year is Barry Ryan, widely considered one of the best goalkeepers to feature in the League of Ireland and now plying his trade in the Clare League and with Eire Og senior footballers.
The Town are another club who lost a key player, Sean O'Callaghan, to Pike Rovers who are now managed by last year's Clare Oscar Traynor manager Mick Sheil but have also recruited with Shane Constable coming in from Corofin.
Garry Higgins of Shannon Olympic who impressed in the Oscar Traynor last season has also joined up with Sheil at Pike Rovers.  His former club face Corofin Harps A in Shannon on Sunday morning as the curtain raiser for their season.
Home wins predicted in both of those ties.