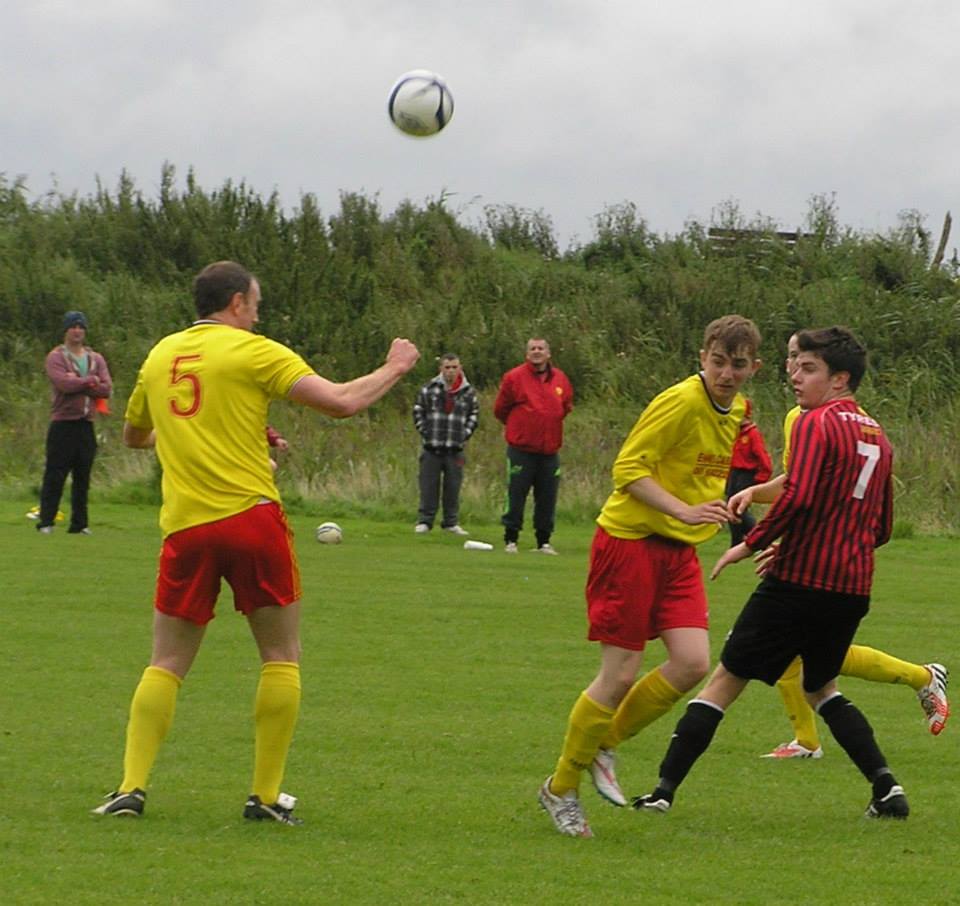 All Clare Junior Soccer League fixtures went ahead this weekend in spite of the poor weather.
Newmarket Celtic A kept the pressure up on Premier Division leaders Bridge United A with an 8-2 defeat of Ennistymon A.
In the First Division, Shannon Town A further strengthened their push for promotion to the top flight with an 8-0 win over Lifford A.
In the Second Division there were wins for Turnpike, Manus, Bridge Utd B and Treaty Celtic.
In the Third Division meanwhile, Kilmaley Fern Celtic are on top spot on goal difference ahead of Tulla United B after the sides drew 2-2 on Sunday.
Sunday 13th September 2015
Maloney Garden Machinery Premier Division League
Tulla Utd A 5-0 Shannon Olympic A
Sporting Ennistymon A 2-8 Newmarket Celtic A
Kildysart Celtic 1-2 Moher Celtic
Bridge Utd A 2-0 Avenue Utd A (pics below c/o CDSL)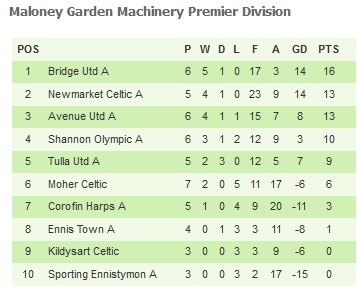 Lets Bet Sports Bookmakers First Division League
Rineanna Rvs 3A2 Kilrush Rangers
Bridge Celtic W/O Burren Utd Scr
Hermitage A 2-1 Newmarket Celtic B
Kilkishen Celtic 1-3 Mountshannon Celtic
Shannon Town A 7-0 Lifford
Connolly Celtic 2-3 Avenue Utd B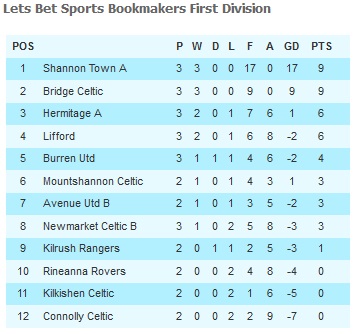 Selprint Second Division
Turnpike Rvs 3-0 Ennis Town B
Hermitage B 2-3 Treaty Celtic
Rhine Rvs 2-2 Coole FC
Manus Celtic 5-0 Bunratty/Cratloe
Bridge Utd B 5-4 West Clare FC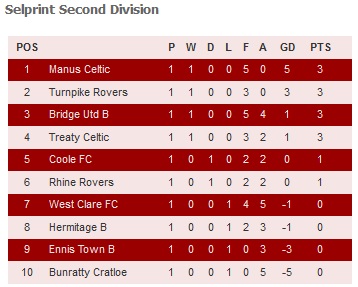 Suttons Lighting Third Division
Corofin Harps B 7-3 Shannon Olympic B
Kilmaley Fern Celtic 2-2 Tulla Utd B
Inch Crusaders 0-3 Shannon Town B (pics below c/o CDSL)
Saturday 12th September 2015
Selprint Youths League
Lifford 2-1 Ennis Town
Coole FC 5-3 Sporting Ennistymon
Shannon Town 6-1 Tulla Utd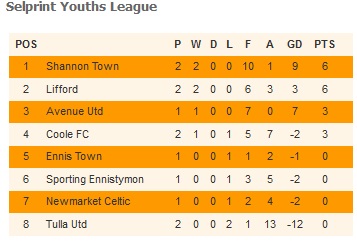 FIXTURES
Monday 14th September 2015
Selprint Youths League
McDonagh Park: Avenue Utd v Newmarket Celtic 6.15pm Shane Hayes
Saturday 19th September 2015
Selprint Youths League
Cassidy Pk: Lifford v Sporting Ennsitymon 2pm Dave McCarthy
McDonagh Pk: Newmarket Celtic v Tulla Utd 2pm Pa Gleeson
Lees Road: Ennis Town v Shannon Town 2pm Shane Hayes
Gort: Coole FC v Avenue Utd 2:30pm Niall Quinn
Sunday 20th September 2015
Munster Junior Cup 1st Round
Lynch Pk: Shannon Town B v Corofin Harps 11am Julian Sandford
Kilkishen: Kilkishen Celtic v Moher Celtic 2pm Flan Sheedy
Cassidy Pk: Lifford v Avenue Utd A 11am Padraig Sutton
Olympic Pk: Shannon Olympic v Bridge Utd B 11am Rob Hennessy
McDonagh Pk: Newmarket Celtic B v Inch Crusaders 1:30pm Frank Coote
Lees Road: Rhine Rvs v Ennis Town 11am Paul Hickey
College Pitch: Kildysart Celtic v Shannon Town A 2pm Dave McCarthy
Gort: Coole FC v Kilmaley Fern Celtic 11am Brian Punch
Lahinch: Sporting Ennistymon v Bridge Utd A 11am Michael Rock
Bridgetown: Bridge Celtic v Tulla Utd 11am Mark Rellis
Ballycasey: Rineanna Rvs v Avenue Utd B 2pm Julian Sandford
McDonagh Pk: Newmarket Celtic A v Kilrush Rangers 11am Shane Hayes
Note: In event of a draw 10 mins e/w ET & penalties if necessary in all cup matches
Lets Bet Sports Bookmakers First Division
Fairgreen: Hermitage A v Mountshannon Celtic 11am Flan Sheedy
Selprint Second Division
Lees Road Astro: Manus Celtic v Turnpike Rvs 2pm Pa Gleeson
Fairgreen: Hermitage B v West Clare FC 2pm Sean Kenneally
Bunratty: Bunratty/Cratloe v Treaty Celtic 11am Frank Coote
Suttons Lighting Third Division
Corofin: Corofin Harps B v Sporting Ennistymon B 2pm Lukasz Baranowski
Cragg: Tulla Utd B v St Pats 11am Sean Kenneally
Note: All results to be with Donal Kirby on 085-1765828 immediately after games otherwise a €40 fine will be incurred.
Note: If home pitch is closed home team must find an alternative pitch or travel to away teams ground.