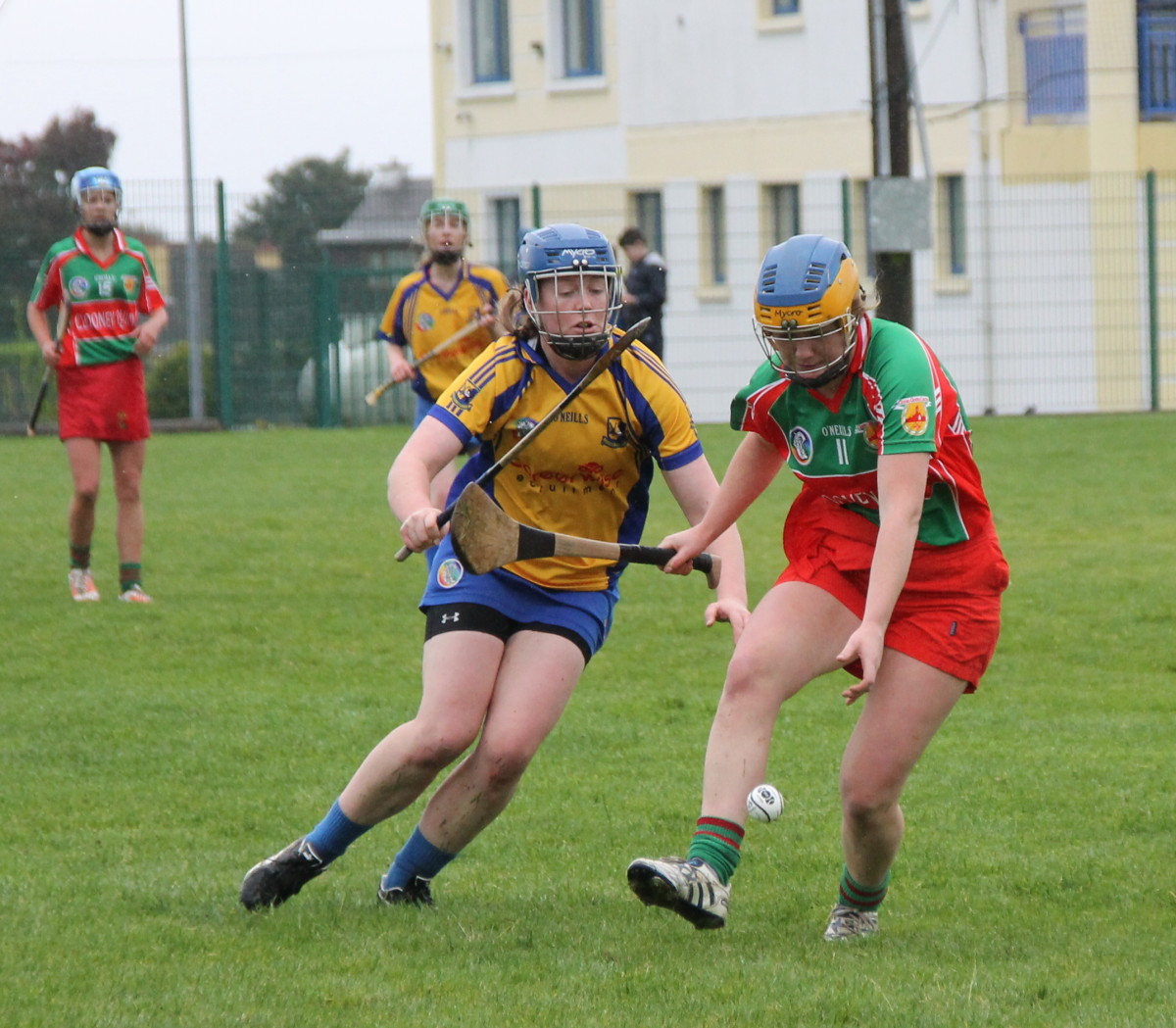 Clooney Quin bagged the last semi final spot in the PK Travel Senior Championship with a comprehensive win over Sixmilebridge. Played in miserable conditions the 2014 Finalists bagged a brace of goals in each half to ensure their bid for the McMahon Cup remained on track.
Clooney Quin 4-9
Sixmilebridge 0-10
Venue: Clarecastle
Sixmilebridge opened the scoring with a Chloe Morey free only for Clooney Quin's Orlaith Duggan to level the sides within a matter of minutes. Clooney Quin added three more points, two from frees and a well struck on the run effort from Deirdre Murphy. Aoibheann Duggan was the next to get on the score board after slotting over a point from a very tight angle, while her teammate Mary Clune was rewarded with a white flag following a tenacious battle with the Sixmilebridge defence.
The 2014 Finalists were well settled by now in this vital tie for both sides, Jen Grant made a striding run through from midfield to offload a hand pass to Deirdre Murphy who was never going to miss from 15 yards out which gave her side a five point lead.  With two of Clooney Quin's full forward line already on the scoreboard it was the turn of the third to put their name on the score board and that is what Jessica O'Neill did when she pulled on a loose ball inside the small box.
Morey kept the Bridge in touch with two converted frees, however it was their opponents who finished the stronger. Two more points came before half time from Deirdre Murphy and Aisling Corbett to give Clooney Quin a 2-7 to 0-5 lead at half time.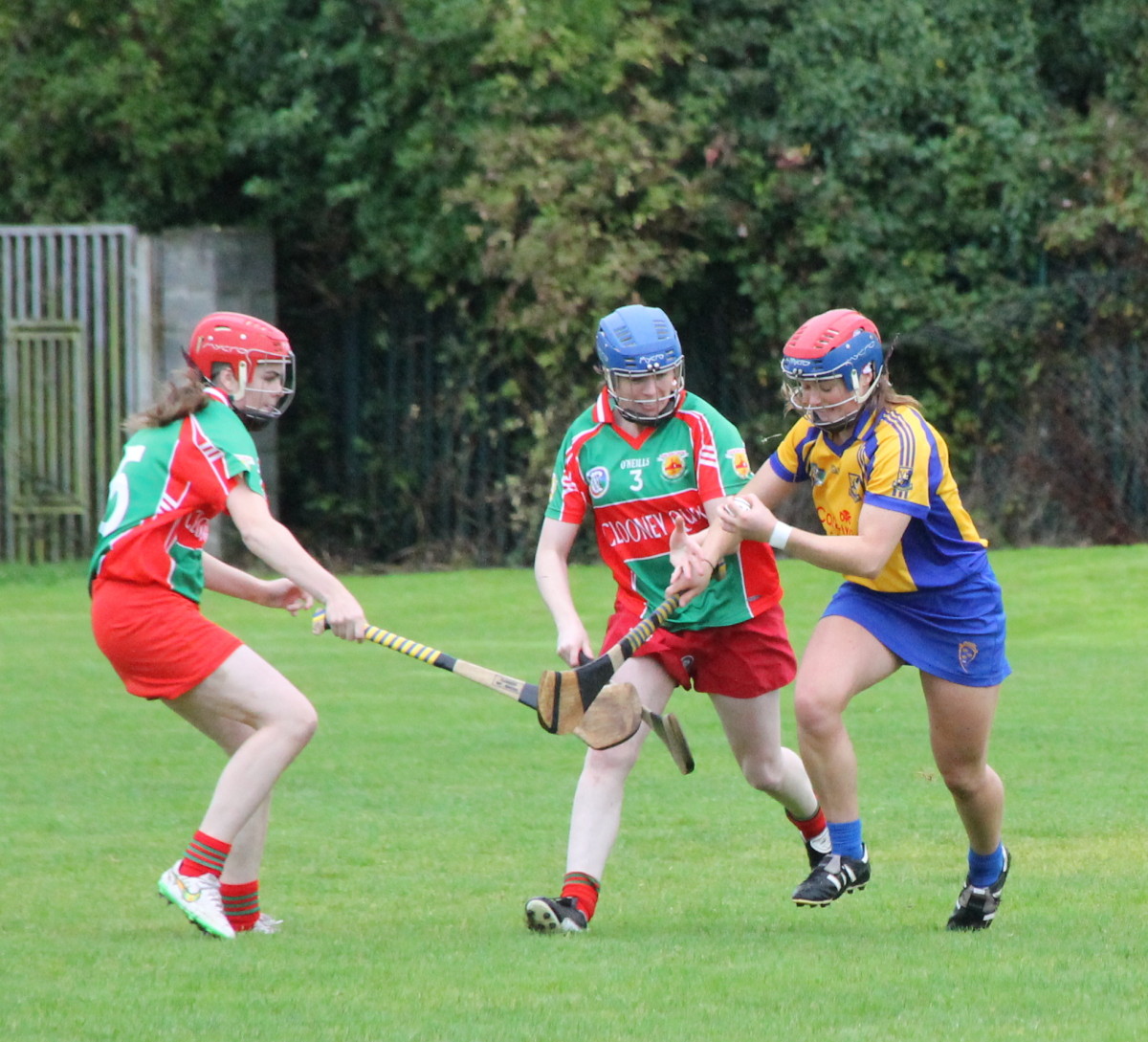 Clooney Quin started the second half at a slower pace that they had the opening half, allowing the Bridge to narrow the gap. Morey narrowed the deficit with her accurate free taking to reduce the deficit to five points. However this was as close as it got for the Bridge. O'Neill grabbed herself a second green flag and when she pulled on a loose ball following a scramble in around the small square and finished to the back of the Bridge net.
Mary Clune caught Eimear Murray with a long range shot from twenty yards out that made its way into the back of the Bridge net. Clooney Quin were dominating all over the field and with the game swinging in their favour introduced their subs, all whom contributed. The Bridge battled back, Aiveen O'Shea taking her second point of the day.
From the puck out, Aoibheann Duggan won possession around the middle and made a long sweeping run through the Bridge defence to slot over a point that counted for her second of the day. Clooney Quins last score of the day came from Deirdre Murphy from a free that just extended their lead and booked them a place in the PK Travel Senior Championship semi final in two weeks time.
Teams;
Clooney Quin: Sheelagh Daffy; Kate McCarthy, Mareaid Kelly, Laura Costello; Jenny Costello, Aisling Hannon, Edwina McCarthy; Orla Duggan (0-1), Deirdre Murphy (1-4); Jen Grant, Aisling Corbett (0-1), Claire Ryan; Aoibheann Duggan (0-2), Mary Clune (1-1), Jessica O'Neill (2-0). Subs: Siobhan Lee for Laura Costello, Fiona Mc Hale for Aisling Corbett, Sarah Costello for Mary Clune, Laura McHugh for Kate McCarthy
Sixmilebridge: Eimear Murray; Karen Gallagher, Deanna Considine, Katie Connors; Rachel Kelly, Ellen Roche, Niamh Whyte; Maire McGrath, Keelin Lyons; Slaine Carey, Fiona Murphy, Aiveen O'Shea; Ali Quinlan, Chloe Morey, Rachael O'Halloran. Subs: Saoirse Young for Whyte, Aine McNamara for Quinlan
Referee John Dolan (Clarecastle).