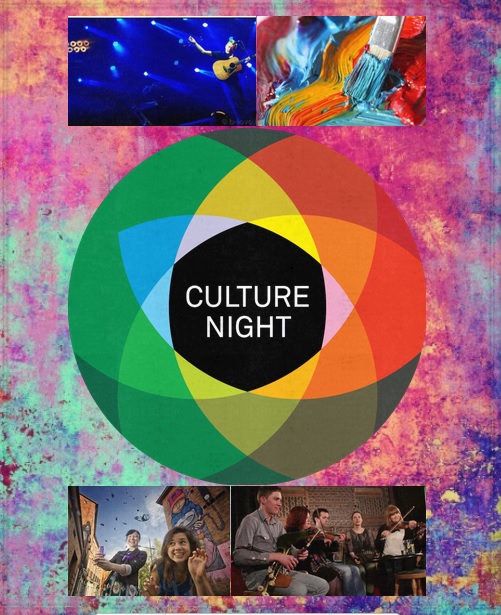 Clare's cultural community will come together this Friday (September 18th) to showcase the very best the county has to offer.
Culture Night Limerick 2015 will see 40 free cultural events for all ages being held throughout Clare over a 5-hour period from 5pm to 10pm.
This year's programme, which is organised by the Clare Arts Office and funded by Clare County Council and the Department of Arts, Heritage and the Gaeltacht, is filled with free events across the county from Ennis to Ennistymon, Kilshanny to Kilkee and Kilkishen to Kildysart.
Arts and cultural bodies throughout Clare will throw open their doors offering members of the public a chance to enjoy unique performances and catch a glimpse inside some of the most beautiful buildings and cultural institutions in their area.
Some of the highlights in this year's programme include Luka Bloom in Kilkishen, Ennis Gospel Choir in Bunratty and Zoe Conway in Kilkee. This year also includes a creative trail in Ennis from The County Museum to glór, showcasing museum collections, an interactive art space, a 3D art installation, an exhibition of visual art and a leading classical music ensemble.
"Over the past nine years this initiative has captured both the public's imagination and the enthusiasm of artists and cultural organisations in Clare. This year is no different with almost 40 events planned around the county, including exhibitions, theatre, film, concerts, readings and storytelling," explained Siobhan Mulcahy, Clare Arts Officer.
"Culture Night happens because many people share a vision and enthusiasm for enjoying, celebrating and promoting creativity and culture," added Ms. Mulcahy.
She continued: "With Clare currently preparing a programme for its county of culture initiative in 2016, to be held around Fleadh Cheoil na hÉireann in Ennis, Culture Night is a fantastic way to encourage more people to visit cultural venues and experience the culture in their locality. It also serves to remind the public of the fantastic resources that we have locally, to raise the profile of cultural organisations, activities and facilities, and to encourage people to try new things and help to create a sense of community and belonging."
Culture Night is organised annually in Clare by the Clare Arts Office and is funded by Clare County Council and the Department of Arts, Heritage and the Gaeltacht. This programme is available at www.culturenight.ie.
PROGRAMME OF EVENTS BY AREA, CULTURE NIGHT 2015
ENNIS & ENVIRONS:
1pm-9pm, Monastery Park: 'The Secret Life of Plastic'- art installation together with 3D Inflatables, presented by Oonagh Herbert
4.30pm-8pm, Friars Walk: 'Presence – Interactive Art Space – hosted by Caitriona Sheedy
5pm-9pm, Scéal Eile Bookshop: Book readings and children's activities
6.30pm, De Valera Library: Insight by Anne Byrne, from the School of Political Science and Sociology in NUIG, into the letters written by Nancy Nolan to Leonard Woolf.
6.30pm-7.30pm, The Square: Traditional music session by Clarecastle/ Ballyea Comhaltas.
6.30pm-8pm, Scéal Eile Bookshop: Tunes and Tomes – Contemporary music surrounded by an eclectic selection of new, rare and interesting books
7pm, The Friary: Traditional Music Recital with internationally renowned musician Tim Collins (doors open 6.30pm, numbers limited)
7pm, The Record Break Cafe, 9 Lower Market Street: Poetry Reading of works by Patrick Stack and Rosemary Power and A.U McCoy's CD launch of 'A Long Time Coming'
7.30pm, Honan's Antiques Window, 14 Abbey Street: A series of Video Installations which relate to the woodlands in Coole Park
7pm-9pm, Clare Museum: Exhibition (Light of the Burren) by Patrick G. Ryan, Irish Landscape and Aerial Photographer.
7pm-9pm, Clare Museum: 1914 All-Ireland Hurling Team Exhibition
7pm-9pm, Clare Museum: Open night at Clare Museum, meet with staff, view collections
glór: Ennis artist Dorothy Ledwith presents her new work, 'On View'
8pm, glór: The Vanburgh Quartet begin their 2015 autumn tour, featuring 'Cranning' by Clare's Dave Flynn.
8.30pm, Cois na hAbhna: A night of traditional Irish music, singing, dancing and storytelling
9pm-10.30pm, Zest Cafe, The Market: Pop up exhibition by local artists Ciara Normoyle, Laura Fleming, Anne Stewart and Bernadette Ballarin.
WEST CLARE:
6pm-9pm, St. Michael's Community Hall, Kilmihil: A night featuring Seosamh Mac Ionnrachtaigh, author with Author HouseUK. First major Irish-Irish dictionary featured.
6.30pm-9pm, The Old Post Office, Kildysart: Wellbeing and Training Hub hosts an evening of music and song
Cultúrlann Sweeney, Kilkee: 'Wild Western Waves' – exhibition by Úna Heaton
8pm, Cultúrlann Sweeney, Kilkee: Zoe Conway and John McIntyre bring to the stage sympathetic arrangements
8pm-10pm, Teach Ceoil, Kilrush: Traditional music session featuring local musicians.
8pm-10pm, The Music Makers of West Clare, Miltown Malbay: Traditional song with Tim Dennehy, Róisín White, John Lyons and Paula Carroll.
EAST CLARE:
5.30pm-6.30pm, Scariff Public Library: Exhibition on the life and works of Edna O'Brien, with readings by Eleanor Feely.
5.30pm-6.30pm, Scariff Public Library: Art Exhibition by Patricia Winders Reynolds.
6pm, Bunratty Folk Park: Performance by Ennis Gospel Choir
7.30pm, Tulla Courthouse: Visual Art Exhibition by four Clare-based artists – Lorraine Callanan, Bairbre Geraghty, Edel Hogan and Mary Moran.
6pm-8pm, Clonlara Community Hall: Harvest Gathering with East Clare Comhaltas, showcasing traditional Irish music, song and dance.
8pm, Protestant Church, Mountshannon: Antara (Matthew Noone and Tommy Hayes) in concert
5.30pm-8.30pm, Vivienne's Studio, Tulla Road, Feakle: Exhibition of glass, ceramic, print and painted artworks by 'CROI' artists, Vivienne Brogan, Kathryna Cuschieri, Nicola Henley and Jane Seymour and the launch of their website.
8.30pm, Kilkishen Cultural Centre: Luka Bloom In Concert (Booking essential, text 086 8464509)
8.30pm, Minogue's, Tulla: Accordion player Darren Breslin, accompanied by Michael Landers on guitar and vocals. Also featuring many Clare musicians.
NORTH CLARE:
The Courthouse Gallery, Ennistymon: A morning programme of short films for young primary school children, together with a short animation workshop led by animator and cartoonist Bernard Dowd. An afternoon drama workshop for second level students on acting for film with filmmaker Fergus Tighe and actor Jacinta Sheerin An early evening programme of short films made by local film-makers. A later evening programme of shorts and a recent Irish feature film.
8pm, Kilshanny House: – Evening of storytelling, poetry readings, traditional music and song with Eugene Lambe and Martin Forde, together with Seanchaí Dessie Mulkere.
8pm, The Russell Cultural Centre, Doolin: 'Body of Water' by Dermot Petty, Joan O'Hanrahan and Barbara Dillon – a story of how a Village in North Clare in 1968 is turned upside down by a Body that washes ashore.
10pm-Midnight, The Diamond, Ennistymon: Directed by Maeve Collins. An earthy and humorous conversation around gender related issues with the public, based on the Midnight Court Poem, by Brian Merriman.
8pm, St. Fachtna's Cathedral, Kilfenora – Evening of music and song with emphasis on the music of North Clare with Mike Butler, Ann-Marie McCormack, Liam Ryan, Elaine Hogan and Felim Collins.