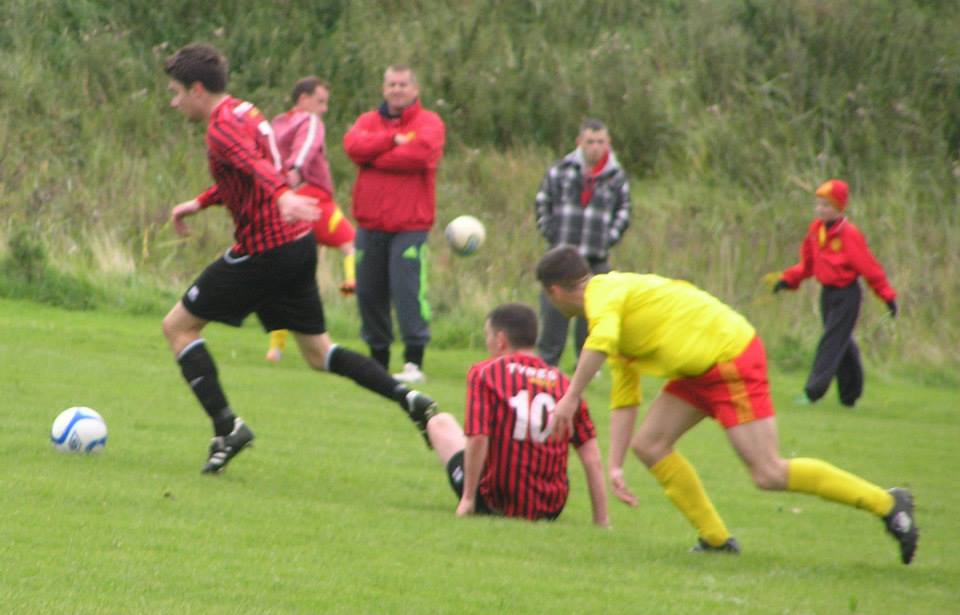 The opening round of the Munster Junior Cup began at the weekend, Oliver Fitzpatrick looks back on the action.
Munster Junior Cup 1st Round
Tulla Utd A 2-1 Bridge Celtic
Bridge Celtic opened the scoring in this tight encounter in Bridgetown when they converted from a corner on the 30th minute. The score remained 1 nil at the break. Tulla equalised after an hour with a well worked goal from Tiao. Bridge Celtic won a penalty with about fifteen minutes left but the effort was well saved by Barry Ryan in the Tulla goals. David McInerney then won a penalty for Tulla which was coolly dispatched by Tommy McKeown to leave the final score 2-1. Tulla were made to work hard by a strong, resilient Bridge Celtic team.
Tulla Utd: Barry Ryan, Eoin Whelan, Daragh Corry, Ray Bane, Tommy McKeown, Sunny Jay, Colin Nelson, Paul Dullaghan, David McInerney, Sebastiao da Silva, Gearoid O'Doherty. Subs: Aaron Lane for Colin Nelson, Enda Murphy for Eoin Whelan & Paraic O'Malley for Gearoid O'Doherty
Bridge Utd A 4-3 Sporting Ennistymon A
Eoghan McNulty's Bridge side took a deserved lead when Mike McNamara found the bottom corner with a clean strike from the edge of box after a mix up in the Sporting defence. The hosts hit back through Cathal McConigley when his fine finish looped over John Mulready in the Bridge goal.
McConigley was the architect of Sportings second goal after he won the ball back deep in Bridge half and squared to brother Sean to finish at the back post to leave the home side with a 2-1 lead at half time.
The lead didn't last long as Johnny Okoro found the net 3 minutes after the restart after a neat through ball from Chris Lake. The momentum swung again soon after as Cathal McConigley was adjudged to have been fouled in the Bridge box after a collision with John Mulready. Sean McConigley stepped up and dispatched his effort cooly into the net to leave the Score line at 3-2.
This proved to be a turning point in the game where Bridge kicked on took control of the game, Darragh Fitzgerald equalised with a stunning strike to the top corner after a lay off from Chris Lake. The winning goal fell to Brian McGorrian, who evaded the Sporting defence before shooting low to Leigh's right hand with 78 mins played.
Cathal McConigley, who had tormented the Bridge defence all day, was sent off for a second book able offence in the closing stages. The winners now face the winners of Shannon Olympic A vs Bridge Utd B in Round 2.
Bridge Utd: John Mulready, Jason Whyte, Pa McMahon, Darren Murphy, Sean McDonald, Rob Wall, Anton Mannering, Brian O'Connor, Mikey McNamara, Brian McGorrian, Jon Okoro. Subs: Darragh Fitzgerald, Chris Lake & Trevor Maxwell.
Sporting Ennistymon A: Richard Leigh, Joe Gallagher, Mike McConigley, Mike Leigh, Michael McConigley, Robbie McInerney, Ciaran Monaghan, Jamsie McConigley, Sean McConigley, Cathal McConigley, Laim Keane. Subs: Padraig Flynn, Darragh Flynn & Damien Flanaghan
Ennis Town A 8-1 Rhine Rovers
Ennis Town had a comfortable win over Rhine Rovers in Lees Road on Sunday. Having found goals hard to come by in recent league games they dominated from the kick off scoring inside the first minute.
Rhine rallied at 3-0 down getting 1 back and could have scored again before Ennis Town converted their dominance on the score board. Scorers for Ennis Town were Evan Talty 2, Joe Collins 2 & 1 each for John Maher, Shane O'Connor, Shane Daniels and Daryl Eade.
Avenue Utd B 4-2 Rineanna Rovers
Avenue Utd B advanced to round 2 with goals from John Kelly, Shaun Flanagan, Conor O'Brien and Johnnie Fern
Shannon Town A 5-0 Kildysart Celtic
Goals from Kieran Hackett (2), Adrian Carew, Seán Burke & Damian O'Rourke helped Shannon Town advanced to a round 2 meeting with Avenue Utd B.
Coole FC 8-1 Kilmaley Fern Celtic.
Coole beat a very understrength Kilmaley in the first round of the Munster Junior Cup in a very wet St Colmans Park on Sunday.
Coole raced into a 5-1 lead at halftime through goals from Darragh Reilly, James Cosgrove, Dave Cahill and 2 from John Regan in his first game back. Coole kept the pressure on and another from Darragh Reilly and goals near the end from Damien Hanrahan and Ayrton Quinn finished off a good result for the Gort side.
Lets Bet Sports Bookmakers First Division
Hermitage A 1-5 Mountshannon Celtic
Those in attendance at this First Division fixture would have been forgiven for anticipating a tight affair after these two sides drew in a recent League Cup encounter. However, Mountshannon were keen to improve upon their last visit to the Fairgreen. They began the match in an aggressive, offensive manner and they enjoyed the greater openings in the early stages.
They broke the deadlock on 20 minutes when an out-swinging Martin Cunningham corner was headed back across goal into the home net by William Glass. Only five minutes later, the away side doubled their advantage when Martin Cunningham carried the ball purposefully into the Hermitage area and rifled his effort powerfully across goal into the bottom left corner.
Mountshannon added to their lead further ten minutes before the interval when Cathal Moloney gathered a rebound at the edge of the area and clinically placed his shot into the top right corner of the Hermitage goal. Hermitage began to commit additional men into attack after the interval. This risky manoeuvre led to further consequences for the hosts as a swift Mounshannon counter attack was superbly finished by Liam Corry with a lethal finish.
The pressure applied by the home team was eventually rewarded ten minutes before the match concluded. An in-swinging cross was attacked bravely and headed home from six yards. However, it would be the visitors who enjoyed the final say in this fixture when Padraig Brody's deflected shot made it five for Mountshannon after 85 minutes on a satisfying day for the East Clare side.
Mountshannon Celtic: Andrew O'Dwyer, Niall Dear, Michael Scanlan, John Scanlan, Liam Doyle, Michael Barrett. Colm Kavanagh, Cathal Moloney, Liam Corry, Martin Cunningham, William Glass. Subs: Padraig Brody for Martin Cunningham, Oran Scanlan for William Glass
Selprint Second Division League
Manus Celtic 0-1 Turpike Rovers
In a well contested games at Lees Road on Sunday Turnpike Rovers claimed all 3 points thanks to a Brian Shannon well struck free kick just before half time.
Suttons Lighting Third Division
Corofin Harps B 5-3 Sporting Ennistymon B
Two goals from Junior and Pa Keegan and another from Alex da Silva gave Corofin the victory in a high scoring encounter.
Selprint Youths League
Ennis Town 0-6 Shannon Town
Goals from Luke Cahill (2), Billy Dunne, Darragh McDade, Matthew Kinane & Callum Keely made it 3 wins from 3 in the Youths League for Shannon Town on Saturday
Treacys West County Hotel Clare & District Soccer League Results
Sunday 20th September 2015
Munster Junior Cup 1st Round
Shannon Town B 0-2 Corofin Harps
Kilkishen Celtic 3-6 Moher Celtic
Lifford 2-2 Avenue Utd A (AET) – Avenue Utd won 3-1 on penalties
Newmarket Celtic B 8-1 Inch Crusaders
Rhine Rovers 1-8 Ennis Town
Kildysart Celtic 0-5 Shannon Town A
Coole FC 8-1 Kilmaley Fern Celtic
Sporting Ennistymon 3-4 Bridge Utd A
Bridge Celtic 1-2 Tulla Utd
Rineanna Rvs 2-4 Avenue Utd B
Newmarket Celtic A 7-1 Kilrush Rangers
Lets Bet Sports Bookmakers First Division
Hermitage A 1-5 Mountshannon Celtic
Selprint Second Division
Manus Celtic 0-1 Turnpike Rvs
Hermitage B 1-6 West Clare FC
Bunratty/Cratloe 2-3 Treaty Celtic
Suttons Lighting Third Division
Corofin Harps B 5-3 Sporting Ennistymon B
Tulla Utd B 2-0 St Pats
Saturday 19th September 2015
Selprint Youths League
Lifford 5-1 Sporting Ennsitymon
Newmarket Celtic 7-0 Tulla Utd
Ennis Town 0-6 Shannon Town
Coole FC 1-3 Avenue Utd
Treacys West County Hotel Clare & District Soccer League Fixtures
Saturday 26th September 2015
FAI U17 Cup Clare & Limerick District
McDonagh Pk: Newmarket Celtic v Avenue Utd 2pm Martin O'Brien
Bunratty: Bridge Utd v Fairview Rangers 2pm Shane Hayes
Selprint Youths League
Cragg: Tulla Utd v Lifford 2:30pm Niall Quinn
Lees Road: Ennis Town v Sporting Ennistymon 2pm Pa Gleeson
FAI Junior Cup Round 2
Mounthawk Pk Astro Pitch: Ballyheigue Ath v Ennis Town 5:30pm
Note: In event of a draw 10 mins e/w ET & penalties if necessary in all cup matches
Sunday 27th September 2015
FAI U17 Cup Clare & Limerick District
Annacotty: Aisling Annacotty v Shannon Town 2pm
Cresent Comp School: Regional v Moneypoint 2pm
FAI Junior Cup Round 2
Clare/Kerry/Desmond League Area
Cragg: Tulla Utd v Mitchells Avenue 2pm Terry Kennedy
Shanagolden: Shannonside Utd v Newmarket Celtic 2pm
Bridgetown: Bridge Celtic v Ratkeale FC 2pm James Ferns
Gort: Coole FC v St Brendans Pk 2pm Dave McCarthy
Lees Road: Rhine Rvs v Killarney Ath 2pm John Grier
Ballysteen: Ballysteen FC v Shannon Town 2pm
Olympic Pk: Shannon Olympic v Avenue Utd 11am Martin OBrien
Lahinch: Moher Celtic v Kilkishen Celtic 11am Michael Rock
Ballycasey: Rineanna Rvs v Dingle Bay Rvs 2pm Mark Rellis
Note: In event of a draw 10 mins e/w ET & penalties if necessary in all cup matches
Maloney Garden Machinery Premier Division
College Pitch: Kildysart Celtic v Bridge Utd A 11am Pa Gleeson
Lets Bet Sports Bookmakers First Division
Fairgreen: Hermitage A v Kilrush Rangers 11am Padraig Sutton
Lees Road: Lifford v Mountshannon Celtic 11am Shane Hayes
Selprint Second Division
Lees Road: Turnpike Rvs v Hermitage B 2pm Julian Sandford
Lit: Treaty Celtic v Manus Celtic 11am Flan Sheedy
Kilrush: West Clare FC v Ennis Town B 11am Paul Hickey
Suttons Lighting Third Division
Cragg: Tulla Utd B v Shannon Olympic B 11am Brian Punch
Lees Road: Inch Crusaders v Kilmaley Fern Celtic 11am Frank Coote
Lynch Pk: Shannon Town B v Sporting Ennistymon B 11am Sean Kenneally
Note: All results to be with Donal Kirby on 085-1765828 immediately after games otherwise a €40 fine will be incurred.