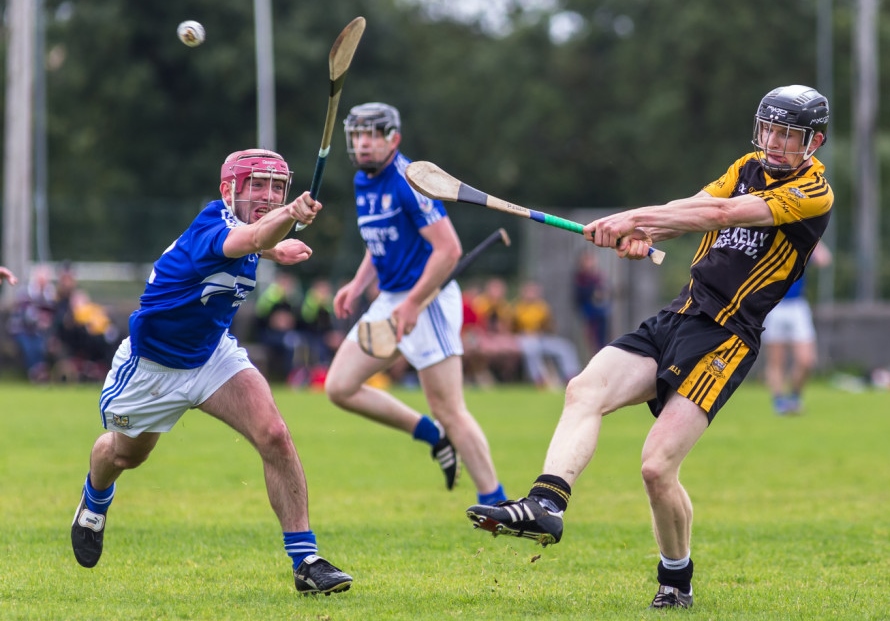 Clare SHC QF
Kilmaley 2-18 Ballyea 2-17 AET at Cusack Park
Referee: Rory Hickey.
Undoubtedly the pick of the three matches on offer in Cusack Park this Saturday was this thrilling contest between Kilmaley and Ballyea.
Both sides pushed themselves all the way through to the very last minute of extra time where Eamon Bracken clinched victory for Kilmaley with what proved to be the last meaningful puck of the ball.
Ballyea will find this loss a hard one to take. They will have been thinking they had done enough to win it in normal time before Cian Moloney was given the opportunity to equalise with a free and then in extra time when they had gotten themselves two points in front with time up.
On both occasions, Kilmaley refused to accept their faith and it was their sheer determination that led to Bracken being on the end of Aidan McGuane's long high ball in the 80th minute of play. He found the net and it was game over on the puck out.
It was a see-saw contest throughout with Kilmaley's first goal just gifting them the advantage throughout the first 45 minutes.
That solo effort from Michael O'Neill in the 12th minute put them 1-3 to 0-1 to the good. A very good lead when you factor in the disappointing wides hit by Tony Kelly from placed balls and Conor McGuane's goal line clearance to deny Gary Brennan.
Kelly was not at the standard that has come to be expected of him for the first 50 minutes of the contest and it resulted in Niall Deasy being drafted in to hit the frees.
It was the 2013 Hurler of the Year who scored all of Ballyea's first three scores however with the final one of those being immediately cancelled out by an excellent score from Daire Keane.
The Kilmaley captain caught the resultant puck out under heavy pressure and shrugged off the challenge before splitting the posts.
Padraic McNamara, who had a lively hour in a two man full forward line, added another straight after for Kilmaley.
Kilmaley were counting their blessings that Ballyea were so poor in front of goal for a lot of the first half. Along with 2-17 converted, Ballyea hit 17 wides.
Without the composed presence of Paul Flanagan and Jack Browne at the back, those wides could have been punished more by Kilmaley.
Browne even pushed on to show the forwards how it was done at one stage only for Eamon Bracken to cancel it out with his second score.
With five points between them, Ballyea needed some inspiration and it was forthcoming from captain Stan Lineen who set them on their way with the first of three Ballyea points in quick succession.
Martin O'Leary was next after a mazy solo run before Deasy took over the free-taking duties and converted his first.
Moloney replied with a free of his own on the stroke of half time before Keane added another for good measure in injury time to give Kilmaley a four point lead heading in at the interval.
It was a very fortunate lead for Kilmaley, one which they would be forced to defend to the very last.
The second half was slightly lower scoring but the entertainment value was still at the highest level of the day.
The sides shared five points over the first 20 minutes of the second period with the odd point going to Ballyea. That meant that when Hickey awarded a penalty in the 50th minute, Kelly winning his dual with O'Loughlin would level the game.
He did just that and suddenly, Ballyea had a new lease of life and so did their talisman.
Brian Cahill's immediate response for Kilmaley had both sets of supporters extremely vocal for the remaining ten minutes.
Brennan had another goal opportunity but his ground stroke flashed wide at the near post after O'Loughlin had already denied David Egan.
It was the final minute before Niall Deasy restored parity and then in the first minute of injury time, Kelly fired over a huge score for Ballyea.
That wasn't to be the end of the drama though as Moloney was afforded one more opportunity to force extra time.
50 yards out, dead centre, he made no mistake and his score was greeted with the full time whistle and extra time.
First score of extra time came courtesy of Tony Kelly who had been reinstated as free taker for Ballyea. That narrow advantage was then in Kilmaley's favour following scores from McNamara and Keane.
With time up in the first half of extra time, Ballyea went on the offensive and Brennan looked to have wasted a goal chance but it was left on a plate for Egan to pull to the net from close range.
After deliberation with his umpires, Rory Hickey deemed the goal acceptable and Ballyea were back in the lead.
Kelly was showing his regular form throughout the extra time and scored two excellent points from play within three minutes of the restart, either side of a Keane free for Kilmaley.
The excitement levels amongst the spectators were at a high with some choosing to watch through their fingers.
O'Malley and Deasy swapped score yet again before Keane scored another free despite being jeered from sections of the crowd.
A long delivery from Kelly towards Brennan went over the head of the Clare Senior Football Captain and was nearly dropped into the net by Bryan O'Loughlin but he redeemed himself before trotting out past Brennan and Conor McMahon who had fallen in front of him.
He picked out Aidan McGuane who delivered the ball long and high towards the Ballyea square. It broke off Diarmuid McMahon back out to Bracken who controlled and went for the goal. With men breathing down on him from all angles, he batted it past Barry Coote and the Kilmaley following erupted.
The full time whistle was sounded as soon as the ball was pucked out and it deflated Ballyea's championship.
It was a bit of a smash and grab from Kilmaley at the finish. Ballyea will look back and be kicking themselves a bit having hit the aforementioned tally of 17 wides. They definitely had the beating of Kilmaley over the hour but could never pull away successfully, even when they got themselves ahead in Extra Time.
It's not often you can say that someone was disappointing when they score 1-8 but with the wides hit by Tony Kelly throughout normal time added to his anonymity in the second half until the last five minutes, was very unlike him. With that said, he was the main man when it mattered in the closing stages and extra time but just fell short.
Kilmaley are in the semi-finals and will be the better for having been dragged through the extra time by Ballyea. The hunger shown throughout will be massive for them if they can show it again in the last four.
Kilmaley: Bryan O'Loughlin; Eoin Enright, Conor McMahon, Sean Talty; Aidan McGuane, Alan Markham, John Clohessy; Brian Cahill (0-1), Michael O'Malley (0-2); Cian Moloney (0-3), Michael O'Neill (1-1), Eamon Bracken (1-2); Daire Keane (0-7, 3f), Diarmuid McMahon, Padraic McNamara (0-3). Subs: Brian McMahon for Bracken (58), Noel Casey for Clohessy (ET), Sean Kennedy for Moloney (ET), Bracken for O'Neill (72).
Ballyea: Barry Coote; Cathal Doohan, Brian Carrig, Paul Flanagan; Gearoid O'Connell, Jack Browne (0-1), Brian Murphy; Tony Kelly (1-8, 1-0pen, 1'65, 3f), Stan Lineen (0-2); Niall Deasy (0-4, 2f), Martin O'Leary (0-2), Damien Burke; Tadgh Lynch, Gary Brennan, Pearse Lillis. Subs: Eoin Donnellan for Murphy (35), David Egan (1-0) for Lynch (46), Lynch for Donnellan (77).