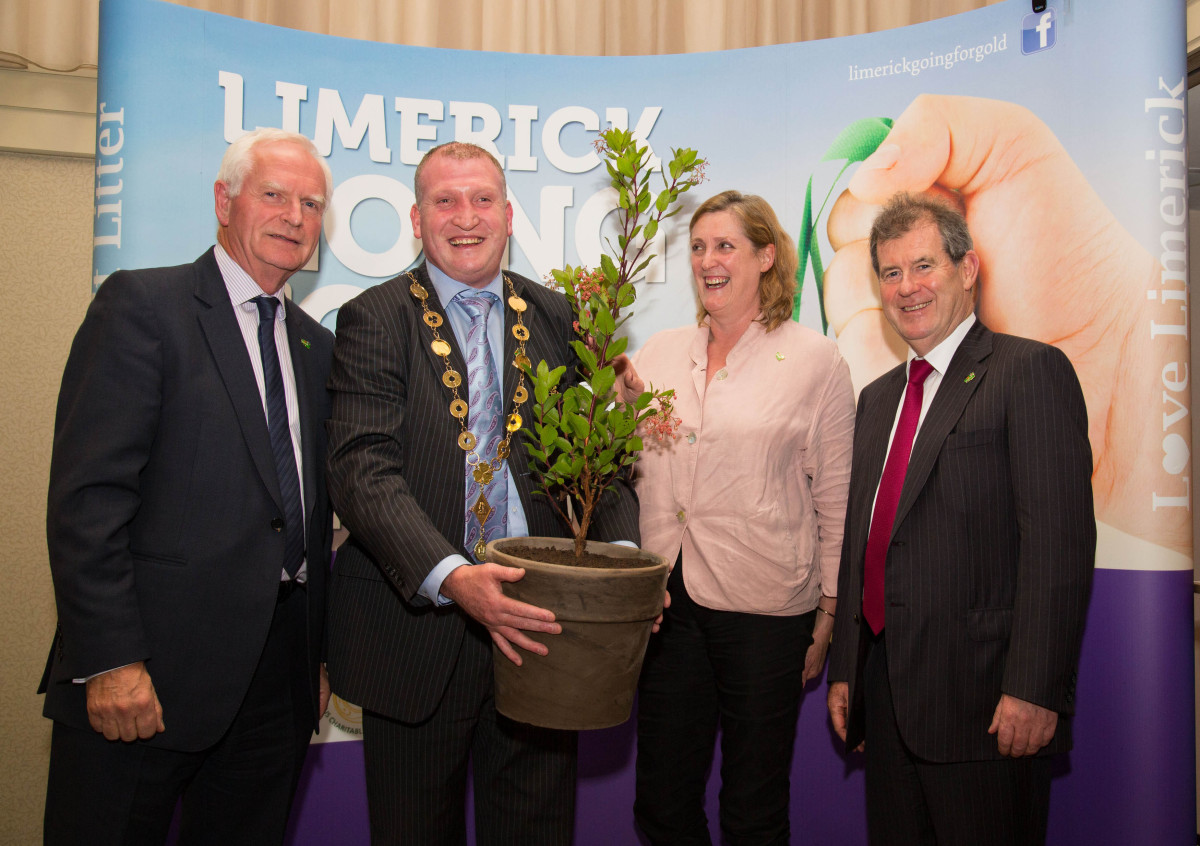 There were jubilant celebrations in The Strand Hotel as the residents of Castleconnell claimed the top prize in Limerick Going for Gold 2015.
Limerick Going for Gold 2015, which for the first time included the communities across Limerick City and County, featured a prize pool of over €76,000, courtesy of the JP McManus Charitable Foundation.
Among those attending the award ceremony and on hand to congratulate finalists for their efforts during the year were RTÉ News correspondent Joe Little, and All-Ireland Under 21 winning Limerick Hurling Manager John Kiely and Team Captain Diarmuid Byrnes.
Mayor of Limerick City and County Council, Cllr Liam Galvin congratulated the participating communities for helping to ensure that Limerick Going for Gold 2015 was "a tremendous success".
"This year might have seen Going For Gold expanded to include all areas of the County but ultimately its focus and goal have remained the same. Likewise, new participants in the various competition categories have brought with them the same community spirit, innovation and pride in their areas that has defined Going For Gold since its inception," he added.
"Limerick Going for Gold's mission is to make Limerick a brighter, better, cleaner place to live, work and visit and every community who participated in this campaign, as well as the event sponsors and supporters continue to contribute to that mission," stated Mayor Galvin.
The Mayor also thanked Limerick City and County Council and the JP McManus Charitable Foundation for organising the initiative, as well as the event supporters and sponsors including Live 95FM, The Limerick Leader and The Limerick Chronicle, The Limerick Post, Parkway Shopping Centre, I Love Limerick and Southern Marketing Media & Design.
Addressing those in attendance, Gerry Boland of the JP McManus Charitable Foundation said it was "considered important that recognition be given to communities, for their contribution to the environment. They are role models for all of us, leading by example."
The Going For Gold Challenge Category final was this year made up of 12 groups from Limerick City and County. The competition has an X Factor feel as finalists were chosen by popular vote on Live 95FM over a six-week period. The popular vote finalists were Kilteely, Broadford, Kilfinane, Anglesboro, Rathkeale and Castleconnell. They were joined in the final by Going for Gold wildcards Athea, Caherdavin, Croom, Hospital, O Malley/ Keyes Parks, and South Limerick City who were selected by the Going for Gold judges which included David Hurler (reporter with The Limerick Leader), Lorraine Power (TidyTowns Adjudicator) and Gerry Behan (retired Director of Service, Limerick City & County Council).
Castleconnell was awarded the top prize of €10,000, with €7,000 and €5,000 being presented to Athea (2nd) and South Limerick City (3rd) respectively. In 4th place was Kilfinane (€3000). The other placed finalists were Caherdavin and Croom (joint 5th) (€2,000), The remaining finalists were awarded (€1,000).
Going for Gold 2015 Limerick in Bloom Category's Overall winner was Adare (€5,000) and overall runner up Ardpatrick (€3,000). The winners in each Municipal district were Croagh. Galbally, Glin and Clarina. The runners up in each of these areas were Foynes, Kilmallock, Strand and Gouldavoher.
Prizes were also awarded to TidyTowns groups based on their Tidy Towns score. The Overall most improved across Limerick was Abbeyfeale (€4,000). The overall most improved in each municipal district was Croom (Adare/Rathkeale), Bruff (Cappamore/Kilmallock), Athea Newcastle West and Caheradvin Metro Area. There were four additional TT incentive awards of €1,000 were presented to groups with the highest scores across the following categories: (Glenosheen) Tidiness and Litter Control; (Kilmallock) Sustainable Waste and Resource Management; and Landscaping and Open Spaces (Adare and Ardpatrick), and Wildlife and Natural Amenities (Mountcollins) .
Endeavour Awards of €1,000 were presented St Augustine Youth Encounter Project, Limerick Youth Services, and the Mill Road, Corbally to encourage and/or support ongoing work on the environment.
The Garden Competition Category was sponsored by the Parkway Shopping Centre and featured a prize fund of €1,000 in shopping vouchers. Roger Beck from the Parkway Shopping Centre presented prizes to John McCarthy, Kilteely (1st), Teresa & Gerry Ryan (2nd) and Dolie Whelan, Ballyneety (3rd).
A Residential Area Award of €1,000 was presented to Woodlawn with awards of €500 being presented to each of the following Castletroy View, Cappamore Estates Glenbrook/Glendale/Glendale Lawn and Kilteragh.
Meanwhile, one of the surprise moments of the night was when Mayor Galvin, acting on behalf of the Environment Section of the Council, made a presentation to JP McManus, Gerry Boland and Helen O'Donnell to recognise their commitment to "all things" Limerick.