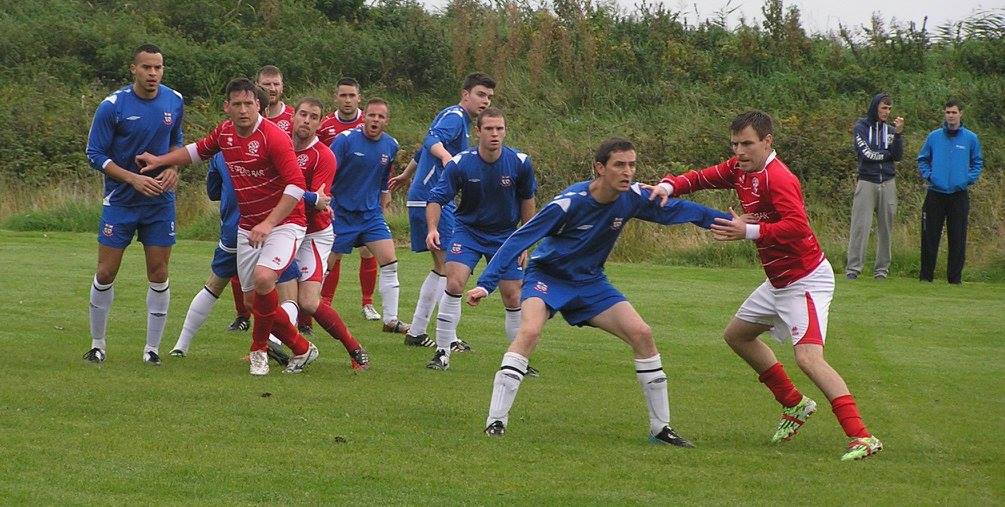 Oliver Fitzpatrick reviews the weekend action in the Clare Junior Soccer League.
CUP GAMES
Newmarket Celtic B had a surprising but deserving victory over Tulla Utd A in the Munster Junior Cup at the Cragg on Saturday evening. The sides finished level at end of normal time but goals from Martin Mulqueen and Kieran Crosby sent Newmarket on their way with a 2-0 win to a third round meeting with Moher Celtic.
Sunday 11th October 2015
Munster Junior Cup 1st Round
Bridge Utd B 2-1 Shannon Olympic
Tulla Utd A 0-2 Newmarket Celtic B

Saturday 17th October 2015
FAI Junior Cup 3rd Round Clare/Kerry/Desmond
Riverside Pk: Abbeyfeale Utd v Bridge Utd 7:30pm
Note: In event of a draw 10 mins e/w
ET & penalties if necessary
Sunday 18th October 2015
FAI Junior Cup 3rd Round Clare/Kerry/Desmond
Woodlawn: Killarney Athletic v Moher Celtic 2pm
Mounthawk Pk: Mitchells Avenue v Ennis Town 2pm
Roslevin: Avenue Utd v St Brendans Pk 2pm Mark Rellis
The Denense; Newcastle West AFC v Newmarket Celtic 2pm
Lynch Pk: Shannon Town v Ballingary 2pm James Ferns
Note: In event of a draw 10 mins e/w
ET & penalties if necessary in all cup matches
First Division League Cup Semi-Final
Cassidy Pk: Lifford v Rineanna Rvs 11am Martin O'Brien
Note: In event of a draw 10 mins e/w ET & penalties if necessary
PREMIER DIVISION
Bridge United A consolidated their position at the top of Clare's top flight with a 3-3 home draw against third placed side and current Premier League title holders Newmarket Celtic A.  Avenue United A meanwhile, closed the gap with a convincing 7-1 win over the division's basement side Sporting Ennistymon. Avenue are now just 4 points behind Bridge and have a game in hand.
GALLERY: Bridge Utd A v Newmarket Celtic A
Bridge United A 3-3 Newmarket Celtic A
Bridge Utd and Newmarket Celtic served up a thrilling encounter at Corrib Drive on Sunday as the top 2 sides in the league locked horns in the Premier Division.
From start to finish it was end to end stuff with the result in doubt right to the final whistle. Newmarket started well and a foul on David McCarthy outside the box gave Darren Cullinan an early chance on 3 minutes to open the scoring but he was denied by the post from a well struck free kick. Bridge hit the front on 6 minutes when Pa McMahon got the better of a tussle with Paddy Purcell and brilliantly chipped Niall Quinn in the Newmarket goal as he advanced off his line.
Newmarket were back on level terms on 15 minutes when Eoin Hayes terrorised the Bridge defence down the right wing and crossed for Michael Crosby to finish well inside the box. A good through ball from Darren Murphy on 21 minutes created a chance for Robbie Wall but he was denied by a good save from Quinn. Hayes again caused problems for the Bridge defence on 25 minutes and after a scramble in the area a foul by Mulready resulted in a penalty and yellow card for the Bridge keeper. Up stepped Ronan McCormack from the penalty spot and he made no mistake as Newmarket hit the front. Newmarket had a good chance to go 3-1 up on 30 minutes when David McCarthy showed some great close control and skill in the box to create some space but his effort went over the crossbar. McMahon was denied by Quinn on 33 minutes when the Newmarket keeper went down bravely to deny him from close range. Good work from Jon Okoro on 38 minutes created a chance for McMahon but this time his shot was off target.
Bridge drew level on 41 minutes when Newmarket failed to clear a corner and Brian McGorrian got some space in the box and buried his shot to the back of the Newmarket net from 6 yards. Right on half time Hayes went close again for Newmarket with a good run and shot that rebounded off the post as the sides went in level at the break 2-2.
Bridge went close on 53 minutes when McMahon had a well struck effort from the edge of the box rebound off the crossbar. Wall went close again for Bridge from a free kick on 59 minutes that narrowly missed the target. Bridge went back in front on 61 minutes when a good run and cross from Chris Lake was finished to the net by McMahon with a good left foot strike to the corner.
Trevor Maxwell was sprung from the bench by Bridge and he made a good run down the left wing before hitting the target with a shot from outside the box that Quinn saved on 75 minutes. Alan Brigdale put in a good cross for Newmarket on 77 minutes that McCarthy met on the volley but his effort missed the target. McCarthy had another chance for Newmarket on 79 minutes but this time with his shot destined for the left corner Darren Murphy was in the right place to make the block and clearance. Newmarket tied up the game for the third time on 81 minutes when Eoin Hayes showed some great vision from 30 yards to spot Mulready off his line and his effort flew into the back of the Bridge net for a brilliant equalizer to stun the home side and supporters.
Both sides kept pressing to the end but neither side could find another goal as the game finished level and these great rivals deservedly shared the points on the day.
Bridge Utd: John Mulready, Jason Whyte, Chris Lake, Darren Murphy, Christy Griffin, Jonathan Downes, Robbie Wall, Darragh Fitzgerald, Jon Okoro, Brian McGorrian, Pa McMahon Subs: Mikey McNamara for Okoro (inj), Trevor Maxwell for Lake, Eoin Guinan for Wall
Newmarket Celtic: Niall Quinn, David O'Grady, Darren Cullinan, Mark Donlon, Paddy Purcell, Colin Ryan, Eoin Hayes, Colin Smyth, Michael Crosby, David McCarthy, Ronan McCormack Subs: Alan Brigdale for McCormack, Alan Kelly for Donlon & Brian Monaghan for O'Grady

Avenue Utd A 7-1 Sporting Ennistymon A
The scoreline will suggest a landslide victory but this game was in the balance up until start of the second half when the score was 2-1 to Avenue.
Avenue lead 2 nil going into half time through Scott Hennesey and Pa Sherlock. It turned out to to be a good day as both got hat tricks. The first of Hennessy's goals came after he followed up a good shot from Shane Constable. Pa Sherlock got on the score sheet right on half time after his cross come shot was fumbled into the goals by the Ennistymon keeper. One for the dubious goals committee no doubt.
Ennisymon's only real chance was a half volley from all of 25 yards but Avenues keeper David Phillips saved well to his right hand side tipping it past the post Avenue started the 2nd half casually and this lead to Ennistymon getting back into the game. A shot in the box was well saved by Phillips but he couldnt keep out the rebound effort from all of 5 yards. This woke up Avenue and they went on to score 5 goals in the next 20 minutes. Hennessy and Sherlock both completed their hat tricks with some good finishes. Constable also got in on the act with a nice cool finish in the box.
Avenue will be happy with the three points with news reaching that Bridge and Newmarket played out a 3 all draw.
Avenue Utd: David Phillips, Pa Sherlock, Conor Mullen, David Russell, David Herlihy, David Smyth, Pa Wilson, Kaylan O'Loughlin, Mark Roche, Scott Hennesey, Shane Constable Subs: Pat McDaid and Eoin Slattery
Kildysart Celtic 2-3 Ennis Town A
Ennis Town made the trip to Kildysart on Sunday and came away with the points after a battling performance against a home side who made them work for their victory. The visitors started the game very well and put the Kildysart defence under a lot of pressure for the first 15 minutes.
Kildysart came more into it after weathering the early storm but then Ennis Town took the lead in the 36th minute when Aaron Fitzgerald scored from an acute angle and they doubled the lead 2 minutes later when Daryl Eade's ball over the top was controlled by Gary Collins and he fired to the net. It was 3-0 right on half time when Eade got in on the scoring.
Kildysart knew they had played well in the first half despite the score line and went out to repair the damage but 10 minutes into the 2nd half the ref awarded the visitors a penalty and at this stage a hammering looked on the cards. However Kildysart keeper Connelly made a brilliant safe from the spot kick and this seemed to inspire his team mates. With 25 minutes remaining the home side were awarded a penalty for hand ball and Jerry Finn stepped up and coolly slotted home.
Kildysart were completely on top at this stage and in the 74th minute Shane McNelis made it 3-2 when he fired home from close range following a corner. Kildysart poured forward in search of an equaliser but despite creating a couple of half chances just couldn't get that crucial breakthrough to force an equalizer as Ennis Town held on for the victory.
Kildysart Celtic: Kieran Connelly, H Starr, Rory Murphy, N O'Connor, Keith O'Connor, A Nagle, F O'Reilly, Shane McNelis, Kieran Eyres, Rory McMahon, Jerry Finn Sub: Kieran Neenan for Starr (inj)
Ennis Town: Marty Whelan, John Maher, Ethan Considine, Shane Daniels, Shane O Connor, Joe Collins, Mikey Dinan, Daryl Eade, Gary Greene, Gary Collins, Aaron Fitzgerald
Sub: Francis Daniels for Dinan

Sunday 11th October 2015
Maloney Garden Machinery Premier Division
Kildysart Celtic 2-3 Ennis Town A
Avenue Utd A 7-1 Sporting Ennistymon A
Bridge Utd A 3-3 Newmarket Celtic A
Sunday 18th October 2015
Maloney Garden Machinery Premier Division
Lahinch: Sporting Ennistymon A v Shannon Olympic A 11am Terry Kennedy
Corofin: Corofin Harps A v Kildysart Celtic 11am Michael Rock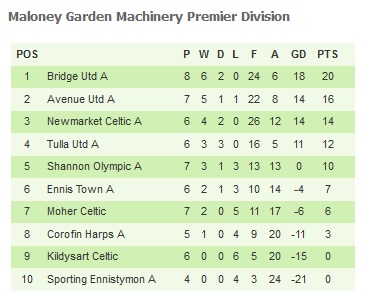 FIRST DIVISION
Lifford A continued their strong start to the season winning a 9-goal thriller against Burren United in Lisdoonvarna this morning. The Ennis side won 4-3 lifting them into fourth spot behind Bridge Celtic on goal difference. Meanwhile, league leaders Shannon Town continued their impressive start to the season with a 4-2 win over Kilrush Rangers and Lynch Park.
Mountshannon Celtic 3-0 Rineanna Rovers
This First Division encounter played at the Cragg Tulla saw Mountshannon welcome Rineanna to the East Clare venue.
The home side ensured that they collected all three points with a comfortable victory on the day. The away side threatened in the opening stages and forced Andrew O'Dwyer into a few smart saves early on. However Mountshannon struck the first meaningful blow five minutes before the interval. William Glass played Martin Cunningham through and he powerfully finished from 12 yards across the goalkeeper.
The second period saw Mountshannon take control of the fixture on the hour mark when Martin Cunningham doubled his personal tally after he was played in on the right by Padraig Brody. The East Clare outfit finished the game as a contest with fifteen minutes remaining when Michael Barrett found the bottom corner with a precisely placed curled effort from the edge of the Rineanna area.
Mountshannon Celtic: Andrew O'Dwyer, Niall Dear, Michael Scanlan, John Scanlan, Liam Doyle, Michael Barrett, Colm Kavanagh, Cathal Moloney, Liam Corry, William Glass, Martin Cunningham Subs: Padraig Brody for Liam Doyle, Gavin Moroney for Liam Corry, Michael O'Brien for Colm Kavanagh
Shannon Town A 4-2 Kilrush Rangers
Ger Kelly, Neil Mills, Evan Barry & Fergal McCarthy scored for Shannon Town in a hard fought victory over Kilrush Rangers at Lynch Park on Sunday.
Avenue Utd B 1-0 Hermitage A
Avenue's second string outfit proved their First Division credentials in this Ennis town derby encounter today by defeating neighbors Hermitage A. Avenue's Darragh Kerin scored the only goal of the game meaning the win sees his side jump two spaces in the league up to 5th having now won 3 from 4 games. It was Hermitage's fifth loss in 7.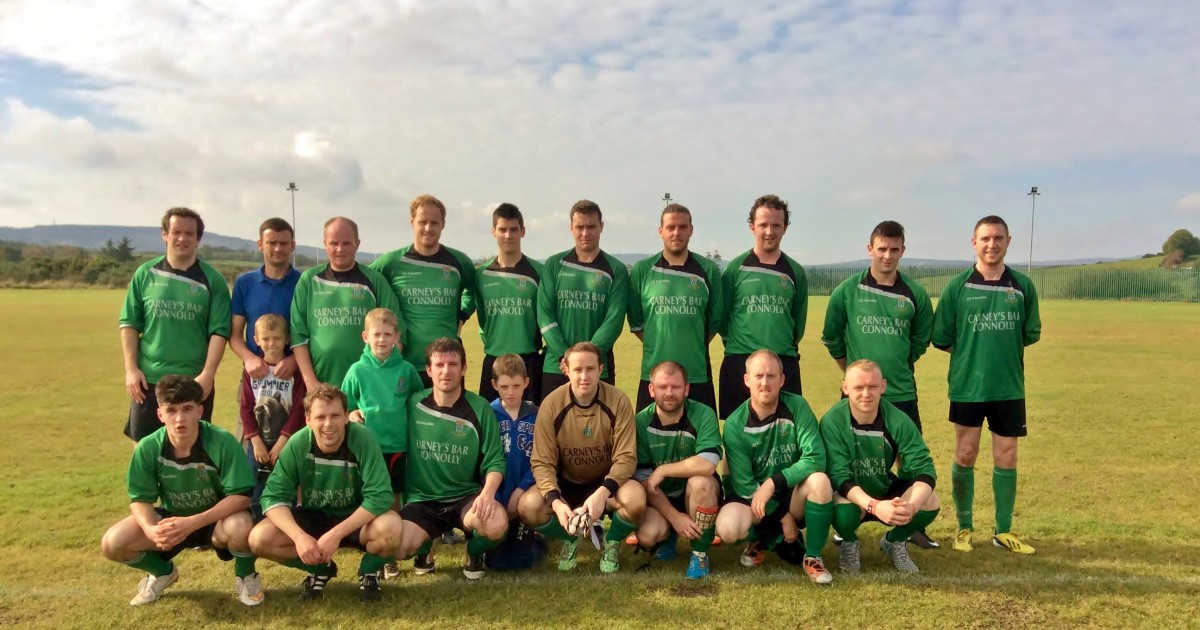 Connolly Celtic 4 Kilkishen Celtic 0
Connolly got their first points of the season at Kilmaley School today scoring twice in each half. The first half goals came from Kieran Dillon and Darragh Sexton. Eoin Fitzgerald and a late effort from Senan McCarthy ensured the three points. Connolly's win sees them move off the foot of the table into 10th place with Kilkishen now rooted to the bottom behind Rineanna Rovers.
Connolly Team: Mark Dunphy, Paul Scanlon, Kieran Dillon, Stephen McNamara, Cathal Lynch, Jason Devitt, Eoin Fitzgerald, Mikey Pynes, Darragh Sexton, Brendan Dillon. SUBS: Cathal Fitzgerald for Darragh Sexton, Donal McCarthy for Brendan Dillon, Donnacha Lynch for Jason Devitt, Sean Courtney, Luke Murphy.
Sunday 11th October 2015
Lets Bet Sports Bookmakers First Division
Shannon Town 4-2 Kilrush Rangers
Connolly Celtic 4-0 Kilkishen Celtic
Avenue Utd B 1-0 Hermitage A
Burren Utd 4-5 Lifford
Mountshannon Celtic 3-0 Rineanna Rovers
Sunday 18th October 2015
Lets Bet Sports Bookmakers First Division
Cragg,Tulla: Kilkishen Celtic v Avenue Utd B 10:30am Padraig Sutton
Bridgetown: Bridge Celtic v Connolly Celtic 11am Julian Sandford
Kilrush: Kilrush Rangers v Mountshannon Celtic 11am Paul Hickey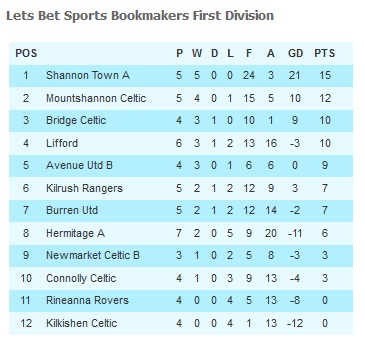 SECOND DIVISION

Sunday 11th October 2015
Selprint Second Division
Ennis Town B 2-1 Rhine Rvs
Coole FC 3-2 West Clare FC
Bunratty/Cratloe 1-6 Turnpike Rvs
Sunday 18th October 2015
Selprint Second Division
Kilrush: West Clare FC v Bunratty/Cratloe 2pm Sean Kenneally
Lees Road Astro: Manus Celtic v Coole FC 2pm Dave McCarthy
Lees Road: Rhine Rvs v Treaty Celtic 11am John Grier
Lees Road: Turnpike Rvs v Bridge Utd B 11am Shane Hayes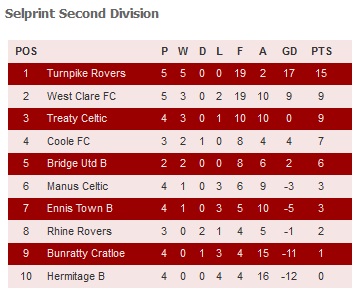 THIRD DIVISION

Inch Crusaders 7-5 Sporting Ennistymon B
Inch had their first win of the season on Sunday after they came out on top of a 12 goal thriller at Lees Road. Inch went on front after 5 minutes after Emmet Pyne headed home a Sean Hehir corner. Inch doubled their lead on 15 minutes after Thiago Santana scored after been put through by Mark Connellan. Sporting scored 3 goals in a row to leave it at 3-2 with only 30 minutes gone. Inch brought it back on level terms with a Padraig Talty strike after good work from Colm Duffy. Rory Killeen got on the end of another Sean Hehir corner to leave the score 4-3 to Inch at half time. Sporting drew level from the penalty spot after half time but Inch went back in front one more time from a penalty scored by Thiago Santana. Rory Killeen made it 6-4 with a powerful header from a corner. Sporting pulled a goal back to leave it 6-5 before Talty rounded off the days scoring with a great finish after a mazy run and strike. Thomas O'Doherty went close to making it 8 but his effort just grazed the crossbar as this remarkable game drew to a close.
Inch Crusaders: James Rynne, Mark Connellan, Jacque Foley, Fergal O'Connell, Sean Hehir, Rory Killeen, Thomas O'Doherty, Emmet Pyne, Colm Duffy, Thiago Santana, Padraig Talty Subs: Ronan Grace, Thomas Lynch & David O'Brien
Shannon Olympic B 1-1 Shannon Town B
Aaron O Mara scored for Shannon Town to earn his side a share of the points.
Suttons Lighting Third Division
Inch Crusaders 7-5 Sporting Ennistymon B
St Pats 4-1 Kilmaley Fern Celtic
Tulla Utd B 1-0 Corofin Harps B
Shannon Olympic B 1-1 Shannon Town B
Sunday 18th October 2015
Suttons Lighting Third Division
Tiermaclane: Kilmaley Fern Celtic v Sporting Ennistymon B 11am Brian Punch
Corofin: Corofin Harps B v Inch Crusaders 11am Flan Sheedy
Olympic Pk: Shannon Olympic B v St Pats 11am Paddy Walsh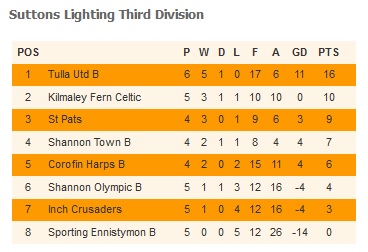 YOUTHS
Saturday 10th October 2015
Munster Junior Cup 2nd Round
Tulla Utd A 0-2 Newmarket Celtic B
Munster Youths Cup 1st Round
Avenue Utd 2-4 Newmarket Celtic
Munster Youths Cup 2nd Round
Shannon Town 0-3 Lifford
Selprint Youths League
Coole FC 8-0 Ennis Town
Tulla Utd 1-8 Sporting Ennistymon
Saturday 17th October 2015
Selprint Youths League
Gort: Coole FC v Lifford 2:30pm Lukasz Baranowski
Lees Road: Ennis Town v Tulla Utd 2:30pm Niall Quinn
Mullagh: Sporting Ennistymon v Newmarket Celtic 2:30pm Trevor White