Oliver Fitzpatrick reviews the weekend's local soccer action in Clare.

MFA League Champions Trophy
Newmarket Celtic qualified for the semi-final of the League Champions Trophy after an excellent performance away to Douglas Hall on Sunday. Douglas Hall went in front early on but Newmarket leveled through Ronan McCormack before half time. Brian Monaghan struck the winning goal early in the second half to setup a semi-final meeting with Nenagh Celtic.
Newmarket Celtic: Trevor O'Donnell, David O'Grady, Paddy Purcell, Seamus Lawlor, Brian Monaghan, Cathal Hayes, Colin Ryan, Michael Crosby, Colin Smyth, Ronan McCormack, Eoin Hayes Subs: Darren Cullinan for Cathal Hayes, Stephen Kelly for Lawlor & Alan Kelly for Monaghan
FAI Junior Cup 2nd Round
Sporting Ennistymon 0-3 Bridge Utd
Bridge Utd advanced to a third round meeting with Abbeyfeale after getting the better of Sporting Ennistymon at Lahinch on Sunday. Star performer on the day was Jon Okoro who scored a hat-trick.
Bridge Utd: Kieren Brennan, Jay Whyte, Christy Griffin, Darren Murphy, Jonathan Downes, Darragh Fitzgerald, Rob Wall, Brian McGorrian, Trevor Maxwell, Chris Lake, Jon Okoro Subs: Brian O'Connor for Fitzgerald, Mikey McNamara for Maxwell, Eoin Guinan for Wall
Maloney Garden Machinery Premier Division
Ennis Town A 4-1 Shannon Olympic A
This was a very entertaining match played out in lovely conditions in Lees Road on Sunday morning. Shannon Olympic had the better of the early exchanges and took the lead as early as the 4th minute from Deaghlan McDonald. He could have doubled the advantage for Olympic a few minutes later but for a fine fingertip save from Ennis town keeper Shane Daniels who knocked the ball onto the post and Shane O'Connor cleared. This exchange seemed to finally awaken Ennis Town who then took a hold of the match. On 10 minutes Aaron Fitzgerald saw his near post shot well saved by the Olympic keeper Ruairi Price. On 15 minutes the sides were level. A short corner saw Gary Collins float a sweet ball into the box and this was met perfectly to the net by Shane O Connor. On 21 minutes Ennis Town had the lead after some fine individual work by Aaron Fitzgerald he struck his shot high to the roof of the Olympic net. While Ennis Town were now controlling the game both sides had their chances before half time to increase their scores. The second half began the same as the finish of the first. Ennis Town were dominating but some wasteful passes in the final third and some excellent saves from Ruairi Price meant that Olympic were still in the game. On 80 minutes Ennis Town got the vital third when Joe Collins headed in from a Gary Collins corner. In the final minute Aaron Fitzgerald got his second when he ran clear on goal and chipped the onrushing Price.
Ennis Town A: Shane Daniels, Ethan Considine, Shane O Connor, Adrian Walsh, Ritchie Neylon, Daryl Eade, Mickey Dinan, Gerry Dullaghan, Joe Collins, Gary Collins, Aaron Fitzgerald Subs: Eoin Keenan for Dinan, Gary Greene for Dullaghan
Shannon Olympic: Ruairi Price, BJ Cantillon, Dean Carr, Alex Cole, Darren Dougan, Ray Quigley, Derek Maxwell, Sean Brennan, Liam Delaney, Deaglan McDonald, Ryan Kelly Subs: David O'Flaherty for Dougan, Rory O'Connell for Power, Kieran Kissan for Brennan
Tulla Utd A 4-0 Kildysart Celtic
Tulla United rebounded to winning ways following last week's surprise result in the FAI Junior Cup. The game was decided as a contest midway through the 1st half when Daragh Corry scored a half volley from a corner kick after Kildysart failed to clear their lines. A defensive lapse gifted the Tulla centre forward David McInerney Tulla's 2nd goal. Kildysart's challenge was made all the more difficult after David O'Brien ran through from mid field and coolly slotted in with his left foot with the help of the inside of the post. To their credit, Kildysart never gave up trying and showed great resilience in the 2nd half and the score remained 3-0 going in to the last quarter. By this stage, Tulla had emptied the bench and a 30 yard pin point purposeful cross from Johnny O'Brien on the left wing found Sebastiao da Silva unmarked on the penalty spot. He made an excellent connection and the ball looped over the keeper into the top left hand corner to round off a good 4-0 victory for the home side.
Tulla Utd: Barry Ryan, Eoin Whelan, Paul Dullaghan, Paraic O'Malley, Daragh Corry, David O'Brien, Christy O'Brien, Sunny Jay, Johnny O'Brien, David McInerney, Colin Nelson Subs: Aaron Lane for D. O'Brien, Ray Bane for O'Malley & Sebastiao da Silva for Nelson

Maloney Garden Machinery Premier Division
Tulla Utd A 4-0 Kildysart Celtic
Ennis Town A 4-1 Shannon Olympic A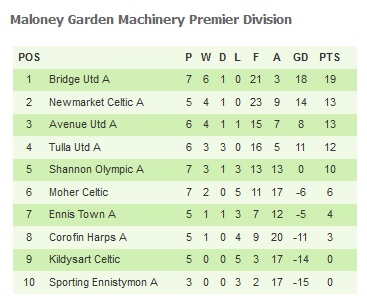 Sunday 11th October 2015
Munster Junior Cup 1st Round
Bunratty: Bridge Utd B v Shannon Olympic 10:30am Flan Sheedy
Munster Junior Cup 2nd Round
Lahinch: Moher Celtic v Corofin Harps 11am Terry Kennedy
Cragg: Tulla Utd v Newmarket Celtic B 2pm Padraig Sutton
Maloney Garden Machinery Premier Division
College Pitch: Kildysart Celtic v Ennis Town 11am James Ferns
Roslevin: Avenue Utd v Sporting Ennistymon 11am Mark Rellis
Corrib Drive: Bridge Utd v Newmarket Celtic 11am Pa Gleeson
Lets Bet Sports Bookmakers First Division
Rineanna Rovers 1-2 Avenue Utd B
Avenue Utd had a good away victory on Sunday with Barry Cusack and Darragh Kerin scoring the goals.
Burren United 4 – 3 Connolly Celtic
Despite going behind three times through a hat-trick of freekicks from Connolly's Darragh Sexton (2) and Paul Scanlon, Burren United fought back to secure a merited 4-3 win.
Lets Bet Sports Bookmakers First Division
Kilrush Rangers 3-0 Kilkishen Celtic
Hermitage A 1-3 Shannon Town A
Burren Utd 4-3 Connolly Celtic
Rineanna Rvs 1-2 Avenue Utd B
Bridge Celtic 1-1 Lifford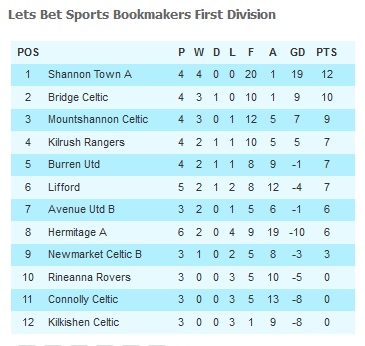 Lets Bet Sports Bookmakers First Division
Lynch Pk: Shannon Town v Kilrush Rangers 11am Shane Hayes
Kilmaley School: Connolly Celtic v Kilkishen Celtic 11am Frank Coote
Roslevin: Avenue Utd B v Hermitage 2pm James Ferns
Lisdoon: Burren Utd v Lifford 11am John Grier
Cragg Tulla: Mountshannon Celtic v Rineanna Rvs 11am Julian Sandford
Selprint Second Division
Manus Celtic 0-4 West Clare FC
Jamie Russell continued his rich vein of scoring form by hitting all 4 goals in the first half to give West Clare FC a good away victory over Manus Celtic at Lees Road on Sunday.
West Clare FC: David Keane, Sean Flavin, Damien O'Brien, Damien Honan, John Kelleher, Jamie Russell, Jason Russell, Patrick McAuley, Kevin O'Brien, Michael Purcell, Evan Garvey
Bridge Utd B 3-2 Ennis Town B
Bridge Utd made it 2 wins from 2 with a good victory over Ennis Town at Bunratty on Sunday. Eric Carr, Kieran Quinlan and Alan McAuley scored the goals for the Bridge.
Bridge Utd B: Conor Hassett, Mark Hehir, Julio Perez, Brendan Murphy, Tom Whyte, Eric Carr, Jamie Gorman, Tom Dineen, Eoin Gough, Kieren Quinlan, John Keogh Sub: Alan McAuley
Selprint Second Division
Manus Celtic 0-4 West Clare FC
Rhine Rvs 1-1 Bunratty/Cratloe
Coole FC W/O Hermitage B Scr
Treaty Celtic 0-5 Turnpike Rvs
Bridge Utd B 3-2 Ennis Town B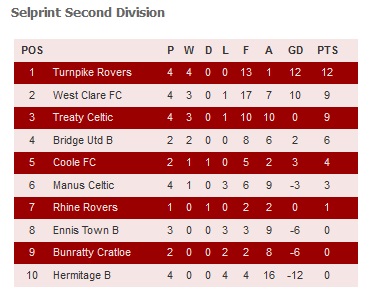 Selprint Second Division
Lees Road: Ennis Town B v Rhine Rvs 2pm Dave McCarthy
Gort: Coole FC v West Clare FC 2pm Shane Hayes
Wolfe Pk: Bunratty/Cratloe v Turnpike Rvs 2pm Flan Sheedy
Suttons Lighting Third Division
Kilmaley Fern Celtic 1-0 Shannon Olympic B
Kilmaley remain unbeaten in the Third Division after Mickey White scored the all important goal that gave them a narrow 1-0 victory over Shannon Olympic at Tiermaclane on Sunday.
Inch Crusaders 3-4 St Pats
St Pat's came out on top in a high scoring encounter against Inch Crusaders at Lees Road on Sunday. It was end to end stuff from start to finish with both sides creating a lot of chances. James Rynne went close for Inch early on after getting on the end of a good through ball from Joe Neylon. St Pats took the lead on 15 minutes after Niall McCarthy beat the offside trap and finished well. They were 2 clear on 25 minutes when David Talty scored. Thiago Santana went close with an overhead kick for Inch on 40 minutes that was cleared off the line by Aaron Talty. Right on half time Ben Egan made it 3-0 to give St Pats a commanding lead at the break. St Pats then went 4-0 up early in the second half when Talty scored his second and it looked like game over. Inch never gave up and and a quick fire hat-trick from Santana had the game back in the melting pot with 20 minutes still to play. Despite their best efforts they could not force an equalizer as St Pats held on for the victory.
Inch Crusaders: Thomas Lynch, Mark Connellan, Jacque Foley, Mairtin MacDonnacha, Niall Gavin, David O'Brien, Joe Neylon, Emmet Pyne, Colm Duffy, Thiago Santana, James Rynne Subs: Ronan Grace, Oran Killeen & Kenneth Hartigan
St Pats: Eamonn Tubridy, Ben Egan, Damien Bohanen, Oisin Hanrahan, Cyril Sheehan, Conor Talty, Mark O'Looney, David Talty, Niall McCarthy, Aaron Talty Subs: Christopher Talty & Eoghan O'Leary
Suttons Lighting Third Division
Inch Crusaders 3-4 St Pats
Sporting Ennistymon B 1-4 Tulla Utd B
Kilmaley Fern Celtic 1-0 Shannon Olympic B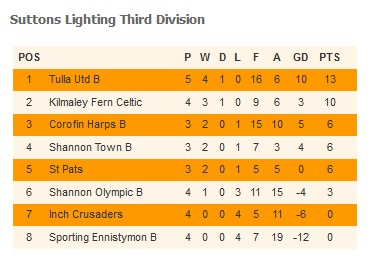 Suttons Lighting Third Division
Lees Road: Inch Crusaders v Sporting Ennistymon B 11am Brian Punch
Kilmihil: St Pats v Kilmaley Fern Celtic 2pm Frank Coote
Cragg: Tulla Utd B v Corofin Harps B 2pm Sean Kenneally
Olympic Pk: Shannon Olympic B v Shannon Town B 11am Sean Kenneally
Saturday 3rd October 2015
Selprint Youths League
Tulla Utd 1-6 Coole FC
Sporting Ennistymon 1-6 Avenue Utd
Newmarket Celtic 2-4 Ennis Town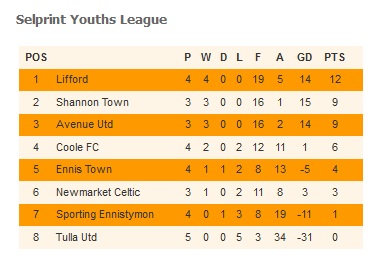 Saturday 10th October 2015
Munster Youths Cup 1st Round
Roslevin: Avenue Utd v Newmarket Celtic 11.30am Trevor White
Munster Youths Cup 2nd Round
Corrib Drive: Shannon Town v Lifford 2.30pm Shane Hayes
Selprint Youths League
Gort: Coole FC v Ennis Town 2.30pm Pa Gleeson
Cragg: Tulla Utd v Sporting Ennistymon 2.30pm Lukasz Baranowski