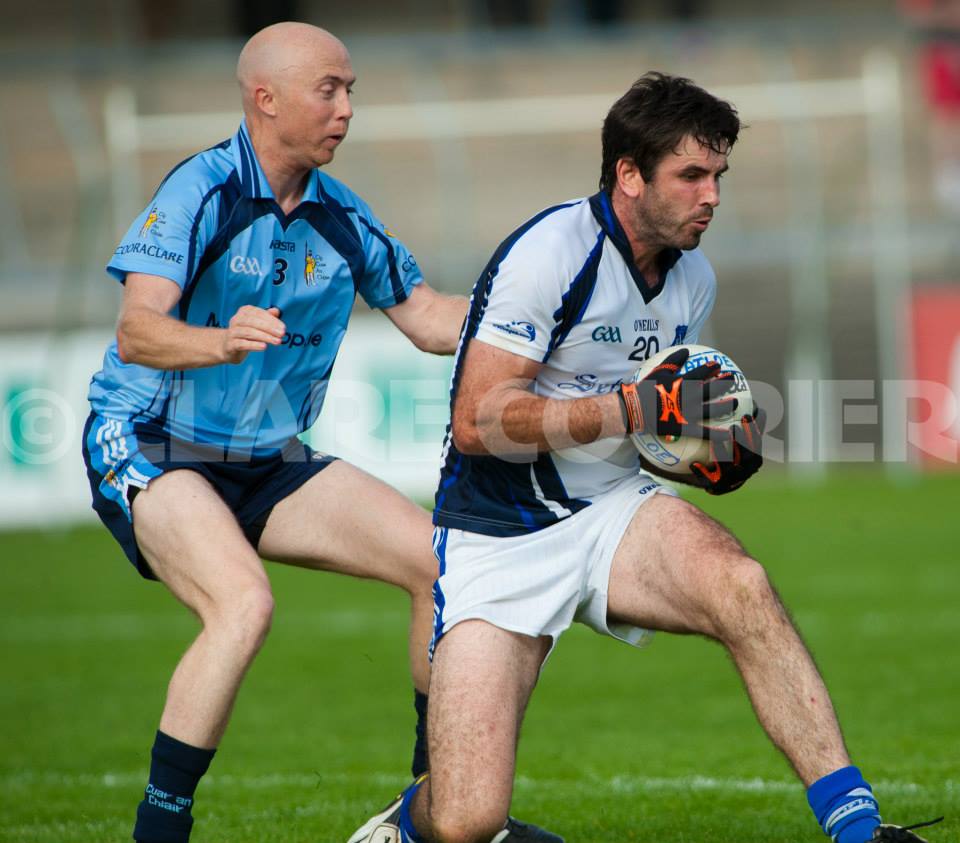 It's been seventeen years since Cooraclare last won the Clare Senior Football Championship, Conor Marrinan had an important role as waterboy of the side but this Sunday his role will be more noticeable as he captains his club.
Speaking to The Clare Herald, Marrinan recalled some fond memories of their 1997 win but says it will be a totally different scenario for him this time round. Come Sunday, that two point win over Doonbeg will be the last thing on their minds.
"We'll always think of them like and if we were to do something the next day it would be great. Eighteen years is a long time for any club to not win something, we won't be thinking about 97 on Sunday, it's what's ahead of us that we want and it's what we are aiming for".
Looking at their opponents, St Josephs Miltown, Conor is aware it is going to be a very difficult task. "Miltown are a very good side, they're a young, fast, fit team. Miltown for years have been a very good football team so they'll give it everything like and there won't be a point or two either way in the game, I'd expect a tough battle".
Their Round Two one point win over Cratloe stands out as the defining moment in their year to date. Full-back Conor admits that win gave them that extra bit of self-belief which is proving to be invaluable.
"When you beat the County Champions and Cratloe have been the kingpins for the last couple of years it's bound to give you a lift. When you beat the County Finalists then you realise you have a good chance of doing something, if you don't take a lift out of beating the Champions you're at nothing really".
Thirty three year old Marrinan highlights the blend between youth and experience as one of the main reasons for their journey to the final. "I wouldn't say there's much different but maybe an influx of a couple of younger players that have brought it on an extra bit. A couple of older players are playing better this year and there would be a good mix between young and old and maybe that's something we're missing for the last five or six years".
This year Cooraclare also claimed the Paddy Hennessy Perpetual Minor A Cup. Winning at an early age is crucial according to Conor Marrinan and he says not just are their younger players used to winning but they remain level-headed which is a big boost.
"It's always good to see young lads winning things and at an early age. It's good to see young lads winning because they don't know what it is to lose. Of course it's going to give a bit more to the older lads even to see the younger lads getting more involved, even though they're young a couple of them are very young on the team, they're with us a couple of years now at the moment. It's a great boost to have them involved and they're very good level-headed group of young lads, any team would want to have them".
Unbeaten so far in this year's Championship, Cooraclare's captain feels they are more honest in their approach this year and paid tribute to Ger Lawlor and his management team. He believes it will be the team who wants it the most that will come out on top this Sunday.
"I don't see any set area or position that we need to win or they need to win. It's just overall on the day, anything can happen, it depends on the conditions and how people adapt leading into the game. On the day whoever wants it the most will win the game, most games are won around the middle of the field so that will be a key area for most matches, they're the basis to win".
The Civil Engineer has the honour of leading his side onto Cusack Park on County Final day. In his second stint as captain, Conor contributes the fact that he has been around for a while plus his positive relations with the entire panel as reasons why he is captain. "I don't think I'm a standout player from anyone else, we've a few leaders on the team, I'm around a bit longer than a lot of the lads and I get on well with a lot of people".
County Finals bring with them a great atmosphere within the clubs involved and that is no different in Cooraclare. The infectious positivity is lifting the spirits of the players. "It's brilliant to be part of it and it's something you always want to be getting ready for a County Final. There's a great aul atmosphere around the parish and everyone's behind us".
Sixty minutes separate the Milesians and Marrinan from lifting the Jack Daly. He says it would be a great achievement but he is only interested in the collective goal being achieved. "Everyone wants to win, as a captain, I don't know does it make much difference only the man to lift the Cup if it was to happen. It would be a great achievement but at the end of the day you don't really care as long as you win the game".