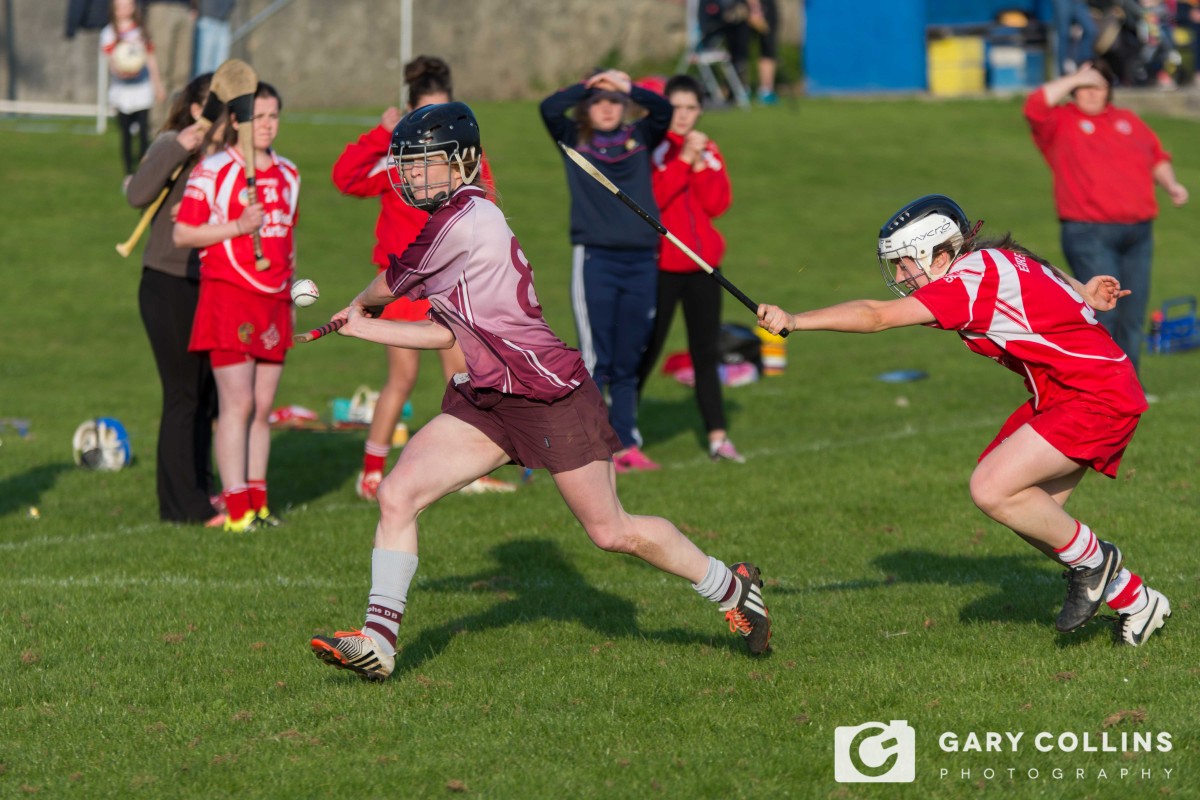 St Josephs Doora/Barefield were crowned Clare Camogie Intermediate Champions when they defeated Éire Óg by five points.
St Josephs Doora/Barefield 2-14
Éire Óg 1-12
Venue: Fr Murphy Memorial Park, Newmarket-on-Fergus
Although they trailed by four points with almost twenty minutes remaining, Doora/Barefield refused to throw in the towel and instead Erinn Hennessy struck for goal to change the outcome of the game on the forty ninth minute.
Éire Óg dominated the opening thirty minutes and held a four point lead as the mini games took centre stage at half time. St Josephs had the better start with points from Louise Woods and Orlaith Lynch while Roisin Kennedy hit the back of the net with six minutes played.
To their credit Éire Óg hit back with a vengeance Claire McMahon raised a green flag immediately after Kennedy's goal. Points from Gráinne Nolan, Orla Devitt, Louise Kirwan had the Townies four points clear as the Mini Games involving the future stars from both clubs commenced to entertain the crowd at half-time.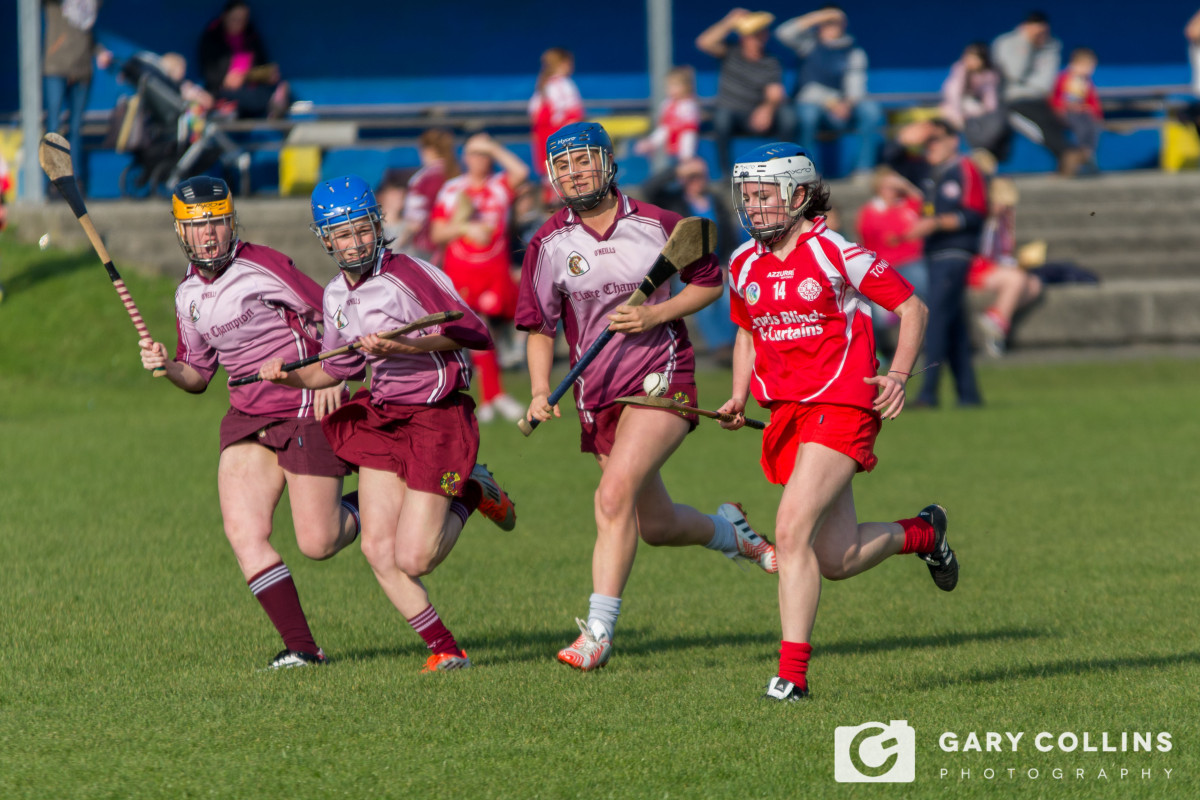 The tight nature of this game resumed in the second half as St Josephs chipped away at Éire Óg's lead with Louise Woods and Aisling McMahon on target from placed balls. Two Nolan efforts kept John Russell's side in control until Erinn Hennessy stepped up with the defining moment of the match as she flicked the sliotar to the back of Katie Malone's goal.
From here the Parish went from strength to strength as McMahon, Woods, Hennessy and Orlaith Lynch added points to ensure it was Sarah O'Brien that collected the Fr Liam Murray Cup from Clare Camogie Chairperson Joe Robbins.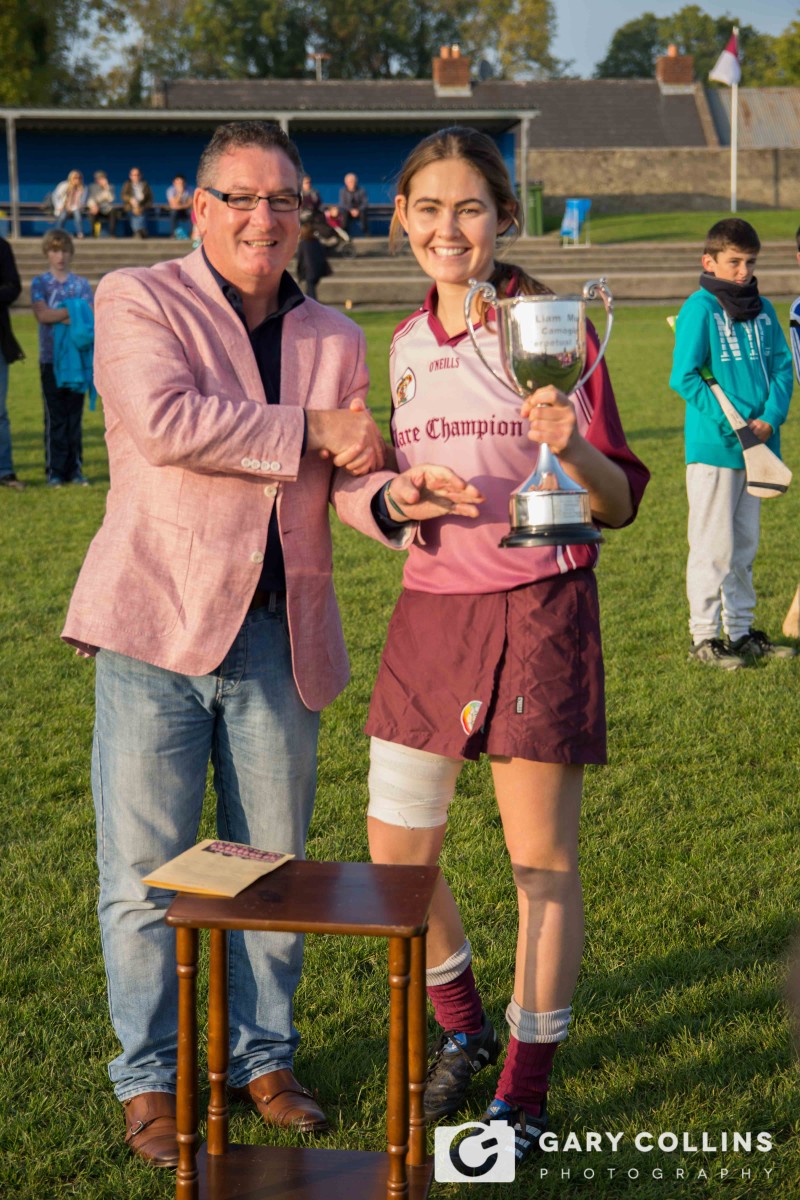 In the GAA the old age cliché that 'it's a game of two halves' continues to be proved and this encounter was no different and the Ennis side can testify to that. They faded at the most crucial time failing to score in the last eighteen minutes. While the defeat will be a bitter pill to swallow they are a very young side with some very promising players and all is not lost as they look to 2016. Gráinne Nolan, Orla Devitt and Rae Wall impressed for the Townies.
Ten years on from regarding down to Intermediate, Doora/Barefield have reached the summit and their patience certainly paid off. They stayed cool even though it was Éire Óg who dominated for the majority of the contest but their finish totally blew their opponents out of the water. They will now prepare for the Munster Junior Championship while they will play Senior in 2016, however they must learn from Clarecastle/Ballyea's mistake and avoid losing too many players to retirement and other commitments. Caitriona Hennessy, Louise Woods, Aisling McMahon, Orlaith Lynch and Erinn Hennessy stood out.
At the end of each Championship campaign, one begins to evaluate and look for improvement. Clare Camogie will have plenty to do in that department and must question their €10 entry fee for the Final. If an organisation is going to charge such a price they must ensure the event is properly organised on their part.
Taking this account, the fact that the game was eleven minutes behind schedule and only one linesman was present shows that spectators were certainly over-charged. The win was priceless for St Josephs but the neutral would not be enticed to be a regular Camogie follower in the Banner County following the game even though the half-time mini-games may have brought a smile to their faces. The sport needs to be promoted but if Clare Camogie can ensure they have people at the gates to collect the money they surely can have the required amount of officials on a final of all days.
Teams:
St Josephs Doora/Barefield; Annmarie McGann; Sarah O'Brien, Megan O'Brien, Kate Dillon; Vanessa Meaney, Eimear Casey, Karen O'Brien; Louise Woods (0-07 4f), Caitriona Hennessy, Aisling McMahon (0-02 2'45); Roisin Kennedy (1-00), Sarah Hoey, Fiona Tuohy; Erinn Hennessy (1-03), Orlaith Lynch (0-02). Subs: Orla Meehan for Tuohy (35) (Inj).
Éire Óg: Katie Malone; Aoife Warren, Sally Wall; Sinead Mulcahy, Rae Wall, Sophie Hanna; Sarah Redmond, Gráinne Nolan (0-07 5f 1'45), Laura Brown; Maria Redmond, Orla Devitt (0-03), Louise Kirwan (0-01); Claire McMahon (1-01), Aoife O'Neill, Amy Broderick.
Referee: John Dolan (Clarecastle)
Gallery of photos by Gary Collins.