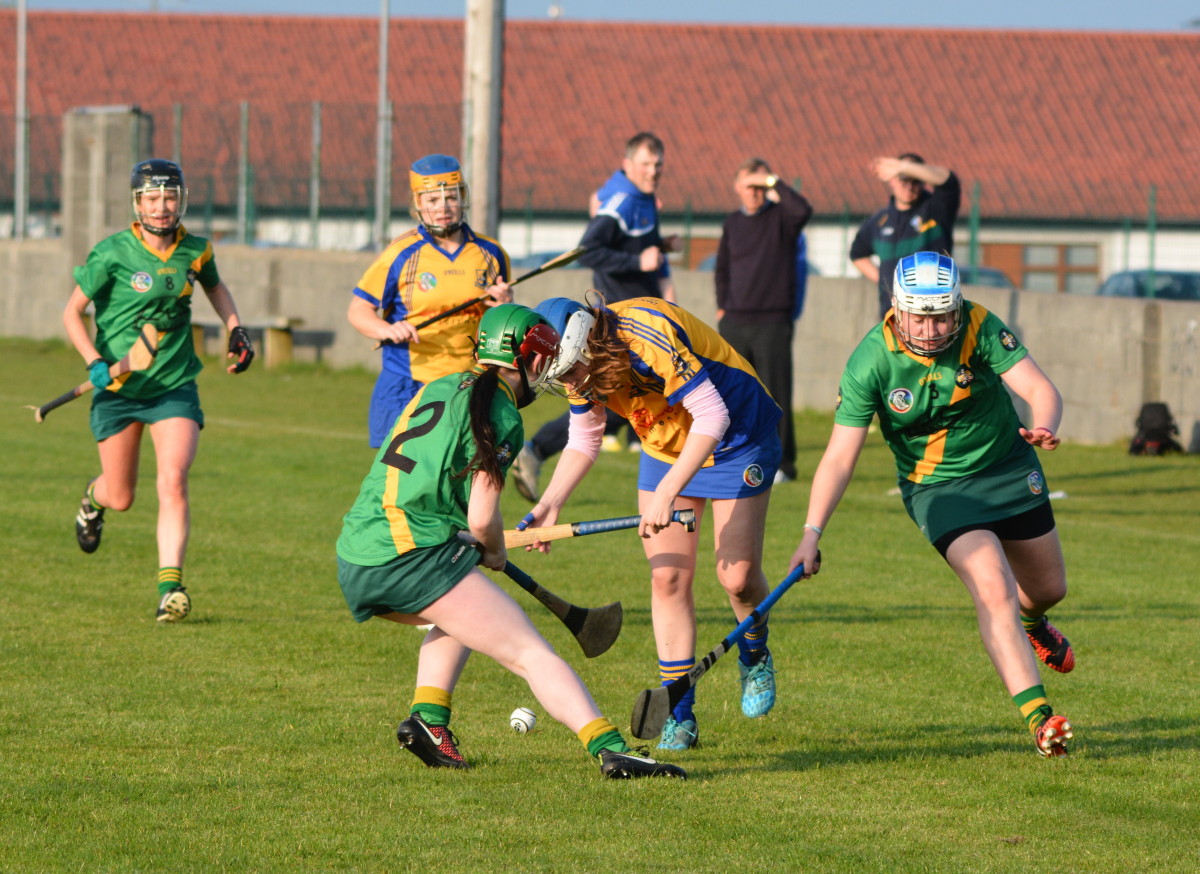 Sixmilebridge and Truagh/Clonlara secure their places in the Senior Shield Final while Feakle/Broadford claimed the Intermediate Shield, there was plenty of action in the U13 Championship too, Brid MacNamara reports.
Glenomra Shield Semi Finals
Sixmilebridge 2-11
Kilkishen 2-8
Venue: Clarecastle
In a repeat of last year's Shield Final, it was Sixmilebridge who edged out their neighbours once more with three point win. The Bridge's Chloe Morey opened the scoring with a converted free. Kilkishen's Kate O'Gorman responded in kind in the twelfth minute.
Kilkishen went on to convert two frees into points, before they went on to find goal, a long ball in from Ella Donnellan and collected by Kate O'Gorman who hand passed to Aine McInerney who finished nicely to the back of the Bridge net, putting them into the lead which they held onto until the 59th minute.
Further scores from cousins Ella Donnellan and Kate Lynch kept Kilkishen in control. Morey added a brace for the Bridge to keep her sides scoreboard ticking over but it was Kilkishen who dominated play in the opening half and when Niamh O'Gorman, assisted by Lisa Loughnane, found the net the East Clare side were firmly in the driving seat.
A solo run by Loughnane put her name on the scoring sheet with a point before the break. Morey had the last score of the half when she converted a free just before the half time whistle to see the sides go in Kilkishen 2-5 Sixmilebridge 0-4.
From the restart Sixmilebridge signalled their intent. A Morey free between points from Donnellan and Kate O'Gorman saw three points registered in as many minutes. Nollaig Baker in the Kilkishen goals stopped a blistering shot from Morey when the 2015 All Star nominee stepped up to take a 21 yard free.
Morey pointed from a free to add to the 'Bridge scoreline. Kilkishen missed the target before Morey converted a placed ball. Halftime substitute Olivia Phelan proved successful as she hit right on target between the posts. Kilkishen scored a point before the Bridge had a narrow miss.
The Bridges Emma Kennedy went on to split the posts before Kilkishen came back with one of their own. Phelan went on to score 1-02 to revive the Bridge. With time running down, Aiveen O'Shea pointed on the fifty ninth minute to level the sides.
With the game in injury time, both sides did all they could to secure victory and it was Slaine Carey who hit the back of the Kilkishen net to bring Sixmilebridge into the lead, Kilkishen took their chances at the opposite side but were denied and it was Sixmilebridge who secured their spot in the Final.
Sixmilebridge: Eimear Murray; Karen Gallagher, Deanna Considine, Rachel Kelly; Katie Connors, Maire McGrath, Emma Kennedy; Chloe Morey, Aoife Hurley; Keelin Lyons, Aine McNamara, Fiona Murphy; Elaine Carroll, Slaine Carey, Ali Quinlan. Subs: Aiveen O'Shea for McNamara, Olivia Phelan for Carroll.
Kilkishen: Deirdre Cotter; Shona Bentley, Nollaig Baker, Joanne O'Gorman; Cushla Hehir, Edel McNamara, Marie McNamara; Alannah Ryan, Lisa Loughnane; Sarah Donnellan, Kate Lynch (0-2), Ella Donnellan (0-2); Niamh O'Gorman (1-0), Kate O'Gorman (0-4, 2f), Aine McInerney (1-0)Sub: Aine Cooney for Aine McInerney 50 mins
Referee: Joe O'Donnell, Cratloe
Truagh Clonlara 4-15
Clarecastle/Ballyea 4-4
Venue: Shannon
After a series of heavy defeats in the group stages Clarecastle/Ballyea were looking to turn things around against Truagh/Clonlara on Saturday afternoon on Shannon. In spite of a much improved performance however it was the South East Clare side who progressed to the Senior Shield Final.
Truagh/Clonalara started well with two early points before Clarecastle/Ballyea responded with a well worked piece of play resulting in Ria Flanagan rattling the net for the to put them in front. However lapses of concentration and errors in the usually strong Clarecastle/Ballyea defence resulted in Truagh/Conlara scoring a series of four goals throughout the first half.
Clarecastle/Ballyea created a lot of chances at the other end and were rewarded with another well worked goal where a Sharon Quinn handpass found an unmarked Rachel Collins at the edge of the square who made no mistake in hitting the target. Lauren Tuohy kept the Clarecastle/Ballyea scoreboard ticking over while Doireann Murphy added a point of her own to leave the half time score 2-3 to 4-8 in favour of Truagh/Clonlara.
Credit to the Senior Championship newcomers however they did not drop the heads in the second half and while the South East Clare outfit managed to get some long range points, they did not threaten the Clarecastle/Ballyea goal throughout the second half. Still pressing on, a long range free from Lauren Tuohy found the back of the net to bring her total tally for the day to 1-3. Ria Flanagan also added another goal when Truagh Clonlara goalie misjudged a high ball and it bounced over the line.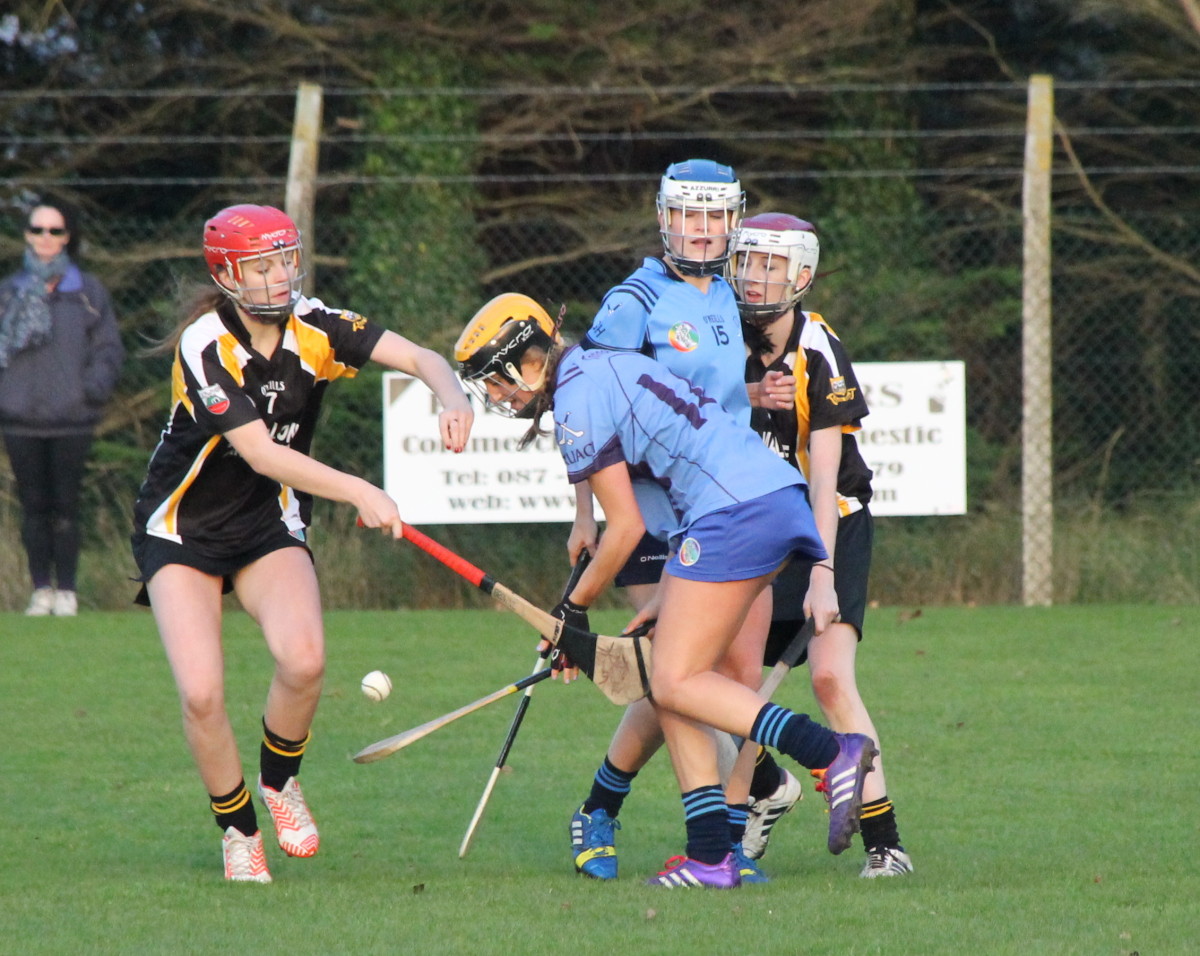 Clarecastle/Ballyea will definitely look back on this game as one that was there for the taking but for a few errors on their part. They will however take confidence from this match, demonstrating some wonderful passages of play at times throughout the game.
They will hope to build on this as they fight now to maintain their newly acquired senior status against kilkishen in a few weeks time. Meanwhile Truagh will aim to finish the season with some silverware as they face Sixmilebridge in the Glenmora Shield Final.
Truagh/Clonlara: Aileen O' Sullivan; Niamh Powell, Helen Guinnane, Sarah Hastings; Áine O' Loughlin, Eimear Kelly, Louise Egan; Kathleen Horgan, Ellen Horgan; Michelle Powell, Máire Begley, Aideen Hogg; Sarah Sherlock, Caroline Lynch, Sinéad Hogg.Subs: Siobhan Fahey for Caroline Lynch (45 mins), Aoife Gillane for Aideen Hogg (55 mins).
Clarecastle/Ballyea: Alex Potter; Chloe Eustace, Emma O' Connell, Sinead Reidy; Hannah Dinan, Siobhan Hehir, Carol Browne; Rebecca Culligan, Mary Kate Moloney; Lauren Tuohy, Ria Flanagan, Jane Flanagan; Rachel Collins; Sharon Quinn, Doireann MurphySubs: Edel Hehir for Potter, Sarah McGuane for Reidy , Alex Potter for Quinn, Elaine Lyons for Collins
Intermediate Shield Final
Feakle/Broadford 2-10
Whitegate/Bodyke 2-9
Venue: Ogonnelloe
Feakle/Broadford came out on top when they beat a strong Whitegate/Bodyke team in the Intermediate Shield Final on Saturday afternoon.
This was a title well fought for by both teams. Whitegate/Bodyke got the scoring started with a point from Susan Fahy followed by a goal from Rachel Grogan in the third minute. Feakles/Broadford's Jodie Guilifoyle got them on the score board with a point. Points were added to the scoreboard from Susan Fahy and a goal keeping Whitegate/Bodyke with the advantage. A goal by Aoife Dillon and points from Vera Loughane kept Feakle/Broadford in the game and saw the half time score Whitegate/Bodyke 2-04 Feakle/Broadford 1-05.
Feakle/Broadford started the second half with the first score, a point from Vera Loughane and the battle began again as scores were exchanged. Fahy added from play, the first of four she would score in the second half. A point from Triona Kelly and long range free from goalie Lauren Solon saw Whitegate /Bodyke keep in front. Feakle/Broadford's Regan Conway pointed from a free, and Niamh Mulqueen added a point.
Loughane was well placed to lay off to Dillon who grabbed her second goal giving Feakle/Broadford the upper hand. Whitegate/Bodyke fought back, with the pressure very much on the Feakle/Broadford backs in the final minutes who held on to end the year on a high note.
Feakle/Broadford: Colette Purcell; Catherine Donnellan, Ciara Minogue, Samantha O'Connor; Karen Ryan, Aoife Tuohy, Aine Ryan; Evelyn Duggan, Lauren Guilfoyle; Jodie Guilafoyle (0-1), Laura McGrath (0-1), Regan Conway (0-2 1F), Niamh Mulqueen (0-1), Aoife Dillon (2-0), Vera Loughnane (0-5 2F). Subs: Clodagh Gray for L Guilfoyle, Caroline F Moloney for J Guilfoyle, Emer O'Shea for Gray, Catriona Naughton for Donnellan
Whitegate/Bodyke: Lauren Solon; Amy Solon, Aishling Fitzgerald, Ciara Mullvihill;  Laura Duack, Ciara Doyle, Katie Minogue; Aishling Treacy, Triona Kelly (0-1); Susan Fahy (1-9), Rachel Grogan (1-0), Cristen Keane; Edel O' Grady, Noreen Bugler, Niamh Quirke. Subs: Katie Hynes for Ciara Mulvihill, Catherine Meade for Noreen Bugler, Karen Bugler for Katie Hynes
Referee: Aaron Hogg, (Clonlara)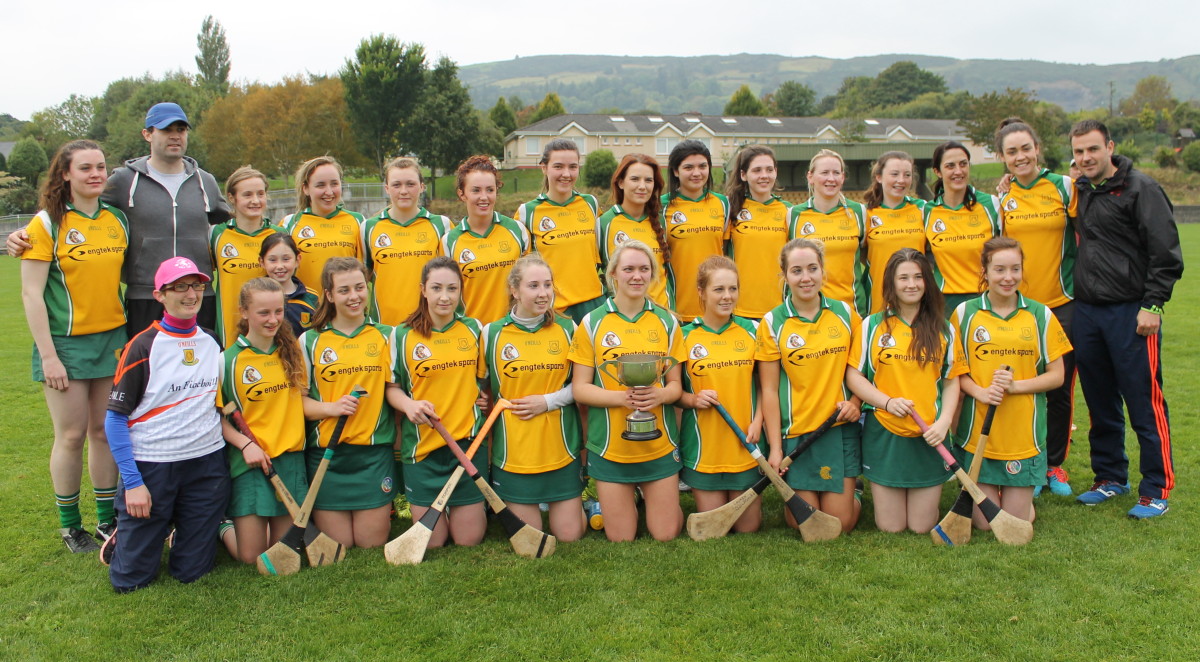 U13 Championship
U13B
Broadford 5-3 Clooney Quin 1-3
Scariff Ogonnelloe 4-4 Éire Óg 1-3
U13C
Cratloe 6-3
Whitegate 2-1
Venue: Cratloe
Cratloe were on the offensive from the start. A kicked ball from Lucy Earls was caught by Roisin McGonagle, who then found the net on her first attempt. Soon after, Fiona Cummins scored the first of her four goals of the day with a clever hand pass. The intensity and pace of the game in the first half was high, but busy defending by Whitegate limited Cratloe to only two goals in the first half.
Soon after the resumption Whitegate scored their first point. Lucy Earls who was on form today replied for Cratloe with a point. Another attempt at goal for Cratloe was saved but Fiona Cummins caught the rebound and scored her second goal. Soon after a 45 for Cratloe allowed Andrea Murphy Wright to point.
During this part of the match, Cratloe were dominant, with Eimear Flanagan at corner forward fighting for every ball, and Cliona Murphy and Lucy Earls catching any balls that attempted to go towards the Cratloe goals. Fiona Cummins and Lucy Earls followed with a goal each, with Murphy Wright pointing again, bringing the score to 5.3 to 1pt before Cummins scored her final goal of the day.
Whitegate started to come back into the match for the last ten minutes. Some fluid play resulted in the ball finding its way without interruption to the Cratloe end, and the green flag was raised for Whitegate. Goalie Maria Healy was under pressure and made several saves, before the ball found the net once more to seal the win.
Cratloe: Cratloe: Maria Healy, Orla Gallagher, Ava Gardner, Abby Mason, Orla O'Connell, Caoimhe Healy, Cliona Murphy, Lucy Earls (1-1), Rosin McGonagle (1-0), Andrea Murphy Wright (0-2), Eimear Flanagan, Sadbh Foley, Fiona Cummins (4-0)
Whitegate: Alison Hynes; Nicola Bugler, Ciara Dooley, Danielle Flannery; Caitriona Apsel, Leana Spazzi; Amber Nolan, Corinne Hynes; Emma Hynes, Aine McDermott; Chloe O'Halloran, Sarah Dooley, Aideen Hickey. Sub: Alannah Hayes for Sarah Dooley
Clarecastle 3-4
Banner 0-0
Venue: Clarecastle
The final round match of an unbeaten Clarecastle Team took place in Clarecastle on Sunday afternoon against the Banner in a hard fought contest.
Credit has to go to both teams who battled hard in a non-scoring first half. Aoibhin Donnelly scored the first point of the game two minutes into the second half and finished the game with 2-03.  A few impressive saves from Sarah McNamara and excellent defensive play from Beth Faulkner, Sarah Butler and Dearbhile McMahon ensured Clarecastle held their opponents scoreless for the entire game.
Clarecastle scored their third goal from a long range ball from Emma O'Donoghue in midfield which landed into substitute Cliodhna Spriggs who found the net.  Special mention to Orla Commons & Katelyn Cusack who were also impressive for the winners.
Clarecastle: Sarah McNamara, Beth Faulkner, Tegan McInerney,  Katelyn Cusack, Dearbhile McMahon, Sarah Butler, Orla Commons, Emma O'Donoghue, Charlotte O'Brien, Aoibhin Donnelly (2-4), Roisin Maxwell, Ciara Sexton, Maeve Donegan. Subs. Abbi Moloney for Maxwell, Ciara Slattery for Donegan, Andrea Sheehan for O'Brien, Cliodhna Spriggs for Sexton, Genna Kearney for McInerney.
Banner: Robyn Molloy, Leah Talty, Sadbh Dunne, Niamh Cassidy, Candice Brennan, Ciara Meehan, Chaoimhe Meehan, Derrin Finnerty, Hannah McCormack, Elena Sanz, Orla Kenny, Sadhbh Shannon, Aoibhinn Leyden.
Referee: Shane O'Loughlin (Ruan)
Ballyea 8-3
Corofin 0-1
Venue: Ballyea
Two strikes early on from Ballyea midfielder Laura Carmody hit the back of the net early on to set the tempo. Her team-mate Lily McMahon followed suit not long after. Saoirse Flanagan for Corofin won the puckout and passed to Tammy Griffin but Moya Sheehan sent the ball back to Stella Quinlivan who scored a goal for Ballyea.
Corofin's Aoife Madigan caught the ball well and sent it up to Aine Cleary who scored a point for Corofin. But goals were then notched up for Ballyea by Luisne Corey with a great strike from the ground, followed by two goals and a point from Stella Quinlivan to make the half-time score Ballyea 7-1, Corofin 0-1.
Stella Quinlivan started the second half with another quick goal for Ballyea. Corofin's back row of Orla Burke and Rachel Fitzpatrick had a great second half and along with some fantastic saves by Emer Kenny denied some great shots at goal by Ballyea's Riona Power.
Ballyea substitute Rebecca Carmody blocked down the puckout and passed to Stella Quinlivan who put it over the bar. Corofin's Maria Cahill moved the ball towards the Ballyea goal but Ballyea's Rachel O'Dea and Rachel Costelloe combined to clear the ball well to Laura Carmody who scored a point for Ballyea.
Ballyea: Aishling Costelloe; Hannah Morrissey, Kaylah Kelly; Rachel O'Dea, Hannah Mai Neylon, Rachel Costelloe;  Moya Sheehan, Laura Carmody(2-1);  Stella Quinlivan(4-2), Lily McMahon(1-0), Shauna McCarthy; Luisne Corey(1-0), Riona Power
Corofin: Emer Kenny; Orla Burke, Rachel Fitzpatrick; Kelly Flanagan, Danielle Organ, Grainne Henry; Aoife Madigan, Saoirse Flanagan; Tammy Griffin, Maria Cahill, Aine Corbett; Aine Cleary, Niamh Kinnane
Referee: Stephen Powell
Fixtures
Sat 10th Oct
U13 Championship
U13B
Broadford GAA: Broadford v Eire Og, 10.00am
Sun 11th Oct
The Clare Champion U16 Championship
U16A Final
Feakle/Killanena v Scariff Ogonnelloe
U16A Shield Final
Kilkishen v Tulla/Bodyke
U16B Shield Semi Final Replay
Newmarket on Fergus v Clooney Quin, 3.30pm
All results to be texted to Brid 086 3978996 & Fixtures 085 1995194.