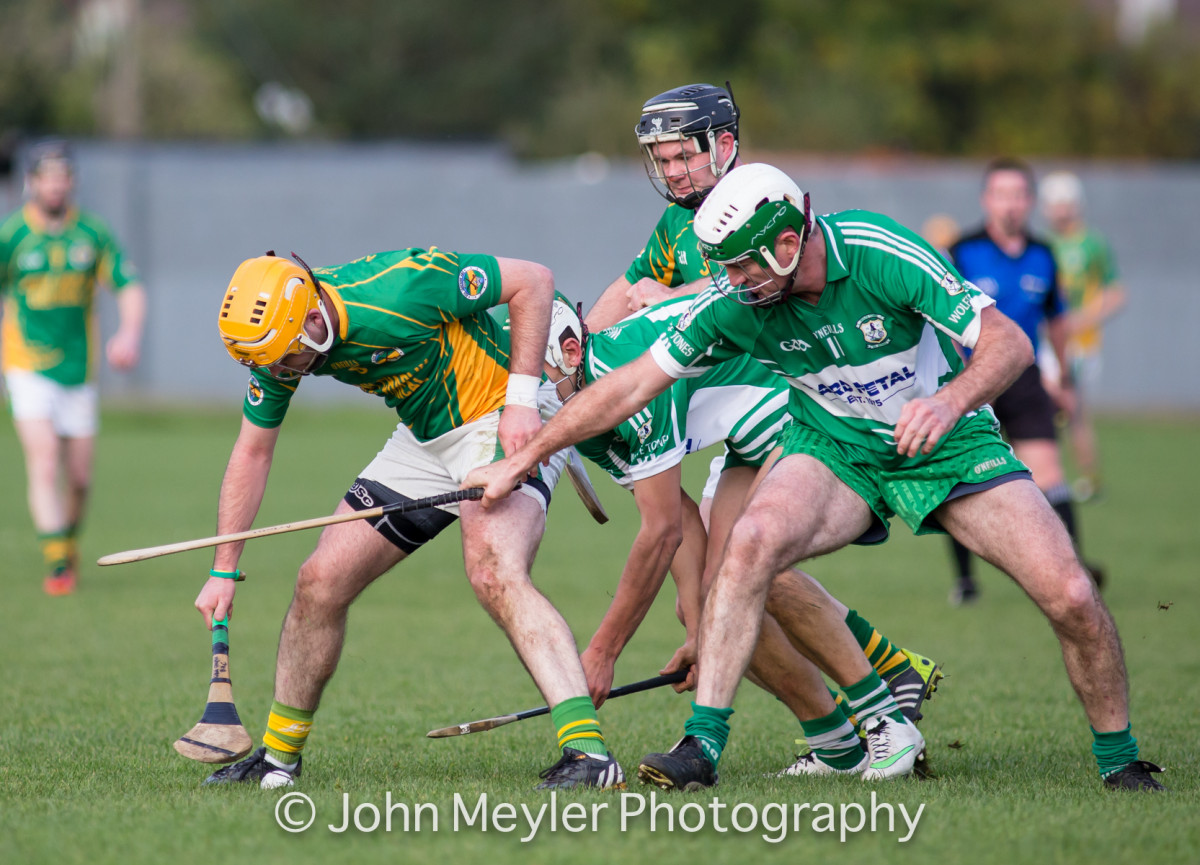 A mix of youth and experience proved to be a recipe for success as Wolfe Tones won promotion to the Clare SHC, former Clare Senior Hurler, Declan O'Rourke falls into the latter category and played a key role in their win.
Positioned at centre-forward, Declan broke ball after ball for the Wolfe Tones attack to race onto and not just that but his hard-work when Broadford were in possession ensured they had no easy clearance when he was in close proximity.
With a host of young players attempting to make the breakthrough, O'Rourke says it is imperative that they try to do so at Senior level. "Very happy now today, we've a lot of young lads there I suppose a lot of the older lads probably getting too old now at this stage, it's just great to get back to Senior now and give the young lads a chance".
O'Rourke is one of eight remaining players from the Wolfe Tones team that won the Clare Senior Hurling Championship in 2006. He pointed out that the younger contingent believe they will be successful every year which isn't the case.
"It was very important to myself and all the older lads, the younger lads think it's going to happen every year but it doesn't happen every year, we knew that ourselves from 2006, we know how hard it is to get back up, it's just great for the club, all the young lads coming through playing Senior, it's a big thing for the club".
Thirteen months ago the Tones were relegated by St Josephs Doora/Barefield but there was a realisation within their club, they had to achieve promotion at the first possible attempt. "It was very important, a lot of other lads from different clubs we knew told us how hard it is to get back up, don't let it go past a year or two because a lot of clubs stay down there. It was our main aim to get back up and see what happened after that".
A new management was appointed to the Shannon club at the beginning of the year and Declan underlined what they tried to achieve all year. It was trying to get the young lads used to the speed of the hurling and trying to speed the older lads up that were getting a bit slower as the year went on but they were great, they pulled everyone together, everyone seemed to row in behind them and I suppose just looking forward to the future at this stage".
One of the big differences between Wolfe Tones and Broadford was that James Carrig's side could call on players of Brian and Gary O'Connell's experience from the bench. Seeing the O'Connell brothers enter the fray was a big lift according to the thirty four year old.
"That was brilliant, the lads probably should have been playing during the week but they both had injuries so we were lucky to have them at the end, two serious injuries and we're only going to get stronger, we've a Munster Club to look forward, we're going to enjoy tonight maybe a few days and we'll see after that".
While the Intermediate side in the club now prepare for a clash with Kerry Senior Champions Kilmoyley, next up in a busy period for the club is the Minor A Hurling Final where they face Broadford/Smith O'Briens.
With just two Minor A titles won by the club in their forty eight year history, Declan is confident the whole club will get behind them. "Minor A, the young lads have a great opportunity, we haven't won too many minors over the years and hopefully they can go forward and we wish them the best of luck".