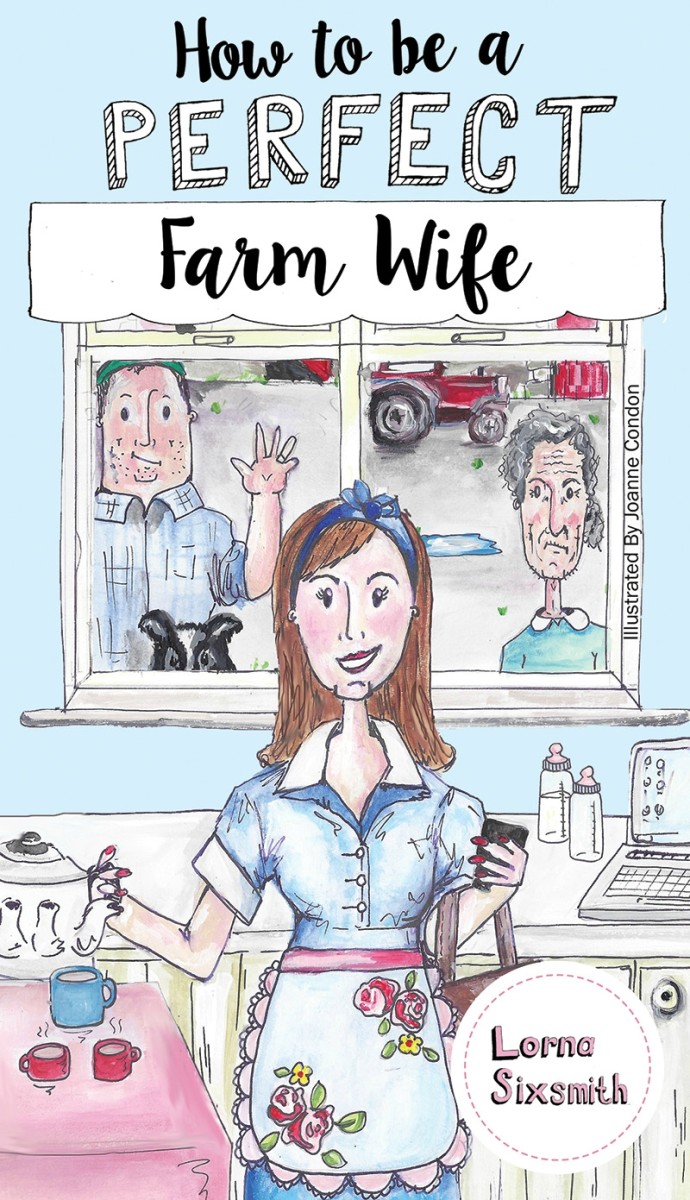 The Clare Herald's book reviewer, Sally Vince, looks at books about Clare or by a Clare-based author. This time Sally reviews "How To Be A Perfect Farm Wife" by Lorna Sixsmith.
•    How can you get your farmer away for a holiday?
•    How can you feed eight contractors with ten minutes' notice?
•    How can you get along with your mother-in-law (especially if she is an Irish Mammy)?
•    What do you do with a wellie with a hole in it?
These questions – big and small – and many others are answered by farmer's wife and writer Lorna Sixsmith. She knows what it is like to have the village appraise your signature dish, how to stay calm during the dreaded 'testing', how to interpret 'farm speak', and what to do to keep the hens happy.
More importantly she knows how to cheat to give the impression you are a PERFECT farm wife. This book is packed with history, advice, recipes, hints and tips (and quizzes along the way to see how you measure up). The best advice is always to keep a sense of humour, and Lorna's shines through in her writing.
This is a perfect read for all farm wives and girlfriends (and husbands and boyfriends), and country lovers everywhere.
Lorna Sixsmith is a farmer/farmer's wife/social media trainer/writer from Co Laois. The County Clare connection with this book is that several farmers' wives from Clare were interviewed for background to the text (and it had, ahem, a Co Clare editor).
The book is a glorious mix of historical information, what is expected from a farm wife, the work of a farm wife, being part of a farming family, anecdotes, hints, tips, cheats and recipes, and it has charming illustrations by Joanne Condon. The title is a nod to the women's magazines of the 1950s and 60s, which gave tips to the modern housewife on looking fresh and alluring for her husband when he came home from his important job at the office to his dinner waiting on the table. The lot of a farm wife in the fifties and sixties (and before and after) was a far cry from this image – where the woman would be expected to bring a dowry to the marriage and from day one woke early, worked on the farm and in the home all day and into the evening, looking after her children, farm animals, husband and farm workers with no running water and quite likely no electricity.
Things have changed, of course, but today's farm wife is likely to be working just as hard, albeit now with household comforts, but in different ways and with different pressures. A farming marriage is still likely to be in the traditional form where the man farms and the woman takes the housewife and farm wife role, even if she has a job away from the farm in addition to the jobs in the house and on the farm. Only 12% of Ireland's farmers are registered as women, although in reality there are likely to be many more than this, and of course there are same-sex couples working in farming. But the book is much more than pinnies and childcare; as Ann Fitzgerald says in the Farming Independent: "The author is a feminist though not in a 'femi-Nazi' way. She urges farm wives to foster a strong sense of independence in their daughters."
The book has some serious comments to make but it is also light-hearted, amusing and has many tips for farm women and men and country lovers of all kinds. There are also some tongue-in-cheek quizzes throughout the book for you to check on how well you are doing as a farm wife.
There are six parts: Being married to a farmer; Farming relationships; Working on the farm; The farm household; Being part of the community; and Farming businesses. Each part has a number of headings, so you can pick up the book and read one or two sections while drinking a cuppa or waiting for the potatoes to boil. In most of the sections there is a "Farm wife tip" – hints, tips and cheats to help you with the myriad of household and farm jobs.
Who knew all the things you can do with a lemon? And if your farmer falls asleep when visiting friends, is it better to let him snore away or should you kick him on the shin? Just what does that farmer's gesture mean? How can you perfect one dish so that you always have something for the village bake sale? And more importantly, should it taste better than your mother-in-law's? (And if you are wondering about the answer to that last question, then you really need this book.) Ah, the Irish Mammy … and then there is the Irish Farming Mammy – there is plenty in Lorna's book to make sure you stay on the right side of her!
This is an easy, amusing, helpful read for anyone involved in farming or who loves the country life. The historical snippets are fascinating and the tips are invaluable.
Available from:
(Along with Lorna's first book, Would You Marry A Farmer?)
lornasixsmith.com
The Salmon Bookshop, Ennistymon
The Cottage Garden Centre, Connolly
The Long Dock Bar and Restaurant, Carrigaholt
The Kilbaha Gallery, Kilbaha
Ennis bookshops (you may need to order)
Kennys.ie (free postage worldwide)
Find the author:
Website
Facebook
Twitter
Links:
Ann Fitzgerald's review in the Independent