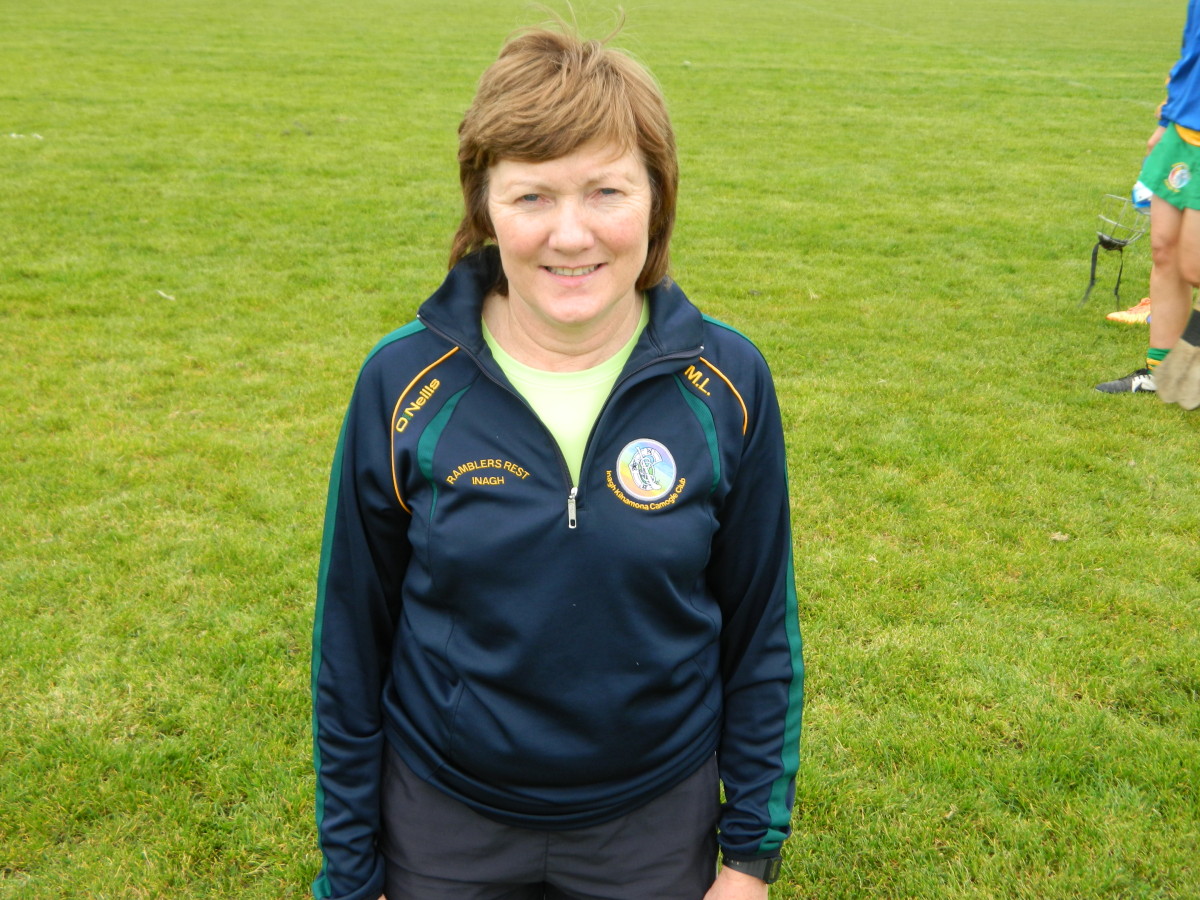 There are few women in Clare with a greater love for training and mentoring camogie teams than Margaret Lafferty, while clubs have changed from Kilnamona to Inagh before joining forces to form Inagh/Kilnamona three years ago, one thing that hasn't is Margaret's love for the game.
She told The Clare Herald that their 2014 semi-final defeat to Kilmaley was a real driving force and the girls were very determined to go a step further this time round. "We were very disappointed but yet we were pleased to have come so far because we're only building our Senior team and our aim when we set out this year was to go one step further and we took it one game at a time and it was great to win the semi-final and as it happened it was Kilmaley again and to win it was a huge bonus.
"Our girls played particularly well on the day and they were up for the challenge, they knew that they were close and they got so close last year, they didn't want to let it slip like they did last year. Now that we're in the final we're looking forward to it, it's going to be a huge task to overcome Newmarket but we certainly have prepared well for the challenge".
Prior to the beginning of the Championship, preparation was made difficult with so many County representatives and the age demographic of the squad ensured many of their panellists were studying for the State Examinations and not their opponents in the PK Travel Clare Senior Camogie Championship.
"It was difficult and it was difficult in June because we had a lot of girls doing exams, the way it turned then in mid July when the County team were knocked out, we had a full panel of players back training, we had one girl that was away for the summer in America and she returned mid August and it was a great bonus to have everybody back so we could really concentrate on Championship".
Margaret highlights the contributions made by Rita Clancy and trainer Eugene Foudy in the management; she was thrilled to see Foudy come on board with experience of training camogie teams at club and county level behind him.
Eight years ago Kilnamona collected the McMahon Cup but emigration and the brief resurgence of the Crusheen camogie club depleted their squad. Players of the calibre of Catherine O'Loughlin, Marie O'Halloran, Ann Keane, Mairead Keane, Carina Roseingrave, Siobhan Laffery and Annmarie McMahon were instrumental figures when Kilnamona dined at the top table in Clare camogie.
Great work has been done at underage in the interval, the fruits of which they are beginning to reap with the current crop of Seniors the result of great work. Lafferty says "it is very pleasing" to see their hard graft at underage pay off. She highlights the success of this group coming up along with an All-Ireland Féile won plus competing at the A grade has been a huge plus.
A member of the Kilnamona management team during the County Championship winning years of 1999, 2004, 2006 and 2007, Margaret certainly knows what is required from a management when it comes to the big day.
She outlines what message has been passed on to the players since the semi-final win. "I've been there before and I've been involved with teams that have won the Senior County title. It's a great hype going into the Final but at the same time, you don't want to let that on to your players and you try to keep them as calm as possible and instil into them that 'this is another Senior game for ye, it's a County Final today, just go out and do your best and give it one hundred percent and don't have any regrets at the final whistle' that's all we'd be saying to them, we'd try not to make too much hype about it".
Inagh/Kilnamona came up short against Newmarket-on-Fergus in this year's League decider and their manager says that loss has been put to the back of their minds ahead of Sunday's clash.
"In preparation for our semi-final all we did was work on our own strengths, maybe talk about last year's semi-final seeing as we were up against the same opposition. Now we have to concentrate on Newmarket and put our League defeat aside, we're trying to tell the girls to forget about that and just hope they've learned from the experience of it and just up our game and be ready for the challenge of the strength and depth of Newmarket. Everyone knows all the County titles they have and we know the players they have well, the players know each other well from training at County, we're just going to play our own game and hopefully get a good result".
There has been some nights when Margaret has struggled to sleep as the possibility of winning the McMahon Cup is something she can only dream about. "It would be a dream come true and you'd lie in bed thinking about it at night like 'God could we ever win this'. I can only be positive and hope it will happen for us, if it doesn't happen this year hopefully it will happen very soon and now that we're there we can try to win it. It really is a dream come true and it's brilliant to be in a County Final".
Newmarket have been around the scene for a while and Lafferty points to their experience as a major strength. "Their experience alone, it's unreal, they have contested so many County Finals, the McMahon sisters, I know Sharon is away now but Laura and Roisin are very strong, they've huge experience at club and county level, the Kaiser sisters they're always good and very dangerous, the overall experience of the team and that bunch of girls have been playing together for a long time".
She continued to praise Sunday's opponents while also reminiscing on some intriguing clashes between the sides down through the years. "I'm involved in camogie for a long time myself and we had numerous battles at underage level and that bunch of players that Newmarket had, most of them are still around, you have Aimee McInerney, the Kaiser sisters and the McMahons all playing at that time against our Kilnamona team who would have won Minor A titles and U16 titles, we always played Newmarket in County Finals at that level so they have a lot of those players still around, they've been playing together for a long time and that's how good Newmarket are, I would rate them very high but having said that I would hope that we would be able to overcome them and match them in every position in the field if not better them".
Sunday will be a busy day for Margaret, not alone is she Inagh/Kilnamona's manager but her daughter Fiona serves as Joint Captain of the side while her son Damien is a member of the St Josephs Miltown team aiming to win the Clare Senior Football Championship. With Newmarket and Cooraclare the opponents, it's fair to say she won't be wearing any shade of Blue at the weekend.
In a preference between watching her children play, Margaret prefers the role of mentor on the sideline rather than mother in the stand. "I prefer it as a mentor because I've been so used to it. I think a lot of the games the girls have been involved in I've been a mentor. Either way I enjoy them and I really wish Miltown every success on Sunday, I'm happy now with the camogie fixture because we had sent in a request to Clare Camogie to avoid a clash because of our involvement with Miltown and a number of our players would like to see the Miltown game also. I'm hoping I'll be rushing away with good news from Clarecastle to head to Cusack Park" she concluded.