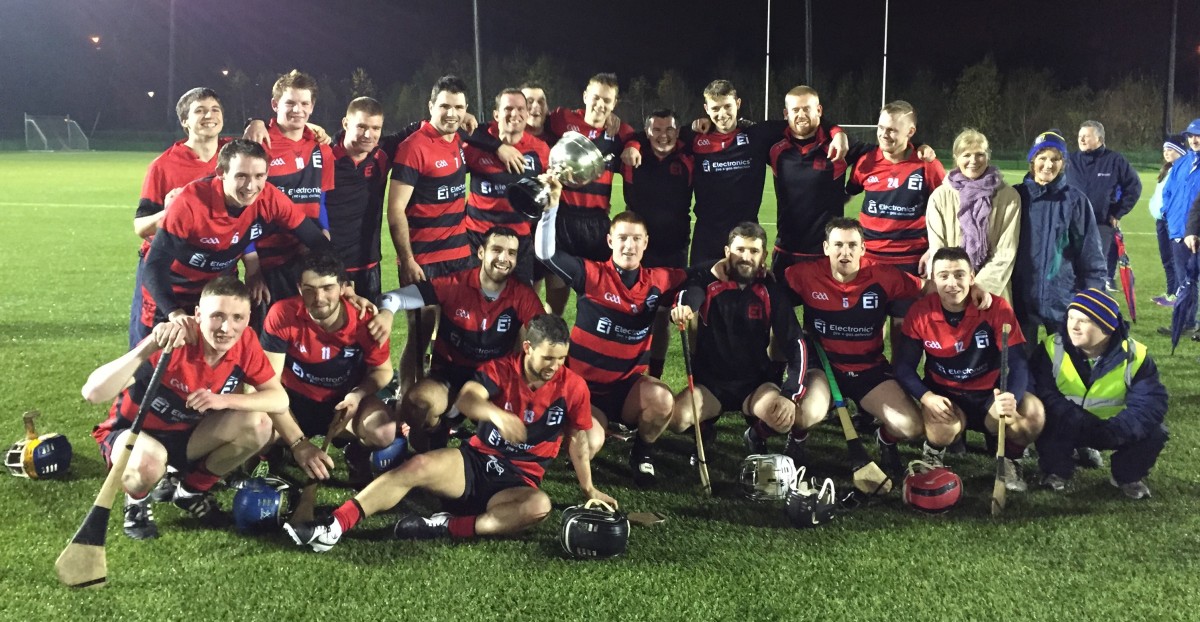 Munster Inter-Firm Senior Hurling Final
EI Electronics (Clare) 5-27 Limerick Teachers 3-28 (AET)
EI Electronics from Shannon won their first ever Munster Inter-Firm Senior Hurling title after defeating Limerick Teachers at UL on Thursday night.
With both sides having a number of really talented hurlers it was no surprise that this turned into a classic that took extra time to eventually decide the winners.
EI Electronics hit the front inside the first minute with a point from Cathal O'Connell. Nickie Quaid responded for the Teachers with a free on 2 minutes. EI went back in front after a good point from Alex Morey who got on the end of an O'Connell pass. Niall Moran levelled the game with his first point on 4 minutes. Back came EI again and this time on 5 minutes Aaron Cunningham split the posts. Quaid tied up the game again on 6 minutes with another pointed free.
Shane McGrath put the Teachers in front on 7 minutes with a fine score on the run off the hurley. O'Connell made it 8 scores in 8 minutes and a level game again with a point from a free. The scores were coming thick and fast and the Teachers got through for the first goal of the match on 10 minutes when Tommy O'Brien got some space to score a good goal. Eoin Walsh won the resultant puck out and fired over another point for the Teachers on 11 minutes and this was followed by a point from a free by Willie Griffin to open up a 5 point lead.
Alex Morey pulled a point back on 14 minutes and the gap was down to 3 on 15 minutes when Derek Fahy scored a point on the run. There was no let up in scoring and Barry Loughnane got his first point on 16 minutes to keep the comeback going. O'Connell made it a 1 point game on 18 minutes after converting a free when Conor Deacy as fouled.
Shane McGrath scored his second point of the game on 20 minutes to restore the 2 point advantage for the Teachers. Back came O'Connell with points on 21 and 22 minutes to level the match. The Teachers hit the front again when Quaid slotted over a free on 23 minutes.
EI scored their first goal of the match on 24 minutes when good work from Fahy in the corner setup Aaron Cunningham who made no mistake from inside the 14. The Teachers responded with a goal of their own on 26 minutes when Willie Griffin converted a penalty after a foul on Walsh. Right before half time Quaid struck another point from a free to give his side a one point lead at the break Limerick Teachers 2-9 EI Electronics 1-11.
Griffin opened the scoring in the second half with a point on 32 minutes. Shane McGrath won the puck out and made a great run from center field before setting up Griffin on the 21 who finished off the chance with another goal for the Teachers to open a 5 point lead. EI continued the pattern of score for score and Deacy setup Cunningham on 34 minutes and he made no mistake to score his second goal of the match. O'Connell scored another fine point on the run after 35 minutes and it was now a one point game again.
McGrath setup Walsh for another Teachers point on 36 minutes and Tommy O'Brien made it a 3 point game with a point on 37 minutes. EI responded with a point from Simon Griffin on 38 minutes. Back came the Teachers again with a fine score out on the touchline from Moran and another point on the run from McGrath.
There was no letting up here as EI hit back again with 2 points in a minute from O'Connell to leave 2 points in the match with 15 minutes left. Cunningham made it a one point game on 46 minutes after getting some space in the corner and scoring a good point. Moran continued his excellent shooting with a point on 47 minutes but this was quickly responded to by O'Connell with a pointed free following a foul on Loughnane.
Moran continued to torment EI when he scored two more points in quick succession on 53 minutes. O'Connell scored a fine point from center field on 54 minutes to leave 2 points between the sides again. EI got a good chance to keep the comeback going when they were awarded a free on the 21 after a foul on Cunningham but O'Connell's effort for a goal was saved and cleared. Nickie Quaid made it a 3 point game with 2 minutes left after converting a difficult free from the left sideline. Barry Loughnane gave EI some hope with a point on 59 minutes.
Alex Morey reduced the deficit to the minimum with a fine score on 60 minutes. There was still enough time for the puck out and the ball broke to O'Connell who made a good run and struck a great point from 40 yards to level the match and send this exhibition of brilliant hurling to extra time. Alex Morey opened the scoring for EI in extra time inside the first minute. O'Connell made it a 2 point game after 2 minutes with a pointed free.
Back came the Teachers with a point from Tommy O'Brien after good work from McGrath created the chance. The sides were level again after 4 minutes when Griffin scored another point from a free. Griffin then had a goal chance on 5 minutes but was denied by a good block from Jamie Roughan. Quaid put the Teachers back in front on 6 minutes but back came EI again to level with a point from O'Connell.
Mark Deegan scored a great point from his own half on 8 minutes and this was followed by another Quaid point to leave the Teachers 2 points in front. You could not take your eye off this game for a second as O'Connell made another good run and setup Cunningham inside the 14 who rattled the back of the Teachers net to complete his hat-trick and put EI one point in front. There was still time for Tommy O'Brien to level the scores again just before the half time whistle as the score now stood at 3-24 to 3-24.
It was impossible to predict a winner at this stage and the possibility of a replay was on the cards. Conor Deacy put EI back in front inside a minute with a well struck effort from the 65 yard line. Willie Griffin had the sides level again with a pointed free after 2 minutes of the half. Moran then put the Teachers back in front with only 6 minutes left with another long range point.
EI hit the front again with 5 minutes left when Derek Fahy scored a great goal after bursting through the Teachers backline and hitting an unstoppable shot to the back of the net. The Teachers nearly responded with a goal of their own inside a minute when a shot from Moran hit the post and O'Brien sent the rebound wide. Eoin Walsh made it a one point game again with 3 minutes left after a good point on the run. O'Connell scored his 15 point of the match with 2 minutes remaining and then with a minute to go Fahy burst through like he had done minutes earlier and kicked the ball to the back of the Teachers net to spark great celebrations among the EI faithful.
There was still time for Nicky O'Connell to get in on the scoring with a point and a late consolation point from O'Brien for the Teachers as this great game of hurling came to an end after over 80 minutes of non-stop action and entertainment. After the game Munster Inter-Firm Chairman Michael Mulcahy presented the cup to the EI Electronics captain Jamie Roughan.
EI Electronics: Brian Tierney (Newmarket), Dara McNamara (Sixmilebridge), Jamie Roughan (Wolfe Tones), Jeffrey Daly (Fermoy), Enda Boyce (Cratloe), Nicky O'Connell (Clonlara) 0-1, Noel Purcell (Sixmilebridge), Barry Loughnane (Wolfe Tones) 0-2, Kevin Fennessy (Sixmilebridge), Conor Deacy (Sixmilebridge) 0-1, Alex Morey (Sixmilebridge) 0-4, Simon Griffin (Monaleen) 0-1, Cathal O'Connell (Clonlara) 0-15, Aaron Cunningham (Wolfe Tones) 3-2, Derek Fahy (Sixmilebridge) 2-1
Subs: David Reynolds (Clooney-Quin), Mike Hoey (Tulla), Lloyd Wolfe (Cratloe), Sean O'Grady (Scariff), David Richardson (Murroe-Boher)
Limerick Teachers: Alan Murnane (Parteen), Cathal King (Na Piarsaigh), Patrick Kelly (Kilfinnane), Enda Kelly (Effin), Diarmuid McCarthy (Glenrue), Steve Walsh (Glenrue), Mark Deegan (Hospital) 0-1, David Balfry (Caherline), Shane McGrath (Ballinahinch) 0-3, Nickie Quaid (Effin) 0-7, Tommy Giltenane (Mungret) 1-4, Tommy O'Brien (Patrickswell), Willie Griffin (Adare) 2-4, Niall Moran (Ahane) 0-6, Eoin Walsh (Glenrue) 0-3
Referee: Damien Fox