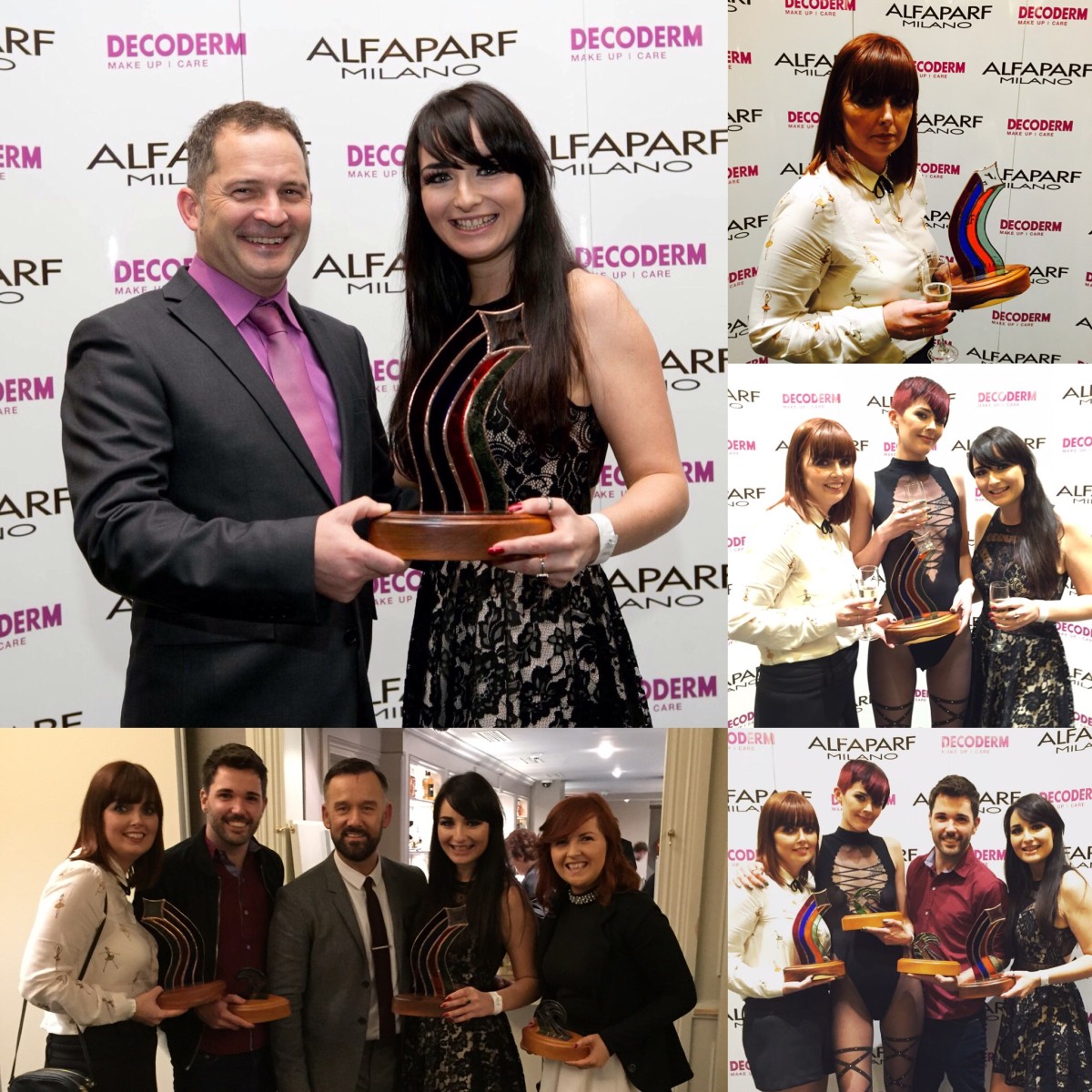 Ennis hair and beauty salon, Altamoda has picked up four awards at the ALFAPARF Fantastic Hairdresser Awards 2015, considered the  Oscars of the Irish hairdressing industry.
The Clare business, operated by Bridget Haren, was among 1,200 stylists and industry insiders invited to the gala presentation at the Double Tree Hotel By Hilton, Dublin.
Acclaimed stylist, designer and TV presenter, Brendan Courtney, hosted the sold-out evening awards event.  He presented the awards along with ALFAPARF and Alan Austin-Smith, founder of The Fantastic Hairdresser Company. Each winner was presented with an Irish-designed and handcrafted stained-glass trophy.
Altamoda's senior stylist Michelle Nugent Considine picked up two first place awards and a third place finish. Barry McDonagh won 3rd place in the Inixia photographic competition, Bridget Haren won the business award of Fantastic Hairdresser, while Altamoda's junior stylist Sinead Moloney was placed in the top ten of Fantastic Junior Stylist & this was her first competition.
The make-up on the models was created by beauty therapist Linda Lafferty who joined the Altamoda team in July.
Bridget Haren told The Clare Herald: "This is an amazing achievement for the salon, it helps us grow as a brand and push our creativeness as stylist & inspire the younger stylists in the salon as well as our clients."
"To be on stage competing and then winning against the best in the country is a huge honour," she added.
ALFAPARF Fantastic Hairdresser Award Winners:
Fantastic Stylist Award – Michelle Nugent – Considine, Alta Moda, Ennis, Co Clare
Fantastic Fantasy Hair Stylist Award – Katrina Kelly, K2, Glasnevin, Dublin.
Fantastic Long Hair Stylist Award – Martha Boylan, K2, Glasnevin, Dublin
Fantastic Junior Award – Sandra O'Sullivan from Sean Taaffe, Killarney, Co. Kerry
Fantastic Gents Hair Stylist Award – Danielle Bethal from Occasions Hairdressing, Naas, Co. Kildare
Fantastic Hair Colourist Award – Adrian Haupa from Kazanoo, Co. Galway
Fantastic Hairdresser Award – Bridget Haren, Alta Moda, Ennis, Co. Clare
Fantastic Salon Award – Lloyds, Waterford
ALFAPARF Inixia Photographic Award – Wayne Partridge from Wayne Lloyd, Cork