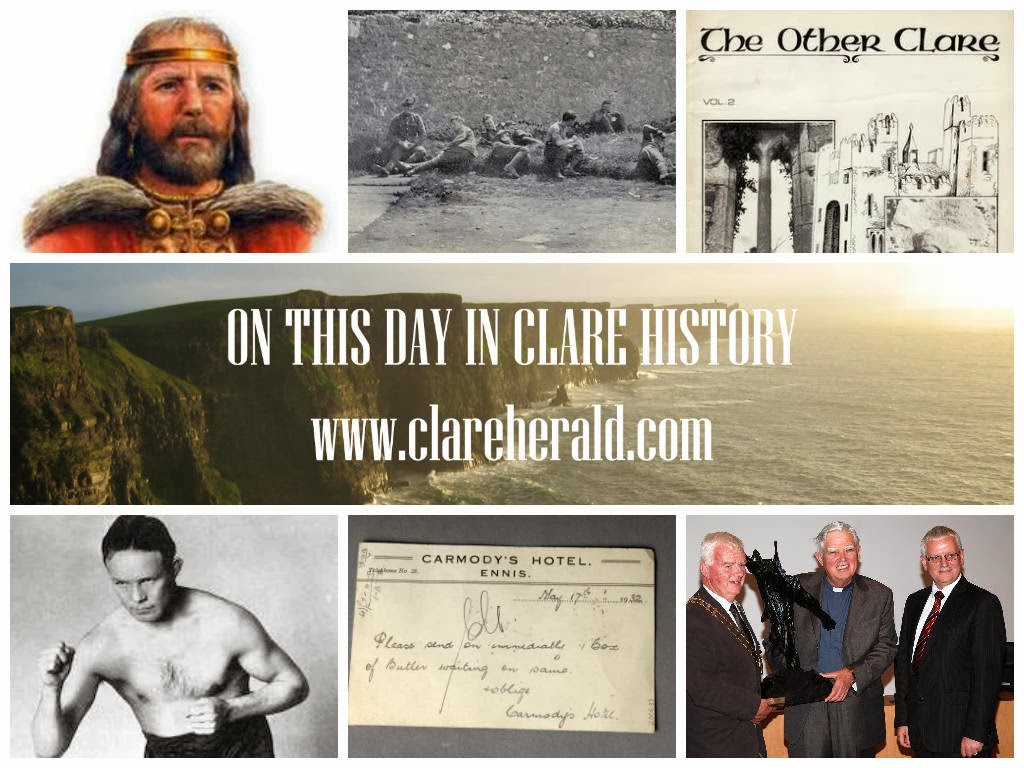 On this day in Clare history (7 November):
1551 – The death takes place of Murrough O'Brien, 1st Earl of Thomond, the last King of Thomond, and a descendant of the High King of Ireland, Brian Boru
1771 – Funeral of Ballingaddy-born politician and physician Charles Lucas in Dublin attracts 'the most numerous crowds of people ever known in this Kingdom'
1811 – Wisconsin Democrat politician Martin McNamara is born at Fahy (Lough Graney).
1831 – The Ralahine Commune, a co-operative society founded on the estate of John Vandeleur at Ralahine, Newmarket-on-Fergus, comes into existence. In an attempt to keep his tenants away from secret societies like the "Ribbonmen", Vandeleur brought a socialist called Thomas Craig from England to advise him on the running of the commune.
1945 – Minister for Industry and Commerce, Sean Lemass and Deputy Oliver J. Flanagan have a heated exchange in the Dáil over apparent delays in turf transports being experienced along the the West Clare section of Córas Iompair Éireann, particularly near Shragh and Doonbeg.
2006 – The Post Office field in Ennis is targeted by Ennis Town Council as the site for a proposed new two-storey library for the town.