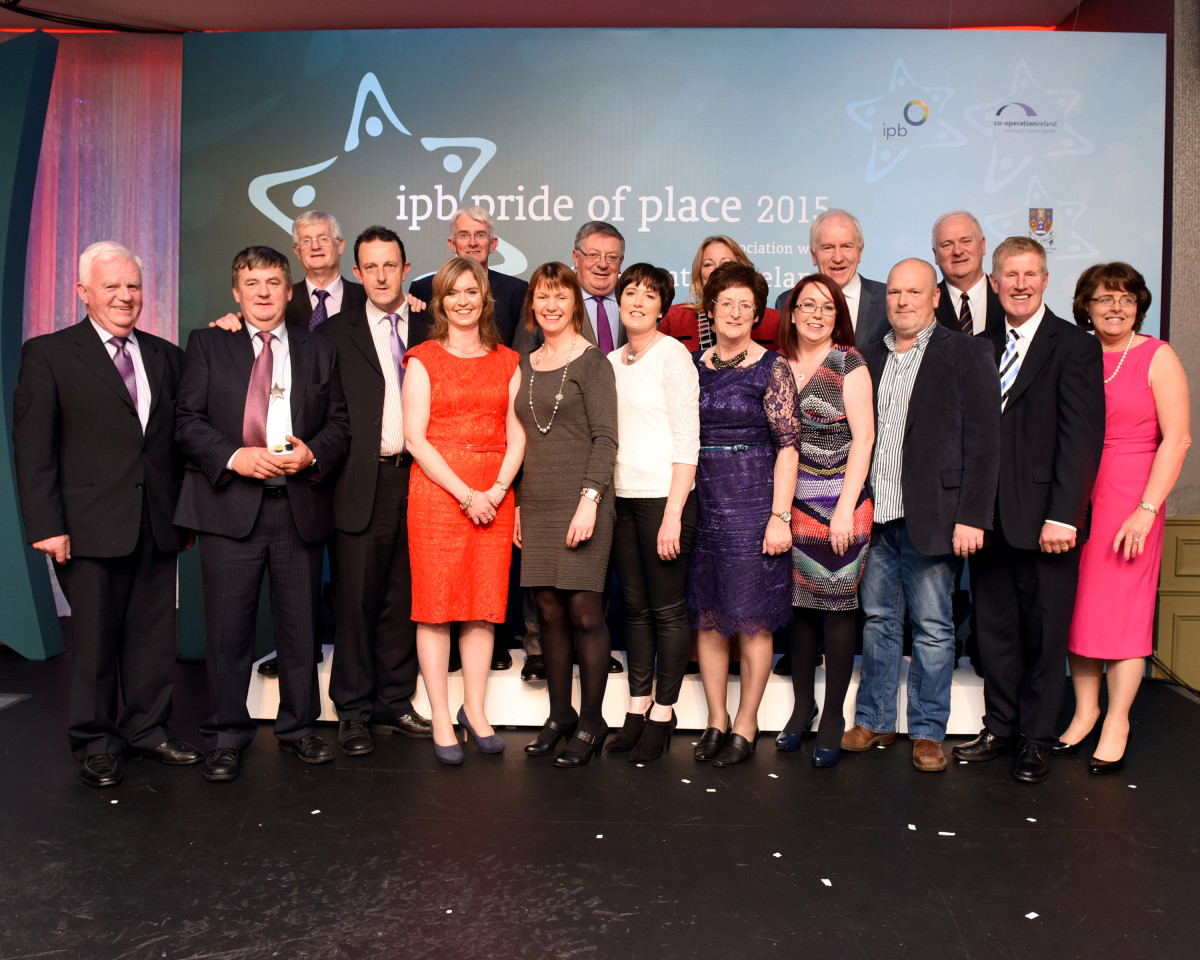 County Clare continued its impressive track record of success in the IPB Pride of Place Competition at the 13th annual awards ceremony held at Treacy's West County Hotel in Ennis on Saturday night , which was attended by more than 800 people from all over the island of Ireland.
Doonbeg was named overall winner of Category 2 for population centres of between 300 and 1,000 people with Ballyboughal (Fingal Council area) and Kilteevan (Roscommon) named Runners Up.
Doonbeg was among five communities nominated by Clare County Council to participate in this year's competition. Clare was also represented by Bunratty Local Development Association (population centres of up to 300 people), Kilrush Tidy Towns (population centres over 2,000), the Ennis based Cuan an Chláir (Age Friendly Initiative), and Kilmaley Voluntary Housing Association Ltd. (Community Health Initiative).
Community representatives from Doonbeg Community Development Company Ltd. accepted their award from Councillor Mary Howard, Leas Cathaoirleach of Clare County Council, Ronan Foley, Chief Executive of IPB, John Bruton, former Taoiseach and Deputy Chairman of Co-operation Ireland, George Jones, Chairman of IPB, and Tom Dowling, Chairman of Pride of Place Committee.
Councillor Mary Howard, Leas Cathaoirleach of Clare County Council described Pride of Place as the "Oscars for communities."
Congratulating Doonbeg, Cllr. Howard said: "The Pride of Place judges remarked on the wonderful presentation provided by the local community in Doonbeg during their visit there this summer. This award win is a wonderful example of what can be achieved when people come together for the benefit of their local community."
She added: "We have countless hard working community groups and organisations in Clare who give freely of their time due to a sense of devotion to their community and those around them. They do not look for recognition nor do they seek reward. It is all about pride of place and engendering a sense that one small deed or gesture of community spirit can have long-lasting, positive effects for an entire community. I salute each and every one of them and in particular, Clare's five Pride of Place participants this year."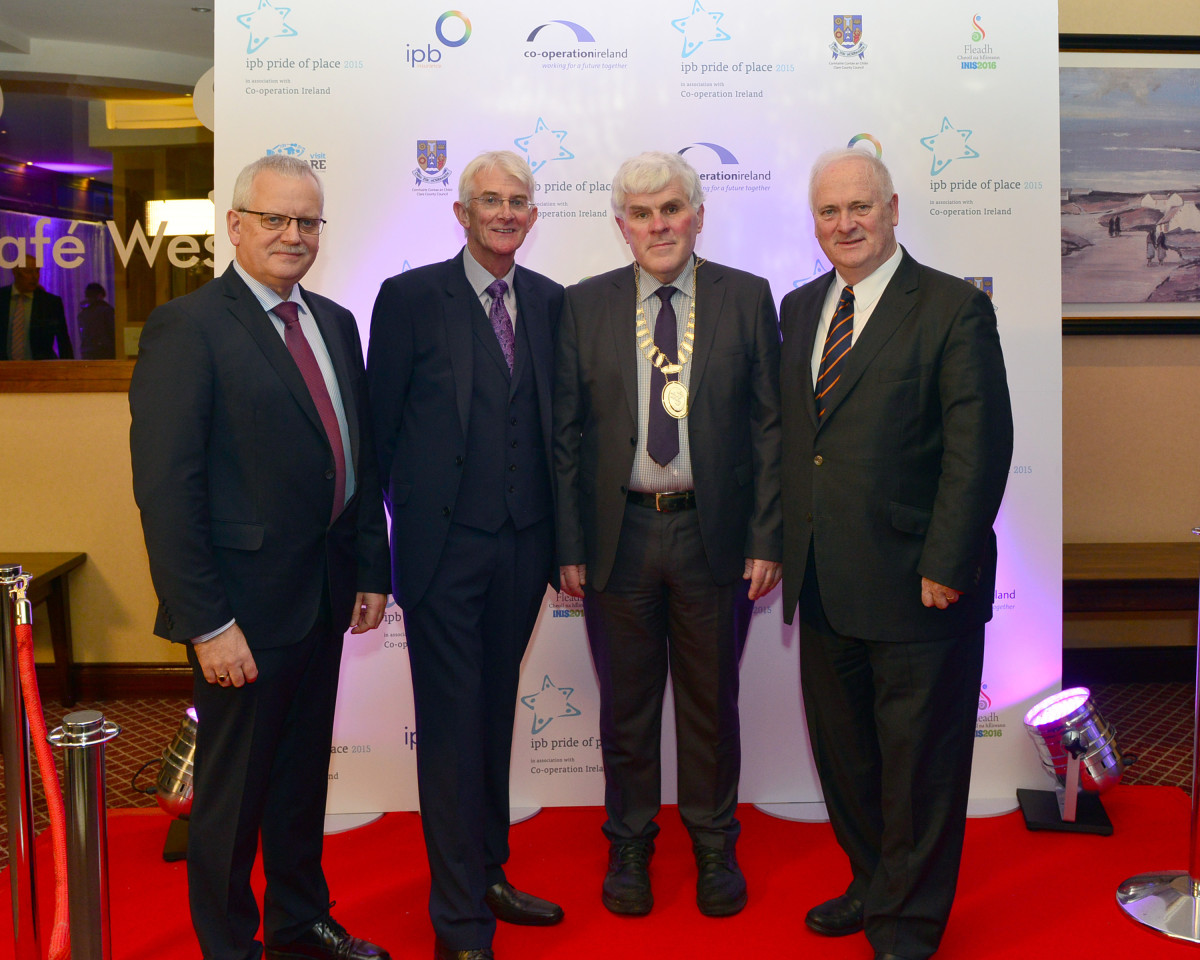 "Clare County Council is delighted to have been able to support each of this year's local participants, particularly in the weeks leading up the judging stage of the competition," commented Tom Coughlan, Chief Executive, Clare County Council.
"I want to congratulate Doonbeg for delivering real positive change by improving their local environment and undertaking initiatives that have further improved the quality of life for everyone in the community," he added.
"Clare County Council is proud to have been afforded the opportunity to host this all-island celebration of community spirit and pride of place for the second year running. Every corner of Ireland was represented in Ennis with more than 800 people attending. Many more people watched the ceremony online courtesy of a live-streamed broadcast," concluded Mr. Coughlan.
Tom Dowling, founder of the event and Chair of the Pride of Place Committee said: "Even after 13 years, I and the rest of the judges continue to be amazed at how communities from all over the island demonstrate their amazing capacity to care for the people in their communities and respect their heritage, culture and environment. I also pay particular thanks to the local authorities all over the island of Ireland, Co-operation Ireland and IPB Insurance for their ongoing support for this unique community competition."
Peter Sheridan, Chief Executive, Co-operation Ireland said: "For Co-operation Ireland, the Pride of Place competition embodies the ethos of the organisation and it shows how working together ordinary people can make a real positive change on society. I congratulate everyone who participated in this year's competition, but especially the winners."
Speaking at the event, IPB Insurance CEO, Ronan Foley said: "IPB Insurance is proud to be associated as title sponsors of the IPB Pride of Place Awards and more importantly what it represents. I firmly believe that it is essential that we recognise communities and the thousands of volunteers across the island of Ireland that give of themselves selflessly every day."
Run by Co-Operation Ireland in conjunction with local authorities north and south of the border, the annual all-island initiative aims to recognise and celebrate the vital contributions that communities make to society.
Prior to 2015, Clare's most recent national success in the competition came in 2014 when Clare County Council won the overall award in the Council Community Engagement category, while Killaloe and Tuamgraney received Runner-Up prizes. Miltown Malbay claimed the top prize in its category in 2013.
For more visit www.prideofplace.ie.