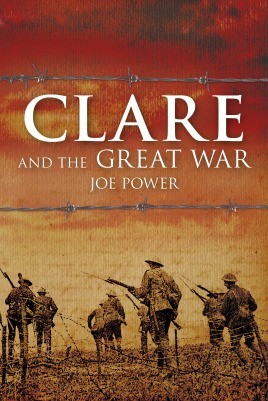 The Clare Herald's book reviewer, Sally Vince, looks at books about Clare or by a Clare-based author. This week, Sally reviews Clare and the Great War by Joe Power.
Aristocrats and itinerants, unionists and nationalists, Catholics and Protestants – the Great War united thousands of Clare men and women to a cause for which many of them would go out to fight and die.
Their motives varied from a sense of duty to 'king and country', to concern about the fate of 'poor Catholic Belgium'; from mercenary motives, fuelled by poverty, to the moral duty to fight for civilization against the 'savage Hun'. Some followed 'Redmond's call', to secure Home Rule, while others enlisted for sheer adventure.
This seminal work attempts, for the first time, to understand what really happened in County Clare during the Great War, how its economic and political life was radically transformed during this terrible conflict, and how the contribution of those who gave their lives was largely written out of history.
Historian Dr Joseph Power lives in Clarecastle (Clare Castle). This remarkable, 344-page book is a very thorough study of County Clare during World War I, "the Great War", and the men and women that took part in it.
Joe has researched newspaper archives, letters, photographs, council documents, meeting minutes and personal diaries and correspondence to build a picture of life in the county and for those fighting abroad from 1914 to 1918 and beyond.
More than 4,000 Clare men took part in World War I, and about 600 of them were killed. Very many hundreds more were injured physically and mentally by the conflict. Women of Clare also worked and lost their lives for the war. Back home in County Clare people were far away from the fighting but suffered from food shortages and poverty; there was a very real fear of famine and this caused "lawlessness" in the countryside. In addition, Ireland had its own political conflict during this time.
The book has seven main sections:
1 Prelude to War: 'A Nation Once Again' looks at the political situation in the county and country in 1914, which was a cause of concern for the unionist minority that feared the expected Home Rule because of its threat of civil war. It studies the role of the Catholic Church and the social and sporting pastimes as well as what the weather was doing – always of great concern to the people of this county – because of its impact on food and incomes.
2 'For the Freedom of Small Nations' looks briefly at why Britain declared war on Germany and how this resulted in Clare men in the regular army and the reservists leaving Ireland to fight for the British, as well as the social and economic impacts on the county.
3 Propaganda, the Western Front and Gallipoli has great and fascinating detail on recruitment to the forces, looking at those who enlisted eagerly (although in some cases only to avoid poverty) and those who were vehemently opposed to it. The local newspapers had their own (political) stances on the subject and leveraged both sides of the argument. "The local paper, the priest and the national schoolmaster" collectively had a great influence on people in the county, especially those living in rural areas. Propaganda at this time was rife, and those who didn't enlist were considered by some to be "shirkers and slackers". Some people emigrated for fear that Britain would bring in conscription. This section also looks at the plight of prisoners of war, and how organisations were formed to send food and money to men in the POW camps.
4 Recruitment and Rebellion looks in greater detail at recruitment as it became increasingly urgent for Britain to enlist more men to send to the battlefields. Some newspaper advertisements were aimed at women: "Do you realise that the one word 'Go' from you may send another man to fight for Ireland? When the war is over and your husband or your son is asked 'What did you do in the Great War?' is he to hang his head because you would not let him go?", and "If your young man neglects his duty to Ireland, the time may come when he will neglect you."
5 The Spirit of 1916 is about how the Easter Rising affected people in County Clare: "The mood of the people turn more against the war and the Home Rule Party, and more in favour of the policies of Sinn Féin." There were other concerns, too, such as what was being shown at Ennis cinema: films "not made in Ireland for the Irish mind", which would result in "Satan [biding] his time, gradually thickening the dose until our palate will relish the worst he can serve". Certainly it was thought that "they were not suitable for young women". There is also discussion on the death of Willie Redmond MP and the East Clare by-election of 1917.
6 From Conscription Crisis to Armistice looks at the attempt to enforce conscription and the impact this had. There was a great fear of famine at this time and an "outbreak of lawlessness" as cattle were driven off land, which was taken over for growing food. Women took to the streets to oppose conscription. The sinking of the SS Leinster is covered, as is the general election of 1918. After the celebrations of the end of war, Europe was struck by Spanish Flu, which worldwide killed between 16 and 20 million people; Clare was less affected as some areas, but still lost people to the epidemic.
7 In Memoriam explains how the political climate had changed in Ireland during the span of the war. Those who had joined the British forces in the early years were cheered and feted as they left, but "came home quietly after demobilisation, to a country that no longer acknowledged their sacrifices and bravery". Republicans, on the other hand, had been taken to prisons amidst jeers and insults, but returned to crowds of several thousands, "who cheered themselves hoarse" and carried them "on their shoulders through the streets". Joe points out how little was done for the returning troops from WWI, how little was written about them, and how it was many years before they started being honoured.
There is an extensive index and plenty of ideas for further reading.
Throughout this book the Church, unsurprisingly, features large. At the time, 98 per cent of the population of Clare was Catholic. As with many other aspects of daily life, the clergy had huge influence, and Joe Power provides many quotes from letters and sermons. The role of the local papers (including the Clare Champion) is fascinating, too. Every chapter has quotes from men and women from around the county, and there are many biographies of notable characters and also those living ordinary lives but playing their part in remarkable ways. There are facsimiles of newspaper adverts, photos and very expressive correspondence between parties of influence and the men living and fighting in the war zones and camps.
If you have any interest in the history of County Clare – political or social – this is a valuable resource and an absorbing read.
Available from:
The publisher, The History Press Ireland €22.50
Kenny's, Ireland €17.93 (free worldwide postage)