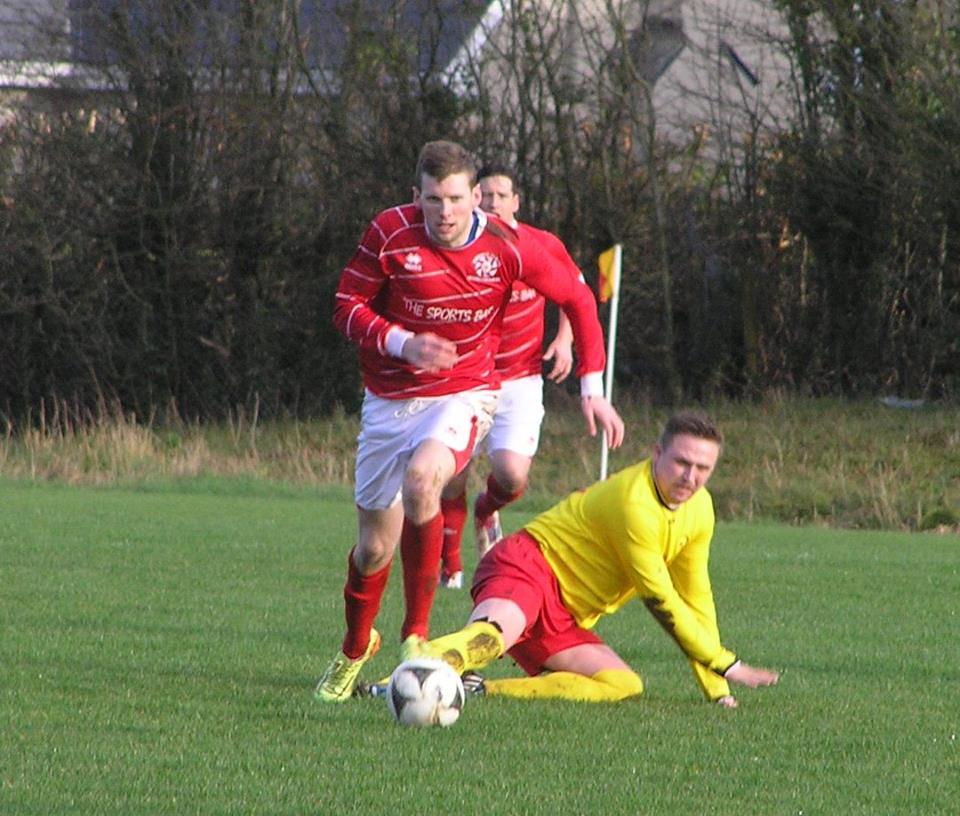 Newmarket Celtic advance to third round of the Munster Junior Cup as they overcame Avenue Utd while Bridge Utd picked up a comprehensive win over Corofin Harps and Sporting Ennistymon edged past Ennis Town in the Maloney Garden Machinery Premier Division.
Munster Junior Cup Round 2
Avenue Utd A 1-4 Newmarket Celtic A
Venue: Roslevan
Newmarket Celtic marched on in the Munster Junior Cup with victory over Avenue Utd at Roslevan on Sunday. Newmarket dominated the early exchanges and went in front on 10 minutes when Michael Crosby scored with a header after finishing a good cross in from the right wing by Seamus Lawlor.
It was 2-0 on eighteen minutes when Eoin Hayes scored with a shot from outside the box that nestled in the bottom right corner. It was all Newmarket at this stage and Lawlor went close on 22 minutes with a shot that hit the side net after getting on the end of a Hayes cross. The third goal arrived on 27 minutes when David O'Grady made a good run and showed some nice skill on the edge of the box before crossing to the unmarked Stephen Kelly who made no mistake with a well directed header.
Ronan McCormack went close for Newmarket on 35 minutes with a shot that Liam Deasy did well to push over the bar. Avenue pulled a goal back on 37 minutes when Scott Hennessy got on the end of a Deasy clearance and put in a good ball across the box to Aidan Kennedy who controlled and finished well with a good strike to the left corner. Avenue went close again on 41 minutes when Conor Mullen headed over from a Pat McDaid corner. The final chance of the half fell to Stephen Kelly who headed over from a Darren Cullinan free kick.
Newmarket had a great chance to restore their 3 goal advantage on 54 minutes when Ronan McCormack made a great break from the back but missed the target with his shot after getting pushed wide by Deasy. Hayes went close for Newmarket on 65 minutes after getting on the end of a through ball from Paddy Purcell but was denied by a good save from Deasy.
Avenue dominated the closing stages and put Newmarket under a lot of pressure as they tried hard to get back in the contest. Scott Hennessy thought he was through on goal on 67 minutes but he was ruled offside and Newmarket got a free out. A good run from Kennedy into the box on 69 minutes caused problem for the Newmarket defence and when he went down there was strong shouts for a penalty but the decision was a free out and yellow card for Kennedy.
Shane Constable had a good effort on 80 minutes saved by Trevor O'Donnell who got down well to make the save. Kennedy won a free kick on 84 minutes that was swung in by McDaid to David Russell whose well directed header was saved by O'Donnell. O'Donnell was called on to make another good save on 87 minutes from a free kick by Mark Roche that he did well to tip over the crossbar.
From the corner Alan Kelly made a good goal line clearance. Newmarket wrapped up the victory in the final minute when a good ball into the box by Darren Cullin was controlled well by Hayes who setup Colin Smyth for a shot and Smyth made no mistake with a well struck effort. Newmarket now advance to a third round meeting with Coole FC on the 3rd January.
Newmarket Celtic: Trevor O'Donnell, David O'Grady, Darren Cullinan, Mark Donlon, Paddy Purcell, Stephen Kelly, Colin Smyth, Michael Crosby, Ronan McCormack, Eoin Hayes, Seamus Lawlor. Subs: Brian Monaghan for Lawlor, Alan Kelly for McCormack.
Avenue Utd: Liam Deasy, Pat McDaid, David Herlihy, Conor Mullen, David Russell, Barry Nugent, Mark Roche, Gary Flynn, Scott Hennessy, Aidan Kennedy, Jack Arra. Subs: Shane Constable for Arra, Michael Junaid for Flynn
Maloney Garden Machinery Premier Division
Bridge Utd A 7-0 Corofin Harps A
Venue: Limerick Institute of Technology
LIT was the venue for Sunday's Premier League game between table toppers Bridge Utd and North Clare outfit Corofin Harps. The game was just 4 minutes old when Chris Lake sprung the Corofin offside trap but his audacious lob fell in to the grateful arms of goalkeeper Ronnie Meere.
Bridge Utd didn't have long to wait for their opener when Brian O'Connor down the right cut in and squared to Derek Fahy who made no mistake and dispatched to the roof of the net on 8 minutes. Minutes later another foray this time down the left saw Chris Lake cross for Johnny Okoro whose neat touch and finish found the corner of the net.
A great move on 15 minutes from Bridge Utd saw Brian O'Connors snap shot rattle the upright, but 5 minutes later Darragh Fitzgerald's first time curling effort sailed into the top corner to leave Corofin with a mountain to climb. The visitors case wasn't helped by losing right full back Fiachra Roche to a red card on 35 minutes for violent conduct.
Brian O'Connor finally got in on the scoring when he evaded he Corofin defence and beautifully lifted his effort over advancing custodian Meere. A renewed effort from Harps in the early stages of the second half was halted as Derek Fahy volleyed to the net to double his tally and make it 5 nil.
Some wasteful finishing and some fine goalkeeping denied Okoro, Fahy, O'Connor and the returning Noel Collins before Okoro finally added a further goal to notch up number 6. Robbie Wall capped a fine display from the home side when his spot kick hit the roof of the net after Bane was found guilty of fouling the ever dangerous Fahy.
Bridge Utd: John Mulready, Jay Whyte, Jonathan Downes, Eoin Guinan, Darren Murphy, Rob Wall, Darragh Fitzgerald, Brian O'Connor, Derek Fahy, Chris Lake, Jon Okoru. Subs: Noel Collins for Downes, Mark Culbert for Fitzgerald, Kieren Brennan for Mulready.
Ennis Town A 2-3 Sporting Ennistymon A
Venue: Lees Road, Ennis
Sporting Ennistymon made it 4 wins in a row in the Premier Division after a great comeback in the second half to recover from a 2-0 deficit to deservedly take all 3 points at Lees Road on Sunday.
It was the home side who settled into the match quicker, testing Sporting's Keeper Richard Leigh. Aaron Landy had an opportunity to score early on but was dealt with by Leigh. But Ennis town did break the deadlock, an emphatic effort from Joe Collins clipped the woodwork and into the net.
Sporting found their feet and when Jamesy Mc Conigley was brought down they had a lifeline, but Seán Mc Conigley missed the target. Both sides were in search for a goal and it was the townies that scored next, a breakaway from their own half, Gary Collins rounded the oncoming goalie to double their lead before half time. Jamesy McConigley pulled one back from a corner 18 minutes from time.
Liam Keane was introduced and helped himself to a goal and the equaliser, sparking acrobatical celebrations. Sporting pilled on the pressure, Seán Mc Conigley danced his way through the Ennis defence to hammer his effort off the bar and Cathal Mc Conigley dispatched the rebound. Seán Mc Conigley could of helped himself to a goal but was denied by an excellent save from the Ennis Keeper Marty Whelan to keep his team in the match.
Ennis Town heaped pressure on and Gary Greene's hammered an effort at goal deflecting off Michael Leigh's hand but nothing he could do to get his hand out of the way and claims for a penalty were rightly turned down. Sporting Ennistymon can now look forward to the second half of the season knowing that they are only 2 points off third place in the division and playing the good football that earned them promotion last season.
Ennis Town: Marty Whelan, John Maher, Shane Daniels, Dean Power, Shane Daly, Darryl Eade, Gerry Dullaghan, Joe Collins, Gary Greene, Gary Collins, Aaron Landy. Sub: Aoran Twist for Eade
Sporting Ennistymon: Richard Leigh, Joseph Gallagher, Thomas McConigley, Michael Leigh, Michael Mc Conigley, Thomas Kinch, John O'Gorman, Jamesy Mc Conigley, Ciaren Monoghan, Sean Mc Conigley, Cathal Mc Conigley Subs: Michael O Dwyer for John O'Gorman, Liam Keane for Thomas Kinch, Mattie Kinch for Cathal Mc Conigley.
RESULTS:
Sunday 20th December;
2015 Munster Junior Cup Round 2 Avenue Utd A 1-4 Newmarket Celtic A
Maloney Garden Machinery Premier Division Ennis Town A 2-3 Sporting Ennistymon A Bridge Utd A 7-0 Corofin Harps A
Lets Bet Sports Bookmakers First Division Newmarket Celtic B 4-0 Avenue Utd B
Selprint Second Division Coole FC 2-1 Manus Celtic
Suttons Lighting Third Division Tulla Utd B 1-0 Shannon Town B
Saturday 19th December 2015;
Selprint Youths League Coole FC 4-3 Newmarket Celtic
FIXTURES:
Sunday 27th December 2015;
FAI Youths Cup Round 2 Roslevan: Avenue Utd v Lifford 11am Shane Hayes
Note: Pitch inspection on Saturday 26th & if unplayable match moves to Cassidy Park.
Note: In event if a draw 10 mins e/w extra time & penalties if necessary
Selprint Youths League McDonagh Pk: Newmarket Celtic v Shannon Town 11am John Grier
Saturday 2nd January 2016;
Inter League Youths Cup County Grounds, Doora 2pm Clare v Limerick Martin OBrien(ref) Julian Sandford,Frank Coote
Note: All results to be with Donal Kirby on 085-1765828 immediately after games otherwise a €40 fine will be incurred.