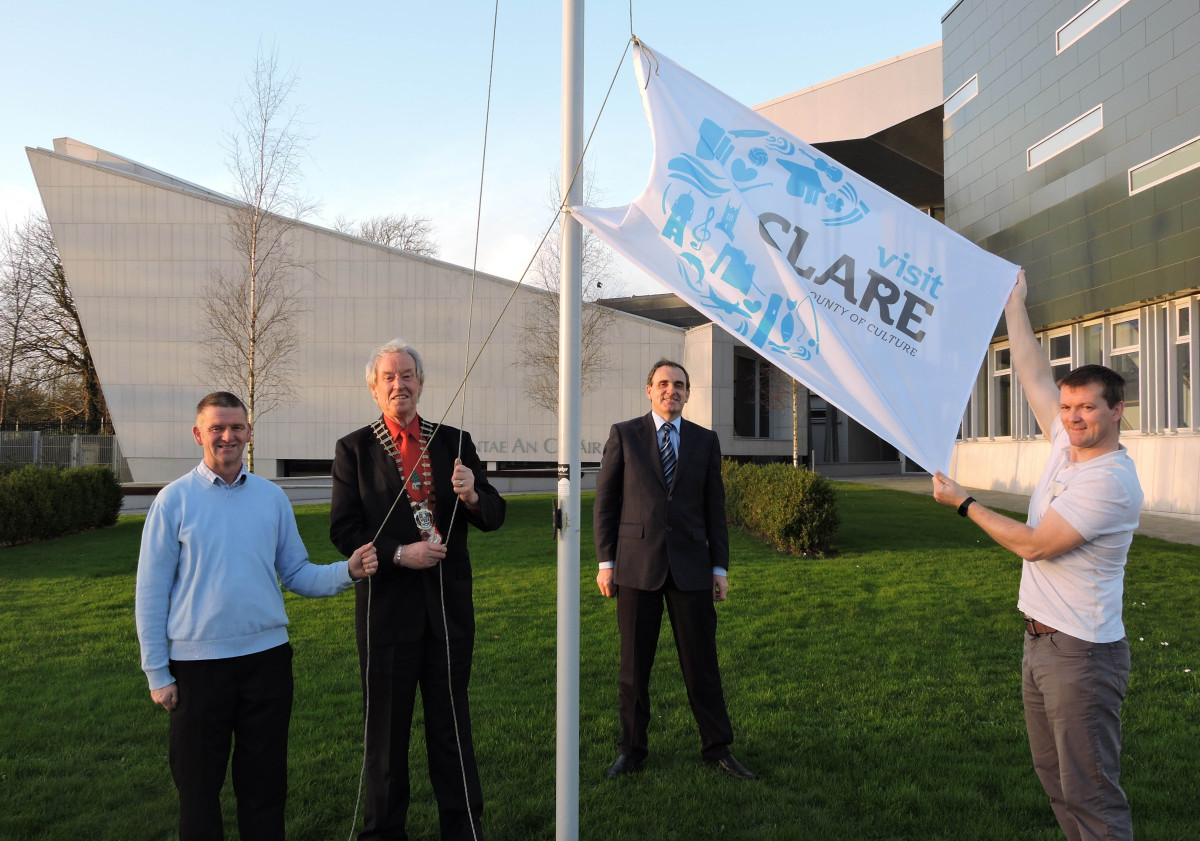 Clare County Council in Ennis will launch one of the most comprehensive programmes of cultural activities and events produced by any county in Ireland on Saturday, January 2nd 2016.
Built around the hosting of Fleadh Cheoil na hÉireann in Ennis next August, the year long celebration and promotion of Clare as a County of Culture during 2016 begins with street entertainment throughout Ennis town centre from 5.30pm and a fireworks display over Cusack Park at 7.00pm.
Business, tourism and community representatives will then gather in glór at 8.00pm for a concert performance by the world-famous Kilfenora Ceili Band and the formal launch of the County of Culture initiative.
The County of Culture launch will also include the unveiling of the County Clare Festivals & Events Guide 2016, which gives details of over 400 events and festivals. 10,000 copies of the County of Culture programme are being distributed throughout Ireland and overseas, while they are also available at many locations throughout Clare including tourist locations and libraries.
Speaking ahead of the launch, Cllr. James Breen, Cathaoirleach of Clare County Council welcomed what he described as "a comprehensive programme that highlights and strengthens Clare's reputation as the spiritual home of Irish traditional music and as a county of culture."
"I encourage the entire community to partake in cultural activities that are being held throughout the year in every corner of Clare. County of Culture also provides the people of Clare with a unique opportunity to celebrate their County's rich cultural legacy and to promote Clare as a county of culture to a national and international audience," added the Cathaoirleach.
"Ennis' hosting of the 2016 Fleadh Cheoil na hÉireann creates a suitable platform to create an ambitious programme that promotes the outstanding cultural attributes of the county," said Tom Coughlan, Chief Executive, Clare County Council.
"Clare County Council, supported by its Elected Members and communities across Clare, has developed a high quality programme of events to ensure the economic and cultural benefits of hosting such a major international event are felt countywide," he added.
Mr. Coughlan confirmed that following a call for proposals, Clare County Council has approved €10,000 each to four local festivals, namely Ennis Street Arts Festival, Feakle Traditional Music Festival, Consairtín 2016, and Voltage / glór Ennis.
"County of Culture delivers a compelling reason for people at home and abroad to visit Clare during 2016 and to enjoy the unique cultural experience which Clare has to offer," commented Paul Madden, Chair of Clare Tourism.
"Clare is particularly well-placed to develop its growing status as a cultural tourism destination thanks to the outstanding and unique cultural attributes of the county. Clare Tourism therefore, is committed to playing its part in promoting the County of Culture during 2015 by highlighting key activities and events throughout the year," added Mr. Madden.
More from www.clare.ie and www.clarecoco.ie.