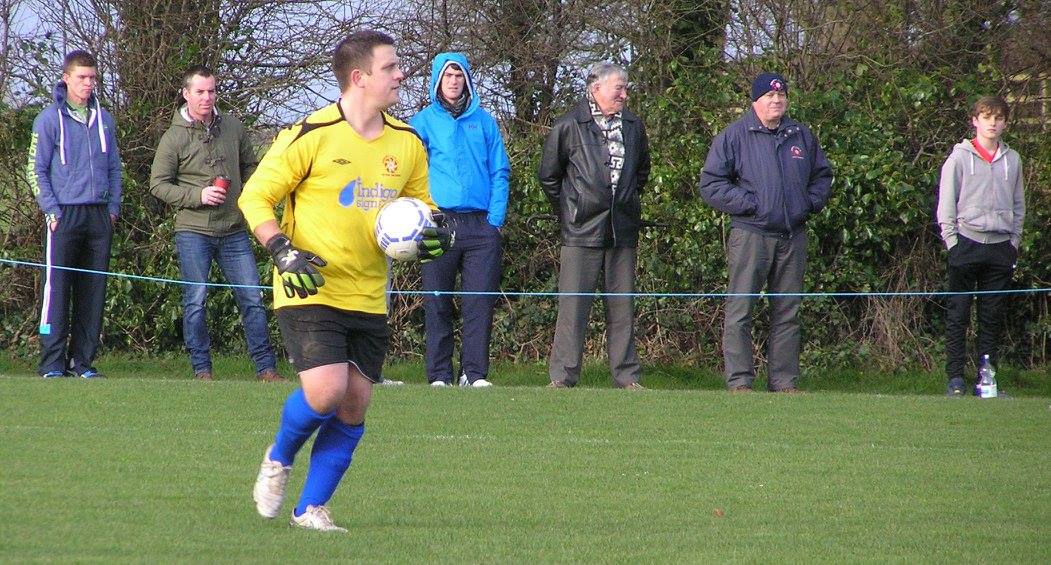 It took a dramatic penalty shootout for Newmarket Celtic to book their spot in the last 16 of the FAI Junior Cup while Avenue cut the gap to three points between and Bridge Utd in the CDSL Premier Division.
FAI Junior Cup Round 6
Newmarket Celtic 1-1 St Michaels (AET) – Newmarket Celtic won 4-3 on penalties
Newmarket Celtic advanced to the last 16 of the FAI Junior Cup after defeating 2014 Champions St Michaels following a penalty shootout at McDonagh Park on Sunday. The Clare Champions went into the game as underdogs but the large home support who turned up on the day knew there was a big chance of an upset as this team has been in impressive form all season and were unlucky to go out of this competition last season to the same opposition in Cooke Park.
There was little between the teams throughout the 90 minutes and it was only in extra time that Newmarket started to dominate and put their opponents under a lot of pressure as they searched for a winner. St Michaels started well and Paul Breen was very close to getting on the end of a free kick from Joey Mulcahy after 4 minutes. St Michaels went in front after 11 minutes when Richard Ryan capitalized on a mistake at the back and passed to Padraig Fogerty on the edge of the box who toe poked home into the left corner of the Newmarket net with the help of the left post.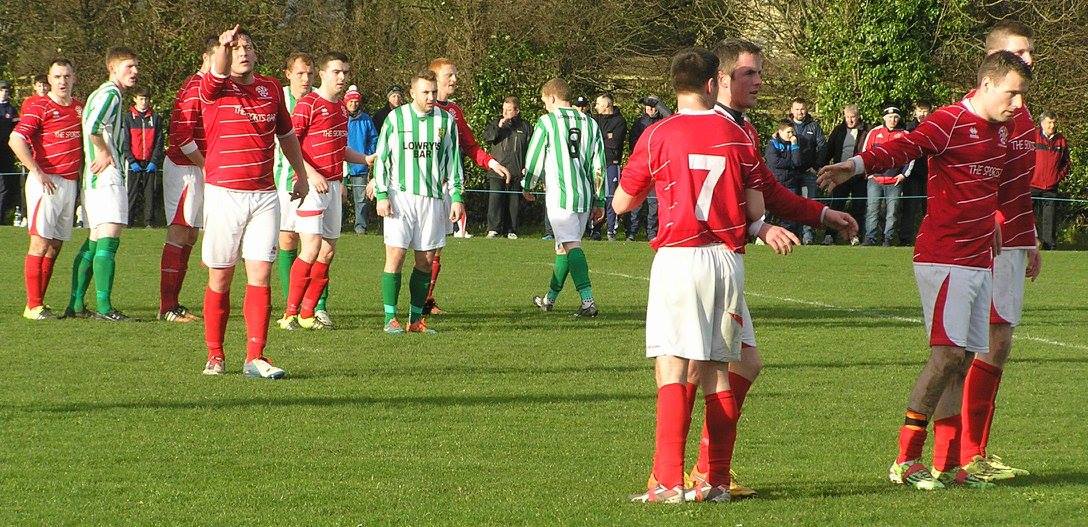 Newmarket did not let this early setback rattle them and Eoin Hayes brought a good save out of Aaron Wall in the St Michaels goal on 16 minutes. Newmarket were back on level terms on 21 minutes when a well delivered corner from Hayes was met by a powerful header from Stephen Kelly who timed his run well to score with a free header in the top of the St Michaels net. Newmarket went close again on 25 minutes with a shop from David McCarthy that went wide of the left post.
Joey Mulcahy had an effort from a free kick for St Michaels narrowly miss the target on 30 minutes. Another well delivered free kick from Mulcahy on 32 minutes was met by a header from Brian Buckley who headed over from a good position in the box. The last chance of the half fell to Kelly who headed wide of the target from a Hayes free kick on 41 minutes. St Michaels had a great chance to go back in front inside the first minute of the second half but Fogerty's lob over the advancing Niall Quinn went over the bar. David Grincell headed wide from a Joey Mulcahy corner on 55 minutes.
Paddy Purcell went close with a header for Newmarket on 58 minutes after getting on the end of a Hayes free kick after a foul on David McCarthy. Grincell went close for St Michaels on 62 minutes after a good turn and shot that Quinn did well to get down low to save. Ronan McCormack had a good effort for Newmarket on 64 minutes that brought a good save out of Wall.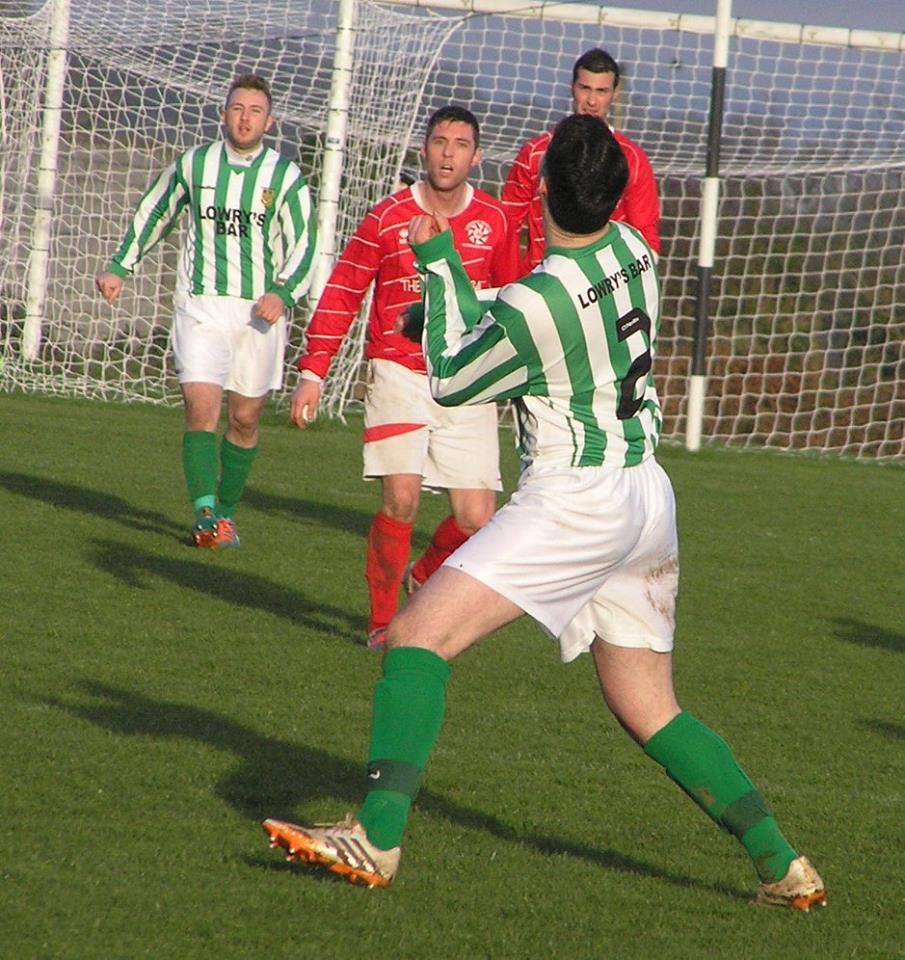 Celtic boss, Mike O'Malley brought on Brian Monaghan for Michael Crosby who picked up an injury and he made a great run into the box on 77 minutes and passed to David McCarthy on the edge of the box but McCarthy's effort was well saved by Wall. Another good move for Newmarket on 85 minutes where David O'Grady cross found Colin Smyth in space and his layoff to McCarthy whose effort narrowly went over the crossbar. One last chance in the game fell to St Michaels and an effort from Jimmy Carr was pushed out for a corner by Quinn that was cleared and the whistle sounded for extra time.
The first chance of extra time fell to Darren Lynch for St Michaels but he was denied by an excellent tackle in the box by Stephen Kelly. Kelly was up the other in on 96 minutes narrowly missing the target from a Ronan McCormack corner. McCormack went close himself on 97 minutes with a shot on the volley that went wide of the target. A free kick from Monaghan on 98 minutes was saved by Wall and the last chance of the half fell to David Slattery who shot over the bar.
The only chance of the second half fell to Purcell from an Eoin Hayes free kick but his effort narrowly missed the target after taking a deflection and it was going to take the lottery of penalties to decide this contest. St Michaels took an early advantage in the shootout but Niall Quinn who has a reputation as an excellent penalty stopper lived up to it and brilliantly saved St Michaels last 2 spot kicks to give Seamus Lawlor the chance to win the contest and he made no mistake to spark great celebrations for Clare side and supporters.
Penalties:
David Slattery 1-0 St Michaels
Eoin Hayes 1-1 Newmarket Celtic
Joey Mulcahy 2-1 St Michaels
Cathal Hayes 2-2 Newmarket Celtic
Richie Ryan 3-2 St Michaels
Paddy Purcell 3-2 Newmarket Celtic (missed target)
Michael Ryan 3-2 St Michaels (saved by Niall Quinn)
Stephen Kelly 3-3 Newmarket Celtic
Jimmy Carr 3-3 St Michaels (saved by Niall Quinn)
Seamus Lawlor 4-3 Newmarket Celtic win on penalties
Newmarket Celtic: Niall Quinn, Seamus Lawlor, David O'Grady, Paddy Purcell, Stephen Kelly, Alan Kelly, Michael Crosby, Eoin Hayes, Colin Smyth, Ronan McCormack, David McCarthy. Subs: Brian Monaghan for Crosby (inj), Cathal Hayes for McCormack.
St Michaels: Aaron Wall, Mike Ryan, John O'Brien, Paul Breen, Brian Buckley, Joey Mulcahy, Richie Ryan, David Slattery, Padraig Fogerty, David Grincell, Jimmy Carr. Sub: Darren Lynch for Fogerty
Maloney Garden Machinery Premier Division
Avenue Utd A 1-0 Shannon Olympic A
Avenue Utd cut the gap on leaders Bridge Utd to 3 points at the top of the premier division after victory over Shannon Olympic at Roslevan on Sunday. Avenue had their first chance through Pa McDaid after 10 minutes when his shot from close range went narrowly wide. Avenue got the only goal of the game on 30 minutes after a mistake at the back for Olympic was punished by Conor Mullen who poked home from close range.

Olympic registered their first chance 2 minutes into the second half when an effort from Dean Power rebound off the Avenue post. Olympic were starting to exert pressure on the Avenue defense and had 2 good chances in next ten minutes but nothing came of these. On 80 minutes their best chance fell to Ryan Kelly after he evaded some challenges in the box but he hesitated on taking his shot and it was eventually blocked well by David Herlihy. Olympic had one last chance on 93 minutes to earn a share of the points when Deaglan McDonald had a header rebound off the post as Avenue held on for the victory.
Avenue Utd: James Tierney, David Herlihy, David Russel, Conor Mullen, Michael Junaid, Pa Sherlock, Barry Nugent, Mark Roche, Nzube Okoye, Shane Constable, Pa McDaid. Sub: Eamonn O'Reilly for Roche (inj)
Shannon Olympic: Ruairi Price, BJ Cantillon, Rory O'Connell, Alex Cole, David O'Flaherty, Derek Maxwell, Dean Power, Kieran Kissan, Deaglan McDonald, Ray Quigley, Ryan Kelly. Subs: Patsy Keyes for Kissane, Dylan Kerr for Maxwell, Rachid Amallah for Power
Ennis Town A 3-1 Corofin Harps A
Ennis town had a good win to start the new year although they didn't have it all their own way. Corofin played well at times in the first half but could not find an opening. Ennis Town took the lead on 25 minutes with a fine reaction goal from John Maher. On 37 minutes Stephen Jordan scored Towns second with a fine strike into the top corner of the net. Ennis were deserving of their 2 nil lead at half time.
Corofin started the livelier in the second half and were troubling Ennis Town and the got a deserve goal on 63 minutes with a fine headed goal. This brought Ennis Town back to life and they steadied the ship and as the half swung back in their favour when on the 70th minute Corofin found themselves down to 10 men after Dean Lee was sent off. Ennis Town immediately took over and on 75 minutes had their third with a fine headed goal from Aaron Landy. This had been set up by Shane Daly who had just come on as sub and he sent in a beautiful cross finding Landy's head. Ennis town had the ball in the Harps net again before the final whistle but this was ruled out for an earlier infringement.
Ennis Town A: Ethan Kelly, Adrian Walsh, Shane O Connor, Shane Daniels, Gerry Dullaghan, Stephen Jordan, Ritchie Neylon, Eoin Keenan, John Maher, Joe Collins, Aaron Landy. Subs: Shane Daly for Jordan, Gary Green for Keenan, Aaron Considine for Maher
Selprint Second Division
Ennis Town B 2-1 West Clare
Ennis Town B had a well deserved win against West Clare in the afternoon game in Lees Road. Ennis Town had numerous chances to take the lead but some last ditch defending kept them out. West Clare then took the lead on the 25th minute. Ennis Town should have equalized on 30 minutes but saw their penalty rebound away to safety off the crossbar. Ennis Town equalised on 40 minutes with a fine strike from Rory Brennan.
The second half was controlled throughout by Ennis Town. On 60 minutes Cian Moran scored their second. They missed numerous chances over the last 20 minutes and while West Clare never threatened in this period the Ennis Line remained on edge until the final whistle.
Ennis Town B: Ethan Kelly, Declan Ensko, Brendan Neylon, Cody Fitzgerald, Daryl McNamara, Ultan Shiels, John Mulcahy, Stephen Horgan, Sean Collins, Aaron Twist, Rory Brennan. Subs: Cian Moran for McNamara, Donal O Halloran for Ensko, Jack Moran for Brennan