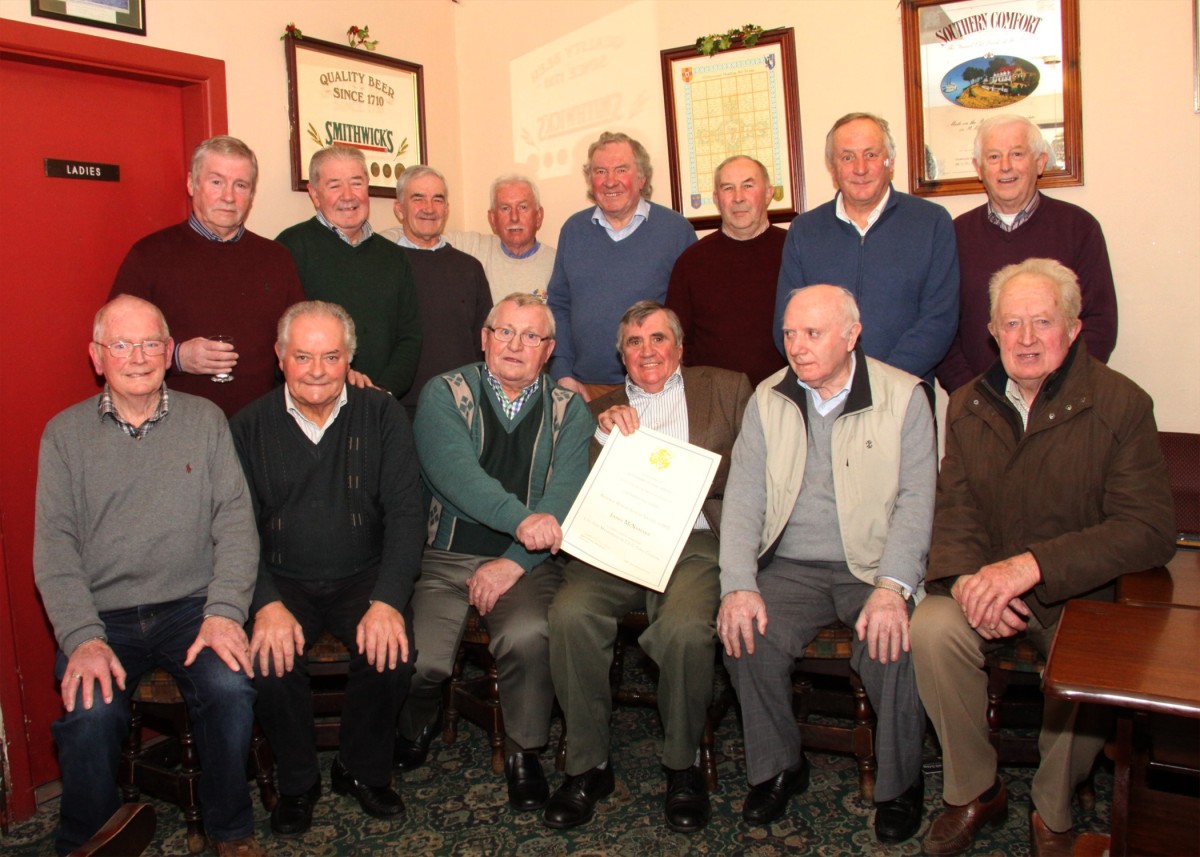 Past greats of Newmarket-on-Fergus GAA flocked to O'Neills Bar on Saturday night as Jimmy McNamara was honoured with lifetime membership of the club.
At the club's recent AGM, Joint President, Pat Halpin proposed that McNamara receive the lifetime membership of the club in recognition of Clare's National League success of 1977, Jimmy McNamara was captain of the Banner on that occasion and alone he stands as the only Blue to captain the County to a national title.
Welcoming the large crowd, Chairman Freddy McInerney paid tribute to the fantastic feat achieved by Jimmy while also taking a moment to think of the former teammates that are no longer with us. PRO, Páraic McMahon chronicled Jimmy's career through various facts and figures, he stated that the statistics clarify why such an honour was being bestowed upon the nine time County championship winner.
Jim Woods, a former teammate and selector to Jimmy recalled some moments from the past that involved McNamara on and off the pitch, he mentioned the 1977 League final and highlighted the performance of Johnny McMahon who kept Kilkenny great Eddie Keher scoreless throughout the contest.
The man of the moment, Jimmy McNamara was last to take to the floor and as always his modesty shone through, he acknowledged the great players that he played alongside while also stating that he would love for a celebration in the near future to revel in the success of the current crop and not to dwell in the past. For the gathering, several of Jimmy's past teammates were present along with his wife Ann, daughter AnneMarie, sons David and James plus many of his friends.
Over the course of his career, Jimmy made seventy appearances for Clare in League, Championship and the Oireachtas Cup scoring 14-98. He picked up an All-Star replacement in 1976 while he also has nine County Championships and two Munster Clubs in a neat collection of medals. His latest accolade is a first in the history of CLG Cora Chaitlín and it is fitting that Jimmy McNamara is the man to receive the first honour of its kind within the club.