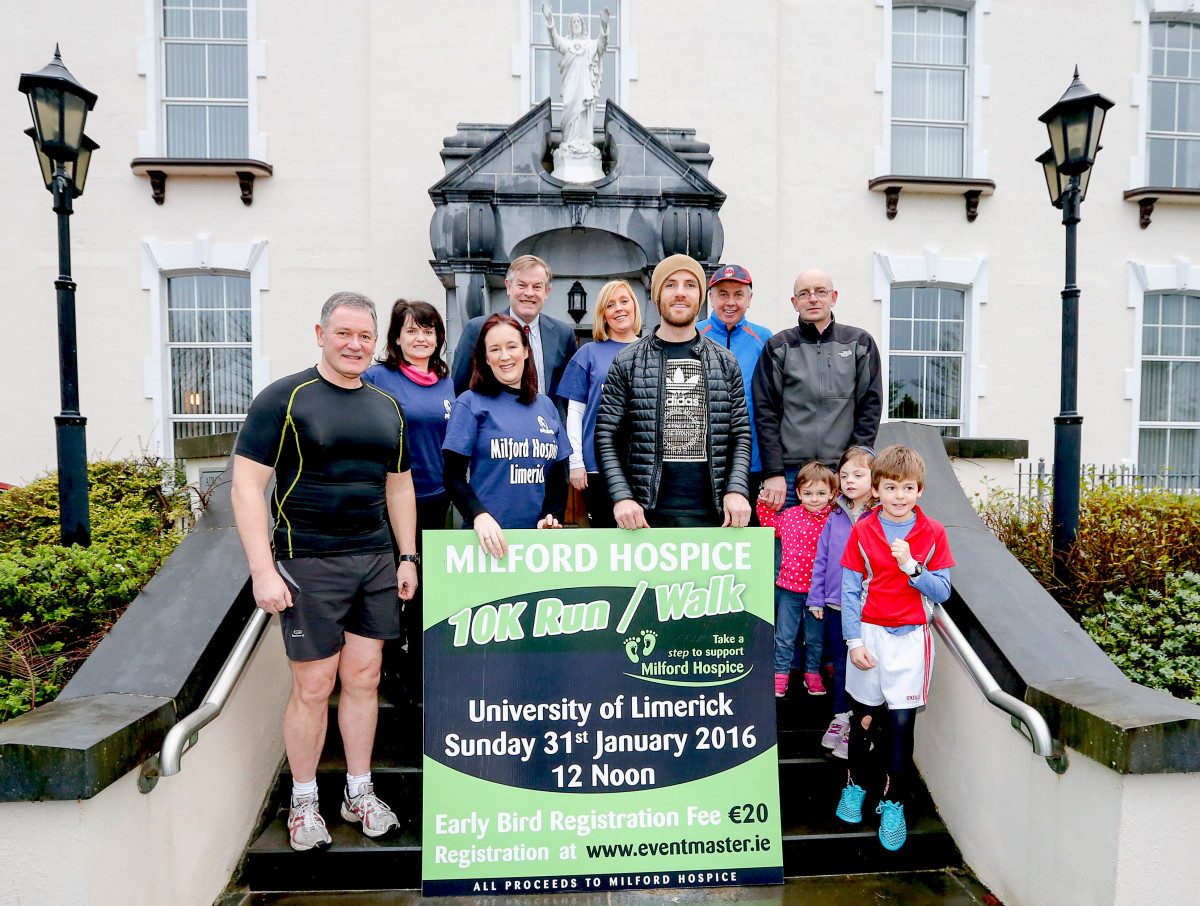 Barry Murphy, former Munster and Ireland Rugby Player and now front man for the band Hermitage Green, launched the Milford Hospice 10km fundraising event that aims to raise funds for Milford Hospice.  
The 10km Run/Walk, now in its fourth year will take place on Sunday, January 31st at the University of Limerick with a start time of 12.00 noon.
Barry explained "Staff operating at this wonderful hospice serving the Mid West and its staff working within the Clare, Limerick and North Tipperary Hospice at Home Teams do an amazing job.  I am delighted to be associated with the launch of the 10km and with so many people getting fit after all the Christmas festivities and with New Year resolutions in place, sure what better way to start the New Year than by participating in the Milford Hospice 10km fun run/walk!  I encourage everyone to participate – bring your friends, family, neighbours – everyone is welcome to come out and support Milford Hospice."
The 10km is open to runners and walkers of all levels and abilities with all of the proceeds going directly to Milford Hospice.
Pat Quinlan Chief Executive of Milford Care Centre outlined "This event has become a popular annual fun activity and the community support we continue to receive is of huge importance to our ability to maintain the current level of high quality services being provided by Milford.  As we embark further upon the building of a new purpose specialist hospice unit for the Mid West, fundraising support has become even more imperative in order for us to achieve our goals as we firmly believe that the people we serve deserve only the best of care and that's what we try to deliver on a day to day basis in everything that we do.  In addition to having to raise €1.5m each year to meet the shortfall in our day to day operational budget for hospice care, we, also, have a fundraising target of €2m to be achieved over the next four years to help build the new hospice facility.  Therefore, events such as our 10km, can really be of benefit to Milford Hospice and we would appeal to the community to join in on the day by jogging, running or walking with us, in support of the work we do" explained Pat Quinlan.
The 10km route will congregate on the UL Plaza for warm up prior to starting at the Stables, winding its way round the campus and Plassey Road before finishing on the UL track.
Earlybird registration fee is €20 and is now open, early registration is encouraged on www.eventmaster.ie or for further details contact the Fundraising Department on 061 485860.  This year we have technical running tops, kindly sponsored by Regeneron and are available to the first 1,500 who register online.
Sheila Mulcair, Director of Nursing, St Camillus' Hospital is delighted to be among the first older person residential facilities in the Mid-West to introduce the policy and commented, "we are committed to providing the best care environment for our residents, staff and all who visit our facility. The introduction of the Tobacco Free Policy reflects our ongoing efforts to optimise health and wellbeing. We will continue to engage with our residents and staff to support them through this change."
Bedelia Collins, Health and Wellbeing Division, HSE Mid-West says, "We are treating tobacco addiction as a care issue and are actively promoting smoking cessation to support residents to quit. We are urging all doctors and allied healthcare workers to support the tobacco free campus policy initiative. We want to create environments that promote wellness and prevent illness."
The HSE's free QUIT support service has a support team of counsellors available over the phone, by email, live web-chat or via Twitter or Facebook. Log onto www.quit.ie or contact the quit team on 1800 201 203.