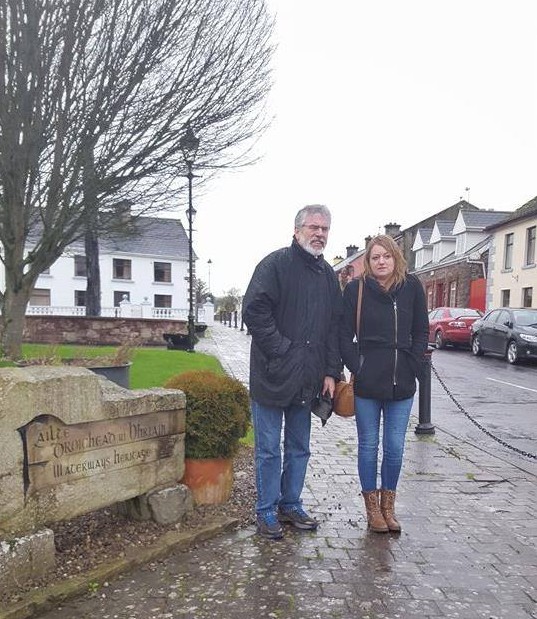 Sinn Féin's Noeleen Moran has said that the people of Clonlara are demanding real action from political representatives in order to deliver much needed flood protection for the village.
 
Ms Moran visited the area alongside Sinn Féin President Gerry Adams TD, Clare County Cllr Mike McKee and Limerick City Cllr Séighin Ó Ceallaigh. "We visited Clonlara to demonstrate some solidarity with the people affected by flooding. It was truly heartbreaking".
While in South East Clare, Moran and Adams spoke with several Clonlara residents. She said "Seventeen homes in Springfield have been terribly impacted. Five of these homes are affected year in, year out. The people of this area have been under water since December 8th. They told us that, while they have experienced bad flooding in the past, this latest episode has been the worst ever.
"Some of the residents told us that they have to wear waders all day. They are continuously pumping water from their homes but the pumps are getting blocked from silt. Some people they have resorted to using fire guards to help prevent the pumps from breaking down" the General Election candidate added.
According to the NUIG Graduate, individuals affected by the floods are demanding a real response from the Government. "The people to whom we spoke want real political action. They want parties to cooperate to find solution so that this never happens again. Many residents told us that they don't believe that they could withstand another flood. They need proper flood defences and they want the issue of insurance tackled".
Moran has called on the Government to declare an Emergency while also stressing the need for the establishment of a Shannon authority to deal with the crisis. "It is beyond time for this Government to declare an Emergency and ask for assistance from the EU Solidarity Fund. National and Local plans need to be put in place to deal with the aftermath of flooding and flood prevention measures. We also need a single Shannon authority to strategise and coordinate flood defences and response operations".
She announced that Gerry Adams will raise the issue with Enda Kenny in the coming week. "Gerry has committed to raising the crisis in Clonlara with the Taoiseach and next week the party will be introducing the 'River Shannon Management Agency Bill 2016'  into the Dáil and its Private Members Business will be devoted to the flooding crisis".