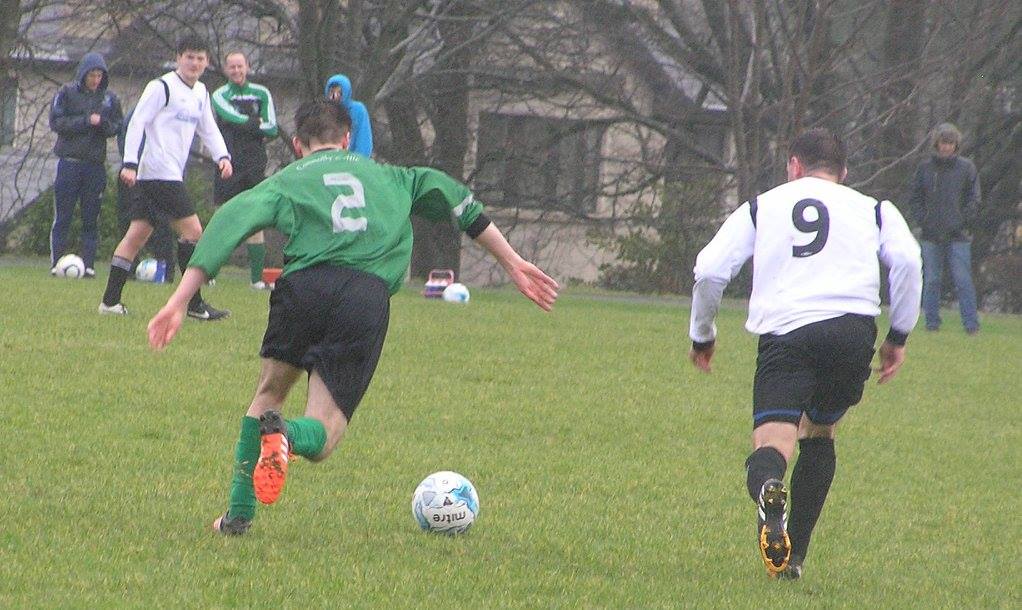 Oliver Fitzpatrick reviews the weekend's local soccer action.
Munster Junior Cup Round 4
Newmarket Celtic A 6-0 Ringmahon Rangers B
Newmarket Celtic continued their good form this season with victory over Cork side Ringmahon Rangers B in the Munster Junior Cup at McDonagh Park on Sunday.
Both sides were slow to settle in the tough weather conditions and Ringmahon had the better of the early exchanges without creating any clear cut chances. Eoin Hayes had the first chance of the game for the home side when David McCarthy played him through down the right hand side but his low shot across goal went wide of the target.
As the half went on Newmarket started to dominate and the first goal of the game came from a great volleyed first time cross by McCarthy that was headed into top corner of the net by Alan Brigdale. The second goal came quickly after with the same two players involved again. Brigdale struck a good effort from edge of the box that was well saved but McCarthy followed up and controlled before slotting it under the keeper.
The third goal came from a well worked move down that right wing with Hayes linking up well with McCarthy who back heeled it round the defender first time and Hayes ran through to slide it home. Colin Smith was making some very strong runs on the right wing and he played a good pass down the side to Hayes who's shot was saved and rebounded off the unlucky defender for an OG. Stephen Kelly went close to adding a fifth before the break from a header that narrowly missed the target. The second half started with Newmarket on the front foot again and Stephen Kelly headed home to make it 5-0. Ringmahon were reduced to 10 men shortly after for second yellow card. With the game over as a contest Newmarket made some changes with taking off David McCarthy, Eoin Hayes and David O'Grady and bringing on Ronan McCormack, Seamie Lawlor and Ian Collins. The Ringmahon keeper made some good saves from Brigdale, McCormack and Collins before Colin Smyth finished the game off in style with a 25 yard rocket of a free kick that flew into top corner of the net. Newmarket will be delighted with the performace today as they advance to a round 5 meeting with Ballingarry next week.
Newmarket Celtic: Niall Quinn, David O'Grady, Darren Cullinan, Stephen Kelly, Paddy Purcell, Eoin Hayes, Colin Smyth, Michael Crosby, Alan Kelly, David McCarthy, Alan Brigdale. Subs: Ronan McCormack for McCarthy, Seamie Lawlor for O'Grady, Ian Collins for Hayes
Munster Junior Cup Round 5
Killarney Celtic 1-0 Shannon Town A (AET)
Shannon Town were unlucky to be knocked out of the Munster Junior Cup after losing out to Killarney Celtic after extra time in Killarney on Saturday night. This was a brilliant game to watch, despite a stiff and swirling breeze, with two superb teams who were very evenly matched. Shannon Town had the better of the first half while Killarney were the better side in the second with the game played at a very high tempo all through. Killarney had the better of the opening period of extra time and made the breakthrough before half time when Conor Randall deftly flicking a long ball from Jamie Spillane to the net for a superb goal. Shannon, buoyed by their enthusiastic and friendly supporters, battled bravely to the end but couldn't close the deficit as Killarney Celtic held on for a quarter final place against Janesboro from Limerick.
Killarney Celtic: Roy Kelliher, Conall Murphy, Fergal O'Donoghue, Chris O'Leary, Brian Spillane, Conor Randall, Stephen Hayes, Cathal O'Shea, Gary Keane, Wayne Sparling, Peter McCarthy Subs Joe Hurley, Jamie Spillane, Stephen McCarthy, Kevin Moriarty
Shannon Town: Darren Whelan, Fergal McCarthy, Andrew Russell, Darren Griffin, Derek Byrne, Jamie Cullen, Evan Glynn, Gary O'Connell, Aaron Rudd, Kieran Hackett, Evan Barry Subs: Sean Burke, Pa Madden, Aidan Carew
Prego Menswear Clare Cup Round 2
Hermitage 0-1 Connolly Celtic
Connolly Celtic booked their place in round 3 after scoring a last minute winning goal against Hermitage in the Fairgreen on Sunday. Hermitage dominated this game for long periods but were unable to find a way past a very good Connolly keeper Kieran Dillon who kept his side in the contest with a number of important saves. Alan Daly had the first effort of the match for Hermitage on 20 minutes with a shot from outside the box that was saved by Dillon. A good ball across the box from Arthur Rogers on 38 minutes was met by Cathal Keane on the edge of the box but he sliced his shot wide of the target. Pa Sherlock had an effort from a well delivered corner from Neil Slattery go over the bar on 44 minutes. The best chance of the first half fell to Connolly in injury time when Jason Devitt got through on goal but he missed the target as Joe Burke advanced off his line.
The second half started with Hermitage on top and Rogers had a shot from inside the box hit the side net on 50 minutes. Clinton Keane had an effort from outside the box saved by Dillon on 67 minutes. Darragh Kerin showed some nice skill in the box on 69 minutes before hitting a powerful left foot strike that was brilliantly saved by Dillon and Senan McCarthy denied Kerin with a good block on the rebound. Kerin went close again on 77 minutes with a shot that went wide narrowly wide of the target. Mathew Kearney was next up for Hermitage to try his luck with a shot that was again well saved by Dillon. Connolly weathered the storm and had the better of the closing stages. Brendan Dillon made a good run into the box on 81 minutes and struck a good shot that was well saved by Burke. McCarthy was off target with an effort from a Darragh McMahon corner on 83 minutes.
Just as it looked like the game was going to extra time one last Connolly attack was rewarded with a goal from Eoin Fitzgerald whose shot in a goal mouth scramble was saved by Burke but the referee was in a good position and awarded the goal despite the protests from the home side that the ball had not crossed the line.
Hermitage: Joe Burke, Conor Walsh, Tomas Radilek, Pa Sherlock, James O'Connell, Neil Slattery, Cathal Keane, Alan Daly, Arthur Rogers, Clinton Keane, Darragh Kerin Subs: Matthew Kearney for Daly, Eddie McCarthy for Kerin, Caliston Pontes for Walsh
Connolly Celtic: Kieran Dillon, Cathal Fitzgerald, Paul Scanlon, Luke Murphy, Cathal Lynch, Senan McCarthy, Donnacha Lynch, Brendan Dillon, Michael Pyne, Jason Devitt, Eoin Fitzgerald Subs: Darragh McMahon for Donnacha Lynch
Maloney Garden Machinery Premier Division
Corofin Harps A 1-4 Shannon Olympic A
Shannon Olympic got back to winning ways in the premier division with a impressive second half performance against Corofin Harps at LIT on Sunday. Corofin played with the aid of a gale force wind in the first half and took the lead inside the first minute when Damien Ryan scored from close range. Olympic responded well and dominated possession but could not break down a spirited Corofin defence.
The second half started like the first with an early goal but this time it was Olympic who scored when Ray Quigley finished well. Olympic piled on the pressure with the wind helping them now in the second half. Olympic went in front when a superb delivery from Liam Delaney corner was finished by Ryan Kelly to the back of the Corofin net. At this point is was all Olympic and the quickly made it 3-1 with Kieran Kissane scoring from outside the box. Corofin were pressing in the closing stages to get back in the contest but were caught on the break when Darren Dougan received possession inside his own half and unselfishly squared the ball to Liam Delaney who rifled the ball to the roof of the net to round off a good win for the Shannon side.
Corofin Harps: Aidan Malone, Fiachra Roche, Ronnie Meere, John Keane, Brian Halpin, Pat Connole, Jason O'Connor, Darrell Bane, Emra Leqiri, Damian Ryan, Brian McGauren Subs: Paul Moroney for O'Connor, Killian Malone for McGauren, John Bane for Leqiri
Shannon Olympic: Ruairi Price, BJ Cantillon, Rory O'Connell, Alex Cole, Dean Power, Ray Quigley, Liam Delaney, Kieran Kissane, Rachid Amallah, Ryan Kelly, Jason Regan, Subs: Derek Maxwell for Amallah, Darren Duggan for Kelly
Tulla Utd A 3-0 Sporting Ennistymon A
Tulla Utd took all 3 points in an entertaining and competitive fixture played at the Cragg on Sunday morning. Tulla dominated the exchanges throughout the first half but were guilty of too many wayward passes and poor finishing. The game seemed to be destined for a draw at half time but despite the fact that Davy O'Brien had his back to goal and standing almost on the end line 20 yards from the Ennistymon post he somehow managed a delightful cross which found the head of Paul Dullaghan standing on the 6 yard line and he scored a great goal right on the stroke of half time.
In the second half Sporting Ennistymon came out all guns blazing and really pressed for an equaliser and were very unlucky when a lob from the side came off the crossbar and the ball was cleared away to safety. The home team recovered its composure and dealt with everything that Ennistymon threw at them. With 20 minutes to go Sporting Ennistymon brought out a fantastic save from Tulla keeper Christy O'Brien. Sporting then committed one additional attacker which left a little more space for Tulla to exploit. Tulla scored 2 goals in quick succession in the 78th and 80th minutes courtesy of Colin Nelson and Davy O'Brien. Nelson won his ball on the wing, cut inside the defender and shot low to the back of the net. O'Brien won the ball in the middle of the park, evaded a tackle, ran in to the box and passed a lovely right footed shot from the edge of the box to the back of the Ennistymon net. The scoreline was a little harsh on a tough and resilient Sporting Ennistymon. It was a good all round performance from Tulla which keeps them in touch with the leading group in the Premier league.
Tulla Utd: Christy O'Brien, Paul Dullaghan, Tommy McKeown, Daragh Corry, Eoin Whelan, Davy O'Brien, Colin Nelson, Johnny O'Brien, Aaron Lane, Daire Hannon, Sunny Jay Subs: Sebastiao da Silva for Lane, Mark Mitchell for Hannon
Sporting Ennistymon: Richard Leigh, Joseph Gallagher, Thomas McConigley, Michael McConigley, Michael O'Dwyer, Michael Leigh, Thomas Kinch, Ciaren Monoghan, Jamesy McConigley, Sean McConigley, Cathal McConigley Subs: Mattie Kinch, John McInerney
Selprint Second Division
Coole FC 2-1 Rhine Rovers
Coole kept alive their promotion hopes with victory over Rhine Rovers in tough weather conditions at Gort on Sunday morning. Coole took the lead midway through the half as good build up play resulted in Jason Grealish finding Dave Cahill with a pass and he fired the ball to the roof of the net from the edge of the box. Both teams had half chances after that but the score remained 1-0 at the break.
The second half was much of the same but with 30 minutes remaining a Coole player was sent off for a second yellow card and it gave Rhine Rovers a lift. Rhine had 2 chances to level it but for some great goalkeeping by Arek Mamala as he kept Coole in front. With 20 minutes to go Coole broke on the counter attack and a Grealish pass again found Cahill and he broke free and placed it into the corner of the net from the advancing Rhine keeper. Rhine got themselves a life line in the closing stages after a ball across the box was not cleared by Coole and Kevin Johnston pounced at the back post to score. Rhine tried hard to force an equalizer but Coole held out for a valuable 3 points and a win which moves them up to second in the table with 6 games left.
Coole FC: Arek Mamala, Beano, Noele Glynn, Enda Craddock, Keiran Burke, James Cosgrove, Fergus Tuohy, Darragh Reilly, Dave Cahill, Kaelen Higgins, Jason Grealish Sub: Seamus Simons
Sunday 21st February 2016
Munster Junior Cup Round 4
Newmarket Celtic A 6-0 Ringmahon Rangers B
Prego Menswear Clare Cup Round 1
Tulla Utd B P-P St Pats
Prego Menswear Clare Cup Round 2
Kilkishen Celtic P-P Inch Crusaders
Hermitage 0-1 Connolly Celtic
Manus Celtic 0-2 Turnpike Rvs
Avenue Utd B P-P Kildysart Celtic
Ennis Town A P-P Sporting Ennistymon B
Maloney Garden Machinery Premier Division
Moher Celtic P-P Avenue Utd
Corofin Harps 1-4 Shannon Olympic
Tulla Utd 3-0 Sporting Ennistymon
Lets Bet Sports Bookmakers First Division
Kilrush Rangers P-P Lifford
Mountshannon Celtic P-P Burren Utd
Newmarket Celtic B P-P Bridge Celtic
Selprint Second Division
Coole FC 2-1 Rhine Rvs
Bunratty/Cratloe P-P West Clare FC
Suttons Lighting Third Division
Shannon Town B P-P Kilmaley Fern Celtic
Shannon Olympic B P-P Corofin Harps B
Saturday 20th February 2016
Munster Junior Cup Round 5
Killarney Celtic 1-0 Shannon Town (AET)
Selprint Youths League
Ennis Town 1-3 Lifford
Avenue Utd v Newmarket Celtic
Tulla Utd P-P Shannon Town
Jim Casey Tophies U17 League
St Pats P-P Sporting Ennistymon
FIXTURES
Wednesday 24th February 2016
Hugh Kelly Premier Division Cup
County Grounds, Doora 6:45pm Rob Hennessey
Avenue Utd v Ennis Town
Selprint Youths League
Cragg: Tulla Utd v Shannon Town 7:30pm Julian Sandford
Saturday 27th February 2016
Jim Casey Trophies U17 League
Group A
Roslevan: Avenue Utd v Lifford 11am Niall Quinn
Cragg: Tulla Utd v Shannon Town 11am Lukasz Baranowski
Group B
Bunratty: Bridge Utd v Newmarket Celtic 11am John Guerin
Selprint Youths League
Venue TBC: Sporting Ennistymon v Coole FC 11am Sean Kenneally
Sunday 28th February 2016
Munster Junior Cup Round 4
Cork Eagles v Newmarket Celtic B 2pm
Munster Junior Cup Round 5
Mc Donagh Pk: Newmarket Celtic A v Ballingary 2pm
James Ferns(ref), Julian Sandford, Terry Kennedy
Prego Menswear Clare Cup Round 1
Kilmihil: St Pats v Tulla Utd B 2pm Michael Talty
Prego Menswear Clare Cup Round 2
Roslevan: Avenue Utd B v Kildysart Celtic 10.30am Terry Kennedy
Lees Road: Ennis Town A v Sporting Ennistymon B 11am Martin O'Brien
Lees Road: Inch Crusaders v Kilkishen Celtic 2pm Flan Sheedy
Maloney Garden Machinery Premier Division
Cragg: Tulla Utd v Corofin Harps 2pm Rob Hennessy
Lahinch: Sporting Ennistymon v Moher Celtic 11am Dave McCarthy
Lets Bet Sports Bookmakers First Division
Bridgetown: Bridge Celtic v Shannon Town 11am Pa Gleeson
LIT Astro: Rineanna Rvs v Connolly Celtic 11am Shane Hayes
Scarriff: Mountshannon Celtic v Burren Utd 10.30am Julian Sandford
Cassidy Pk: Lifford v Kilrush Rangers 10.30am Michael Rock
Selprint Second Division
Lees Rd: Turnpike Rvs v Bridge Utd B 10.30am Mark Rellis
Gort: Coole FC v Ennis Town B 2:30pm Frank Coote
Kilkrush: West Clare FC v Manus Celtic 11am Paul Hickey
Suttons Lighting Third Division
Lynch Pk: Shannon Town B v Kilmaley Fern Celtic 11am John Corry
Olympic Pk: Shannon Olympic B v Corofin Harps B 11am Brian Punch
Wednesday 2nd March 2016
Maloney Garden Machinery Premier Division
County Grounds , Doora 6:45pm Mark Rellis
Newmarket Celtic v Shannon Olympic
Note: All results to be with Donal Kirby on 085-1765828 immediately after games otherwise a €40 fine will be incurred.
Note: If home pitch is closed home team must find an alternative pitch or travel to away teams ground