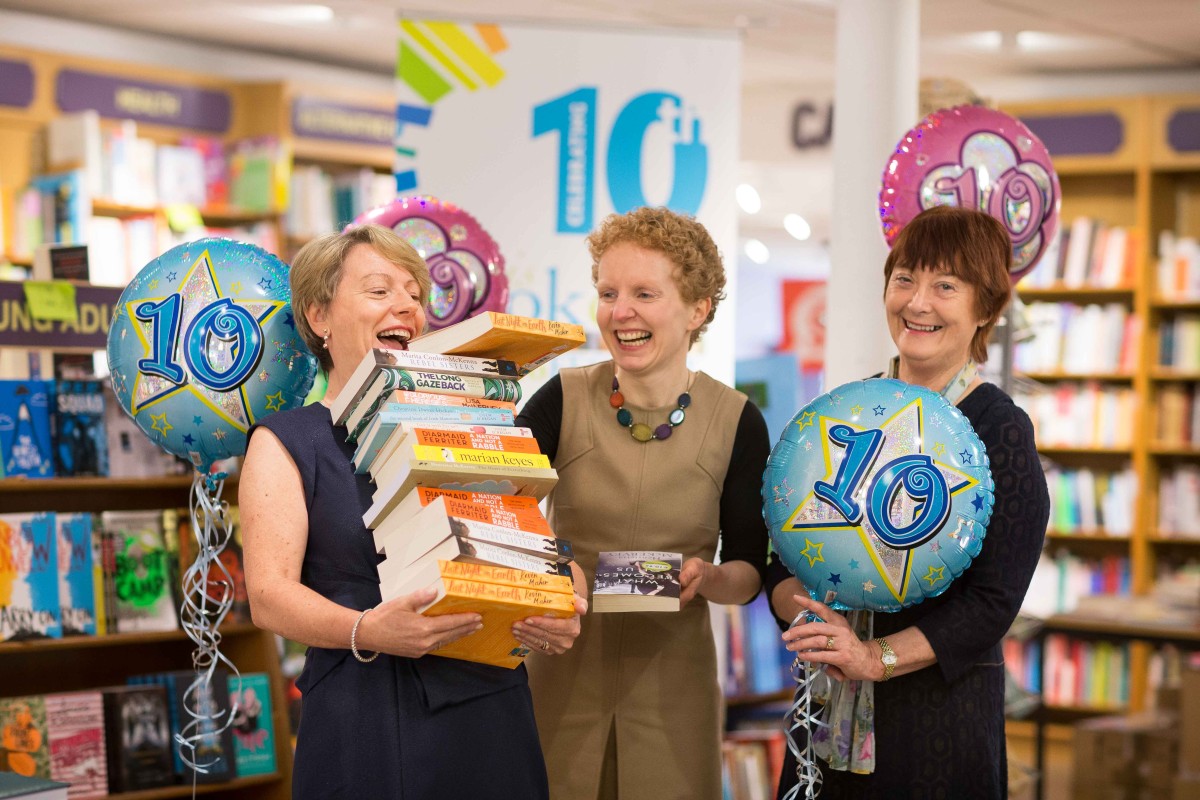 Some of the biggest writers in Ireland and beyond will light up the tenth Ennis Book Club Festival next month.
The annual Ennis Book Club Festival is back with its unique mix of readings, discussion, debates, comedy and chat in one of Ireland's friendliest towns. From 4th – 6th March 2016, the Ennis Book Club Festival will celebrate 10 years of loving books with a very special weekend of literary, musical and poetic treats, all preceded, for the first time, by a special programme for younger readers.
Poet and playwright, Lemn Sissay along with former BBC Chief News Correspondent Kate Adie will take to the main stage in glór on Saturday evening. Lemn was the first poet commissioned to write for the London Olympics and has worked with, amongst others, Jarvis Cocker and KT Tunstall. Kate Adie was one of the first British women sending despatches from danger zones around the world. She has covered the Gulf War, and events in former Yugoslavia, Armenia, Albania, Rwanda and China. Her first book, The Kindness of Strangers, an account of her work as a reporter and how she came to undertake it, remained on the Sunday Times best seller list for 37 weeks.
In a celebration of all things foodie, the Happy Pear pair, David and Stephen Flynn who have inspired a healthy food revolution, will appear on Saturday 5th to share recipe demos, stories and above all, their utterly contagious passion for all things healthy. Senator Ivana Bacik is the latest to confirm her attendance, and will participate in the Book Festival's Do it Like a Woman on Sunday 06 March.
The festival has this time introduced books for everyone, including babies, with the inaugural Léamh Festival, a special programme catering for younger readers, and featuring Monkeyshine Theatre with The Magic Bookshop, Marita Conlon-McKenna reading from her new novel, Rebel Sisters, Ridiculous by The Ark, featuring work from Roald Dahl, Lewis Carroll, James Joyce and Spike Milligan and Book for Babies with Sara Keating.
In the company of some of Ireland's finest writers the Festival celebrates the literary gem that is the short story, and given the weekend that's in it, will look at how Mothers and Fathers are celebrated in Irish writing. The ways in which revolutionary women, past and present, shaped and continue to shape our world are considered throughout, and with walking tours, exhibitions, a special 10th birthday Ennis Book Club Festival supper, cabaret and a festival club, this readers' festival is fast becoming a highlight on Ireland's festival calendar.
On Friday 4th, Dr. Anne Byrne, NUIG, will give a fascinating insight into the early letters of Nancy Nolan, Dublin housewife and fan of author Virginia Woolf, to Virginia's husband Leonard Woolf (1943-1944). A sneak preview of two new Penguin Debut writers follows, as Vanessa Ronan and Kit de Waal discuss The Last Days of Summer and My Name is Leon respectively. Fiona Looney will host a discussion with novelist, columnist and hugely entertaining panellist, Marian Keyes, to officially welcome everyone to the 2016 Ennis Book Club Festival. And, rounding off the opening night is The Singing Café – Songs from the works of James Joyce, where Darina Gallagher and Sinéad Murphy will recreate the 'café chantant' or 'singing cafe' from Joyce's short story Araby in Dubliners.
Saturday's entertaining and inspiring line-up includes the ever popular Books 'n' Buns, followed by Diarmaid Ferriter and Catríona Crowe engaging in some literary jousting on the subject of 10 Books That You Should Read. Diarmaid Ferriter will talk about his recent publication A Nation and not a Rabble and he will discuss 1916, marking the centenary year. On foot of her Best Irish Published Book of the Year Award, for The Long Gaze Back: An Anthology of Irish Women Writers, Sinéad Gleeson will explore the art of the short story in the company of Christine Dwyer Hickey, Siobhán Mannion and Lisa McInerney.
Other Saturday highlights include a reading of their recent work by poets Doireann Ni Ghríofa and Leanne O'Sullivan, accompanied by The Vanbrugh Quartet performing the Smetana autobiographical concerto, From My Life. Cork based Conal Creedon visits for the first time while Cormac James and Kevin Maher will talk about fathers in their own writing and famous father figures in the literature that has influenced them. First-time novelist Henrietta McKervey will discuss her road to becoming a full-time writer and her critically acclaimed first novel What Becomes of Us.
The Sunday Symposium takes Do it Like a Woman! as its rallying call. In the chair will be Catríona Crowe, with Susan McKay, Caroline Criado-Perez and Micheline Sheehy Skeffington. Theirs will be an exploration of revolutionary women – both past and present – and the change that has been effected by them.
It being Mother's Day, the razor sharp Colm O'Regan will talk about the Irish Mammy during a lunchtime session and bring the 10th annual Ennis Book Club Festival to a memorable close
With comedy, walking tours, exhibitions, food, a special 10th birthday Ennis Book Club Festival supper, cabaret and a festival club, in the company of some of Ireland's finest writers this readers' festival is fast becoming a highlight on Ireland's festival calendar.
The complete Ennis Book Club Festival programme is available on their website and all events are now on sale at glór box office, with some terrific packages available. Early booking advised. Contact 065-6843103 to book your package today.