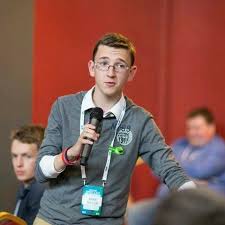 Young Fine Gael is calling on the Taoiseach Enda Kenny to hold the General Election on a Friday to ensure students are not prevented from voting.
The youth organisation believes that if the Election takes place on a Friday it could see the highest turnout rate of young voters ever in a General Election.
Following speculation that the election may be held on a Thursday, Young Fine Gael strongly believes that having the election on a Friday will cater for students or for those working away from home.
Clare YFG Secretary, Gerry Gregan remarked. "Last year, the marriage equality referendum gave precedent to a youth, particularly student turnout. The next available opportunity this demographic have to vote must build on that precedent."
Mike Taylor, Clare YFG Chairman reiterated Gregan's sentiments. "It is tough enough to empower young people to get out and vote without putting barriers like a Thursday election in front of them. We in Young Fine Gael are constantly focusing on the political empowerment of young people.
He continued "I firmly believe that a Thursday election would be totally counterproductive to the hundreds of students who registered to vote last May. I hope the Taoiseach considers the views of all people and organisations who are voicing their unhappiness with a Thursday election."