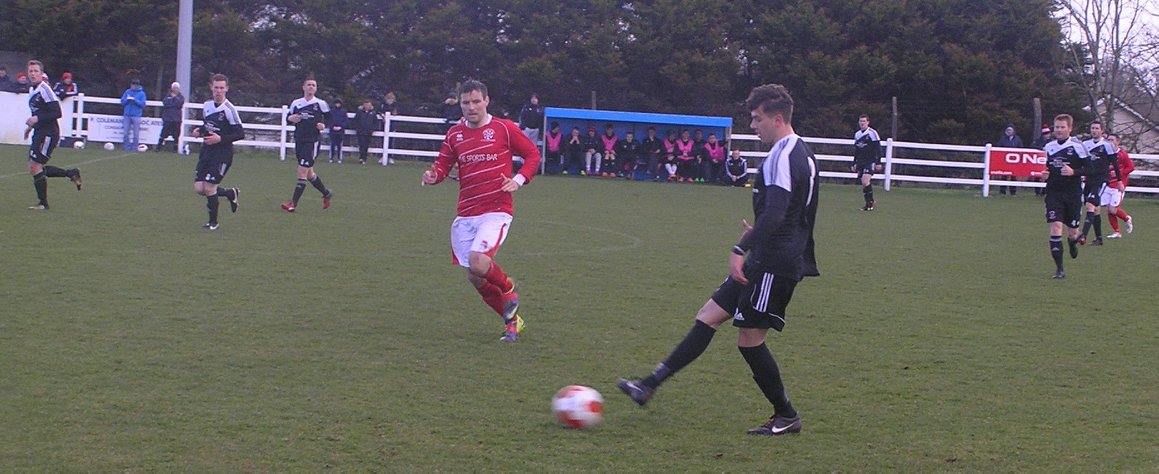 Oliver Fitzpatrick reviews the weekend action in the Clare District Soccer League.
Munster League Champions Trophy Final
Newmarket Celtic 1-2 Janesboro
 
Janesboro won the Munster League Champions Trophy after getting the better of Newmarket Celtic in an entertaining match at the Clare County Grounds on Sunday. This was a game of many chances and plenty of drama with the result in doubt right to the final whistle.
The first chance of the match fell to Thomas Clarke on 4 minutes when he headed narrowly wide. A good tackle in the box from Eoin O'Brien on 16 minutes prevented Mike Hogan from getting a shot on goal after he had made a good run through the middle. Newmarket's first effort on target came from a Darren Cullinan free kick on 19 minutes. Good link up play from David McCarthy and Eoin Hayes on the edge of the box created some space for Hayes on 23 minutes and he finished well to the right corner with a great strike to put Newmarket in front. Hogan threatened again for Janesboro on 31 minutes and this time Mark Donlon made a good block and clearance. Colin Smyth went close for Newmarket on 33 minutes with a header from a Cullinan cross that narrowly missed the target. Janesboro drew level on 36 minutes with a great strike from Shane Clarke from a free kick from 25 yards. Another good header from Smyth on 43 minutes was denied by a deflection into the side net. The last chance of the half fell to Hayes who struck a good effort from the edge of the box that drifted wide of the target at the last second as a good first half of football came to an end with everything to play for in the second half.
Michael Crosby had the first effort of the second half with a shot on 50 minutes that was off target. Janesboro went close on 52 minutes after Clarke and John Tierney linked up well and Niall Quinn had to make a good save from a Tierney shot. Clarke went close with a header on 54 minutes as Janesboro were starting to put Newmarket under a lot of pressure. Janesboro hit the front on 57 minutes after a long clearance from the back fell nicely to Aled Harken on the edge of the box and he fired home a great strike to the top left corner. Some slack defending from Newmarket on 66 minutes gave Arron Noonan a chance but Quinn denied him with a great save to keep Newmarket in the contest. A good run and cross from Tierney on 68 minutes created a chance for Clarke at the back post but he was denied by a good tackle from David O'Grady. Tierney went close with a shot from the edge of the box that narrowly missed the target on 71 minutes. Newmarket had a great chance to draw level on 75 minutes when Hayes got clear on goal but he was denied by a great save from Stephen Walsh. Hogan had another good effort saved by Quinn on 86 minutes. The final chance of the game came from David McCarthy on 90 minutes who hit a great strike from 25 yards that had Walsh beaten but agonisingly for the Clare side went the wrong side of the post. Newmarket kept the pressure on to the final whistle and when it sounded Janesboro celebrated a deserved victory on the day.
Newmarket Celtic: Niall Quinn, David O'Grady, Darren Cullinan, Mark Donlon, Paddy Purcell, Eoin Hayes, Colin Smyth, Michael Crosby, Eoin O'Brien, David McCarthy, Ronan McCormack. Subs: Ian Collins for McCormack, Alan Brigdale for Crosby
 
Janesboro: Stephen Walsh, John Boyle, Lee O'Mara, Thomas Clarke, Aidan Hurley, Aled Harken, Mike Hogan, Stephen Bradley, Shane Clarke, John Tierney, Arron Noonan. Sub: Shane Waters for Noonan
Munster Youths Cup Quarter-Final
Coole FC 1-2 Villa FC
Coole's great run in the Munster Youths Cup is over but they came very close to causing a big upset against favourites for the title Villa from Waterford at Gort on Saturday. Villa are one of the top clubs in Munster and Irish youths soccer with players who are present in the current Ireland youths squad. In a game played in difficult wet and windy conditions it was testament to both sides that they tried to play football and there wasn't a bad tackle in the match despite the weather. Villa had more of the ball at the start but Coole dealt with all threats. Alan Naughton in goal was safe hands as usual. Daniel Gillespie, Jake Farrell, Sean Roche and Evan Kelly defended resolutely and sniffed out any danger. Coole got into with Eddie Madden influential in midfield winning tackles tigerishly. Ethan Cunniffe was excellent up front linking very well with Joe Copley and that combination led to the opening goal of the game for Coole with Copley firing home a great strike from the right side. Ronan Joyce and Conal Finn on the wings were keeping their men busy and Simon O Sullivan was reading the game well as Coole went in at the break 1-0 in front. Villa played with the elements in the second half and levelled with a goal from a corner which was poked home from 6 yards. Coole went close again from a Copley free kick. Villa got winner on 75 minutes with a brilliant volley from the edge of the box. Try as they might Coole couldn't level as Villa held on for the win and a place in the semi-final.
Coole FC: Alan Naughton, Daniel Gillespie, Jake Farrell, Sean Roche, Evan Kelly, Ronan Joyce, Conal Finn, Eddie Madden, Simon O'Sullivan, Ethan Cunniffe, Joe Copley. Subs: Declan Moran, Matthew Kiernan, Colin Finnegan, Adriano Oliveira
Prego Menswear Clare Cup Round 2
Corofin Harps B 1-2 Tulla Utd A
Maloney Garden Machinery Premier Division
Ennis Town A 4-1 Kildysart Celtic
Sporting Ennistymon A 2-2 Avenue Utd A
Ennis Town A 4-1 Kildysart Celtic
Ennis Town continued their recent good form with a deserved win over Kildysart Celtic. Ennis struck as early as the first minute with a fine goal from Joe Collins. However their joy was short lived as Kildysart leveled. Ennis failed to clear from a corner and after a scramble kildysart found the Ennis net. Ennis regained their lead on 10 minutes with a Ritchie Neylon headed goal. Just before half time Joe Collins got his second and Ennis's third with a fine strike from 25 yards that flew past the despairing hands of the Kildysart keeper and nestled in the bottom left hand corner of the goal. Ennis Town started the second half as they finished the first and were dominating possession throughout but worsening underfoot conditions made it hard for free flowing football. On 63 minutes Joe Collins got his hat trick with a fine strike. Kildysart battled throughout and defended well denying Ennis further clear cut chances.
Ennis Town A: Ethan Kelly, John Maher, Shane O Connor, Mikey Dinan, Gerry Dullaghan, Ritchie Neylon, Eoin Keenan, Daryl Eade, Stephen Jordan, Adrian Walsh,Joe Collins. Subs: Sean Collins, Shane Daly, Aaron Twist
Sporting Ennistymon A 2-2 Avenue Utd A
Sporting Ennistymon and Avenue Utd played out an entertaining draw under tough weather conditions at Lahinch on Sunday morning with Avenue scoring late to earn a share of the points. The weather was so bad in the first half that referee Trevor White took the teams off the pitch for 5 minutes at one stage. Sporting had numerous chances early on but it was Avenue who took the lead courtesy of a good strike from Ronan Kerin. Thirty three minutes gone and Sporting equalised. Liam Keane made use of the strong cross field wind and curled a dipping 30 yard strike past James Tierney in the Avenue goal. Cathal Mc Conigley sneaked in behind the Avenue backline to poke home from close range to put Sporting in front. Both sides had chances in the second half with Avenue hitting the crossbar and Sporting Ennistymon coming close with a shot from Joseph Gallagher's that was cleared off the line. With time almost up Scott Hennessy struck in the 93rd minute beating the off side trap and cooly rounding Leigh to hammer home and claim a point. Both sides can feel hard done by not claiming all three points but it was a good sporting game ruined by the weather.
Sporting Ennistymon: Richard Leigh, Patrick O'Dwyer, Thomas McConigley, Michael O'Dwyer, Ciaren Monoghan, Michael McConigley, Johnny O'Gorman, Michael Leigh, Thomas Kinch, Liam Keane, Cathal McConigley. Subs: Jamesy McConigley for Thomas McConigley, Joseph Gallagher for Keane, Shane Kearney for Cathal McConigley
Avenue Utd: James Tierney, David Herlihy, David Russel, Colm Treacy, Michael Junaid, David Smyth, Ethan Cronin, Mark Roche, Pa McDaid, Scott Hennessy, Ronan Kerin. Subs: Barry Nugent for Kerin, Gary Flynn for McDaid
Lets Bet Sports Bookmakers First Division
Kilkishen Celtic 3-5 Kilrush Rangers
Shannon Town A 1-1 Hermitage
Avenue Utd B 1-0 Rineanna Rvs
Kilkishen Celtic 3-5 Kilrush Rangers
A hat-trick from Tommy Lillis and further goals by Trevor Clancy and Matthew Maloney ensured Kilrush took all 3 points on a wet and windy day away from home in Kilkishen.
Shannon Town A 1-1 Hermitage
Clinton Keane put Hermitage in front but Shannon Town battled back for a share of the points as Hermitage became the first team in the division to take points off the Shannon side this season.
Avenue Utd B 1-0 Rineanna Rvs
Sean Doherty scored the only goal of the game as Avenue earned a good victory at Roslevan on Sunday.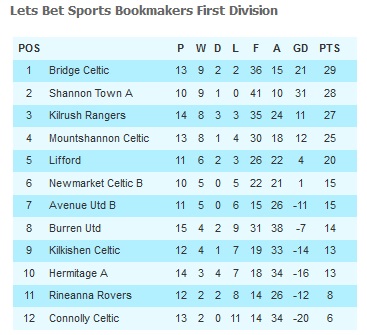 Selprint Second Division
Coole FC 1-2 Bridge Utd B
Bunratty/Cratloe 4-3 West Clare FC
Coole FC 1-2 Bridge Utd B
Bridge Utd B took a giant step towards winning the second division title after scoring late to clinch victory over Coole FC in this top of the table clash at Gort on Sunday. The game was played in good spirit but the tough conditions of wind and rain made it hard for both teams to play ball at times. Coole made the dream start and were 1 up after 2 minutes after good link up play ended with a Jason Grealish cross that was connected with by Kaelen Higgins but his shot was blocked and the rebound fell to Darragh Reilly who found the bottom corner with a low hard shot. The Bridge responded very well with a brilliantly worked goal by Kieran Quinlan who turned the Coole centre half inside out to slot it into the bottom right hand corner on 12 minutes. It remained 1-1 at the break. The second half saw Coole play against a strong wind and Bridge had a lot of possession in their half. With time almost up Coole had a chance to go back in front when Dave Cahill had a shot stopped by a good save from Barry Deasy and then the ball fell to John Cosgrove just outside the 6 yard box but his effort was again saved by Deasy. It looked like this was going to be a draw but one final attack for Bridge on 93 minutes saw 15 year old super sub Jordan Downes one on one with Coole keeper Arek Mamala and he finished well into the corner to break Coole hearts and spark great celebrations for the Bridge players and supporters.
Coole FC: Arek Mamala, John Regan, Noele Gylnn, Enda Craddock, Kieran Burke, Darragh Reilly, Kaelen Higgins, James Cosgrove, Dave Cahill, Jason Grealish, Kyle McCarthy. Sub: John Cosgrove
Bridge Utd B: Barry Deasy, Jon Hayes, Don Devanney, Billy Maxwell, Mark Hehir, Dan Larkin, Alan McAuley, Jamie O'Gorman, Eric Carr, Kieran Quinlan, John Keogh. Subs: Eoin Gough for Hayes, Alan Mulready for O'Gorman, Jordan Downes for Keogh
Suttons Lighting Third Division
Shannon Town B 3-2 Shannon Olympic B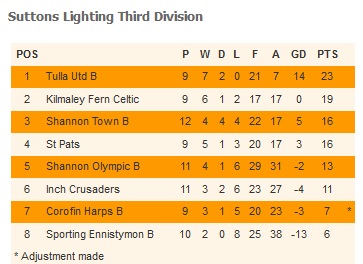 Saturday 26th March 2016
Munster Youths Cup Quarter-Final
Coole FC 1-2 Villa FC
Jim Casey Trophies U17 League
Group B
St Pats 6-3 Sporting Ennistymon
Selprint Youths League
Lifford 0-1 Avenue Utd
Tulla Utd 3-5 Sporting Ennistymon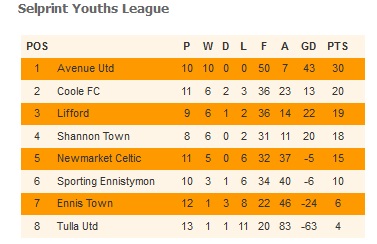 Treacys West County Hotel Clare & District Soccer League Fixtures
Wednesday 30th March 2016
Lets Bet Sports Bookmakers First Division
McDonagh Pk: Newmarket Celtic B v Hermitage 6:15pm John Grier
Scarriff: Mountshannon Celtic v Kilkishen Celtic 6:15pm Mark Rellis
Roslevan: Avenue Utd B v Connolly Celtic 6:15pm Pa Gleeson
Lynch Park: Shannon Town A v Rineanna Rovers 6.15pm Shane Hayes
Thursday 31st March 2016
Selprint Second Division
Bunratty: Bridge Utd B v Manus Celtic 6:15pm Dave McCarthy
Saturday 2nd April 2016
Jim Casey Trophies U17 League
Group A
Cragg: Tulla Utd v Shannon Town 2pm Niall Quinn
Group B
Lahinch: Sporting Ennistymon v Newmarket Celtic 2pm John Guerin
FAI Inter League Youths Cup Semi Final
Corinthians Pk: Cork v Clare 3pm
Sunday 3rd April 2016
FAI Oscar Traynor Trophy Semi Final
County Grounds, Doora 1pm (Cork Officals)
Clare v Donegal
Prego Menswear Clare Cup Round 3
Corofin: Corofin Harps A v Tulla Utd B 10:30am Michael Rock
Lees Road: Turnpike Rvs v Rineanna Rvs 10:30am Terry Kennedy
Lees Road: Inch Crusaders v Lifford 10:30am Frank Coote
Maloney Garden Machinery Premier Division
Lahinch: Moher Celtic v Kildysart Celtic 10:30am Shane Hayes
Lets Bet Sports Bookmakers First Division
Bridgetown: Bridge Celtic v Kirush Rangers 10:30am Julian Sandford
Kilmaley School: Connolly Celtic v Mountshannon Celtic 10:30am James Ferns
Fairgreen: Hermitage v Avenue Utd B 10:30am Pa Gleeson
Lynch Pk: Shannon Town v Kilkishen Celtic 10:30am Flan Sheedy
McDonagh Pk: Newmarket Celtic B v Burren Utd 10:30am Mark Rellis
Selprint Second Division
Kilrush: West Clare FC v Bridge Utd B 10:30am Paul Hickey
Suttons Lighting Third Division
Olympic Pk: Shannon Olympic B v Corofin Harps B 10:30am John Corry
Corrib Drive: Shannon Town B v Kilmaley Fern Celtic 10:30am Sean Kenneally
Wednesday 6th April 2016
Selprint Youths League
Cragg: Tulla Utd v Newmarket Celtic 6:20pm Sean Kenneally
Gort: Coole FC v Shannon Town 6:20pm Frank Coote
Roslevan: Avenue Utd v Sporting Ennistymon 6:20pm John Corry
Hugh Kelly Premier Division Cup Semi-Final
County Grounds, Doora 6:45pm Terry Kennedy
Avenue Utd v Tulla Utd
Maloney Garden Machinery Premier Division
McDonagh Pk: Newmarket Celtic v Shannon Olympic 6:20pm Pa Gleeson
Lahinch: Sporting Ennistymon v Ennis Town 6:20pm Mark Rellis
Lets Bet Sports Bookmakers First Division
Fairgreen: Hermitage v Lifford 6:20pm Shane Hayes
Kilkishen: Kilkishen Celtic v Connolly Celtic 6:20pm Julian Sandford
Lynch Pk: Shannon Town v Avenue Utd B 6:20pm Martin OBrien
McDonagh Pk: Newmarket Celtic B v Bridge Celtic 6:20pm James Ferns
Kilrush: Kilrush Rangers v Rineanna Rvs 6:30pm Paul Hickey
Selprint Second Division
Lees Road: Turnpike Rvs v Manus Celtic 6:20pm John Grier
Thursday 7th April 2016
Suttons Lighting Third Division
Olympic Pk: Shannon Olympic B v Tulla Utd B 6:20pm Flan Sheedy
Kilmihil: St Pats v Corofin Harps B 6:20pm Michael Talty
Note: All results to be with Donal Kirby on 085-1765828 immediately after games otherwise a €40 fine will be incurred.