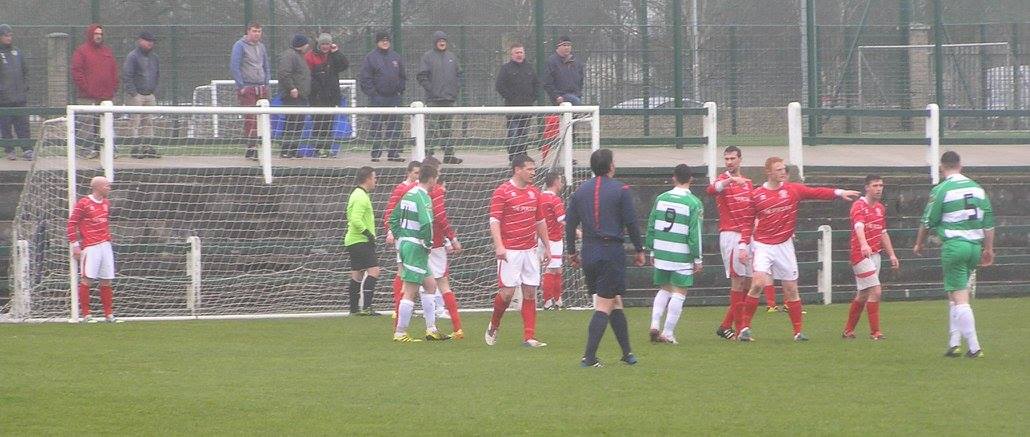 Munster Junior Cup Quarter-Final
Pike Rovers 2-4 Newmarket Celtic (AET)
This was billed as one of the top games in the country at the weekend and the large crowd who were lucky enough to be in attendance were not disappointed as Clare champions Newmarket Celtic qualified for the semi-final of the Munster Junior Cup after a thrilling victory over Limerick side Pike Rovers on Sunday after extra time.
There was little between the teams throughout the first half with the best chances of the half coming from set pieces. Newmarket started well and a free kick on 5 minutes from Eoin Hayes found Paddy Purcell at the back and his well struck header rebounded off the post and fell to Stephen Kelly whose shot went over the bar. Pike first shot on goal arrived on 25 minutes when Eoin Hanrahan's well struck free kick was saved by Niall Quinn in the Newmarket goal. Hanrahan went close again with another free kick on 27 minutes that narrowly went wide of the left post. Hanrahan had a good chance to open the scoring on 31 minutes after getting on the end of a good cross from John Connery but he was denied by a fine tackle in the box from David O'Grady. Hanrahan continued to caused Newmarket problems and won a corner on 34 minutes after linking up well with Connery again. Wayne O'Donovan's well delivered corner was met in the air by Sean O'Callaghan whose header was saved by Quinn but he made no mistake from the rebound to open the scoring. Colin Smyth got some space outside the Pike box on 42 minutes but his effort went wide of the target. Pike got one last chance to stretch their lead before half time when another well delivered corner from O'Donovan was headed wide by Colin Daly.
Newmarket got a great start to the second half when David McCarthy got some space outside the box on 50 minutes and struck a sweet effort low to the back of the Pike net and it was game on again. A well delivered free kick from Eoin Hayes on 54 minutes was well controlled in the box by Paddy Purcell but as he was about to shoot the referee blew the whistle for a free out. Pike went very close to going back in front on 56 minutes when a well struck free kick from O'Donovan rebounded off the post and was cleared by Stephen Kelly. Alan Brigdale had a good chance to put Newmarket in front on 58 minutes when he got through on goal but a last ditch tackle from Eddie O'Donovan stopped him getting his shot on goal. Jason Mullins was lucky to escape with a yellow card on 61 minutes after an off the ball altercation with David McCarthy. A well delivered free kick from Hanrahan on 65 minutes was blocked and cleared by Alan Kelly who was excellent throughout. Newmarket suffered a blow on 68 minutes when Seamus Lawlor was shown a red card for an off the ball incident. It looked like Pike would now have the ascendancy but from here to the finish Newmarket were the better team and deservedly went in front on 81 minutes when Eoin Hayes got on the end of a good through ball from Eoin O'Brien and turned inside Pa Mullins before dispatching a well struck low effort to the left corner. Pike now had to push for an equalizer and their cause was not helped on 86 minutes when Sean O'Callaghan was dismissed after picking up a second yellow card for a late tackle. Pike got one last chance deep into injury time on 94 minutes when they were awarded a free kick. Keeper Gary Neville took the kick which was pushed out to the right by Quinn to the unmarked Seamus O'Carroll who dispatched to the back of the Newmarket net to spark great celebrations for the home side and send the game to extra time.
This was a cruel blow to Newmarket so late in the game but they took it on the chin and immediately set about attacking the home side in extra time. Good pressure from Eoin O'Brien on 96 minutes was rewarded when Hanrahan sliced his attempted clearance over Neville into his own net and the visitors were back in front. Pike had a chance to draw level right on half time but this time O'Carroll missed the target from a Hanrahan corner. O'Brien had a good chance to double the Newmarket advantage right after the resumption but was denied by a good tackle from Mullins at the expense of a corner. Pike's relief was short lived as a well delivered corner was met at the back post by Ian Collins who made no mistake with a powerful header. There was no way back for Pike now as Newmarket saw out the closing minutes for a deserved victory on the day.
Pike Rovers: Gary Neville, Eddie O'Donovan, Wayne O'Donovan, Pa Mullins, Sean O'Callaghan, Eoin Hanrahan, Jason Mullins, Steven McGann, John Connery, Colin Daly, Seamus O'Carroll Subs: Cian Collins for Eddie O'Donovan
Newmarket Celtic: Niall Quinn, David O'Grady, Darren Cullinan, Stephen Kelly, Paddy Purcell, Eoin Hayes, Colin Smyth, Michael Crosby, Alan Kelly, David McCarthy, Alan Brigdale Subs: Seamus Lawlor for Crosby, Eoin O'Brien for Brigdale, Ian Collins for McCarthy (inj)
Inter League Youths Cup Quarter-Final
Waterford 0-0 Clare
Clare and Waterford will have to do it all over again after this encounter was blown up early due to floodlight failure at Ozier Park in Waterford on Saturday.
Clare were the better team throughout and were denied time after time by the outstanding Waterford keeper Craig Dunphy. Aidan Kennedy had the first chance of the match on 7 minutes when he turned well on the edge of the box before hitting a powerful effort that brought a great save out of Dunphy in the Waterford goal. Kennedy went close again on 9 minutes but again Dunphy saved his effort. Waterford put Clare under pressure on 11 minutes but first Nzube Okoie blocked an effort from Michael O'Neill and then Patrick McDaid made a good block on a strike from David Walsh.
Ikem Ugwueru got some space outside the box on 13 minutes and hit a good effort from 20 yards that narrowly missed the target. Eoghan Maxwell turned well in the box on 18 minutes and his well struck effort was saved by Dunphy who got down low to turn the shot out for a corner. Good work from Michael Juniad at the back for Clare on 21 minutes stopped Ethan Phelan getting his shot on goal after he had made a good run down the right wing. Ethan McNevin was next to have an effort for Clare on 27 minutes with an effort from outside the box that dipped over Dunphy's crossbar. Waterford had their first shot on target on 30 minutes when Phelan made a good run down the left wing and his shot was tipped over the bar by Jason Tierney. A fine run and shot from Adam Gilbert brought a great save out of Dunphy on 40 minutes.
It was all Clare at this stage and McDaid and Maxwell went close with efforts that missed the target before Maxwell brought another great save out of Dunphy right on the half time whistle. With both sides on the pitch waiting for the second half to start the floodlights would not work and after a delay of 30 minutes the referee called a half to proceedings so the game will have to be replayed with Clare having home advantage.
Waterford: Craig Dunphy, Eoghan Rea, Corey Gallagher, Conor Dunphy, Alex Browne, Seanie Martin, Ethan Phelan, Ben Breslin, Micheal O'Neill, Daniel Ogundele, David Walsh
Clare: James Tierney (Avenue Utd), Billy Clancy (Kilrush), Michael Juniad (Avenue Utd), Nzube Okoie (Avenue Utd), Jason McIntyre (Shannon Town), Patrick McDaid (Cpt) (Avenue Utd), Ikem Ugwueru (Avenue Utd), Ethan McNevin (Lifford), Aidan Kennedy (Avenue Utd), Eoghan Maxwell (Shannon Town), Adam Gilbert (Newmarket Celtic) Subs: Alan Naughton (Coole FC), Conor Hassett (Bridge Utd), Conor McCarthy (Newmarket Celtic), Sean Murphy (Lifford), Cian Hannon (Shannon Town), Luke Cahill (Shannon Town), Jack Devitt (Lifford), Killian Daly (Avenue Utd), Kingsley Makombe (Avenue Utd), Scott Greaney (Kilrush), Ethan Cronin (Avenue Utd)
Prego Menswear Clare Cup Round 2
Sporting Ennistymon A 5-2 West Clare FC
A hat-trick from Sean McConigley and goals from Ciaran Monaghan and Liam Keane were enough for Sporting Ennistymon A to secure a place in the third round of the cup with Avenue Utd B.
Maloney Garden Machinery Premier Division
Ennis Town A 0-2 Bridge Utd A
Lees Road was the venue for Sunday mornings Premier Division meeting of Bridge United and Ennis Town. In a tight opening quarter it was the visitors who retained the lions share of possession without creating any real clear cut opportunities. Ennis Town, well marshaled by veteran Daryl Eade, remained compact and sought to frustrate their opponents from the outset. Bridge Utd began to probe and their best chance fell to Darragh Fitzgerald who's effort cleared Ethan Kelly's crossbar. Minutes later however, after a neat through ball, Mikey McNamara thundered a cracking effort into the top left hand corner of the hosts net. This seemed to settle a somewhat nervy opening 20 minutes. The scoreline stood at 1-0 at half time. Ennis Town to their credit began the second half with renewed energy and belief, their best chance came from a 30 yard strike from Shane Daniels that Mulready did well to beat away. Eoin Guinan received his marching orders after two bookable offences on the hour mark. In a change of shape, Bridge Utd sprung for a second just moments later, Derek Fahys header looping over the stranded Ennis Town goalkeeper. The closing stages saw Bridge Utd defend resolutely and counter well, missed chances cost them adding to their two goal haul with Kelly, Fahy and Lake all going close. A hard fought game played on a heavy surface extends Bridge Utds lead at the summit of Clare's Premier League.
Bridge Utd: John Mulready, Steven Carroll, Kevin Kelly, Darren Murphy, Eoin Guinan, Robbie Wall, Christy Griffin, Darragh Fitzgerald, Mike McNamara, Johnny Okoro, Brian O'Connor, Subs: Chris Lake for McNamara, Derek Fahy for O'Connor, Pa McMahon for Okoro
Ennis Town A: Ethan Kelly, Darryl Eade, Adrian Walsh, Shane O Connor, Shane Daniels, Gerry Dullaghan, Stephen Jordan, Richie Neylon, Eoin Keenan, Joe Collins, Aaron Landy
Lets Bet Sports Bookmakers First Division
Burren Utd 2-3 Kilrush Rangers
Two goals from Gearoid Lynch and a stike from Matthew Maloney gave Kilrush a good away victory over Burren Utd at Lisdoonvarna on Sunday.
Selprint Second Division
Ennis Town B 0-1 Bridge Utd B
Bridge Utd B went in search of a second victory in Lees Road after last weekends triumph over Turnpike Rovers. Standing in their way were Ennis Town B. A solitary goal from John 'Bazil' Keogh was enough to take all three points back to the Bridge. This win moves Bridge B into second place in the division and three points off Coole FC at the top.
Bridge Utd B: Barry Deasy, Dan Larkin, Alan Mulready, Cathal Kinnane, Donald Devanney, Adrian Whyte, Eric Carr, Mark Hehir, Eoin Gough, Kieran Quinlan, John Keogh Subs: Billy Maxwell for Kinnane, Jamie O'Gorman for Carr, Tom Dineen for Gough
Bunratty Cratloe 2-3 Coole FC
Coole FC went 3 points clear at the top of the table after a hard fought victory over Bunratty Cratloe at Bunratty on Sunday. Coole went in front after 10 minutes after a Kyle McCarthy through ball found Jason Grealish and he composed himself well before firing into the bottom corner. Coole were well on top at this stage and could been more in front but for some fine goalkeeping kept Bunratty in it. With 30 minutes gone Bunratty drew level after a corner to the back post wasn't cleared and a header across goal resulted in a tap in at the front post. The teams went in at half time 1-1. The second half the match really opened up and both teams went for the win. It was Coole who went 2-1 in front after a Darragh Reilly cross found the head of Kyle McCarthy and his glancing header found the net. With 20 minutes to play a mix up in the Coole defence allowed the Bunratty striker in the back and he found the net with a low hard strike. Coole went back in front with 3 minutes left when a Dave Cahill through ball found Grealish and he got in behind the defence to shoot it past the advancing keeper to get the winner and 3 points for Coole.
Coole FC: Arek Mamala, John Regan, Noele Glynn, Ricky Prince, Kieran Burke, James Cosgrove, Fergus Touhy, Darragh Reilly, Dave Cahill, Kyle McCarthy, Jason Grealish
Rhine Rovers 1-4 Turnpike Rovers
There was little between the team in the opening exchanges at Lees Road on Sunday. Turnpike went in front on 25 minutes with a good finish. However Rhine Rovers picked themselves up and pushed on and in the 35th minute were level after a great ball through the middle of the park found Brian Shannon and with a great 30 yard strike he found the left corner of the Turnpike net. Rhine were not happy with that and they pushed on for the last 10 minutes of the first half in search of a lead goal. In the 40th minute Rhine were unlucky not to go in front after Joe O'Loughlin found himself in space and from 25 yards out took aim and beat the keeper but not the cross bar and the ball rebounded back out. In the second half Turnpike pushed on and went back in front on 65th minutes. The game opened up with chances for both sides but then in the 75th minute Turnpike piled the pressure on it and paid off when a great cross was met by the Rhine centre back and turned into his own net 3-1. Five minutes Turnpike wrapped up the victory with a great strike from 30 yards into top right corner. Rhine never gave up and Massimo Coote went close from a Jamie Ivors cross on 85 minutes but was denied by a great save from the Turnpike keeper. Turnpike deserving winners on the day even if the score line was flattering in the end.
Rhine Rovers: Paul Roche, Conor Hanrahan, Leo Duggan, Graham O'Connor, Joe O'Loughlin, Hamid Mahmodi, Jamie Ivors, Brian Shannon, Vadim McEvoy, Radek Makuna, Massimo Coote
Suttons Lighting Third Division
Sporting Ennistymon B 4-2 Shannon Town B
Sporting went in front when Kevin Hehir scored but Shannon hit back to level. Paul Kelly made it 2-1 but Shannon leveled again to make it 2-2 at half time. Sporting went back in front from a penalty early in the second half scored by Evan McNamara. Kevin Hehir wrapped up the victory on 75 minutes with his second of the game. Evan McNamara went close for Sporting in the closing stages with an effort that hit the crossbar.
Sporting Ennistymon: Dylan McGerr, James Keane, Stephen Toomey, Eddie Crowe, Eoin Devereaux, Roma Byrne, Pádraig Flynn, Paul Kelly, Kevin Hehir, Darragh Flynn, Evan McNamara Subs: Tomás Kelly for Crowe, Shane Howard for Keane, Joe McKeown for Kelly
RESULTS
Sunday 6th March 2016
Munster Junior Cup ¼ Final
Pike Rvs 2-4 Newmarket Celtic A (AET)
Prego Menswear Clare Cup Round 1
Tulla Utd A P-P Shannon Town A
Prego Menswear Clare Cup Round 2
Sporting Ennistymon A 5-2 West Clare FC
Maloney Garden Machinery Premier Division
Ennis Town A 0-2 Bridge Utd A
Kildysart Celtic P-P Corofin Harps A
Lets Bet Sports Bookmakers First Division
Hermitage P-P Lifford
Kilkishen Celtic 1-1 Bridge Celtic
Burren Utd 2-3 Kilrush Rangers
Connolly Celtic P-P Mountshannon Celtic
Selprint Second Division
Ennis Town B 0-1 Bridge Utd B
Bunratty/Cratloe 2-3 Coole FC
Rhine Rvs 1-4 Turnpike Rvs
Suttons Lighting Third Division
Shannon Olympic B P-P Tulla Utd B
Corofin Harps B 3-1 St Pats
Kilmaley Fern Celtic P-P Inch Crusaders
Sporting Ennistymon B 4-2 Shannon Town B
Saturday 5th March 2016
Inter League Youths Cup ¼ Final
Waterford 0A0 Clare – Match abandoned at half time due to floodlight failure
Jim Casey Trophies U17 League
Group A
Avenue Utd 2-3 Shannon Town
Group B
Ennis Town 1-3 Sporting Ennistymon
Selprint Youths League
Coole FC 6-2 Tulla Utd
Wednesday 2nd March 2016
Hugh Kelly Premier Division Cup
Shannon Olympic 2-2 Moher Celtic (AET) – Shannon Olympic won 5-4 on penalties
FIXTURES
Tuesday 8th March 2016
Jim Casey Trophies U17 League
Cragg: Tulla Utd v Shannon Town 7:30pm Julian Sandford
Wednesday 9th March 2016
Hugh Kelly Premier Division Cup
County Grounds, Doora 6:45pm Martin Obrien
Tulla Utd v Sporting Ennistymon
Thursday 10th March
Selprint Youths League
Cragg: Tulla Utd v Avenue Utd 7:30pm Shane Hayes
Saturday 12th March 2016
Jim Casey Trophies U17 League
Group A
Cassidy Pk: Lifford v Tulla Utd 2pm Pa Gleeson
Group B
Kilmihil: St Pats v Bridge Utd 2pm Trevor White
Selprint Youths League
Corrib Drive:Shannon Town v Newmarket Celtic 2pm Martin OBrien
Roslevan: Coole FC v Avenue Utd 2pm John Guerin
Sunday 13th March 2016
FAI Junior Cup ¼ Final
McDonagh Pk: Newmarket Celtic v Janesboro (lmk) 2pm
Prego Menswear Clare Cup Round 2
Tiermaclane: Kilmaley Fern Celtic v Tulla Utd B 11am Frank Coote
Maloney Garden Machinery Premier Division
Lahinch: Moher Celtic v Corofin Harps 11am Terry Kennedy
Olympic Pk: Shannon Olympic v Sporting Ennistymon 11am Shane Hayes
College Pitch: Kildysart Celtic v Tulla Utd 11am Mark Rellis
Roslevan:Avenue Utd v Ennis Town 11am Michael Rock
Lets Bet Sports Bookmakers First Division
Kilkishen: Kilkishen Celtic v Lifford 10:30am Flan Sheedy
Scariff: Mountshannon Celtic v Avenue Utd B 11am Julian Sandford
Lisdoon: Burren Utd v Shannon Town 11am Paul Hickey
Kilmaley School: Connolly Celtic v Newmarket Celtic B 10:30am John Grier
Fairgreen: Hermitage v Rineanna Rvs 11am 11am Dave McCarthy
Selprint Second Division
Kilrush: West Clare FC v Coole FC 11am Sean Kenneally
Bunratty: Bridge Utd B v Turnpike Rvs 11am Brian Punch
Lees Road: Rhine Rvs v Manus Celtic 11am John Corry
Suttons Lighting Third Division
Lynch Pk: Shannon Town B v Inch Crusaders 11am Barry McGarry
Wednesday 16th March 2016
Hugh Kelly Premier Division Cup
County Grounds, Doora 6:45pm Shane Hayes
Corofin Harps v Bridge Utd
Note: All results to be with Donal Kirby on 085-1765828 immediately after games otherwise a €40 fine will be incurred.
Note: If home pitch is closed home team must find an alternative pitch or travel to away teams ground.