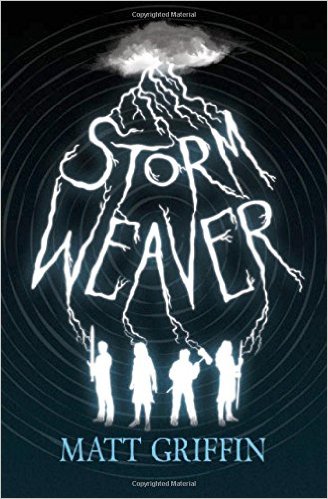 Our book reviewer, Sally Vince, looks at books about Clare or by a Clare-based author. This time Sally reviews Storm Weaver by Matt Griffin.
"The sequel to A Cage of Roots. Descending into the ancient world of Fal, Ayla discovers she can conjure storms. Ayla and her friends travel further from home and deeper into the strange and ancient world of Fal. The chase leads them through a land of ever-deepening magic, populated with characters bizarre and beautiful, wondrous and dangerous. It leads them to the Old Ones, where Ayla's newfound powers are greeted with fear and trepidation. They will meet allies and enemies, old and new, with the lines blurred between friend and foe. Battles spiral into war, and not everyone will fall on the same side…"
Matt Griffin is a writer and illustrator living near Ennis, Co Clare. I loved his first book, A Cage of Roots (reviewed here), and I equally love this sequel. It Is a wonderful fantasy story that continues from where A Cage of Roots left off – with Ayla and her friends Finny, Benvy and Sean going back underground to face more dangers and mighty foes. The teenagers think they are going back to save goblin girls, but find that all is not as it seems and they don't know who they can trust.
It is horrible underground, but not a lot better once they make it back overground. The scary monsters and scary people are vividly described and there are fabulous illustrations – also by Matt Griffin – just in case your imagination isn't showing you the worst of it. There is magic and time travel and six-thousand-year-old men, and a girl who can conjure up storms.
It is aimed at children of ten years and older. It is quite dark and has a fairly high body count, but there is humour in it too. The story shows the power of friendships and loyalty, but also shows how both can be tested. The teenagers are courageous, but also have fears and weaknesses.
The book ends with one battle just over, and the promise of another one about to start. But that's going to be in book three – I CAN'T WAIT!
The tale is set in Ireland (ancient and modern) and is loosely based on Irish mythology, but you don't need to know the history to enjoy the story.
This is a great story – for ten-year-olds, young teenagers and adults who are happy to retreat into a fantasy world.
Available from:
Published by O'Brien Press and available from their website, along with a free teaching guide.
Local and national book shops
Find the author:
Website
Twitter @ACageOfRoots