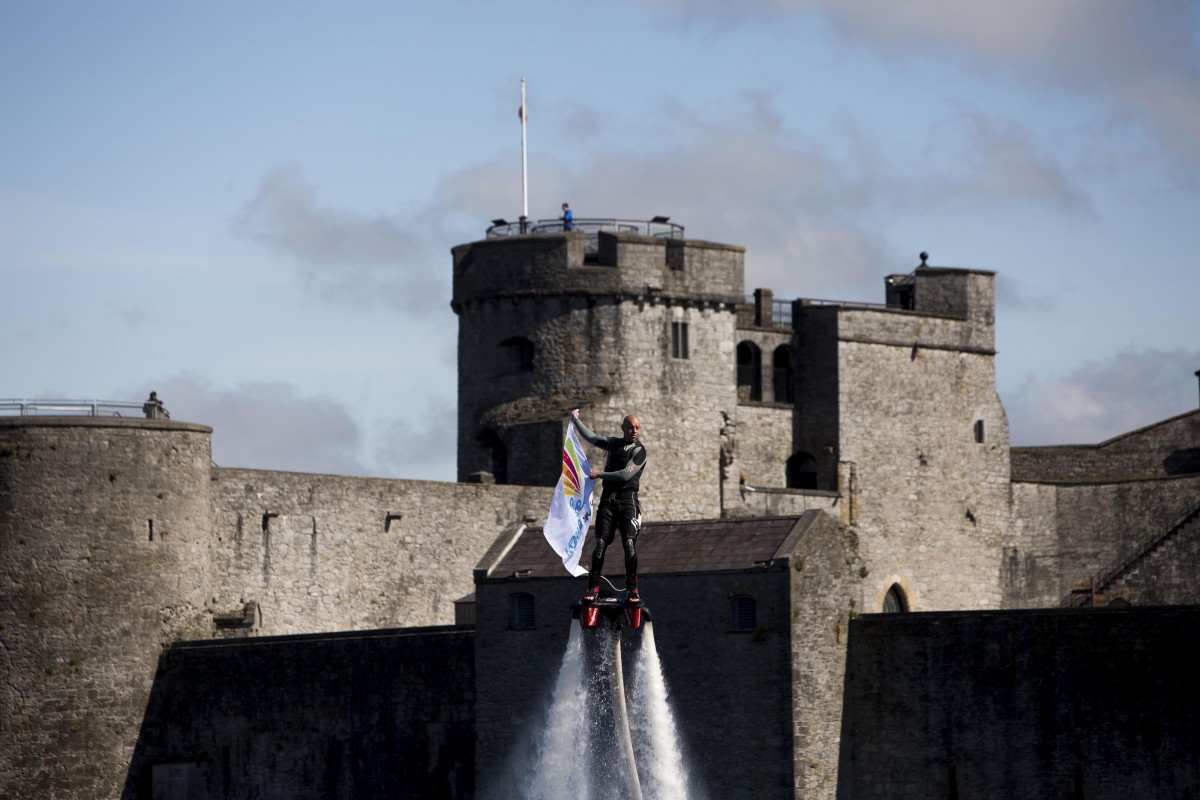 Ireland's favourite May Bank Holiday family festival is underway in Limerick as the city opens its doors to over 40,000 people for Riverfest 2016 – Limerick's hugely popular summer festival.
The majestic River Shannon will host some of the world's top watersport performers this weekend as a full programme of action packed activities and events take place.
The world's top flyboarder – 2016 Ladies Flyboard champion and stunt queen Gemma Weston from New Zealand will headline the bill with dramatic performances throughout the weekend as she arrives for the first time in Ireland.
Her performances will be a treat for the thousands of spectators expected to flock to Limerick as she practically dances mid-air performing backward and forward flips, all with effortless ease.
Gemma will be joined by Ireland's David O'Caoimh, one of the world's top wakeboarders and the British Freestyle Jet Ski Championship winning team of Craig Halloway, Chris Ames and David Herridge who will also perform on Saturday 30th April from 12pm- 5pm and from 1pm-5pm on Sunday 1st May.
The showcase performances will begin at 12 noon between Sarsfield Bridge and Thomond Bridge on Saturday, April 30th and will take place at 1pm, 2pm and 3pm.
On Sunday, 1st May, Gemma Weston will start at 12.30pm and again perform every hour finishing at 3.30pm.
Food is one the core ingredients of this year's festival menu with the opening of the new Riverfestival Village which is a treat for all the family with food, craft and retail stalls and stunning vintage amusements set against the backdrop of the glistening River Shannon in Arthur's Quay Park, running daily from 10am-10pm.
There is plenty to satisfy hungry tums, from genuine American-style corn dogs to fragrant Thai curries, as well as hot dogs made with traditional German ham sausages and delicious, freshly-baked wood-oven bread. You'll find award-winning artisan popcorn, Belgian waffles, mini doughnuts, ice-creams and coffees; a huge selection of nuts and everyone's favourite – the chocolate fountain!
Meanwhile, the Riverfest BBQ Competition – Ireland's largest barbecue cook-off – will be a feast for the senses tomorrow, Saturday, 30th April, at its new location at Honan's Quay beside Arthur's Quay Park. 50 teams will be competing for the honour of representing Ireland at the WBBQA European Championships in Germany.
Other highlights of the five-day festival include a spectacular fireworks display over the River Shannon which will transform the skies of Limerick into an explosion of colour on Sunday 1st May @ 10pm (approx.)
The festival also features fantastic fringe events across the city including comedy, theatre, gigs, EVA International, Ireland's biennial of contemporary art and markets.
The weekend will also see more than 14,000 runners come to the city to participate in the Barrington's Hospital Great Limerick Run which takes in many of the historical and scenic sights across Limerick, on Sunday 1st May. Now the largest participation event outside of Dublin, the Run features entries from all 32 counties of Ireland and over 20 countries with musical acts from marching bands, gospel choirs, traditional music and DJs entertaining participants along the route of the marathon, half marathon and 10K event.
Riverfest is run on behalf of Limerick City and County Council and Limerick 2020 by Grooveyard Event Management. Riverfest 2016 sponsors include; The Maldron Hotel, Limerick's Live 95 FM, The Limerick Post, The Limerick Leader, Mr Binman, Fire & Food, Arthur's Quay Shopping Centre, Irish BBQ Association, and Dolans.
Visit www.limerick.ie/riverfest for the full festival line-up. Find us on Facebook Riverfest Limerick or on Twitter @riverfestlmk (#riverfest).